For some reason I feel like I've done a Five Things Friday post before but going through my archives, it looks like I haven't! So here's my first! Here are five things that I've been loving this week.*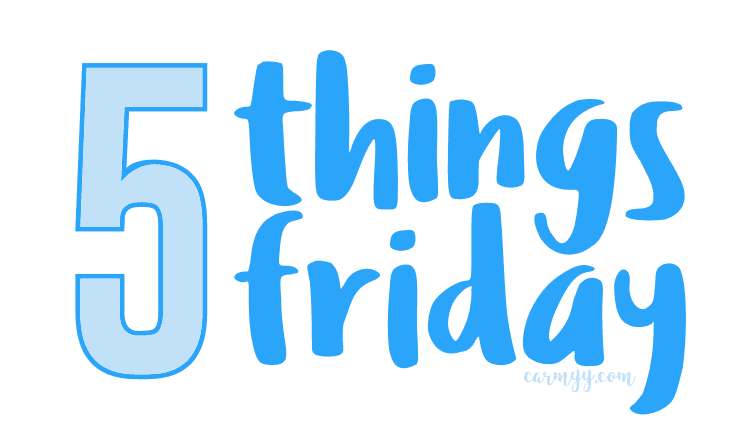 1. Myrtle Beach
Um, I had so much fun on vacation! It was nice taking a blogging break and not thinking about curating blog content. Anyways, it was so nice taking some time for myself and literally having nothing planned other than showing up at the airport. The beach was beautiful, the tree lined highways were beautiful, and the puppies were adorable.
2. Joe Fresh
OMG, I am obsessed with my Joe Fresh swimsuits. I picked up 4 pieces (2 sets) from Joe Fresh before heading out because my only other swimsuit was what I used to crosstrain in when swimming so it was more functional than pretty. Anyways, Joe Fresh, the swimsuits were so reasonably priced. Each piece was between $20-25 dollars compared to swimsuit shops that tend to run around $50+ (Um, this is why we need Target to come back to Canada).
3. Trackster Woven Jacket from New Balance
I pretty much spent the week living in my New Balance Trackster Woven Jacket (disclaimer: I was sent this from Sport Chek as a gift). It was light enough to carry around and it was so comfortable. It was perfect for the breezy evenings at Myrtle Beach. Also, I love the polka dots on the back, it is beyond cute. The zippered pocket meant that I could go without my purse for a few outings.
4. Sweet Tea
What is it about American sweet tea that makes it sooooo delicious?! Every time I cross the border, I always drink my body weight in sweet tea and this time was no different.
5. Honey Dijon Kettle Brand Chips
I recently discovered this flavour and I am sooooo in love! I want to eat 10 bags in one sitting.
That's all for this week — let me know some of your favourite things this week in the comments down below!
Other places to connect with me
Instagram: http://instagram.com/runcarmyrun
Twitter: https://twitter.com/runcarmyrun
Facebook: http://www.facebook.com/carmyycom
Email: [email protected]
Vlogs: Youtube

*Turns out I used to do Friday Fives but I don't really want to do these posts based on a theme in a link up.