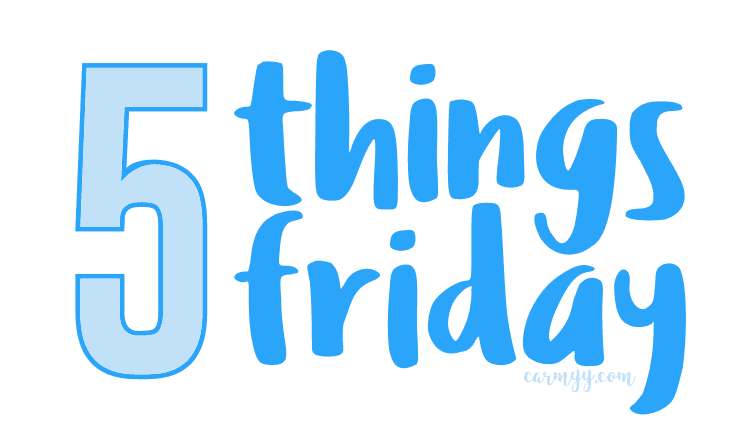 1. 90 Day Fiance Happily Ever After
I love TLC. Seriously. I don't care if you want to judge me but reality tv is my jam because it pretty much takes my mind off whatever it is that I'm dealing with in real life. I've been watching 90 Day Fiance's follow up and I've been loving it. Essentially these couples meet and one of them goes over to the US for 90 days on a visa to decide if they want to get married by the end of it. I mean, what could go wrong? Hint: SO MANY THINGS.
2. BBQ
This weekend, I'm hosting a BBQ and well, I never even though about how much effort it was to plan and execute! I had made a list of things to buy and of course I left off the skewers! So it's back to the grocery store I go tomorrow haha.
3. Atomic Blondie
I'm one of those people who go to movies when they come out ASAP because H and I are super boring and most of our date nights involves a movie haha. But the last few weeks, there really hasn't been anything that I've wanted to watch – War for the Planet of the Apes, Baby Driver, Spiderman: Homecoming (how many versions of Spiderman movies are there?!), and Dunkirk (I have a degree in history, I already had my heart strings tugged at for 4 years so I just need a break). However, I'm been quite excited about what "critics call the female version of 007" Atomic Blonde. I'm just ready for some kick ass action with a female lead. H and I are definitely going to go watch it when it's out.
4. Slow Hands
Hi, prepare yourself for the 16 year old version of me. You may not know but I'm a One Direction fan so totally was sad over the group going onto solo endeavours. However, I'm not a big enough fan to follow their solo careers because I wasn't sure if I'd like their new stuff because I hate change, I really do haha. But I recently heard Naill Horan's single (thanks to my partner actually haha) and I've been obsessed with it. Like have it on repeat as I'm going through Moon Salutations level obsessed.
5. Yoga
Speaking of Moon Salutations, I've had some questions about my yoga practice recently as I've started sharing more photos of it. One of the main questions I've gotten is pretty much why yoga? To get to that, I kind of have to share some history. I've been practicing on and off for a couple years now – there was a studio near my campus that I would go to weekly but to be honest, I had only gone for the sake of getting my sweat on. It was a hot yoga studio so when I had Googled the amount of calories that you burn in one session, I was in.
Nearing the end of my time at UofT, the studio unfortunately relocated and I started going less as the new location was more difficult to get to. So between then and a few months ago, I would only go sporadically. As I mentioned on my Monday post, establishing a home practice has been difficult for me so I was not practicing as much as I had wanted to.
Fast forward to a couple months ago (May I think?) – I've been going through a bit of a change (remember how I mentioned I hated change?) and have been having trouble coping. Sleeping was difficult, I cried a lot, and I overall felt very down in the dumps. While it's easy to keep up a happy attitude while out and about, when I was at home, I spent a lot of time lying in bed and feeling unmotivated and just self pity in general. It was then that I decided to pick up my mat and head over to my old yoga studio as I still had passes left. I hadn't wanted to do hot yoga because hot yoga is hard AF and I was in no mood for that. After going through their section of classes, I started yin yoga. I found that it had helped calm me and centre me so I went back.
For a couple months now, I had been consistently practicing weekly as a way to get out of my head. However, in June, on a whim, I stopped by a studio that was near work. That's when I discovered I was a huge fan of hatha yoga (I'll admit, ashtanga yoga can get a bit too intense for me at this time). Since then, I had been going to this new studio weekly and started incorporating more into my home practice. My weekly sessions suddenly became twice a week then three. Somehow, this week, I've managed to practice daily!
While I'm not saying yoga will solve all your problems, long story short, I'm practicing yoga because it gets me out of my head. It helps me practice kindness to myself. It helps to remind me to be grateful of what I have. And it just helps me in general. I'm not sure how to describe it but it makes me happy and that's really all that matters. Plus it helps with my tight hip flexors (thanks running)!
That's all for this week! Let's Chat! What's something fun you did this week? What song have you been obsessed with?
[Tweet "Five Things Friday #6 Why Yoga?"]
Other places to connect with me
Instagram: https://instagram.com/runcarmyrun https://www.instagram.com/carmyshungry/
Twitter: https://twitter.com/runcarmyrun
Facebook: http://www.facebook.com/carmyycom
Email: [email protected]
Vlogs/Recipe Videos: Youtube