Let me just start off by saying last minute trips seem to be my jam. So when I decided that I wanted to go on a mini adventure with the guys, it was off we went. Unplanned! I'm pretty sure my exact text was "let's go find some waterfalls!!!!!" So let's see what I got myself into.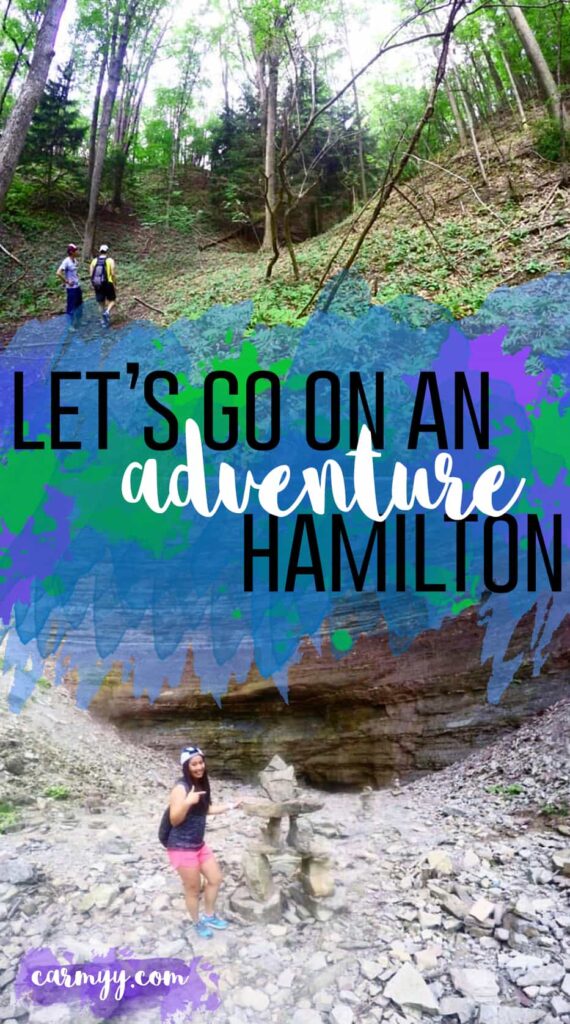 We met up around 11AM because like I said, it was pretty unplanned so we didn't do the logical "let's wake up early and head out" route. While driving out, we drove by Big Bone BBQ in Markham and decided that  ribs and fries would be our choice of fuel for our hike in Hamilton.
I had a nice chuckle at their tag line and between the four of us, we were unable to finish 2 servings of the dinners as it came with fries, beans, and corn bread on top of the rack of ribs. Clearly we were off to a good start for the day! Haha! But not to worry, we were going to work it off. Promise.
Back on route, we decided that our first stop would be the Devil's Punch Bowl which is part of the Bruce Trail.
It was an easy walk but in order for us to get inside the "punch bowl" that we saw from up top on the observation area, you have to go off the trail a little and then (because I'm short) shimmy down a ledge and follow the sound of water! The Devil's Punch Bowl is said to have originated 450 million years ago and just seeing the exposed rock was amazing. Due to the waterfall itself was mostly dried up to a trickle, I was able to explore and check out the wall up close.
It was definitely worth the little shimmy off path (I also saw a snake!) as the punch bowl itself had these cool little rock people. Of course I had to take a photo with it.
So since I had demanded that the trip would be all about finding waterfalls, we finished up our hike at the Devil's Punch Bowl and headed over to Webster's Fall.
Clearly it was not my day as instead of finding waterfalls at a place with the words "falls" in its name, we somehow ended off path and wandered the woods for a while. Luckily for me, the wilderness survival skills that I have pales in comparison to these two pictured. And by pales I mean they have more in their pinky fingers than I do overall but hey, I can out run them so I've got that going for me at least ;)
We wandered around for a bit, enjoying the nature around us before moving on to our next stop before we were to lose sunlight. So after climbing up a very steep hill, we somehow made it back to the car and decided to head to Eramosa Karst. Eramosa Karst's description said that it would be filled with underground caves and streams, meadows and forests so I was sold!
Once again, no waterfalls but I didn't care – I was having a blast! We found these little caves where if we had the proper gear packed, we could have gone caving/spelunking! Sadly, we didn't bring any equipment with us and even I knew better than to head in without gear so we were only able to explore the outer areas.
It was a pretty cool experience as it's not often that you find these spots within Toronto. I'm not really sure how long we ended up wandering around (this time we stayed on path!) but by the time the sun was about to go down, I was exhausted. So being the cheesy person I am, we stopped by Bitten and got me a whoopie pie to-go and stopped by Lush so I could end the day with a bath bomb!
Overall, it was quite the way to spend our day! Who would have known that my desire to look at some waterfalls would lead to us hiking in three different areas of Hamilton and end with me having a whoopie pie.
QOTD: Where are your favourite hiking spots? How do you usually plan a trip (assuming you don't demand to see waterfalls on random mornings)?
[Tweet "Adventure: Hamilton @OntarioTravel @TourismHamilton @conont #DiscoverON #ExploreCanada"]
[codepeople-post-map]
Other places to connect with me
Instagram: @runcarmyrun @curiouslychasing @carmyshungry
Twitter: https://twitter.com/runcarmyrun
Facebook: http://www.facebook.com/carmyycom
Email: [email protected]
Vlogs/Recipe Videos: Youtube