Getting ready for game day? Looking for a healthier alternative for game day eats? Feed your hunger with this delicious Korean Fried Cauliflower made with an Airfryer, whether you're cheering on the Blue Jays or watching the NBA and NHL playoffs.
Disclaimer: this post is written in partnership with Philips Canada. All opinions are my own and thank you for supporting the brands who support me! These partnerships are what make working on this blog possible.
Korean Fried Cauliflower made with an Airfryer
There's just something so satisfying about hanging out at a Korean restaurant with some Korean Fried Chicken surrounded by your friends watching the game! However, deep fried chicken isn't the healthiest thing to eat a ton of especially with all the games coming up, so I thought I'd make something just as delicious but healthier at home for the guys! These Korean Fried Cauliflower made with an Airfryer are a crowd pleaser – they're flavourful, have the perfect crunch, and hits the spot without being deep fried. These are an amazing healthier alternative for your typical deep fried game-day eats!
What Is An AirFryer?
The Philips Turbostar Digital Airfryer is a handy appliance that mimics the results of deep frying with nothing more than hot air and little to no oil. Instead of completely submerging the food in oil, air-frying takes just a tablespoon of oil to achieve a similar taste and texture to deep-fried foods. AKA Carmy will get to have allllll the crispy foods without having to deep fry anything! Definitely a kitchen appliance you want in your arsenal.
What You'll Need To Make This Korean Fried Cauliflower
Equipment:
Philips Turbostar Digital Airfryer
Sauce Pan
Cooling Rack (for the excessive batter to drip off)
For The Batter
Flour
Cornstarch
Baking Soda
Garlic Powder
Paprika
For The Sauce
Gochujang (pepper paste)
Soy Sauce
Honey
Water
Tips and Tricks for Making Korean Fried Cauliflower in the Airfryer
Due to the cauliflower being coated in batter, you want to make sure the cauliflower is placed into the basket in a single layer without it touching each other so the air can reach all the cauliflowers
I lightly sprayed the basket with non-stick so the battered cauliflower won't be stuck to the basket
This recipe is made with 1 cauliflower, this feeds around 2 people, double it if you're feeding more!
If there's extra sauce leftover, use it as a dip!
To add to your game day eats: you can also airfry some sweet potato fries to serve alongside the cauliflower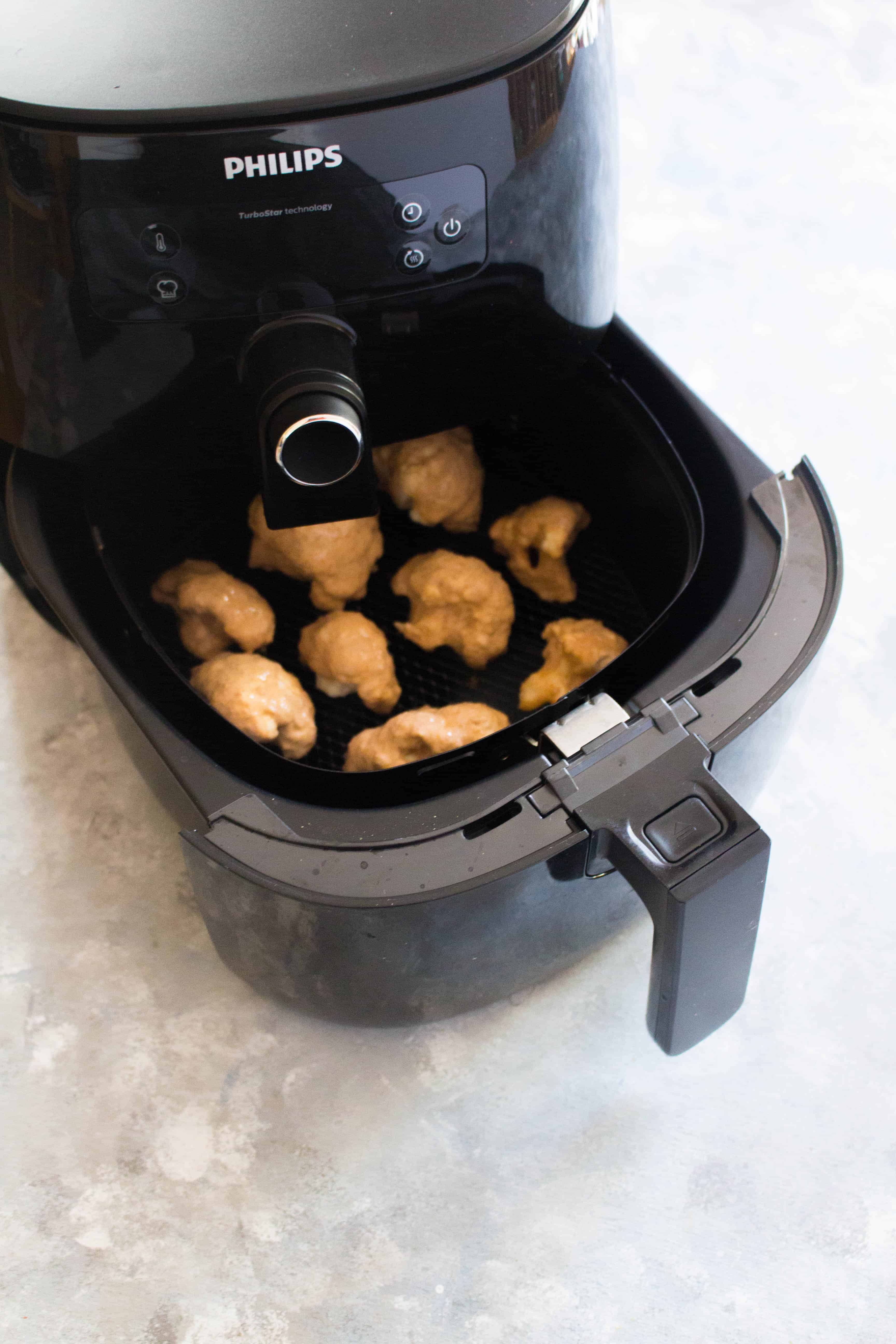 Korean Fried Cauliflower
Looking for a healthier alternative for game day eats? Feed your hunger whether you're cheering on the Blue Jays or watching the NBA and NHL playoffs, with this delicious Korean Fried Cauliflower made with the Philips Turbostar Digital Airfryer.
Print
Rate
Ingredients
1

cauliflower

,

cut up into smaller pieces
For the batter
1

cup

flour

1/2

cup

cornstarch

2

tsp

baking soda

1

tbsp

garlic powder

1

tbsp

paprika

1

cup

water
Instructions
In a large bowl, combine the flour, cornstarch, baking soda, garlic powder, and paprika. Give it a mix and then add the water to create the batter.

Dip the cauliflower into the batter and make sure to coat it entirely. Let it sit on a rack for a minute to let extra batter dip off.

Once ready, place it into the airfryer in a single layer and set it to 350 for 12 minutes (no preheating required!)

While the cauliflower is "frying" in the airfryer, prep your sauce by combining all the sauce ingredients into a saucepan. Mix it well and let it come to a simmer on low heat then turn off the heat.

Once the cauliflower is finished in the airfryer, place it into the saucepan to coat the cauliflower before setting it aside.

Continue until all the cauliflower has been fried.

Optional: serve with other healthy game day snacks like celery and sweet potato fries (that can also be made in the airfryer!)
Tried this recipe?
Did you make this recipe? I'm always so happy to hear about it! I'd love to see how it turned out. Tag me at @CarmysHungry on Instagram so I can see it! If you enjoyed the recipe, I'd really appreciate a comment with a 5 star rating! ♥
What are your healthy game day eats?
Other places to connect with me
Instagram: @runcarmyrun @curiouslychasing @carmyshungry
Twitter: https://twitter.com/runcarmyrun
Facebook: https://www.facebook.com/carmyycom
Email: carmy@carmyy.com
Vlogs/Recipe Videos: Youtube