Disclaimer: I ran the Achilles Canada 5K as an ambassador and thus my race entry was comped
The Training
As I've complained mentioned several times on my blog already, it has been a rough season for me last year. Before Achilles Canada 5K, I had only started running 14 weeks ago (very conservatively) after being banished to cross training for months (the GoodLife Fitness spin bike was my best friend). It was only recently that I started being eased into doing speed work again and I was nervous to see how they faired at the 5K.
Race Day: Morning
I would like to start by saying pizza pockets were definitely the correct choice of fuel for a 5K. Considering day lights saving (one hour forward!) and a late start (10:30AM), I had an okay night's sleep. I woke up at 7:30AM and heated up a cheese pizza pocket and grabbed a spoonful of Kraft's Honey Peanut Butter and got changed.
I had on my Mizuno Breathe Thermo zip up, my skirt, Mizuno Wave Rider 12s, my Longboat Road Runner singlet, and not pictured, an Old Navy long sleeve from their athletic line. The outfit was absolutely perfect for the weather (9 degrees C/48.2 F). We had a snow storm the week before so I was definitely worried about race day but luckily the weather gods blessed us (minus the strong winds).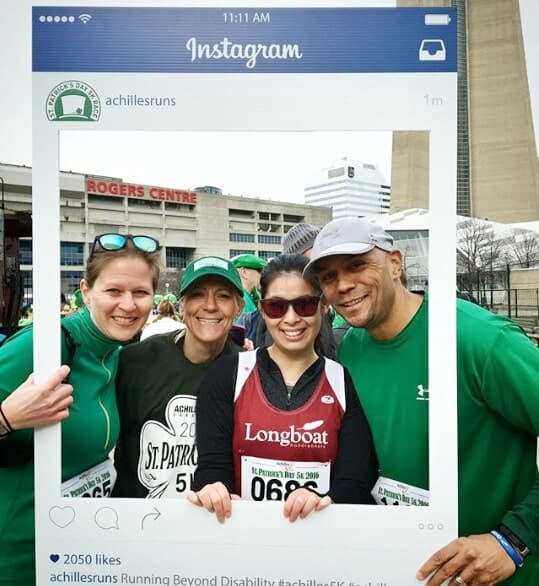 The race took place right at the Steam Whistle (sponsor), and there were tents from the sponsors: ClifBar, Rumble, GoodLife Fitness, and Cigna right outside. Bag check was $2 and bags were stored in these really cool looking trains.
So right before we started, we of course had to take a shoe selfie! It was then that my friend Courtney (green Mizunos) dropped the "there's two hills" on me and I stared at her while going "HILLS? NO ONE TOLD ME THERE'D BE HILLS." I was told that it was a fast out and back course but no one gave me a warning about the hills so there you have it folks, prepare yourself!
Panorama by Matt Small
Race Day: The Race
So I had a pace plan. I was given a conservative plan of 5:50, 5:40,5:40, 5:30, 5:25 and 3 minutes in my legs were itching to go faster so I threw caution to the wind and went for it.
It was surprisingly windy that day (so some green wigs and hats were being blown off) and I totally failed at attempting to draft off someone. But because it was an out and back course, the wind was at my back for the second half.
I ended up running 5:16, 5:08, 4:50, 4:47, 4:56 splits for the 5K (average of 5:13min/k, 8:33min/mile). I don't recall where the first hill was but the second one I felt. It was in the first half of the last km and it was pretty steep – coming from someone who does not run hills – and while it felt good running down it earlier, I was not looking forward to running up this hill.
Luckily, I had help. Not only were my teammates from Longboat cheering me along the 5K from the sidelines (volunteering), I had Claire. Claire who is in the 70-74 age division, hauled my butt up that hill. Hills are not my strong suit and I could already feel my legs wanting to slow down for the hill but Claire came out from the sidelines and had me sprinting up that hill so I definitely owe my last sub 5:00 km to her.
unofficially, my watch said 26:07 5.23K
officially, 26:01 for 5K
Post-race
We were given a nice bottle of water and a pretty snazzy medal. Then finishers were able to go line up for a free beer and chili! Once inside Steam Whistle (where a lot of us were sitting on the floor enjoying our post race reward), we had the award ceremony which had the most prizes ever. The speaker was literally throwing prizes at people left and right which was pretty lively!
Post-race thoughts
Something to keep in mind if you plan on racing Achilles Canada 5K – there is no waves. Everyone (minus the wheelchair racers) start at once so if you plan on competing for the podium, make sure you make your way up front.
My only criticism of the race is that they do not have course markers. Due to the tall buildings downtown, the GPS signal goes wonky so it can be hard to determine your pace at times (like no way was I running at 3:50 in the middle of the race!). So course markers would have helped me clock my splits manually.
I really loved the vibe of the overall race – everyone was there to have a good time, people dressed in a St Patty theme, and the race was for a great cause (the race benefits Achilles Canada—a non-profit organization that provides people with various disabilities an opportunity to receive the physical, psychological, and communal benefits of running. The club offers training and support by able-bodied members to its Achilles athletes of all ability levels).
I also love that it was a race with a late start and near a subway station as it makes it easier for those who do not drive to get to the race (subways open late on Sundays!). In addition, having the race at Steam Whistle meant that there was plenty of space for runners to hang around indoors if they didn't want to stand outside (AND real bathrooms available alongside port-a-potties).
Also, the swag bag included Lucky Charms! Tell me that is not adorable.
Major thanks to all the volunteers and sponsors at Achilles Canada 5K such as: GoodLife Fitness, Saucony Canada, BlackToe Running, ClifBar, Rumble, Cigna, and Steam Whistle for making this day possible.
[Tweet "March 2016 @achillesrun recap via @runcarmyrun #toronto #runchat "]
Did you do a St Paddy theme race last week? What's your favourite race distance?
Other places to connect with me
Instagram: http://instagram.com/runcarmyrun
Twitter: https://twitter.com/runcarmyrun
Facebook: http://www.facebook.com/carmyycom
Email: [email protected]


<3 Carmy
PIN IT