Welcome back to another Five Things Friday where I'll share five fun or not so fun things that I've experience or bought this week!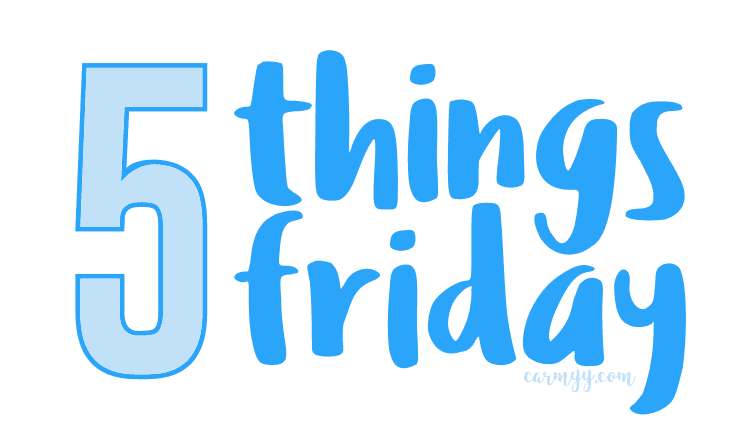 1. Montego Bay, Jamaica
So you may have noticed that I was a little quiet on the blog last week (but was all over Instagram!). I was on a press trip to Jamaica and absolutely fell in love with the island! You can read my what I packed post here and my review of one of their amazing restaurants here. I cannot wait to share everything I did with you!
2. Natural Delights Energy Bars
You may have noticed these bad boys popping up on my Instagram stories. You know I love their dates so when Natural Delights came out with energy bars, I had to try them. They have no added sugar and are pretty much the bar version of the dates so it makes it easier to grab and eat it on the subway on my way somewhere. As I've mentioned before, the medjool dates has 50% more potassium by weight than bananas so they're the perfect bar to grab and eat after a workout to help decrease cramps.
3. Snikiddy
I recently got a box of snacks from Snikiddy and y'all know how I feel about snacks! I can survive off them if needed. The bag of Snikiddy grilled cheese puffs pictured below is an organic snack that is baked instead of fried! I love cheesy snacks and I've demolished the bag already.
4. Rooftop Yoga
If I didn't take an IG photo of rooftop yoga, did it really happen? A few weeks ago, my coworker sent me a link to a rooftop yoga event downtown. The event looked promising, live DJ, yoga mats provided by Lole, and a free smoothie from Fresh. I of course said yes and on Wednesday, we made our way down and well, I was a little disappointed.
Not too long before the event, we got a reminder email about it and it changed into a bring your own mat event. That's fine with me since I have my own but I was looking forward to not having to lug it to work and then on the public transit during rush hour. When we got there, I don't think it was a DJ that was playing the music- I didn't personally see one and it sounded like just a remixed playlist which is perfectly fine since you don't need a DJ for a yoga event in my opinion.
However, the sequencing just wasn't for me. They moved through a bit too fast for some parts and then waaaaay too slow for others (ie we held planks for what felt like forever but warrior I was just a couple seconds). I'm more of a fan of slow moving yoga and yoga with a bit more intention. I would have also preferred to have more instructional cues as telling me to get into waterfall made me rack my brain for a minute to remember what that meant.
Then when it was finally over, Fresh was downtowns with fresh pressed juices (I love Fresh and will forever be sad they got rid of my favourite juice – Green Candy), and we excitedly went downstairs. We got a tiny sample cup. Yes, we aren't entitled to a bottle of juice but if it's promoted as "free smoothie by Fresh" at the event, I kind of expected more than one sip. But hey, it was a free event – I doubt I'd go back but I'm glad I got to spend some time with my coworker outside of a work setting!
5. Run All Day Backpack
A few weeks ago, I mentioned I purchased the Run All Day backpack from Lululemon and last night I did my first 9K run commute with it from work! It was the perfect size to fit my dress, cardigan, and shoes that I changed out of and into my running clothes. I officially recommend it if you're looking for a run commute bag!
That's all for this week! Let's Chat! What's something fun you did this week? 
[Tweet "Five Things Friday #7"]
Other places to connect with me
Instagram: @runcarmyrun @curiouslychasing @carmyshungry
Twitter: https://twitter.com/runcarmyrun
Facebook: http://www.facebook.com/carmyycom
Email: [email protected]
Vlogs/Recipe Videos: Youtube