Need something healthy to bring to a party or potluck? Give these Healthy No Bake Blueberry Vanilla Cashew Bars a go! I promise they'll be a hit!
Disclaimer: This recipe was made in collaboration with Natural Delights! Thank you for for supporting the brands who help make this blog possible!
Healthy No Bake Blueberry Vanilla Cashew Bars
It's that time of the year again – you're frantically searching for a recipe for work party or a casual get together with some friends and like 5 other people are fighting over who's bringing a plate of cookies. Well tell them to step aside because these healthy no bake blueberry vanilla cashew bars are going to be the star of the show! (Or second to whatever the party's host made, it's only polite ?) I brought these blueberry vanilla cashew bars to work not too long ago and boy were they a hit!  (PS everything you need to make these delicious no bake bars are pretty much pictured up above – it's easy and stressfree!)
Tips on Making Healthy No Bake Blueberry Vanilla Cashew Bars
DISCLAIMER these cashew bars have to be eaten cold. They will melt if they're left out for 40+ minutes. Keep them in the freezer until you're ready to serve them.
The crust is made out of raw cashews and medjool dates and you need to make sure you work your muscles and pack it into the pan

the medjool dates give the bars a delicious caramelly sweetness to it without having to add any refined sugars. Hello healthy dessert!
the medjool dates is also what makes the crust gluten-free. It'll bind with the cashews to make a delicious sturdy crust without having to use flour and baking.

Make sure you blend your cashew mixture until creamy in the food processor so there isn't a grainy texture.
If you want the fruit to stay somewhat intact for texture reasons, blend it less
Line your pan with parchment paper for easy removal
Options on presentation:

If you want beautiful separate layers, pour your first layer into your pan and freeze before pouring your blueberry layer in.
If you want swirly separate layers, pour the two coloured mixtures in together and swirl with a spatula
If you want more natural looking layers (aka what I did) pour the white layer in first and smooth it out then pour the purple layer in and quickly pop it into the freezer before it combines too much
If you don't want layers, just make them all purple!

Alternative: use other fruit for different colours ie strawberries, cherries, pineapple, mango, etc!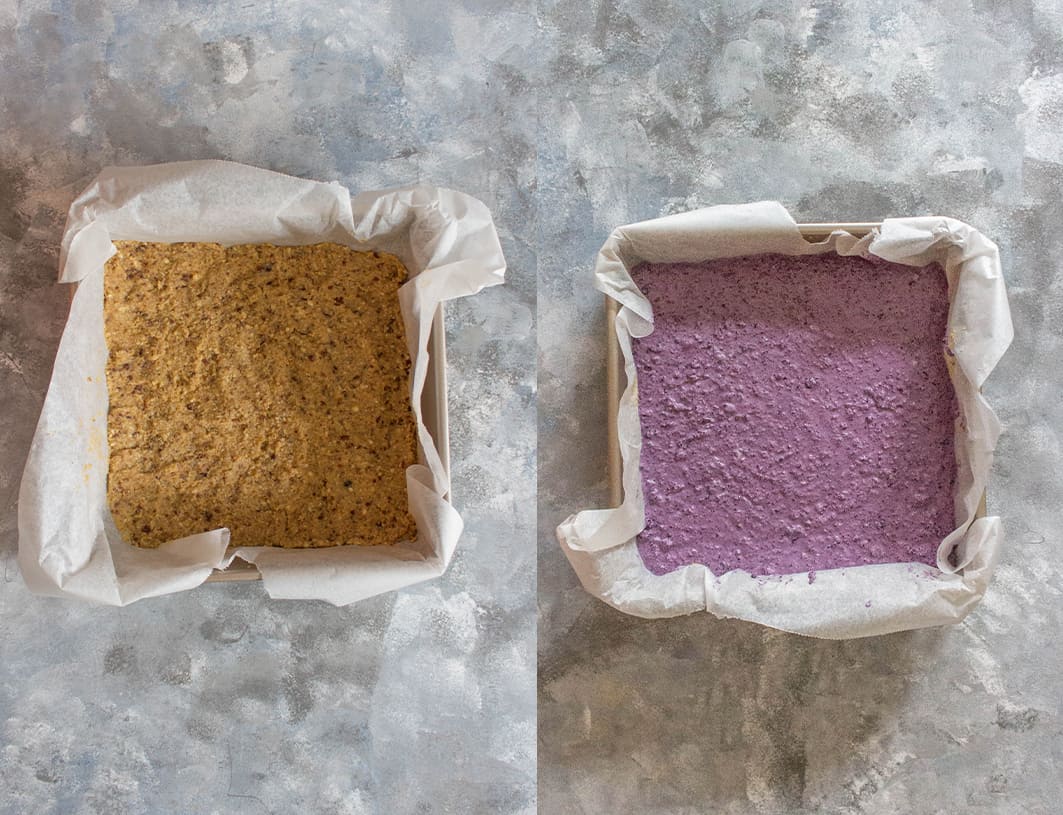 Tools I Used
Healthy No Bake Blueberry Vanilla Cashew Bars
Need something healthy to bring to a party or potluck? Give these Healthy No Bake Blueberry Vanilla Cashew Bars a go! I promise they'll be a hit!
Print
Rate
Ingredients
For the crust
1

cup

raw cashews

1/2

cup

Natural Delights medjool dates

,

roughly chopped and loosely packed

1

tsp

water
For the layers
2.5

cups

roasted cashews soaked in water overnight

,

soaked overnight

3/4

cup

vanilla almond milk

,

or water

1/4

cup

honey

2

tsp

vanilla extract

pinch

of salt

1

cup

blueberries
Instructions
To make the crust:
Line an 9x9 inch pan with parchment paper, leaving a bit folding over to make it easier to remove after.

Place the raw cashews into a large food processor and pulse until broken down and crumble.

Add in the chopped dates and water and pulse until combined and the mixture begins to form a crumbly dough.

Press the crust firmly into the bottom of the prepared pan. Place the pan into the freezer while you make the cream.
To make the layers:
Drain the soaked cashews and place them with the almond milk, honey, vanilla and a pinch of salt, into your food processor.

Blend until smooth and creamy. Transfer to a large liquid measuring cup.

If you want layers, nows the time to divide the mixture in half, one half without blueberries blended in, one with. Then pick the type of layers you want: solid separate layers means smoothing the first layer in, freezing for 30 minutes, before layering the second layer. For swirly layers, place both mixtures in and using handle of the spatula and swirl the two layers. And for non-perfect layers, pour your first layer in and smooth it out and then your second layer on top.

Freeze for 3 hours to overnight. Keep frozen until serving - you can precut them after your first freeze and leave them in the freezer until it's ready to be served.
Notes
Prep time does not include the soaking of the cashews overnight and freezing the bars.
Tried this recipe?
Did you make this recipe? I'm always so happy to hear about it! I'd love to see how it turned out. Tag me at @CarmysHungry on Instagram so I can see it! If you enjoyed the recipe, I'd really appreciate a comment with a 5 star rating! ♥
Nutrition Per Serving
Serving:
16
g
|
Calories:
130
kcal
|
Carbohydrates:
14
g
|
Protein:
3
g
|
Fat:
7
g
|
Saturated Fat:
1
g
|
Sodium:
17
mg
|
Potassium:
143
mg
|
Fiber:
1
g
|
Sugar:
9
g
|
Vitamin A:
10
IU
|
Vitamin C:
0.9
mg
|
Calcium:
24
mg
|
Iron:
1.1
mg
Nutrition Disclaimer
 [Tweet "Healthy No Bake Blueberry Vanilla Cashew Bars @NDmedjooldates"]
Let's chat! What do you make for work parties?
Other places to connect with me
Instagram: @runcarmyrun @curiouslychasing @carmyshungry
Twitter: https://twitter.com/runcarmyrun
Facebook: http://www.facebook.com/carmyycom
Email: [email protected]
Vlogs/Recipe Videos: Youtube