Looking to make your own homemade nut butter? Why not try this delicious easy homemade pistachio butter! It is super creamy and has a distinct nutty flavour.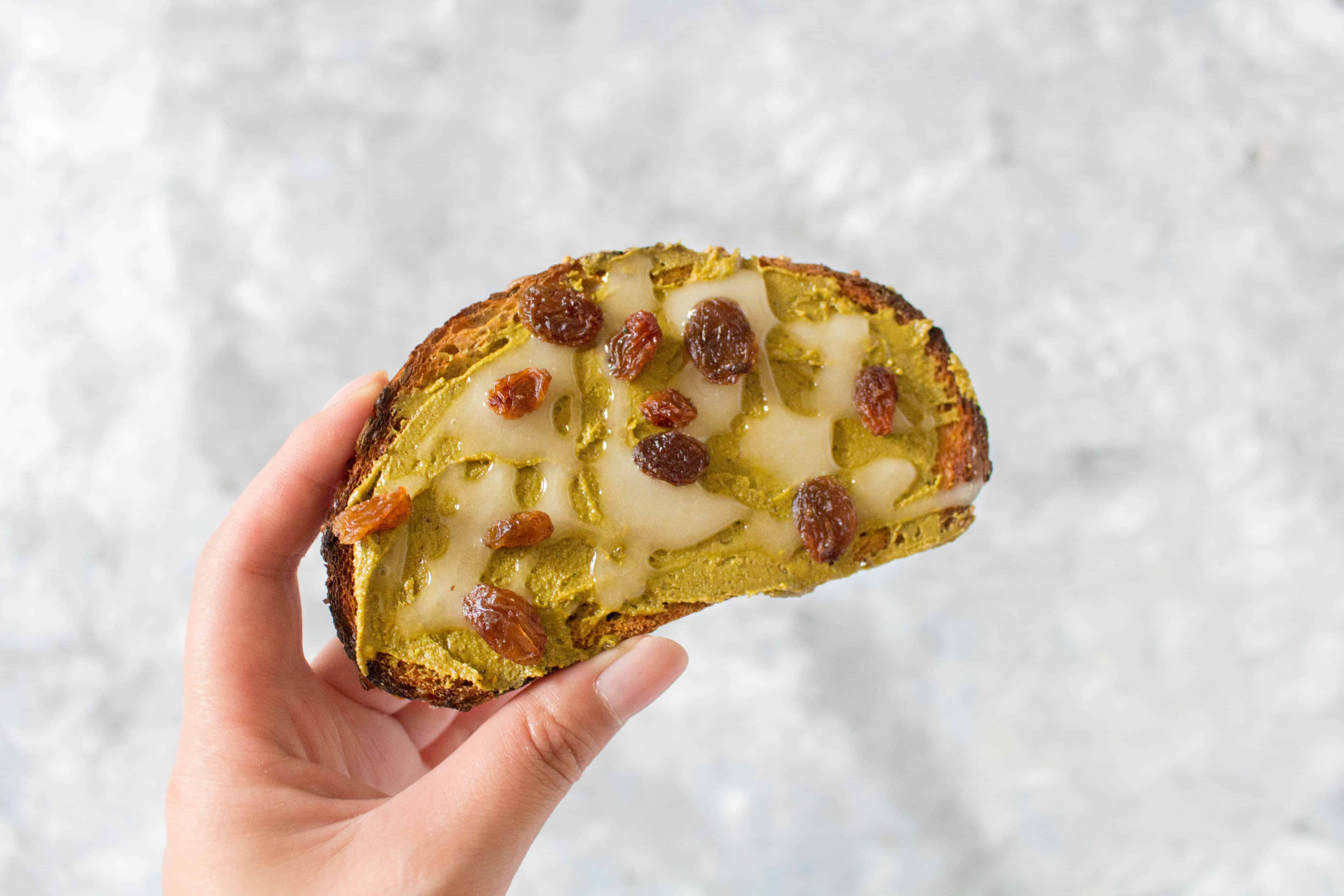 Easy Homemade Pistachio Butter
Pistachios are one of my favourite nuts. It's always my go-to gelato flavour and it's my go-to snack when watching TV. A while back, I saw a tiny jar of pistachio nut butter sold in stores but it was literally $15.99 for half the size of a 12 oz mason jar. I really wanted to try it because I love pistachio but I didn't want to pay $15.99 for it.
I've made nut butter at home in my Vitamix before so I thought 'hey, I could just do this myself!' and that is how I spent a rainy Saturday morning then proceeded to eat a ton of it on some toast haha. In the photo above, I topped my pistachio butter with some raw white honey and raisins.
How To Make Homemade Pistachio Butter
It is honestly so easy to make this pistachio nut butter. It is literally made with just one ingredient – pistachios. I bought the shelled roasted pistachios so I could skip cracking open 4 cups of pistachio by myself.
It takes under 5 minutes to make in the Vitamix and all you have to do is blend it on high speed until the pistachios goes from whole nuts, to a powder, to a little lumpy looking, and then a creamy nut butter. If you're using a different high powder blender or a food processor, it might take a little more time.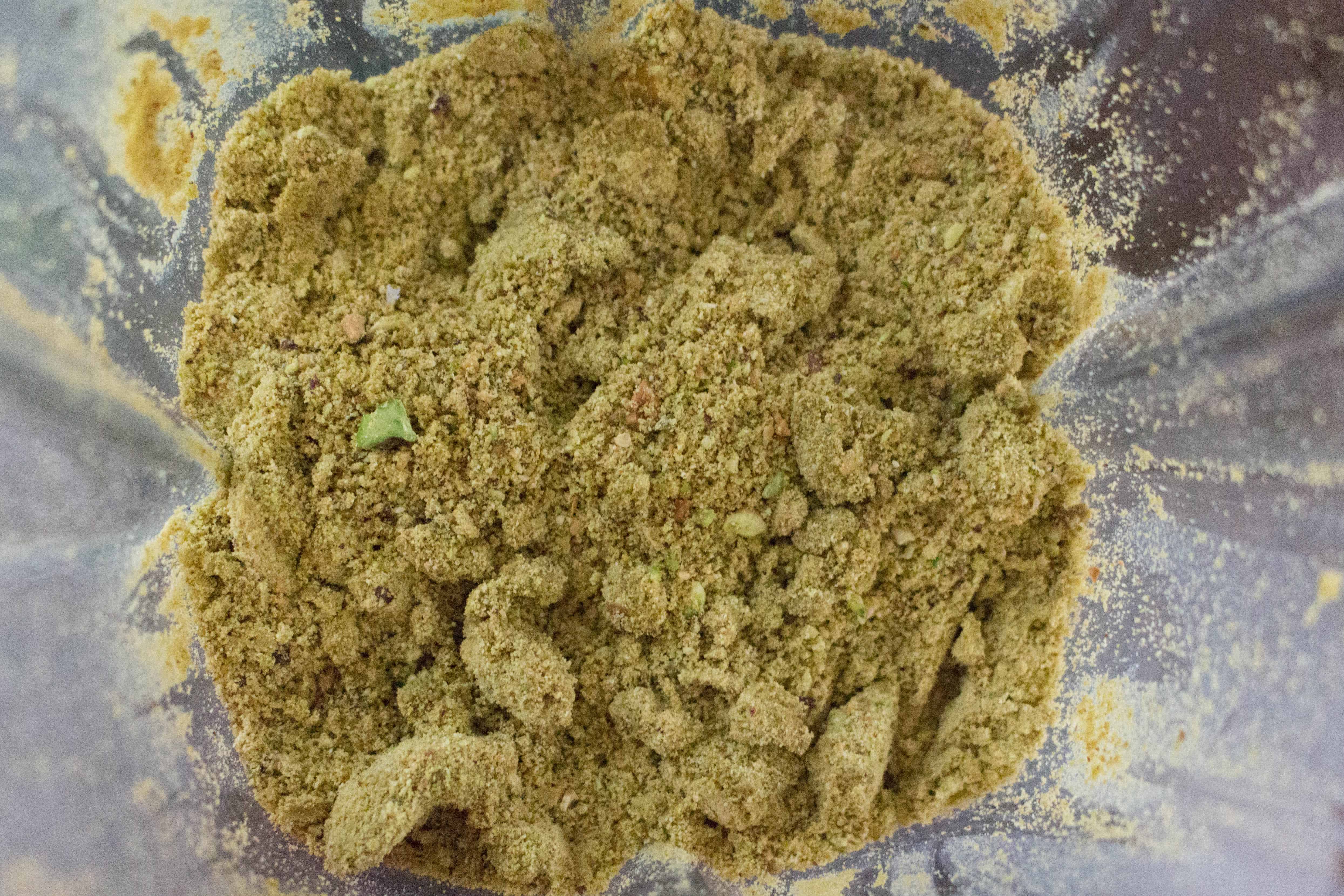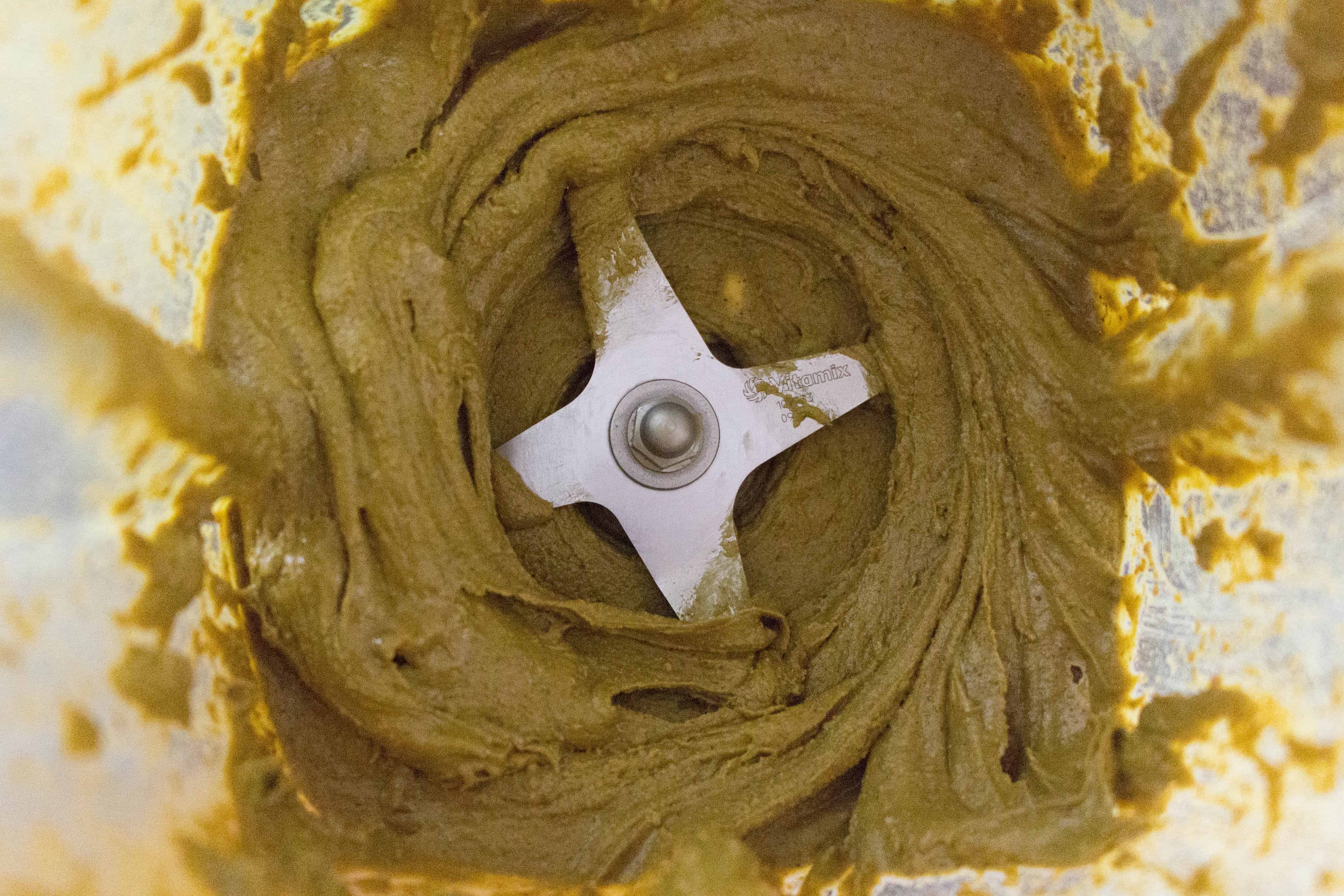 Tips on making the perfect homemade pistachio butter
Friends, don't be like me. I made a few attempts before getting it right because I got curious and wondered what would happen if I changed things up. I was wrong, do not get too fancy while making it, and follow the literal one instruction: nut nuts in then bend.
Do not add any liquids based things such as honey or syrup- the moisture will cause your the butter to be lumpy and not blend smoothly. Stir in your honey afterwards if you desire (or just drizzle it on top of your toast like I do!)
Do not be tempted to add water. If someone tells you to add water while blending your nut butter, don't listen to them! Adding water will cause the pistachio butter to seize up and it won't be able to be saved. I did this. It went in the compost bin. I thought hey, 1-2 tbsp won't hurt! Maybe it'll make it creamier. I was wrong. Do not be like me. Do not add water!
As I bought mine roasted since they were the only ones available, I didn't roast my nuts. If you buy un-roasted ones, I recommend roasting them for a couple minutes in the oven (350F) and then letting them cool down before putting them into the blender. Do not put hot nuts into the blender. Hot nuts can melt your blender.
You'll have to use the tamper in the Vitamix if you don't want to waste time scraping down the sides.Use the tamper to continuously push down on the pistachios, particularly in the corners, to speed things up.
It will be loud. Vitamix's manual dictates that you use the high speed setting because blending thick materials like nut butters at low speeds can cause your motor to overheat.
You're gonna need a lotta pistachios. I tried to make this with just under half the amount and there was not enough pistachios to be pushed down onto the blade so you'll just have the blades whirling around with the small amount of nuts pushed to the side of the blender.
Ideas for what to do with this homemade pistachio butter
spread it on toast
make a jar and give it as a gift during the holidays
stir it into oatmeal or porridge
add it to a smoothie
add it to yogurt / make a parfait with it
bake it into a cookie
bake it into a brownie
add it to homemade granola bars
add it to energy balls
eat it as is! straight from your jar
Homemade Pistachio Butter
Looking to make your own homemade nut butter? Why not try this delicious easy homemade pistachio butter! It is super creamy and has a distinct nutty flavour.
Print
Rate
Ingredients
4-5

cups

shelled pistachios
Instructions
Add your pistachios to your Vitamix or food processor. Blend on high until the nuts become a creamy butter
Tried this recipe?
Did you make this recipe? I'm always so happy to hear about it! I'd love to see how it turned out. Tag me at @CarmysHungry on Instagram so I can see it! If you enjoyed the recipe, I'd really appreciate a comment with a 5 star rating! ♥
Nutrition Disclaimer
Other places to connect with me
Instagram: @carmyshungry
Twitter: https://twitter.com/runcarmyrun
Facebook: https://www.facebook.com/carmyycom
Email: [email protected]
Vlogs/Recipe Videos: Youtube