This year for Valentine's Day, I packed my bags, grabbed a friend, and abandoned my partner in favour of flying to Amsterdam and spending a week there. Come see how my friend and I spent 6 days in Amsterdam!
I mean, we didn't mean to miss both Valentine's Day and Chinese New Year but there just so happened to be cheap flights for that week sooooo oops! I will admit though because I was slightly in over my head the weeks leading up to the trip, my lovely travel companion planned most of our adventure. I pulled an H and just tagged along for the fun and was in charge of eating as much as I could ha. We were actually scheduled to be in Amsterdam for 7 days but between fighting a cold I got on Monday and jetlag, I ended up spending a day recovering and just working from the hotel (and dealing with other things like Facebook blocking me out of my own account – thanks for making my panic Facebook).
If you're looking to have a short crash course on Amsterdam's rich history (at one point, they were one of the largest and richest cities in the world with plenty of trade links), you can read it here. If I was the attempt to summary their history, it might take 2-4 blog posts! So without further rambling, here's our 6 day itinerary in Amsterdam / how to spend 6 days in Amsterdam. Warning: this is a very picture heavy post!
How We Spent 6 Days in Amsterdam
Day 1 in Amsterdam
We had a rough time getting to Amsterdam – we were doing an overnight flight into Iceland and then catching a connecting flight to Amsterdam. Both our flights were delayed (an hour and a half, and an hour) and I was beyond tired and cranky. We had planned on an easy afternoon after landing in Amsterdam but ended up missing our lunch plans instead.
Amsterdam Tip: when we arrived at the airport, we accidentally purchased the one way ticket into Amsterdam. Instead you should purchase the OV Chipcard as it is a reloadable card that lets you travel all over the Netherlands (hello day trips!).
A bit after noon, we checked into The Hampshire – Manor (they were lovely) and pretty much laid down to catch our breath before we headed out for our cheese and wine tasting down at Reypenaer. Before coming, we were debating about getting a pcoket wifi of sorts so we could have data as we travelled but luckily for us, The Hampshire had a device called Handy which allowed us to have free access to internet and calling. If you're staying at a hotel, I would suggest asking beforehand if they have a similar service.
Tip: Check out this post for the Best Amsterdam Hotels from As The Bird Flies
To continue on our transportation woes on day one, our planned bus just did not want to come so we had to call Reypenaer and ask for a later time slot for our cheese and wine tasting. This provided us with enough time to just walk the 7-8K to what I call their downtown/tourist hub. This gave us time to recalibrate and get to know the streets a bit better.
When we got to Reypenaer, I was famished. Luckily for me, they had samples all over the store and it was encouraged to try as much as we wanted. Needless to say, I did not have to be told twice. When our tasting time slot rolled around, we were led downstairs and got a lesson in how their cheese were made and again was served cheese and wine. (I think it goes without saying that I ended up buying cheese to fit in my already packed to the brim carry on)
After our cheese tasting, we walked around the canals, just enjoying ourselves (and hoping to digest some of that cheese we ate) before heading over to The Pantry for dinner. They were one of the restaurants we found that served traditional Dutch food so we wanted to end our first day with it! I ordered the Hutspot which is mashed potatoes mixed with stewed beef, carrots and onions served with a smoked sausage or a meatball. I don't have a nice photo of it because it was dark out and the restaurant had low lighting but it was absolutely delicious!
Day 2 in Amsterdam
Sleep was not in our vocabulary. We woke up at 2AM and could not fall back asleep (it was a 6 hour time difference) so we started getting ready to go out so we could make it to breakfast at Omlegg right as they opened at 7AM.
Omlegg was a pretty short walk to the Van Gogh Museum so after breakfast, we walked over. As our first museum stop of the trip, we purchased a museum pass so the rest of our planned museum stops would be covered. Van Gogh lived such an interesting (but tragic) life and it was fascinating to go floor by floor seeing how his art work changed and evolved. I didn't know he had a love for Japanese art that ended up influencing his work. It's definitely worth a visit if you're a fan of art. (Note photography is only permitted at designated areas in the museum, such as in the Entrance Hall and by the 'selfie walls')
Afterwards, we stopped by The Pancake Bakery. At first, I thought, sweet, pancakes! But keep in mind that pancakes means something different in Amsterdam! To me, it was more of a crepe than a fluffy breakfast pancake that I've grown up with. I ordered the Hollandse – Pancake with stroopwafel pieces, cinnamon ice cream, chocolate flakes and whipped cream. It was big enough that I personally could not finish it and y'all know how much dessert I can consume. It was something that if I was to have again, I'd be sharing with a friend.
Then we went over to the Royal Palace and Dam Square. The palace was of course beautiful and I'm obsessed with it's aesthetic. I'd like to have a full marble house with 101 chandeliers. Afterwards, we wandered into some of the stores in the area before heading back to our hotel and going to Visbar Beets for dinner. The dishes were made to share so we picked 3 (scallops, salmon 3 ways, and fish & chips) and I surprisingly enjoyed myself very much. I'm not a big fan of raw salmon but I loved it here!
Day 3 in Amsterdam
Day 3 started very similar to day 2 as the Rijksmuseum is right next to the Van Gogh Museum. So we went back to Omlegg at the crack of dawn then went to get our tourist-y I amsterdam photo. The Rijksmuseum is a Dutch national museum dedicated to arts and history in Amsterdam. The museum is currently located at the Museum Square but was founded in The Hague in 1800 and moved to Amsterdam in 1808, where it was first located in the Royal Palace. Overall, I think the Rijksmuseum was my favourite out of all the places we visited on our trip – it was somewhere I could see myself spending the entire day in, just slowly wandering through each floor and looking up the history around each piece of art. There was just so much to digest.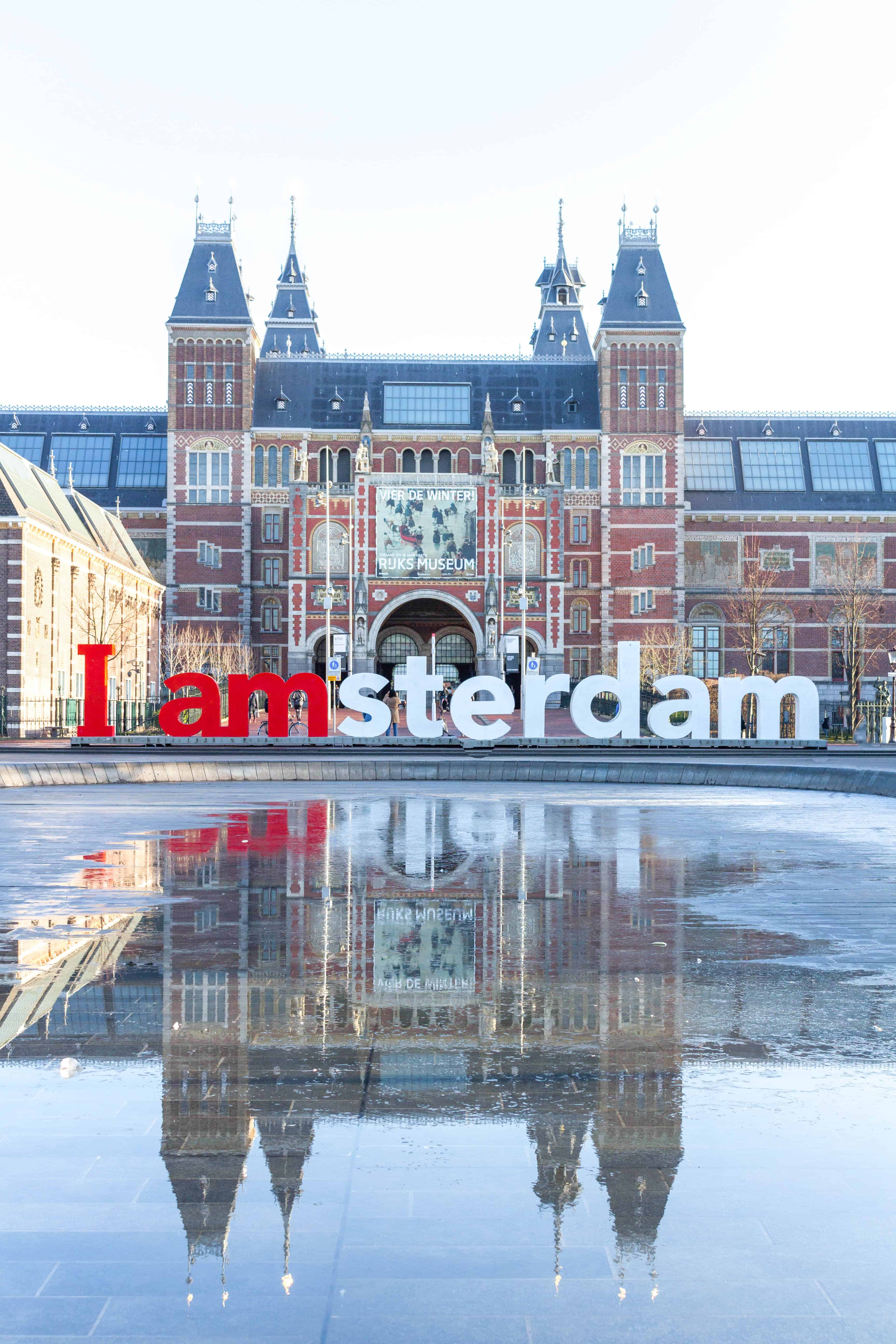 For lunch, we went over to Albert Cuyp Market was just wandered around looking for food to munch on. I got poffertjes, stroopwaffels, and a vietnamese spring roll.
With some time to kill before our canal boat tour with Blue Boat, we walked over to Sweet Cups for a drink. here I met the most amazing dog and by amazing I mean he "guarded" the cafe and when I tried to get him to move over an inch so I could get into my chair, he rolled over for a belly rub. Adorable isn't he? After our canal ride, we went to Stoop & Stoop for dinner.
Amsterdam Tip: On the boat ride, if you don't want to listen to their program inside, you can sit outside on the back of the boat. That's where we were and it was much more scenic (albeit a bit colder) and we were able to get nice photos!
Day 4 – Day Trip from Amsterdam to Kasteel de Haar & Utrecht
Long story short, if I was coming back to Amsterdam or helping a friend plan their trip, I would skip the Kasteel de Haar. However, I'm sure the garden is worth visiting in the spring/summer but the castle itself was meh and the garden was not in bloom.
After the castle outing, we hopped on a bus and made our way to explore the St. Martin's Cathedral area in Utrecht. We stopped by Bagels and Bean for lunch and I had mushrooms, truffle mayo, cheese, pine nuts, and mixed greens on a bagel.
True story: here we were stopped by random men and asked if we had seen anything as beautiful as this and asked if we were from Asia. We told him we were from Canada and that the garden was nice. I didn't have the heart to tell him I've seen much prettier gardens in general.
Day 5 – Day Trip to Kinderdijk
We had originally planned to check out the windmills and watch the sunset with it but we were cold and we were pretty tired in general. After taking a train and then a bus to get to Kinderdijk, we admired the windmills, got a little boat ride (you could probably skip the boat ride part), and made our way back to the city. If going back, I might go for the tour inside the working windmill and see all the technical aspects as that sounds like it'd be fun.
Note: Kinderdijk is an UNESCO World Heritage Site. This system of windmills (19) and pumping stations has been keeping the soil dry here for nearly a thousand years now!
Day 6 – Day Trip to the Hague and Delft
On our last day, we popped over to the Hague and went to the Mauritshuis Gallery. The museum houses the Royal Cabinet of Paintings which consists of 841 objects, mostly Dutch Golden Age paintings. The Girl with a Pearl Earring was what I had really wanted to see and I got to see it so I'm pretty happy with the outing. While there, the Jan Steen's Histories was the exhibition (21 pieces) that had on and that was my second favourite of the whole trip behind the Rijksmuseum. Steen's paintings of stories from the Bible, classical mythology and antiquity were accompanied by easily digestible stories/explanations and some of it was quite cheeky (below is a picture of my favourite little story).
After having lunch at the cafe in the gallery, we walked over to the Escher museum. This museum wasn't part of the museum pass we purchased but it wasn't very expensive. I really liked looking at his work but wasn't a fan of the upper level where they showed other optical illusion art work.
Afterwards, we took a bus over to Delft and wandered around there for a bit before getting dinner at De Waag.
Final Thoughts on Amsterdam
I'd come back. There's so much to see and so much to do! I loved the vibe of everything – everyone was so kind and helpful, everywhere was so easy to get to via foot, bike, or public transit so as someone who doesn't drive, it's a great place to visit (although, don't be like me – I had a few close calls with the bikes!). I don't really drink nor participating in substance use so I have no thoughts on the availability of cannabis. I wish I had taken the time to visit the Red Light District though as it's not everyday where you get to see such a concentration of sex orientated businesses. There were also a lot more museums I wish I had time for such as the Sex Museum, the Torture Museum, Anne Frank's house, Jewish Historical Museum, NEMO Science center, and more! I'd also love to go once the tulips bloomed! There's just so much more to see and do! There were also trains that made popping over to Belgium or Paris to be quite easy – if we had more time, I think I would have liked to do some day trips to different parts of Europe. So yeah, that's how we spent 6 days in Amsterdam (and it's surrounding area), hopefully this itinerary of Amsterdam/The Netherlands helped you plan your trip!
Also – last thought: everyone was so gorgeous and tall too. My feet could not reach the ground in the bathroom!!!! I need to figure out their diet and maybe I'll grow an inch haha.
LET'S CHAT! HAVE YOU BEEN TO AMSTERDAM? WHERE ARE YOU PLANNING TO VISIT NEXT?
Other places to connect with me
Instagram: @runcarmyrun @curiouslychasing @carmyshungry
Twitter: https://twitter.com/runcarmyrun
Facebook: http://www.facebook.com/carmyycom
Email: [email protected]
Vlogs/Recipe Videos: Youtube