Pizza balls. Pizza pull apart bread. Pizza in a skillet. Either way, pizza pizza pizza! The perfect game day snack or just a fun way to make your next pizza.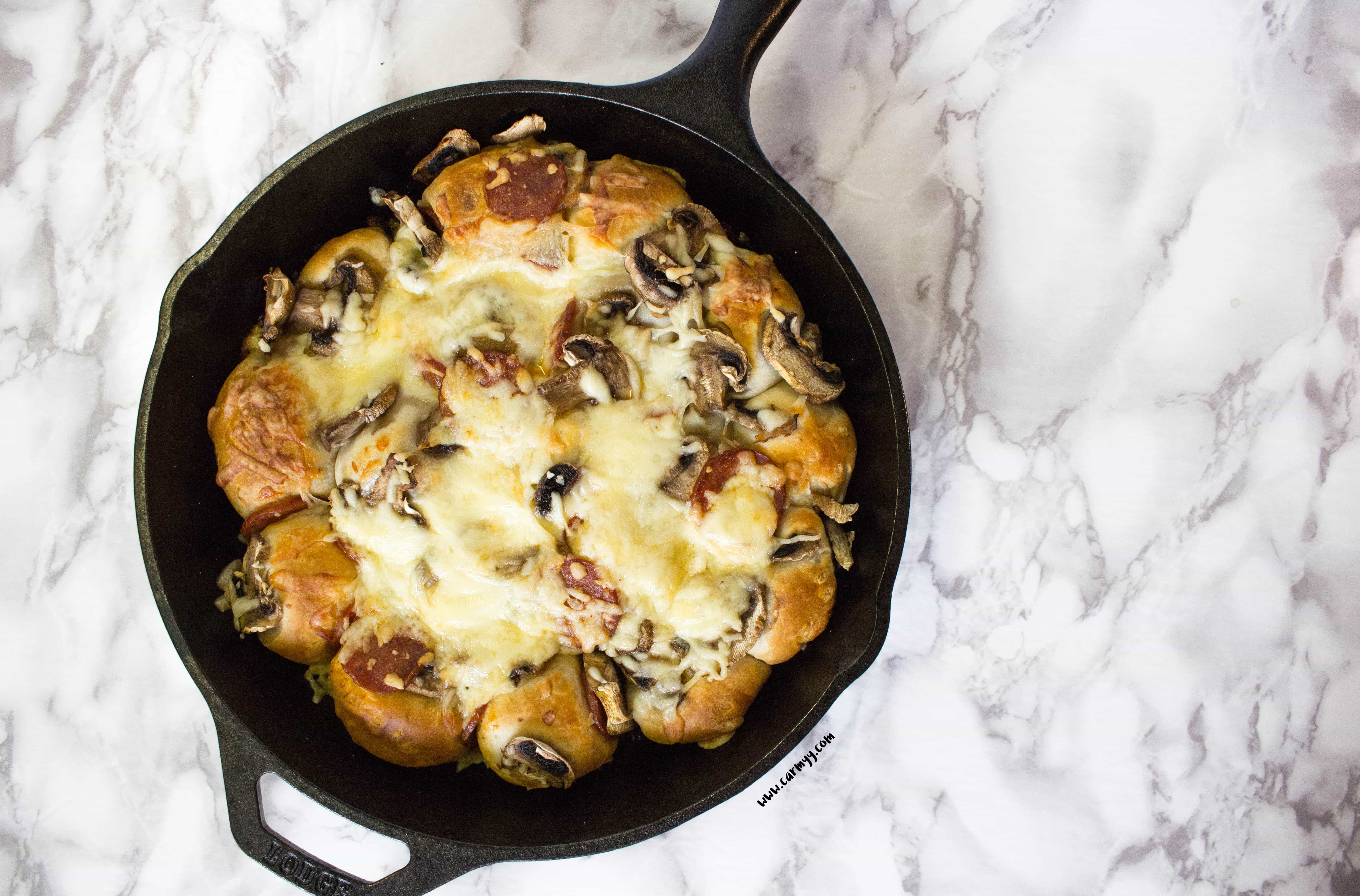 Fun fact, I used to work at a pizza joint making pizzas for a couple years during university! I could make a medium pepperoni pizza in less than one minute (minus the cook time of course)! Yup, I spent a lot of mornings and nights making pizza and being covered in cornmeal. A perk was that whenever I ran a shift (that's right, they put me in charge ;) and nothing ever burned down haha) I got a free pizza. Something me and the crew would sometimes do is make our own weird off menu creations. We made stuffed crust pizza, pizza balls, calzones, you name it, we have attempted to make it.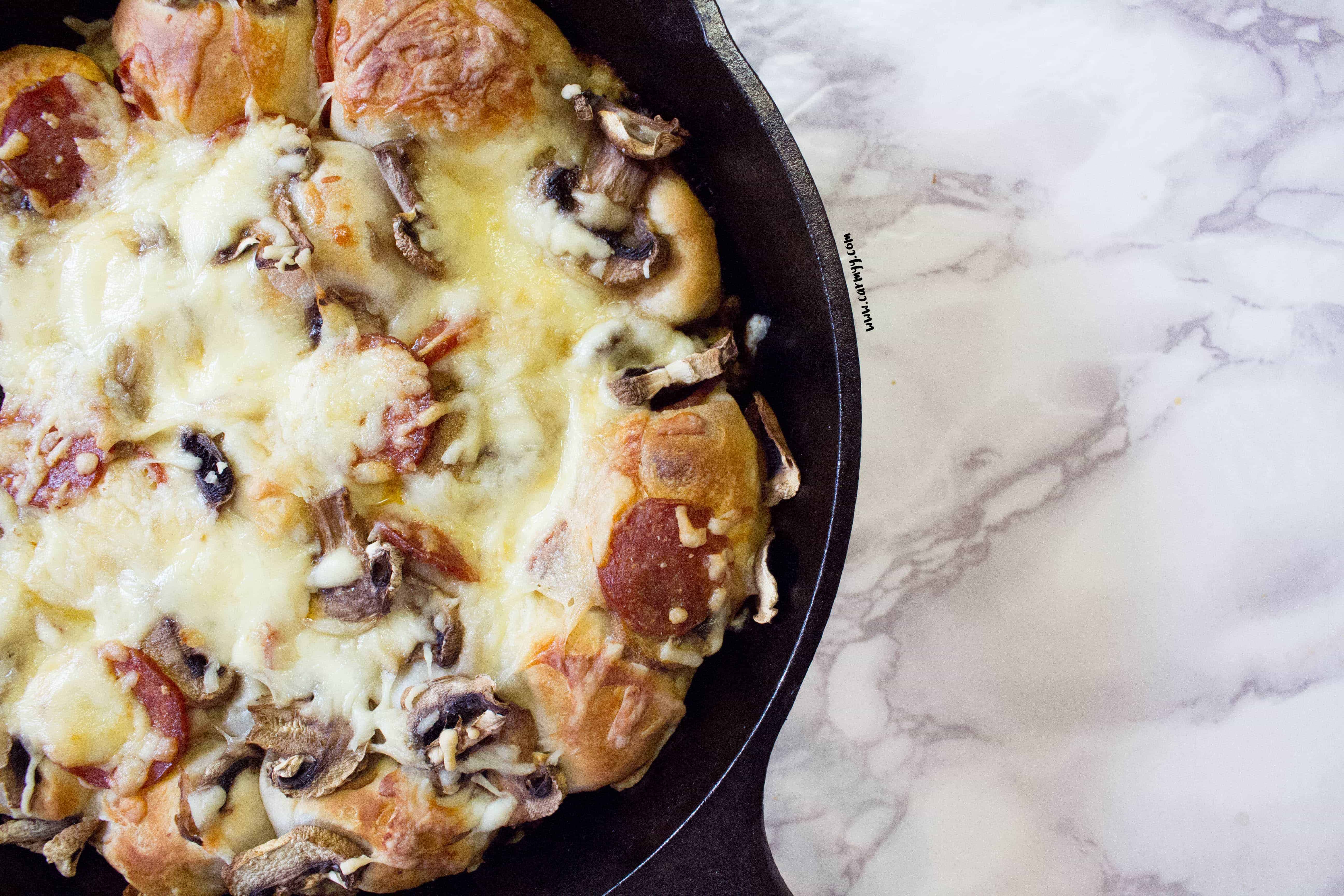 The other day, I was at the gym (yes, this came to me while at the gym) and I was really craving pizza but I wanted to use my brand new cast iron skillet. Then I remembered pizza balls! So off to the grocery store I went and then this happened.
It was super easy! All you need is a tube of biscuit dough, pepperoni, cheese, and whatever toppings you like (I added mushrooms). My tube of biscuit came in pieces of 10 but they would have been too thick on their own so I cut them in half. Before cutting it, I set one piece aside so if any of the balls needed any extra padding, I could use the dough.
The easiest way to work with the half circles is to fold the ends together so it turns back into a circular shape. Then you can start flatten it out to a mini flat circle. There will be a video down below showing you how I did it! For the stuffing, I kept it interesting by mixing up the stuffings inside each pizza ball. Some pizza balls had just pepperoni and cheese, others had a mushroom with a piece of pepperoni, etc. I put in a little cube of mozzarella cheese in the pizza balls but you can also put in the shredded cheese in it instead to cut down on the grocery bill.
*Super important: when putting the topping on all the pizza balls, do not go too heavy! While I love cheese, too much cheese/toppings will prevent the pizza balls from cooking throughly. If you want it extra cheesy and with extra toppings like I do, let the pizza balls cook first and then put the cheese on afterwards and place it back into the oven for the cheese to melt.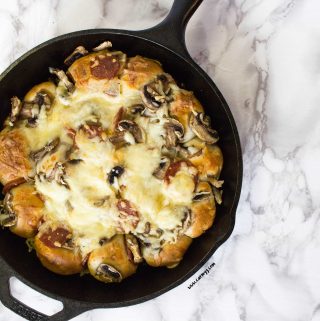 Stuffed Pizza Balls/Pull Apart Bread in a Skillet (with video)
Pizza balls. Pizza pull apart bread. Pizza in a skillet. Either way, pizza pizza pizza! The perfect game day snack or just a fun way to make your next pizza.
Print
Rate
Ingredients
1

tube of biscuit dough

,

10

1

bag of pepperoni

,

or 30-40 pepperoni

1

bag of shredded cheese

1/4

block of mozzarella cheese

,

70g, cubed

1

cup

of mushrooms
Instructions
Heat up the oven to 400F

Cut in half the biscuits dough.

Flatten each piece and wrap up your stuffing of choice in each piece of dough (pepperoni, mushroom, cheese cube).

Place each ball into the skillet.

Place extra pepperoni, cheese, and mushrooms on top of the pizza balls.

Pop it into the oven for 30 minutes. If you want to put in extra cheese/toppings on top, pull it out of the oven after the pizza balls have been cooked and put on the additional toppings.
Notes
Do not over top the pizza balls or it'll prevent the dough from cooking all the way through. Put on additional toppings afterwards.
I set aside one piece of biscuit dough to use to fill after rips when shaping the pizza balls.
Tried this recipe?
Did you make this recipe? I'm always so happy to hear about it! I'd love to see how it turned out. Tag me at @CarmysHungry on Instagram so I can see it! If you enjoyed the recipe, I'd really appreciate a comment with a 5 star rating! ♥
[Tweet "Check out this recipe: Pizza Balls/Pull Apart Bread in a Skillet"]
QOTD: What is your favourite pizza topping? How do you like your pizza?
pin it for later
Other places to connect with me
Instagram: http://instagram.com/runcarmyrun
Twitter: https://twitter.com/runcarmyrun
Facebook: http://www.facebook.com/carmyycom
Email: [email protected]
Vlogs: Youtube