This pull apart pizza balls with Sriracha ricotta dip is a remix of the perfect game day dishes. Pizza balls for the pizza fans and dip for those who loves their game day dips!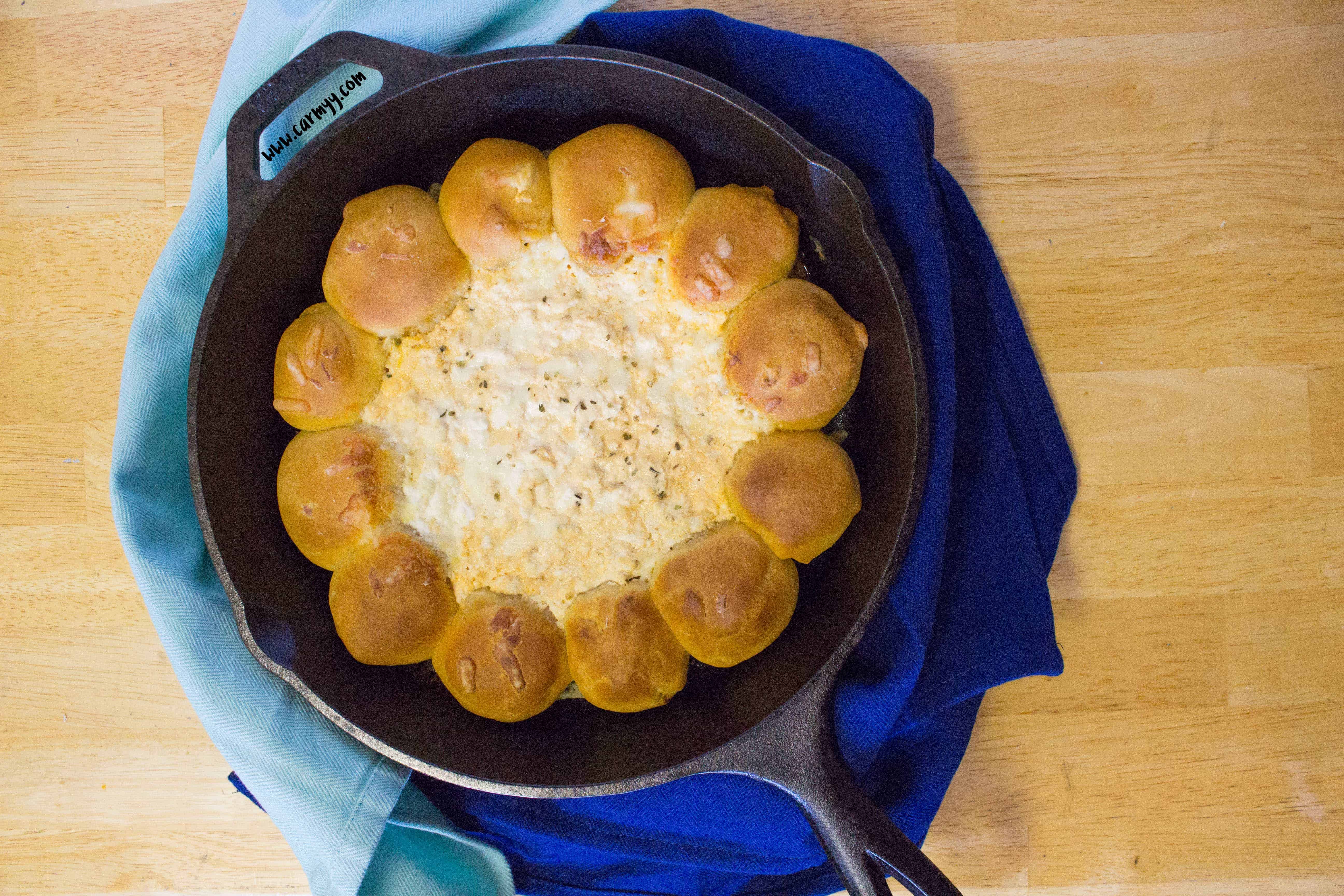 While staring that the half tub of ricotta I had in my fridge, I was trying to figure out what in the world I was going to use it up with. I hate having half empty tubs of stuff in my fridge since that usually means I'm going to forget about it and it'll go to waste. The first thing I thought about making was a spinach and ricotta dip but I had used up all my spinach on a smoothie the day before. So that idea was out. Staring at my opened fridge, I spotted the bottle of Sriracha. H loves Sriracha. And by love I mean he has at least two bottles right now and I considered getting him that mini Sriracha keychain at one point. Anyways, I was pretty much like "hmmmm, how does Sriracha taste as a dip?" and just rolled with it.
Little did I know that this little idea of mine would cause me so much work. Part of the tip was apparently clogged so when I aimed down into the measuring cup, the sauce somehow went UP and out. A stream of hot sauce flying out and landing on the floor. And my dog. My poor dog didn't know why I was shrieking NOOO as I ran to grab napkins to wipe him down. Since he knows if I yell and there's "food" on the floor, it means it is off limits so he ran off to the side before sniffing himself. Before he could get a lick in, I wiped him down. Not knowing whether or not dogs would ingest Sriracha (probably not…) I decided to give him a quick rinse mid cooking. He of course could sense a bath from a mile away so he made a mad dash to his crate and hid which meant I had to go drag him out and put the poor guy in the tub. Sriracha 1 – Carmy 0.
Anyways, after the little guy got his share of treats post-rinse, I went back to the dish. So I have a dip but I wasn't sure what to use to dip into it. That's when I spotted the leftover pepperoni and cheese from the Pizza Ball / Pizza Pull Apart Bread I made the other day. I had a can of Pillsbury crescent roll dough on hand so I pretty much made the same thing but with crescent dough instead of biscuit dough.
In the end, it worked out. The crescent rolls had 6 per tin and I cut them in half which gave me 12 pizza balls, just enough to surround the dip in the cast iron.
So mid cooking dog rinsing aside, this recipe is pretty easy! When it was done baking, the dough risen enough that when I ripped the little pizza balls open, there was enough space inside for me to scoop some of the dip instead.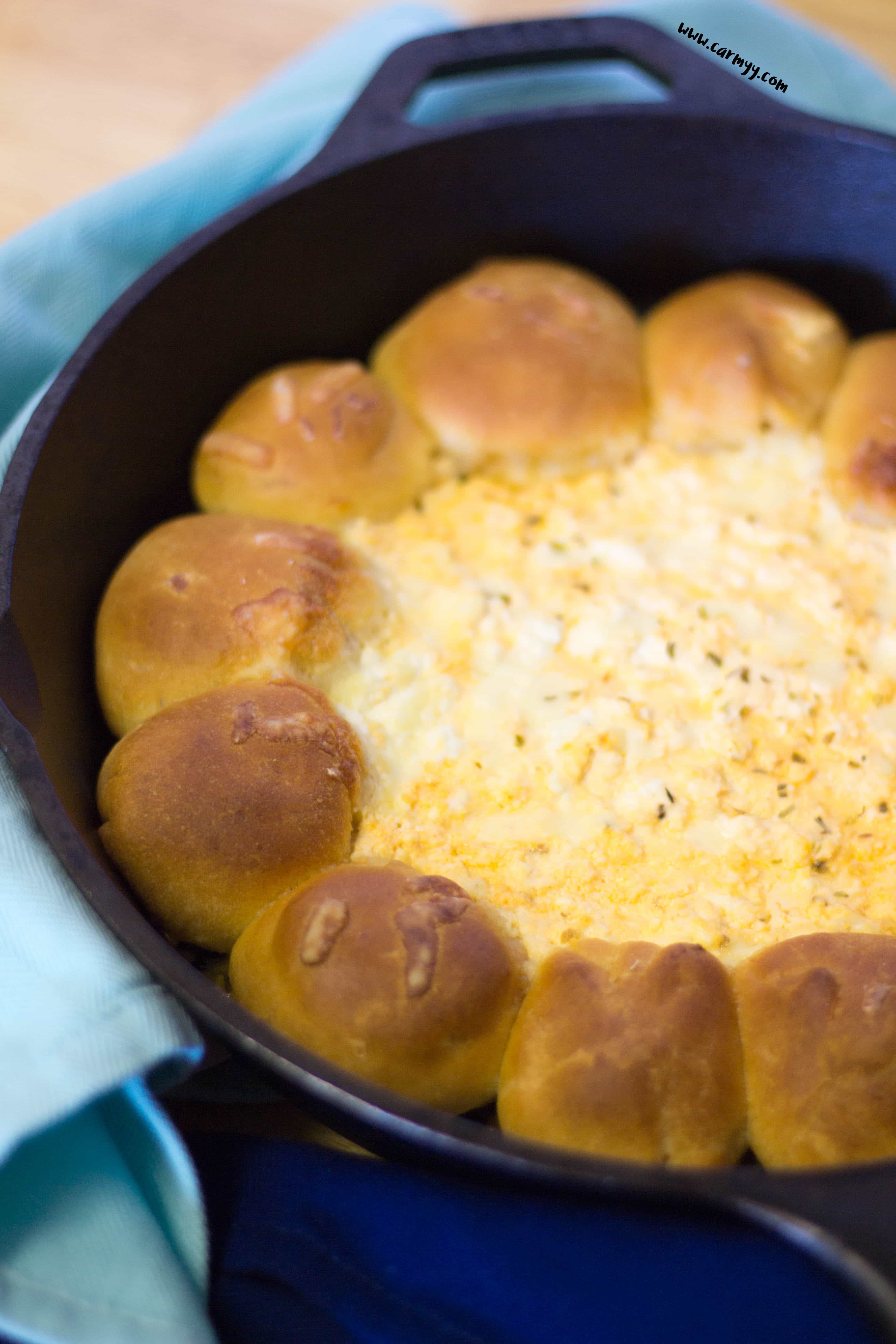 Also, while typing up the recipe, I realized just how much cheese is involved in this recipe. As someone who loves cheese I'm not even sorry. Hahahaha. But for reals, you can subtract the shredded cheese topping or instead of using little cubes of mozzarella, put shredded cheese instead the pizza balls. This was just what I had in my fridge that needed to be used up.
Pull Apart Pizza Balls with Sriracha Ricotta Dip
This pull apart pizza balls with Sriracha ricotta dip is a remix of the perfect game day dishes. Pizza balls for the pizza fans and dip for those who loves their game day dips!
Print
Rate
Ingredients
1

can of Crescent Dough

Pepperoni

,

12-20 pieces

Shredded Cheese

12

Mini Cubes of Mozzarella

1.5

cups

of Ricotta Cheese

2

cloves

of garlic

,

minced

Lemon Zest

Oregano
Instructions
Heat oven up to 375F

To make the pizza balls, cut each piece of crescent dough in half so you end up with 12 pieces.

Flatten it out and use it to wrap up 1-2 pepperoni pieces and a cube of mozzarella (or sub with the shredded cheese).

Place in a circle in the skillet.

To make the dip, in a cup and a half of ricotta, mix in a splash of olive oil, 2 cloves of minced garlic, lemon zest, oregano, Sriracha, salt, and pepper. If you can handle more of a kick, add more Sriracha. If your tolerance is lower, put in less.

Mix well then pour into the center of the skillet.

Top with shredded cheese.

Pop it into the oven for 15-20 minutes or until the little pizza balls are golden.
Tried this recipe?
Did you make this recipe? I'm always so happy to hear about it! I'd love to see how it turned out. Tag me at @CarmysHungry on Instagram so I can see it! If you enjoyed the recipe, I'd really appreciate a comment with a 5 star rating! ♥
[Tweet "Pull Apart Pizza Balls with Sriracha Dip"]
QOTD: What is your favourite dip? What's your go to game day dish?
pin for later!
Other places to connect with me
Instagram: http://instagram.com/runcarmyrun
Twitter: https://twitter.com/runcarmyrun
Facebook: http://www.facebook.com/carmyycom
Email: [email protected]
Vlogs: Youtube