Lisbon, the capital of Portugal has recently won my heart. It is right by the coast, it has amazing hill top views, and all the food you can eat. In no particular order, here are 6 reasons to love Lisbon and to add to your bucket list.
1 | The Gorgeous Tiles
Door frames, walls, stairwells, exterior of buildings, souvenir shops – tiles are everywhere! And they're so pretty and colourful that I was totally tempted to bring some home with me!
2 | All the Seafood
Being near the coast has its perks. This clam dish was one of my favourites!
3 | Cheap food
If you find the right places (aka local places) you can get some cheap food! I got a sandwich, drink, and fries for under 5 euros near the Belem Tower. I got a bifana literally a few cents more than the McDonald price at a Casa das Bifanas for around 2 euros whereas the MD version cost 1.95!
I mean look at this bill! For FULL SERVINGS of seafood rice, prawn curry, cod, and sausage. Also, $2.50 euro for two sodas. That's usually the price of one!
4 | Everything is so colourful
I mean look at how colourful these buildings I walked by are! If I could have this in Toronto, that'd be fantastic!
5 | You get a mix of city life and beach life
You could easily spend the entire day just hanging out at the beach or you can spend the entire day in the city. You don't have to pick either because they're close enough that you can do both in one day!
6 | (Rooftop) Patios
It's practically patio season year round and I am soooooo jealous of that. It was nice to sit at a patio and just people watch/soaking in the vibe. Then combining patios with rooftops? Yes please! Just look at the view!
QOTD: What's your favourite city to visit? Have you visited Lisbon?
---
More from around the web: Heading to Lisbon on your own? Check out this post on solo travel in Lisbon from Blond Wayfarer!
---
[Tweet "6 Reasons to Love Lisbon @VisitPortugal #Wanderlust "]
pin it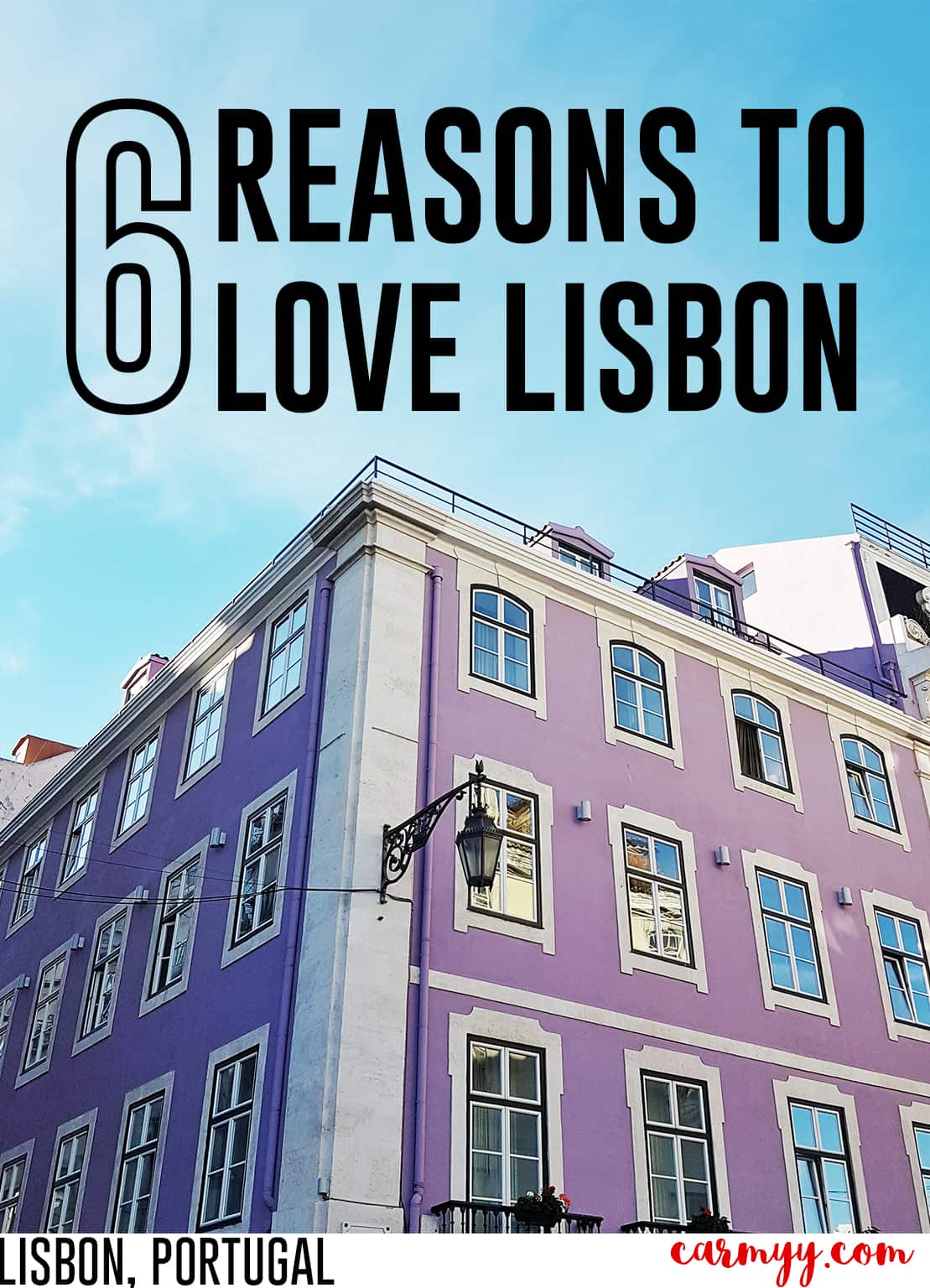 Other places to connect with me
Instagram: @runcarmyrun @curiouslychasing @carmyshungry
Twitter: https://twitter.com/runcarmyrun
Facebook: http://www.facebook.com/carmyycom
Email: carmy@carmyy.com
Vlogs/Recipe Videos: Youtube