Over the weekend, I decided to host the first BBQ of the summer and boy was it an epic two day event for me! One and a half days of prep and then the BBQ.
Disclaimer: This post is sponsored by President's Choice Insiders Collection. All opinions are my own. Thank you for supporting the brands who support me!
Here's the thing – I don't deal well with time passing. I was just talking to a coworker about how it feels like every time I blink, it's a new month. So when July hit and I was pretty much freaking out about how Summer was half way over and how I barely did anything on my summer bucket list. Remember when you were in high school (not university because summer did not exist for me then! Bummer) and you'd hang out in the summer around a fire pit or have a bbq at a friend's house? Well now most of my summer was spent working and I was feeling old. Where has the time gone? How has half of summer gone by without me noticing? How am I not sitting around a campfire with friends and just hanging out? So when President's Choice reached out to me about testing out some of their product, I thought it was a great chance to bring some of my friends together and enjoy ourselves.
FYI – hosting a BBQ is hard work. I really wish I had an extra person helping out as it was difficult to help with the food, take photos, and socialize. However, I did have H with him so he manned the grill so that was one thing off my plate.
H had invited some of his friends and coworkers to come to the BBQ too so they were able to keep him company outside while he manned the grill. In the photo, he's getting ready to put the PC® Smokies Poutine Flavoured Fully Cooked Smoked Pork Sausage onto the grill while he's grilling some bacon wrapped mushrooms (that he picked up at Loblaws while getting coal!) – see the video below to see how easy it was to make it! And FYI the sausages had actual fries, gravy, and cheese in the sausage – I really don't know how you get much more Canadian than that haha.
Lemonade Radler De-Alcoholized Lager beer with Lemonade and a Canadaiana Burger in Allison's lap.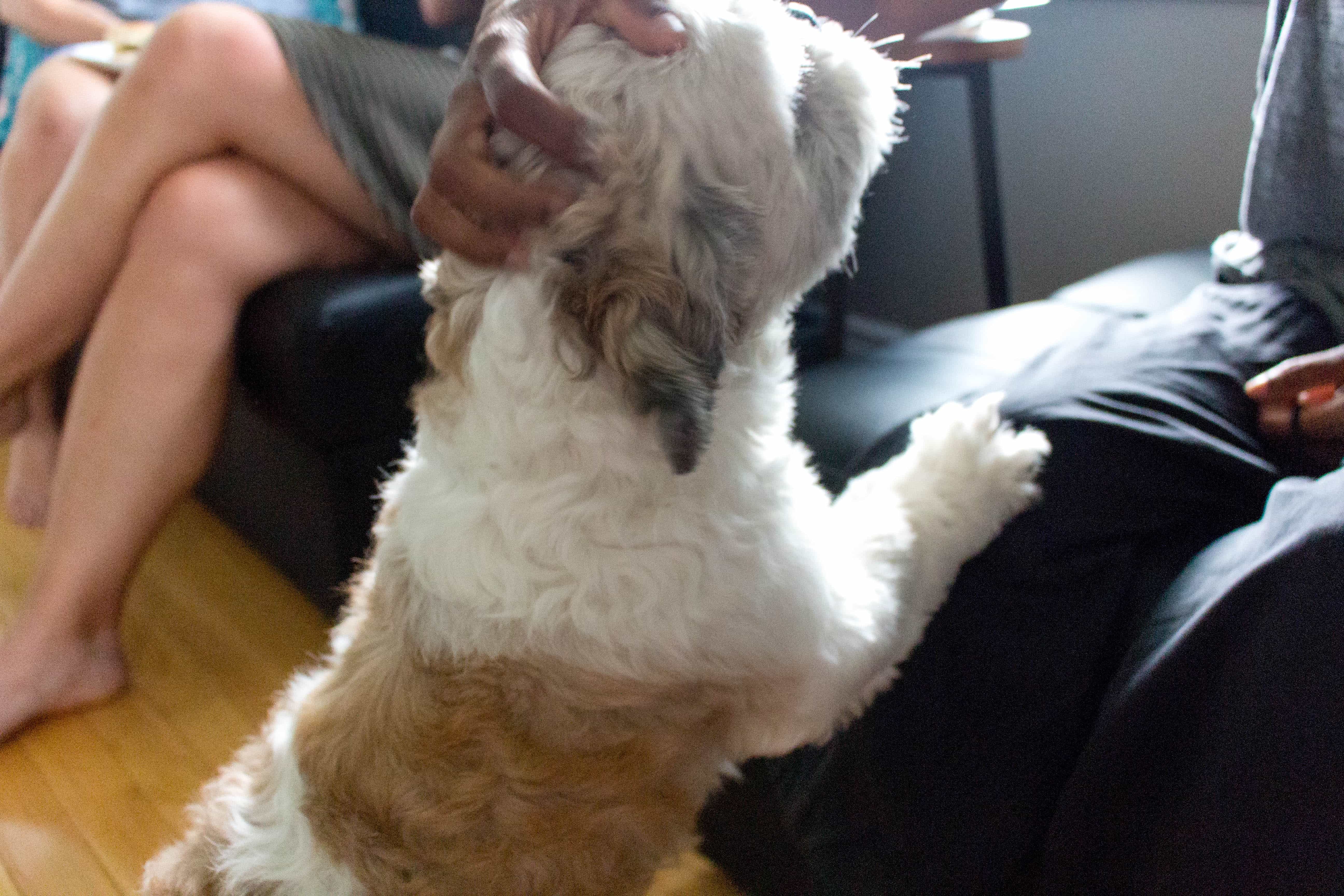 Anyways, it was so nice to be able to see some of my running friends, coworkers, neighbours, and H's friends that I haven't seen in a while. The BBQ started at 5PM and people were coming and going until past 8PM and thanks to my habit of overfeeding people, there was still plenty of food to go around! I'm pretty sure I had one too many cobs of corn (because I had to bring some to work on Monday!) but I'm quite pleased to say that no one ever leaves a party I host with a still hungry belly!
Corn, baby potatoes, rice salad, mango salsa (from PC)
PC Loads of Canadaiana Burgers, PC Canadian Burger Buns, Mustard, and PC Bacon and Maple BBQ Sauce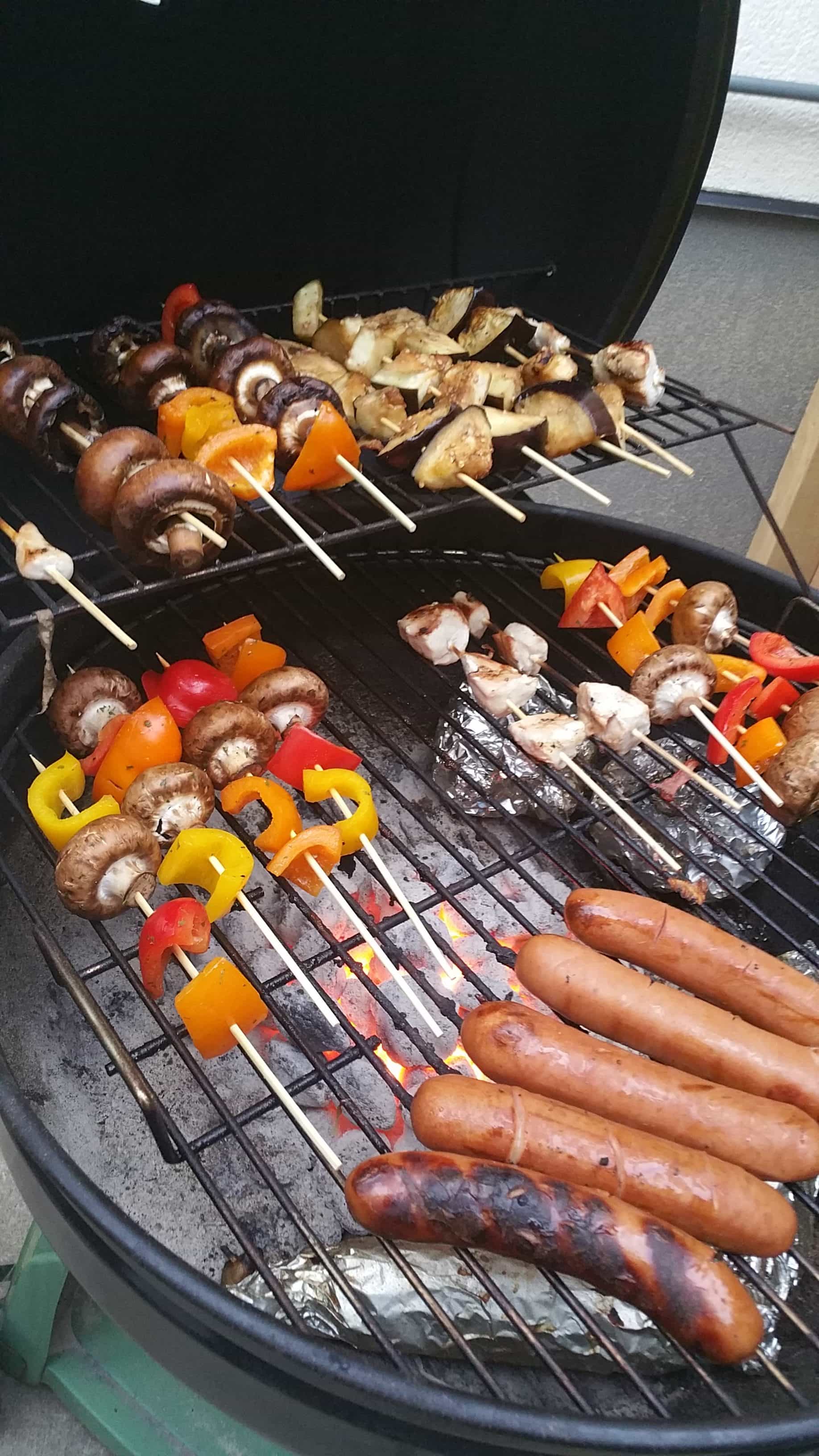 Chicken skewers, veggie skewers, eggplant skewers, PC Smokies Poutine Flavoured Fully Cooked Smoked Pork Sausage.
Rice salad ft PC Berry Cherry Cranberries, Cherries, Blueberries, Goldenberries, and Gojiberries Sweetened Dried Fruit Blend
And of course no BBQ is complete without the roasting of marshmallows! We had these cool Maple Flavour Marshmallows from PC that were shaped like hockey pucks. Seriously. I dare you to find something more adorably Canadian.
And of course, because you all know the type of person I am, one dessert is not enough! Shortly after, I busted out these Lemon Raspberry Naturally Flavoured Cheesecake Truffles from PC that my friend and I have been eyeing at Loblaws for a while and needed an excuse to try out. It was pretty late in the evening by this point so we thought "go big or go home" and had some ice cream after. Of course this was when some more of H's friends showed up so after dessert, I had some more of the sausages and a Canadaiana burger haha. #judgementfreezone
Overall, it was a pretty great weekend! It wasn't humid, the rain mostly held out, and I got to see some pals I haven't seen in a while. It was a pretty solid BBQ!
If you want to see how most of the food was cooked, linked below is a behind the scenes vlog on the meal prepping for the BBQ. The rice salad was actually made by my friend and wasn't shown in the vlog (at that point, I was laying on the ground catching my breath before the BBQ was scheduled to start) so here's the recipe! It was honestly, absolutely amazing and this is coming from someone who had high expectations for rice dishes! She's my friend who I usually wing dishes with so it's always fun to see what we come up with when we go into the kitchen masterchef mystery box style.
Ingredients
Instructions
Cook rice and then let the rice cool completely.

In a bowl, whisk together honey, soy sauce, avocado oil, and salt.

Once the rice has cooled, combine the liquid with the rice and mix in the mixed berries, chopped scallions, basil, toasted pecans, cucumber, and grilled eggplant.
Notes
Optional: Want a bit of a kick in flavour, add some of PC's bacon and maple flavoured bbq sauce!
Tried this recipe?
Did you make this recipe? I'm always so happy to hear about it! I'd love to see how it turned out. Tag me at @CarmysHungry on Instagram so I can see it! If you enjoyed the recipe, I'd really appreciate a comment with a 5 star rating! ♥
https://www.youtube.com/watch?v=2vrfCEQWf-I&t=191s
Let's chat! What did you do over the weekend? Are you a BBQ-er?
Other places to connect with me
Instagram: @runcarmyrun @curiouslychasing @carmyshungry
Twitter: https://twitter.com/runcarmyrun
Facebook: http://www.facebook.com/carmyycom
Email: carmy@carmyy.com
Vlogs/Recipe Videos: Youtube