With spring right around the corner, it's time to take advantage of the GTA's beautiful and accessible trails. Simple activities such as walking has endless health benefits which include strengthening the legs, building muscles, reducing back pain, improving blood pressure, cutting fat and so much more. Healthcare professionals recommend setting aside 30 minutes per day just to walk.
Walking also helps with pain management which many people aren't aware of, therefore you should take advantage of all the spectacular trails Scarborough has to offer. These top 6 trails in Scarborough could potentially limit your risk to Osteoporosis, reduce your stress and provide significant relief for any back pain you may be feeling.
Bluffers Park spans over 110 acres with striking views that will make any walk enjoyable. Increase your health by taking advantage of this 3.1km trail that expands from the marina all the way to the Bluffs. At the end of the trail you'll not only be rewarded with good health, pain relief and reduced stress but you'll get to see some spectacular views. The highest point of the Bluffs rises approximately 17 storeys above the shoreline which means great views expanding all across Lake Ontario.
For the more experienced and active walkers, Highland Creek Trail is 11.7km and perfect for those who want to have a good workout during the weekend. This trail winds through woods, a creek, and a bridge. Intimidated by the distance? Have no fear as this Scarborough trail isn't very difficult and could be completed by people of all ages. Reduce your risk of Osteoporosis with this fantastic trail which follows the beautiful Highland Creek.
This trail allows for various activities including: running, walking, snowshoeing, cycling and much more. Want to work on strength training and muscle building? This 3km trail is steep and will certainly help strengthen your legs, back, and core. This trail is open year-round meaning that you shouldn't hesitate to throw on those snowshoes and stretch those muscles!
Rouge Park Trails
– Meadowville Road and Old Finch Road
Talk about variety, Rouge Park consists of five trails ranging from 1.6kms to 2.2kms. Advanced runners must try the Mast Trail, a 2.2km trail that was once a 200 year old logging route where trees floated down the river and eventually transported to Europe. If you love nature then the Orchard Trail is for you as it wraps around regenerating forests and beautiful flowers.
Are you a naturistic person infatuated with colourful gardens and spectacular views? Then the Guild Park and Gardens is for you. This park is ideal for anyone trying to lower their blood pressure because these spectacular sights will reduce your stress instantly. This scenic area, formerly known as Guildwood Park consists of all the things you need to live a healthy life: fresh air, exercise, incredible sights.
Forget about defined trails with boundaries, we as physiotherapists love to explore and what better way to explore than having 85 acres of parkland to experience. This park, open year round offers a variety of ways to get active including an off-leash dog walking area for your pets!  For those who are a bit more adventurous then be sure to take advantage of the off road cycling.  
[Tweet "Top 6 trails in Scarborough that you need to check out! @SeeTorontoNow @OntarioTravel #DiscoverON"]
QOTD: Do you live near trails? What's your favourite trail activity?
PIN IT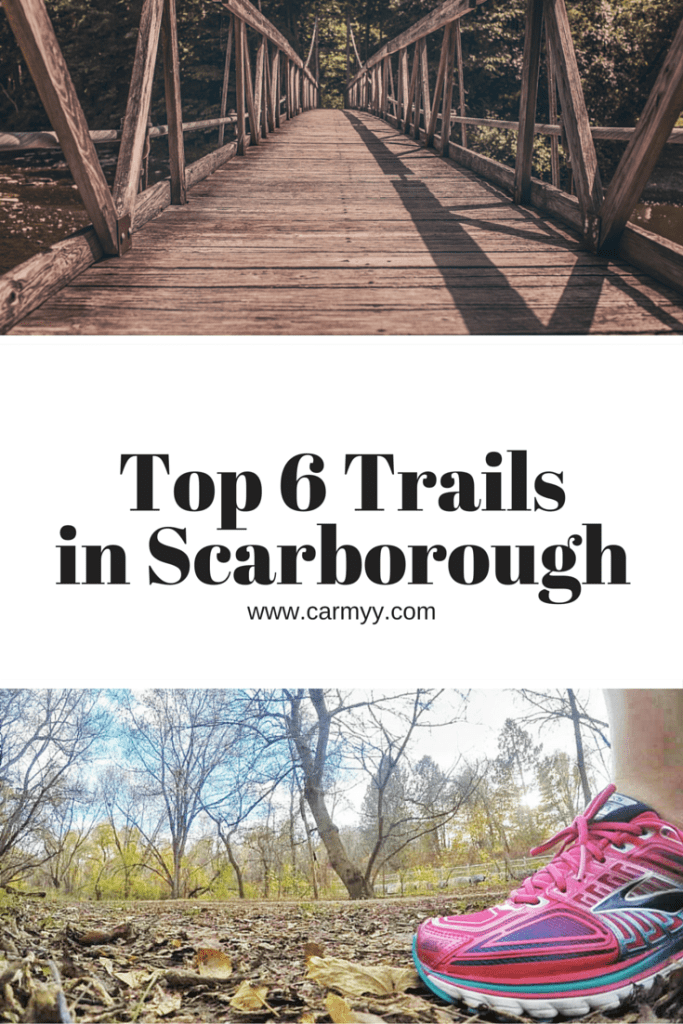 Other places to connect with me
Instagram: http://instagram.com/runcarmyrun
Twitter: https://twitter.com/runcarmyrun
Facebook: http://www.facebook.com/carmyycom
Email: [email protected]


<3 Carmy