Guess who just got back from Walt Disney World? That's right! This girl! Ever since my family decided to go to Universal Studios instead of Disney World when I was 13, I've made it my goal to get myself to Disney and have the most magical time possible! Well just last week, my wish came true!
While in Montreal, Jen and I booked our trip to Orlando through Expedia.ca to escape the cold and knew that our trip to Orlando would not be complete without a trip to Disney. (Major thanks to my friends at Expedia.ca for sending me to Orlando so my BFF and I could live out our childhood dreams!) We booked the Hyatt Regency Grand Cypress (they were amazing, letting us have an early check in!) due to its proximately to the theme parks and their 4.6 star rating on Expedia. When we got there, we found out the they had free shuttles to Disney and Universal so we were super excited that we didn't have to worry about transportation. After lounging by the pool and checking out their running path, we grabbed dinner at the hotel before we headed up to our room so we could get a full nights rest for our Disney adventure.
After making our way to buy the cutest Minnie Mouse ears and heading over for the interactive experience with Belle (legit almost cried when she came out and texted my boyfriend that I want to be a princess), we decided to try eat all the food. (BTW, this is kind of impossible haha. There was just too much to pick from and our stomachs could not eat all of it!)
What I Ate: Disney Edition
This was the first thing I had! I had always wanted to try their Dole Whip Float, pineapple ice-cream in pineapple juice! We headed over to Aloha Isle in Adventureland, Magic Kingdom. I absolutely loved the pineapple ice-cream but was not a fan of the pineapple juice. 
Ordered 1 Mickey Mouse Pretzel and the 2nd one was courtesy of Mickey Mouse! Score! It came with a warm cheese dip. Pretty sure this was in Adventureland.

An outing with me is never complete without gelato! After we had finished wandering all over Magic Kingdom, we took the monorail over to Epcot and in Italy, I got two scoops of gelato, cookies & cream and vanilla & cherry.
How could I go to Disney without getting a Turkey Leg? I picked mine up in America in Epcot. Here's my freaking face to scale! Haha! I was struggle to finish this and actually had to give up before it was over. At this point, I was so full but we powered through!
Because I am insane and have a soft spot for dessert, Jen and I stopped by Alpine Haus, located between France and Morocco and got a Sachertorte: a chocolate cake with apricot jam and dark chocolate glaze. Um, yum!
And because we could not help ourselves, we got Fish and Chips while in London, Epcot! (Note we got Fish and Chips the next day too… and we had Fish and Chips while in Montreal. We clearly have a love for it!)
Question: What's with all the popcorn at Disney?! It's everywhere! Of course walking by as the smell wafts towards you… it is quite tempting to get some.
Honourable Mention

Not Disney but the next day, we got Butter Beer from Diagon Alley in the Harry Potter Universe at Universal Studios. I'm not doing a post on the food from Universal so here is my one bonus from the next day! It's tasted like a caramel slushy and it gave me a brain freeze. Eek!
Once again, thanks to my friends over at Expedia.ca for getting me over to Orlando! If you want to have an amazing Disney Adventure like I did and not worry about flights/hotel/etc, do what I did and get the package over at Expedia! Easy peasy lemon squeezey. (Bonus: I saved around $200 because I picked my flights + hotel together).
What does a day in eating look like you on vacation? Are you a fan of Disney?!
[Tweet "Come see what @runcarmyrun ate at @WaltDisneyWorld #BigWorldExplorer @ExpediaCA"]
pin it!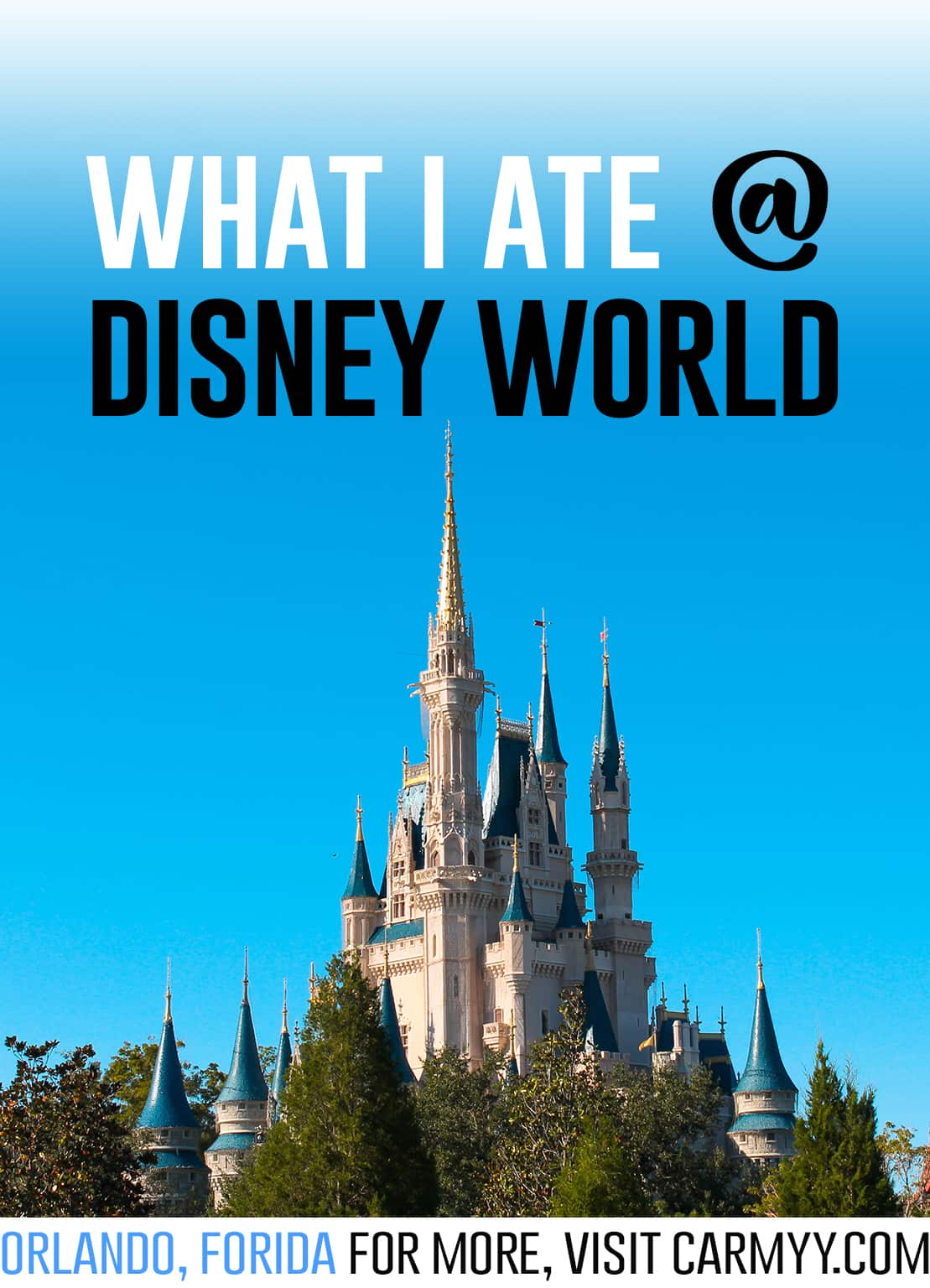 Other places to connect with me
Instagram: @runcarmyrun @curiouslychasing @carmyshungry
Twitter: https://twitter.com/runcarmyrun
Facebook: http://www.facebook.com/carmyycom
Email: carmy@carmyy.com
Vlogs/Recipe Videos: Youtube

*Disclaimer – Walt Disney World tickets were provided to me as media. All thoughts and opinions are my own.