Heading to Montréal? Want to get some runs in while you're there? Well here's a guide that covers some of the best spots on where to run in Montréal! *This guide is also great for walking if you want to see the city by foot.
Where To Run in Montreal
Before we get started, I want to thank Clif Bar for sponsoring this post and helping me #FuelYourAdventure! In addition, I want to thank Tourisme Montréal for providing us with a guide on our second day to give us a great local experience of Montréal! Not only did Thom show us some great spots, we also got a mini history lesson! And as someone who took a zillion Canadian history courses during my undergrad, it was a pleasure to learn about Montréal! Okay, now onto where to run in Montreal!
My fuel of choice for this adventure was the Clif Bloks (energy chews) and the Shot (energy gel). It kept our energy up and running as we ran, walked, and hiked all around Montréal to get the most out of our sight seeing adventure.
The Canal
The Canal is a 14K long multiuse path so you can walk, run, bike, ski, or snowshoe your walk along the path. Not only is this path scenic, you really cannot get lost as you can see below on the map that it is a pretty simple out and back with minimal turns. You can also see the downtown skyline from this path! And when you're done, you can pop into the Atwater Market and grab a pastry before kicking your legs up! It is sucha great place to run in Montreal!
*For those of you curious about why the Lachine Canal is a national historic site, in the 19th and 20th centuries, the Lachine Canal was the head of a canal network linking the heart of the continent to the Atlantic Ocean through the Great Lakes and St. Lawrence route. The rapids from the St. Lawrence made it difficult for expand, with the canal, it allowed for passage of ships that led to settlement and more commercialization.
Mount Royal
Mount Royal was so much fun to explore. Honestly, I have no idea how long this path is as you can go from the bottom of the "mount" to the top to look at the view or go inside the trails and explore. The trails were my favourite part as it took you out of the hustle and bustle of the city. If given more time, I would have spent the entire day at Mount Royal just exploring.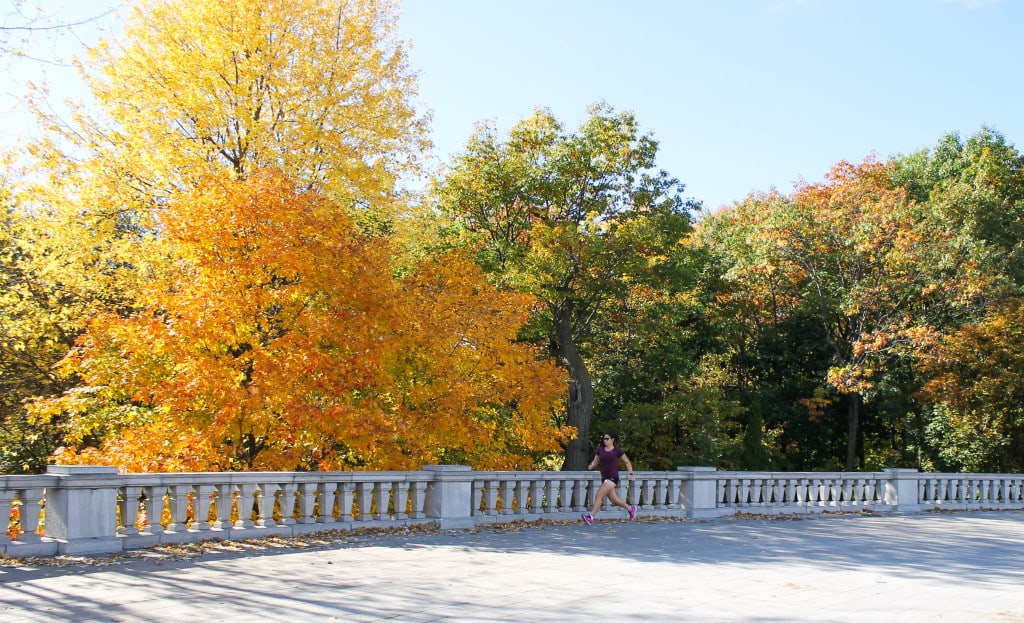 The Summit
Feel like doing stairs on top of doing hill work and then exploring trails? The Summit is the place for you! The Summit has switch back roads that leads you to the top. Here's the view you get from the top:
Once you reach the top, there's a set of staircases that you can do some stair training if you desire so.
Île Sainte-Hélène
The home of the 1967 World Fair Expo, Île Sainte-Hélène now houses the Montréal Biosphere and is an environment museum. If you head towards the Biosphere, right up the little hill, is the running path!
Île Notre-Dame
Île Notre-Dame is a man made island that is just east of Île Sainte-Hélène. Together with  Île Sainte-Hélène, it makes up Parc Jean-Drapeau, which forms part of the Hochelaga Archipelago. Parc Jean-Drapeau is officially recognized as a registered leg of the Route Verte and Trans Canada Trail aka there are plenty of trails there and paths for you to walk, run, hike, and explore!
On Île Notre-Dame is the Canadian Grand Prix of Formula One. What's so cool about this track? Well have you ever wanted to go on one? Weeeeeeeell, it's your lucky day because the track (when not being used for the event), you can run, walk, bike, and even drive on the track! Given you can only drive like 30kph, you can head over to the track and do some loops if you feel like running on a race track!
Just a heads up, Montréal is kind of filled with hills. Like my poor little calves and butt was on fire from the incline but it was well worth it! You are almost always rewarded with a beautiful view of the city or the water. So if you're looking for where to run in Montreal, be prepared for hills! Overall, I enjoyed running around Montréal, we did get lost a few times as we wandered but luckily, the Clif Bar Bloks kept our energy up and running. Once again, a thank you to Clif Bar and Tourisme Montréal and to you, my reader for supporting the brands that support me! Stay tuned for my next post for the rest of my trip!
[Tweet "Where to run in @Montreal! (or walk, hike, bike) #FuelYourAdventure #MTLMoments @ExploreCanada"]
[table id=4 /]
Other places to connect with me
Instagram: http://instagram.com/runcarmyrun  http://instagram.com/curiouslychasing 
Twitter: https://twitter.com/runcarmyrun
Facebook: http://www.facebook.com/carmyycom
Email: [email protected]  (business inquiries [email protected])