Thanks to my friends at Expedia.ca, I got to spend a couple days in Orlando! Of course one of my first stops was Walt Disney World. And of course I practically made it rain money as I proceeded to buy pins, souvenirs, food, and mugs. Seriously, I came home with 3 mugs. It would have been 5 if the Universal Orlando Starbucks mug was not sold out! But anyways – if you're like me and you blew your budget, here's a list of things to do in Orlando that are free (or low cost!).
*Note: if you're on a budget, consider looking up some combo deals at Expedia.ca as the savings by booking through them was around $200 :)
10 Free Things to do in Orlando**

**Or super close to Orlando.
Chamberlin's Market & Cafe is an organic grocery store that also offers free classes and events. For example, they recently offered an aromatherapy workshops if that is up your alley.
The CityArts Factory is a collection of art galleries in downtown Orlando showcasing local and international artists. There is free admission Tuesday through Saturday from 11 a.m. to 6 p.m.
Cocoa Beach
Cocoa Beach sits just east of Orlando and is constantly listed as one of the (closest and) top beaches near Orlando.  Spend the day laying on the beach or catching a wave.

"Photo By Anna" (CC BY-SA 2.0) by zappowbang
Check out selections from a collection that includes more than 5,000 works of art spanning hundreds of years, including European Old Masters and modern and contemporary American art. Admission according to the website is free.
Downtown Disney Marketplace
FYI: You do not need to pay the entry fee for Walt Disney World if you're just going to their marketplace. Walk around and check out their stores to do some window shopping! Drop a visit to their LEGO Imagination Centre too and let your kids play free with the lego at their play area!
Image from DisneySprings
Another "free" attraction from Disney is their boardwalk. It blends the timeless charm of a 1930s Atlantic coastal village with entertaining contemporary attractions. The boardwalk features free live street entertainment in the evenings, including comedians, jazz ensembles, and pretty niffy performances such as fire shows.
There are certain 1st Mondays of the month where admission to the Harry P. Leu Garden is free. I personally had a great time there and feel that the $10 admission was worth it. For non-free days, children under the age of 4 get in free and children (K-12) pay a third of the regular admission. Not bad.
The Morse Museum of American Art has one of the most comprehensive collections of work by Louis Comfort Tiffany including the artist and designer's jewelry, pottery, paintings, art glass, leaded-glass lamps and windows. The museum is free from 4 p.m. to 8 p.m. on Fridays from November to April, along with free concerts on Friday nights throughout November and December.
Visitors have to buy tickets for the amusement rides at the theme park, but admission to Old Town itself, its concerts, and car shows are free. Like stepping backwards in time, Old Town is the re-creation of a classic Florida town at the turn of the century featuring historical architecture and distinctive storefronts.
University of Central Florida Arboretum
At the University of Centrral Florida's Arboretum, you can see over 600 plant species and eight natural ecosystems while enjoying a disc golf course, bike paths and a great swamp habitat. Um, do you see a theme here with the natural-y vibe? I love seeing pretty plants so this list is up your alley is you like pretty things like I do haha.
QOTD: What are some of the things you did in Orlando on a budget? Do you have a vacation budget or do you make it rain?
[Tweet "10 Free Things to do in Orlando! #BigWorldExplorer @ExpediaCA @VisitOrlando"]
click to pin it for later!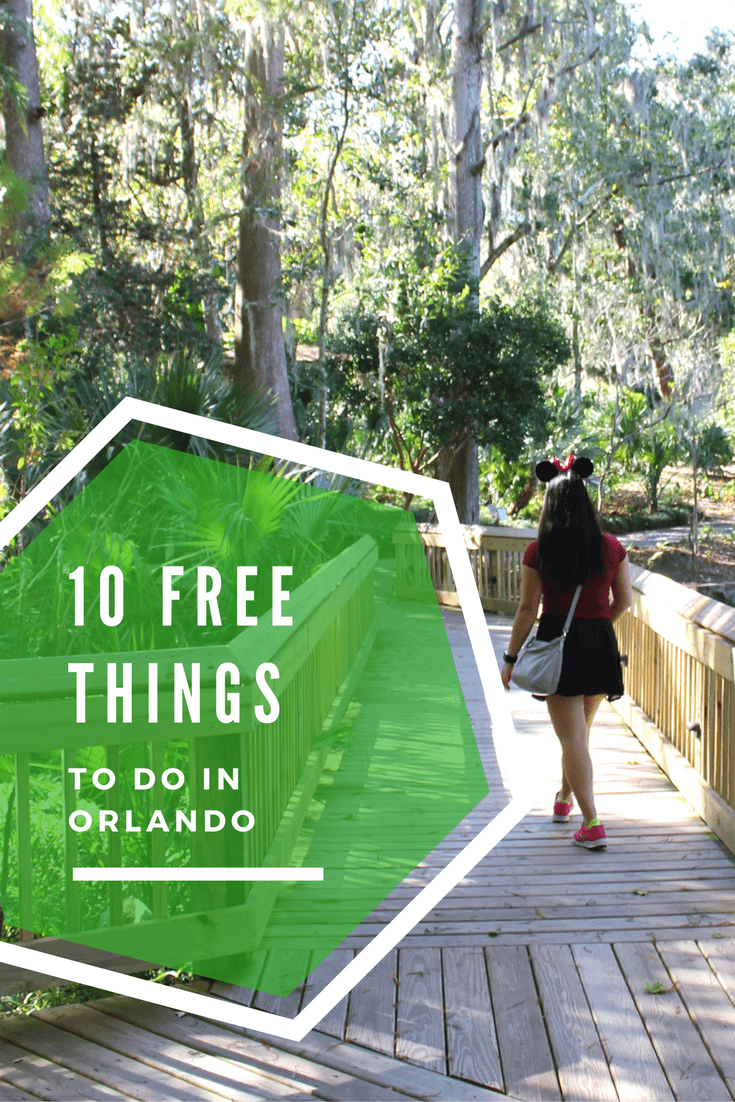 Other places to connect with me
Instagram: @runcarmyrun @curiouslychasing @carmyshungry
Twitter: https://twitter.com/runcarmyrun
Facebook: http://www.facebook.com/carmyycom
Email: [email protected]
Vlogs/Recipe Videos: Youtube

---
Want to read more about my trip to Orlando? What I Ate: Disney Edition and 5 Non-Theme Park Things to do in Orlando
Traveling on a budget and want more posts on free things to do? Check out my 10+ free things to do in NYC post!