Here's a spin on my favourite comfort food, a homemade mac and cheese recipe: One Pot Mac and 4 Cheese with Broccoli and Peas! Cheesy but with greens mixed in!
A classic homemade mac and cheese!
If there's cheese on something, there's a good chance that I'll eat it. While wandering in the grocery store, thinking of what to eat (this is a bad idea guys, always plan ahead haha), a box of Kraft Dinner caught my eye. Of course, I was like "let's just get mac and cheese for dinner" but I wanted to use a different type of cheese instead of the powdered cheese from the box.
I already had some Barilla cut macaroni at home (thanks Barilla!) so I wandered over to the cheese section and saw that they had this pack of 3 cheeses that I wanted to begin with! That was easy! And of course, I couldn't say no to goat cheese.
Excuse the potato photo but yeah, don't these selection of cheeses look delicious? Of course I had a slice (or two) while making the pasta and ended up using the leftover for grilled cheese ;)
Lately, I've been loving the whole "one pot" pasta making as it means I really only use one dish to cook and I don't have to spend forever doing the dishes afterwards. The lazy girl in me is beyond happy that it takes less than an hour to make and really only 1 pot to clean at the end of it.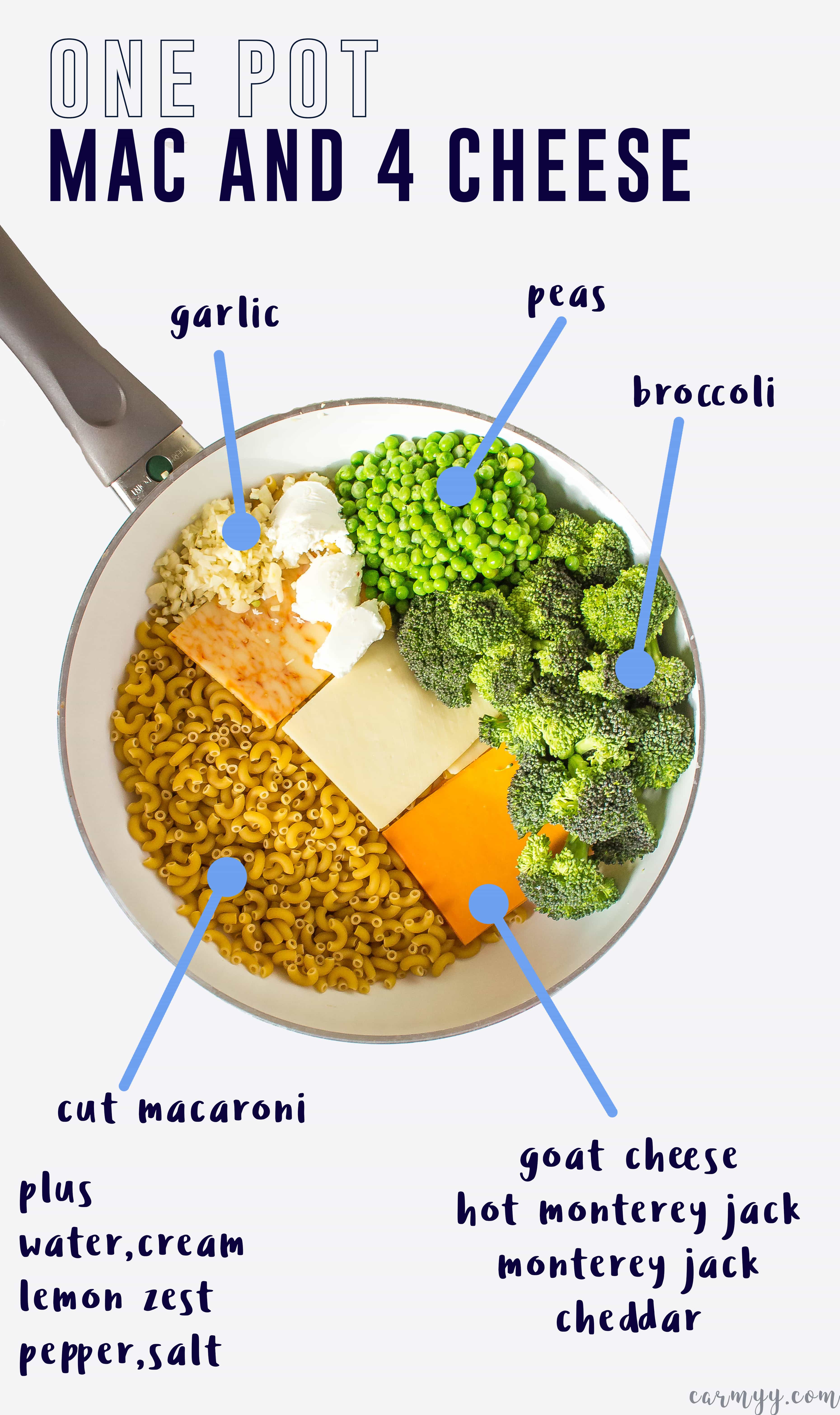 For this Mac and 4 Cheese (with broccoli and peas), all you really do is just put everything into the pot and call it a day. However, if you want your broccoli to be a bit more crunchy, cook everything first and then add in the broccoli and peas in half way through. Me, being lazy, just put everything into the pot at once and called it a day :)
I used a pinch of lemon zest as it gave me a fresh spring flavour. This is optional as I found that while I enjoyed it, H preferred it without the lemon zest. Also, I personally love garlic so if you're less of a garlic fan than I am, I'd suggest 2-3 cloves instead. I mean when I'm all cozied up with my mac and cheese with broccoli and peas, I'm not worried about garlic breath haha.
For this Mac and 4 Cheese recipe, I'm using my favourite Ballarini Treviso Ceramic Saute Pan that I've been using in my last few recipes such as this Creamy Mushroom, Chicken, and Spinach Pasta.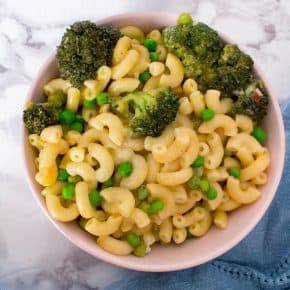 Mac and 4 Cheese with Broccoli and Peas
Here's a spin on my favourite comfort food - Mac and 4 Cheese with Broccoli and Peas! Cheesy but with greens mixed in!
Print
Rate
Ingredients
454

grams

cut macaroni

4

cloves

garlic

,

minced

65

grams

goat cheese

6

slices

cheddar

3

slices

monterey jack

3

slices

red hot chili pepper monterey jack

3

broccoli crowns

,

separated

1.5

cups

peas

,

fresh, frozen, or canned works

2.5

cups

water

1/2

cup

cream

1

tsp

lemon zest

,

optional
Instructions
Put everything into your pot and cook until the pasta is al dente.

If your pasta is done cooking and it is still too liquidly for your liking, let the sauce reduce down.
Notes
I have an insane love of garlic so you may or may not want to adjust to taste. In addition, the cheese combo I used is based on my and my boyfriend's preference. It may or may not be the combination you'd like as there's chili flakes in one of the cheeses I've used. Also, don't worry too much about adding liquids, you may need more water depending on the pot you use but it will reduce down the longer you cook it.
Tried this recipe?
Did you make this recipe? I'm always so happy to hear about it! I'd love to see how it turned out. Tag me at @CarmysHungry on Instagram so I can see it! If you enjoyed the recipe, I'd really appreciate a comment with a 5 star rating! ♥
What's your favourite one pot recipe?
[Tweet "Here's a spin on my favourite comfort food – One Pot Mac and 4 Cheese with Broccoli and Peas! "]
pin me for later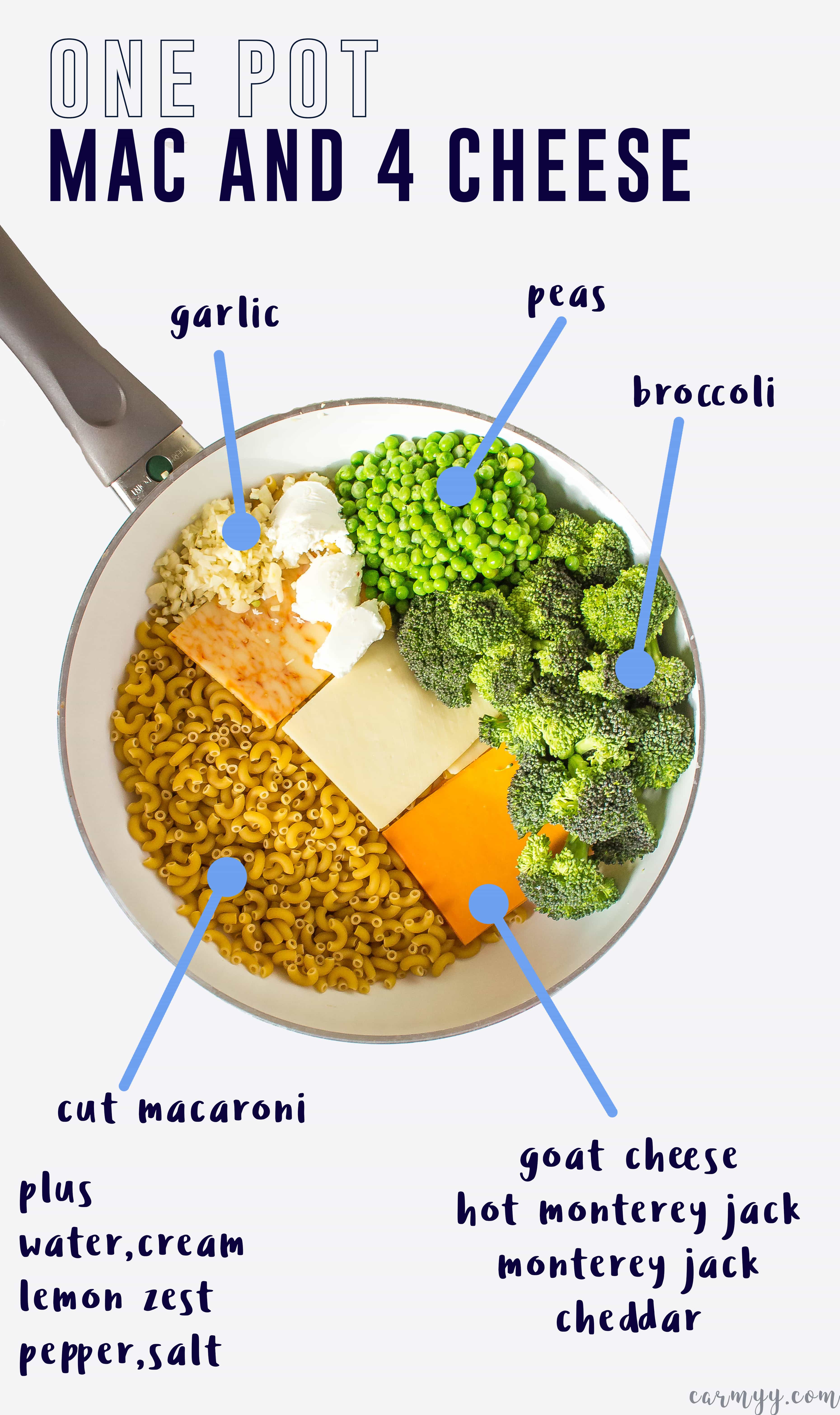 Other places to connect with me
Instagram: @runcarmyrun @curiouslychasing @carmyshungry
Twitter: https://twitter.com/runcarmyrun
Facebook: http://www.facebook.com/carmyycom
Email: [email protected]
Vlogs/Recipe Videos: Youtube