Pesto and Goat Cheese Palmier: a delicious pesto and goat cheese savoury palmier to satisfy both a savoury and pastry craving!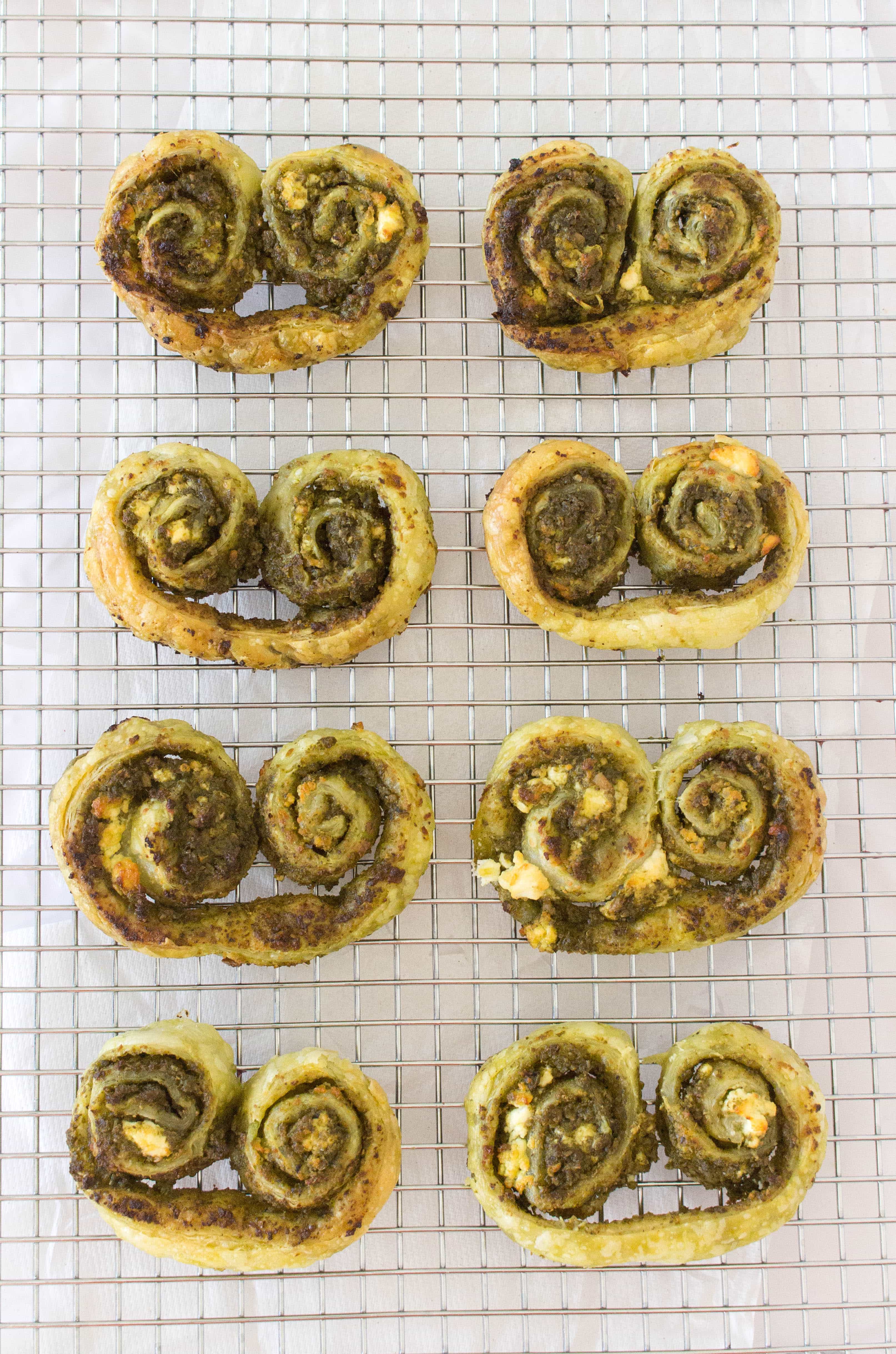 The other day, I got a text from my neighbourhood gal pal that she had an extra sheet of puff pastry that she got from Loblaws that she didn't have time to use before it's expiry date so guess who got a free sheet of puff pastry? This girl!
The first thing I thought of making were palmier – when I was in Montreal I had ones that were the size of my face! I had really missed it so I decided to try to make it at home. However, I didn't really want to have just a plain one and felt like a savoury one! I haven't had pesto in a while and had some goat cheese in the fridge so I combined everything and made these pesto and goat cheese savoury palmiers.
Um, is the plural form of palmier, palmiers? Why is there a red squiggle under it? Is spellcheck against these yummy pesto and goat cheese savoury palmiers?!
Anyways, these pesto and goat cheese palmiers relatively easy to make. I kinda had to guess a bit since I haven't tried making these before but they turned out pretty good! The most difficult part was rolling the edges into the middle to make the swirl and after making these, I went on Youtube and realized I could have just folded it instead. Oh well, it looks pretty much the same ;)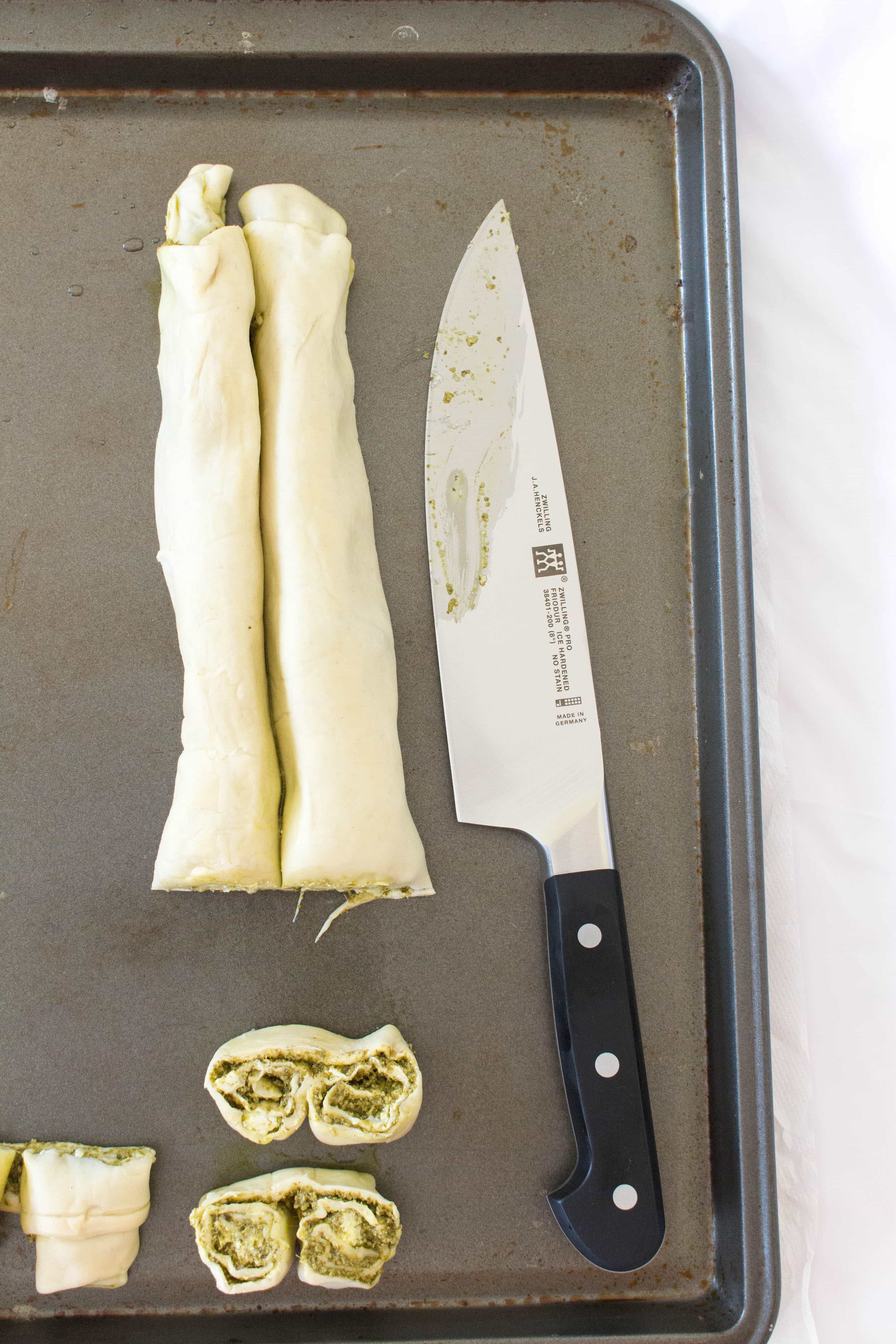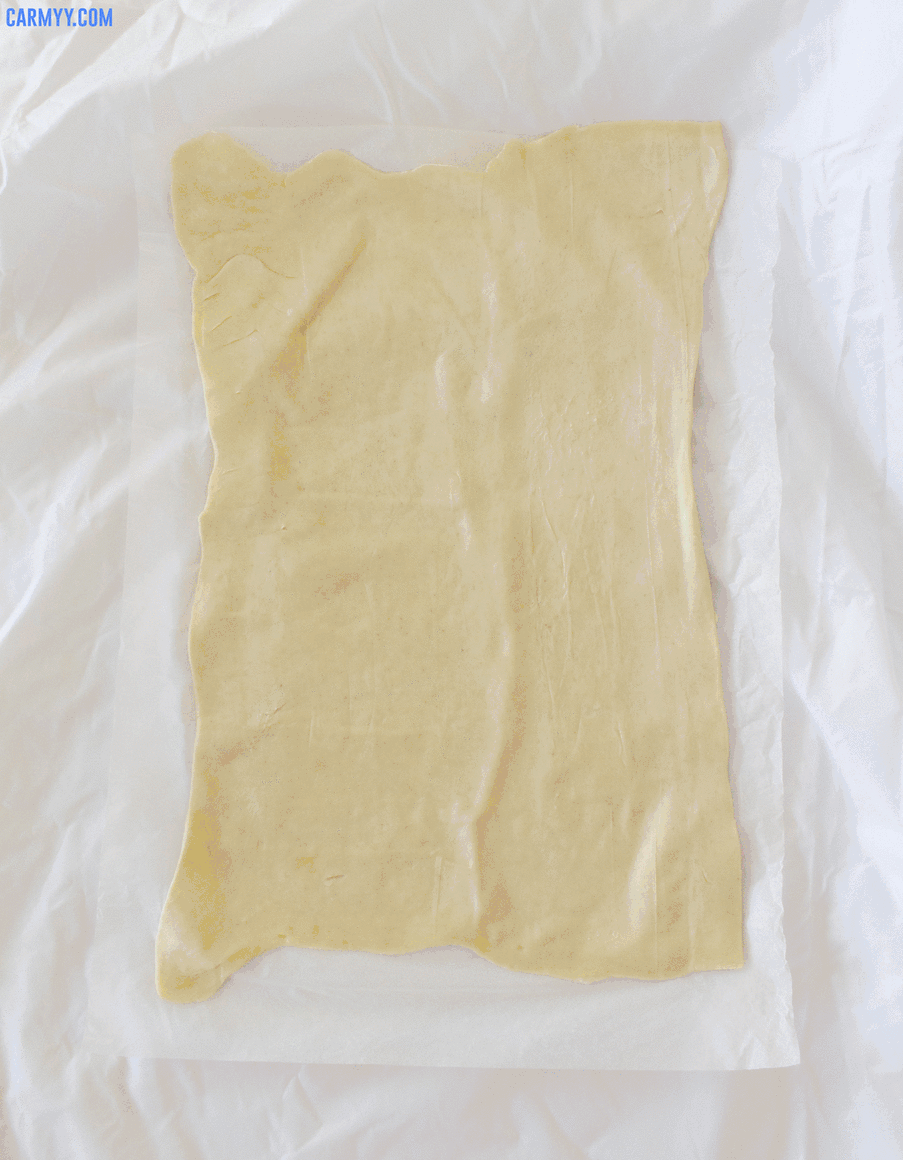 I didn't feel like making my own pesto so I bought some of Jamie Oliver's and used the entire 190g jar. As for the goat cheese, I used half of a package, around 65g.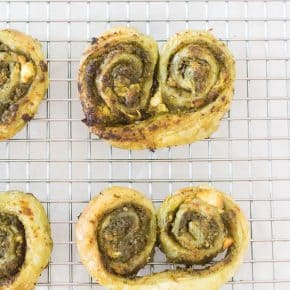 Pesto and Goat Cheese Savoury Palmier
A delicious pesto and goat cheese savoury palmier to satisfy both a savoury and pastry craving!
Print
Rate
Ingredients
1

sheet

puff pastry

190

grams

pesto

65

grams

goat cheese
Instructions
Roll out your sheet of puff pastry gently.

Cover your puff pastry with pesto then sprinkle on the goat cheese.

Roll up the sides of the puff pastry into the middle of the sheet.

Chill in the fridge for 45-50 minutes.

Slice the puff pastry around 1/2 inches and pop into the oven for 20-25 minutes or until the pastry is golden.
Tried this recipe?
Did you make this recipe? I'm always so happy to hear about it! I'd love to see how it turned out. Tag me at @CarmysHungry on Instagram so I can see it! If you enjoyed the recipe, I'd really appreciate a comment with a 5 star rating! ♥
Nutrition
Serving:
14
g
|
Calories:
161
kcal
|
Carbohydrates:
8
g
|
Protein:
2
g
|
Fat:
12
g
|
Saturated Fat:
3
g
|
Cholesterol:
3
mg
|
Sodium:
187
mg
|
Potassium:
10
mg
|
Vitamin A:
320
IU
|
Calcium:
30
mg
|
Iron:
0.6
mg
 Let's chat: Do you like palmiers? Are you a sweet or savoury dessert person?
[Tweet "A delicious pesto and goat cheese savoury palmier to satisfy both a savoury and pastry craving!"]
Other places to connect with me
Instagram: @runcarmyrun @curiouslychasing @carmyshungry
Twitter: https://twitter.com/runcarmyrun
Facebook: http://www.facebook.com/carmyycom
Email: [email protected]
Vlogs/Recipe Videos: Youtube