To start off, I just want to say that if I could, I'd move to Montreal. Between the fun running paths available and all the delicious food that I can eat, I fell in love. Sadly, I only had 4 full days in Montreal so let's see how I spent them. Note that 1. Jen and I are not exactly night owls so if you're a pub crawl kinda gal, yes there is a great nightlife scene here but we did not experience it ourselves and 2. it rained for 3 of the 4 days so after crying for a bit we had to do our itinerary pretty last minute/go with the flow and disregard what we had planned on Travefy! So here's how we spent 4 days in Montreal when 3 of those weren't sunny. We surprisingly found that 4 days in Montreal to be enough for the two of us.
click here to pin this 4 day Montreal Itinerary for later
How to Spend 4 Days in Montreal
Day 1 of 4 Days in Montreal
Our first lesson of the day was that Billy Bishop airport does not open until 5AM. We had arrived right before 5 for our 6:45 flight and ended up sitting in the car for a while, thinking about the sleep that we could have had.
Luckily, we did not have to wait long and nothing was delayed leaving so we were on the flight and were ready for take off at 6:45 on the dot. The plane ride from Toronto to Montreal is just under 2 hours so we just numbly stared ahead of us in our seats as we were both exhausted from barely sleeping the night before. Luckily Porter had coffee for Jen (water for me) so at least one of us were a bit more alert than the other.
Anyways, important things to know about the airport in Montreal. You do not have to take a taxi to your destination. There is a machine near the exit where you can buy a one day or multi-day buss passes for your trip. With this pass, you can hop onto the bus right outside that will take you to a subway station. The 747 shuttle service runs 24 hours a day, 7 days a week, between Montréal-Trudeau airport and Berri-UQAM métro station. We got off at Lionel-Groulx and then went underground for 2 stops to our AirBnB. (Click below to get a credit for your first AirBnB stay!)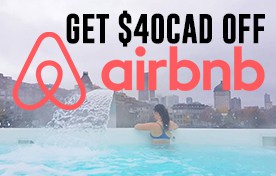 Our AirBnB was super cute and cozy. It was literally a 3 minute walk from the subway station and within walking distance of a bunch of stores and restaurants (more on this later, we totally had a fail moment learning experience).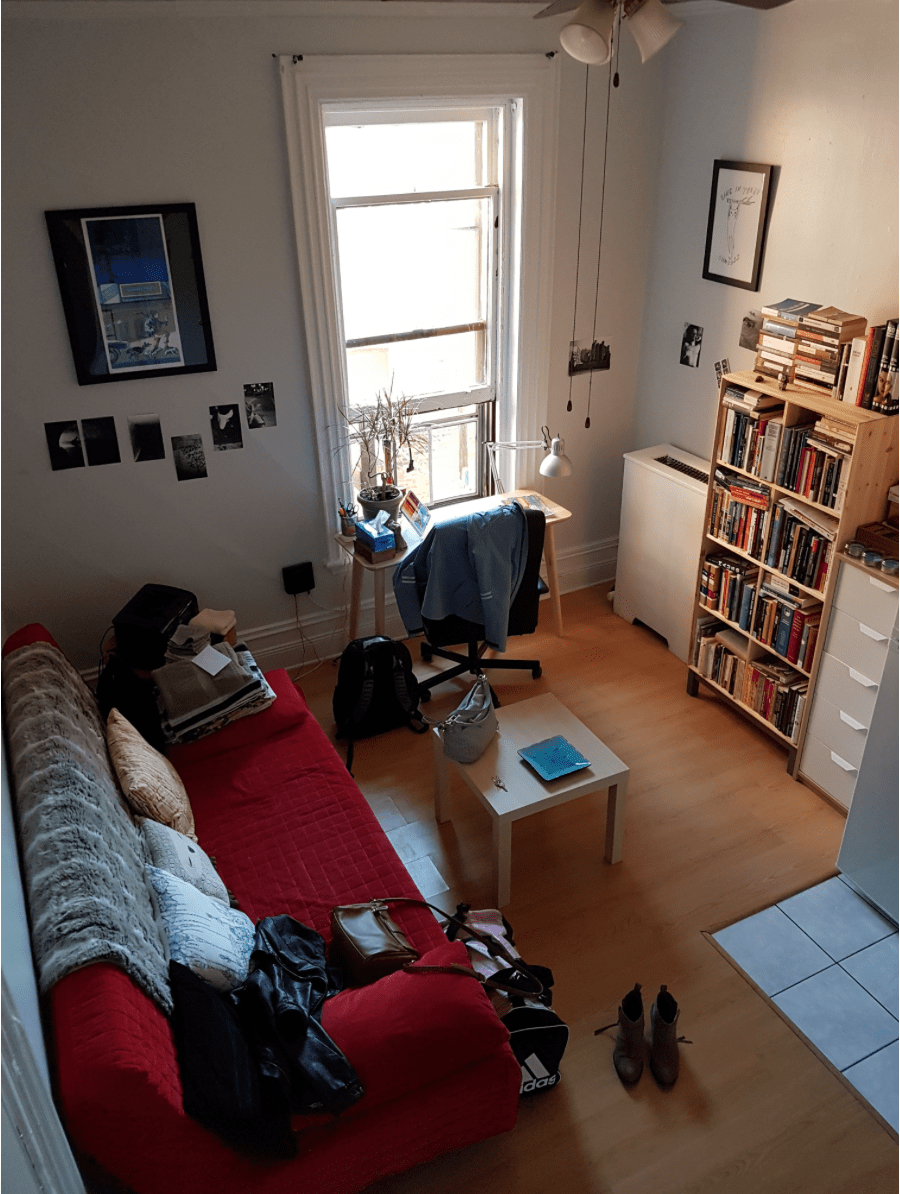 Anyways, first things first, we were worried about losing sunlight and being stuck in the rain the next few days so we tried to get all the outdoor stuff out of the way first. However, we were hungry so after a quick search, we found out that one of our stops, the Canal, was right by Atwater Market. So we made our way back to Lionel-Groulx and walked over to the market. If you had read my previous post about why you must visit the markets in Montreal, you'll know that we were in awe of all the food options! After practically drooling, we made our delicious decision and picked out some pastries to eat (as it was apparently too early for cake).
We then made our way along the Canal before heading over to Mount Royal. When we got to Mount Royal, it was a little past 2 and it was filled with people! From tourists, to families, to kids on a field trip. It was quite a sight as a lot of the tourists seemed to be obsessed with the chubby squirrels that actually went up to these tourists to be fed (and fed they were! They also only wanted the best of the best, I saw a squirrel reject a piece of carrot because it didn't look up to par haha). There were a ton of side trails off the main path to explore along and be warned, it is quite hilly so comfortable shoes are recommended.
At this point we were pretty tired and hungry. Like I mentioned earlier, our AirBnB was close to the subway stop so we decided to go home before deciding on what to eat. Due to our changing of plans, our original dining option was too far from where we were (or so we thought) so we asked Siri to tell us what there was to eat nearby. Little did we know, Brit and Chips, where we had wanted to eat, had a location right down the street from the subway stop so we happily made our way there.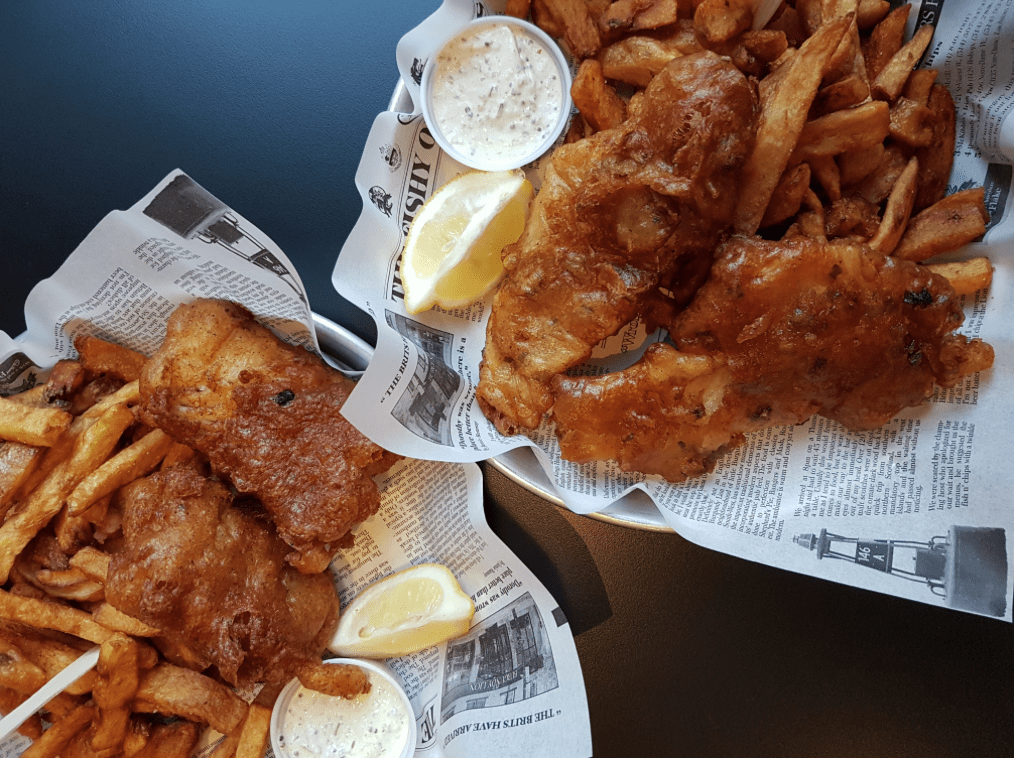 As I'm typing this, I am dying for some fish and chips because it was so delicious, I regret not going back before we left. Jen got the original cod and I picked the sour cream and onion flavour. It was so crispy and perfectly done on the inside, I really could not have asked for more from a fish and chip place! We inhaled it in like 15 seconds. It was that good (and we were that hungry).
Day 2 of 4 Days in Montreal
We started the day at 9:30 (well really 8 but we sat around drinking tea and somehow devouring an entire loaf of bread we picked up on our way home the night before) with a tour around Montreal with our tour guide Thom. We loved Thom. He brought us to where the most delicious donuts ever were, Leche Desserts. I got the lemon meringue and Jen got the cheese cake. Both were stuffed.
It seemed like such a hole in the wall spot but it definitely impressed us.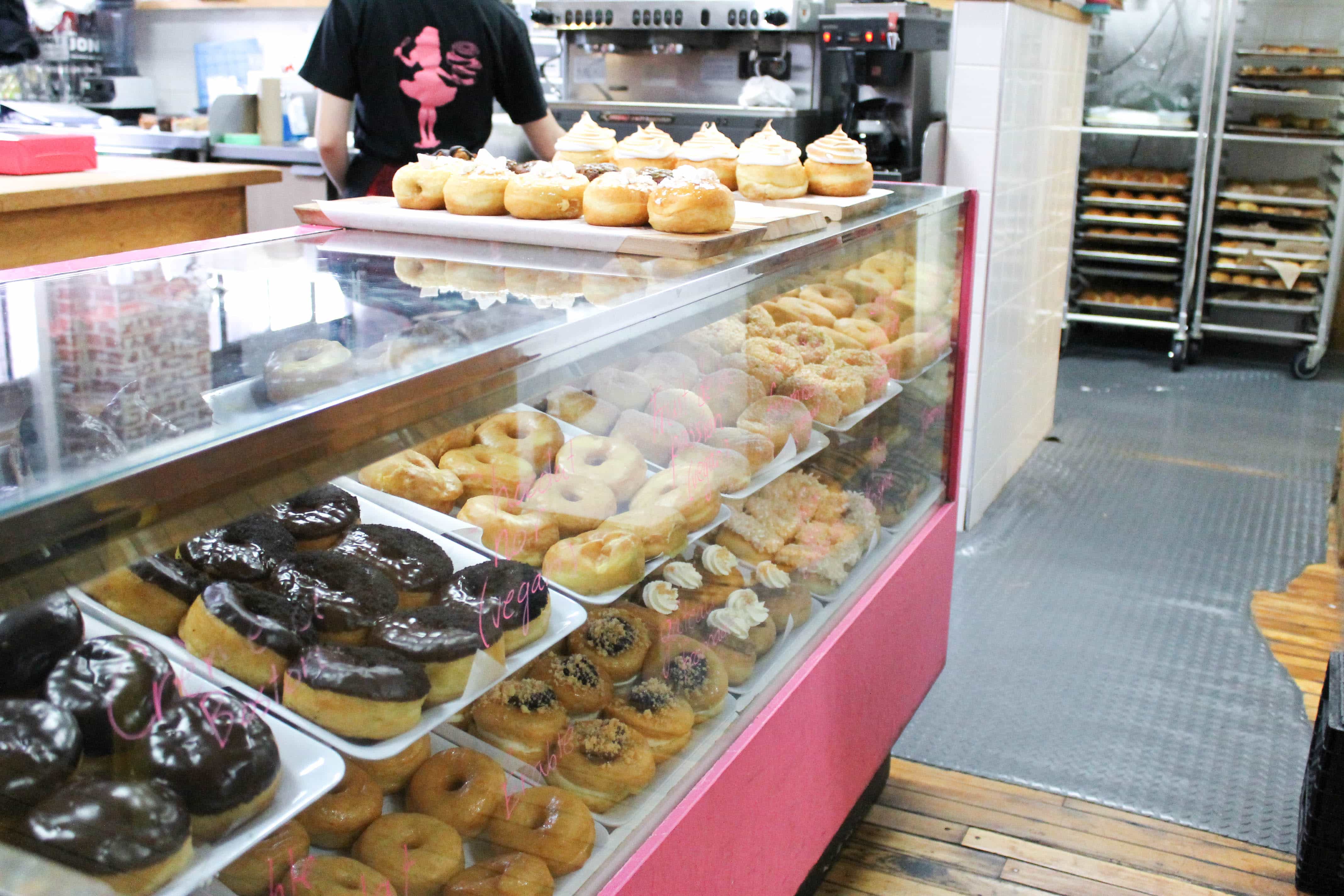 After our tour, we head over to Old Montreal and grabbed some lunch at Café Santé Veritas. The cafe "are balanced with proportions of complex carbohydrates, proteins, and "good" fats in tandem with several essential vitamins and minerals" which meant we could literally pick anything and it'd be healthy! I opted for a chickpea soup and Jen got a pesto sandwich.
After lunch, we wandered around Rue Saint Paul and checked out the stores, got gelato, and took photos of everything. Luckily, the rain was light so we weren't drenched while wandering around. Of course we got lost for a bit so we decided to search for a subway stop (we got detoured by a road closure) and decide to head back to the market and buy some dinner before going to the Botanical Gardens/Garden of Lights. Thank goodness I packed my Canada Goose though since the weather all day was going back and forth between rain, misting of rain, and no rain!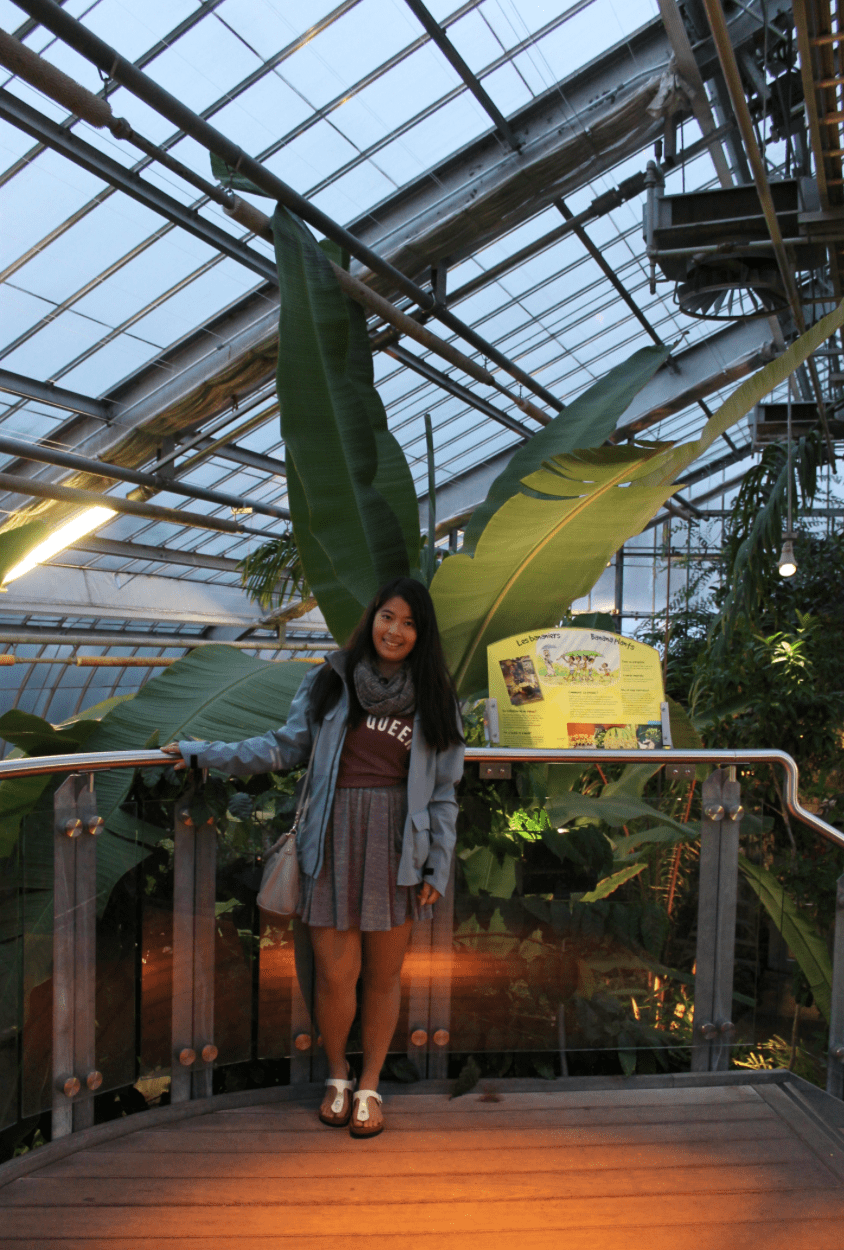 You don't know how happy I was that it wasn't pouring rain as we spend a while at the Garden of Lights enjoying the beautiful displays. The illuminated lanterns recount the life of the Son of Heaven, the Chinese Emperor in the Forbidden City. However, I think my favourite lanterns were the pandas! We may or may not have decided to brave the (light) rain because we were told that there would be a panda display haha.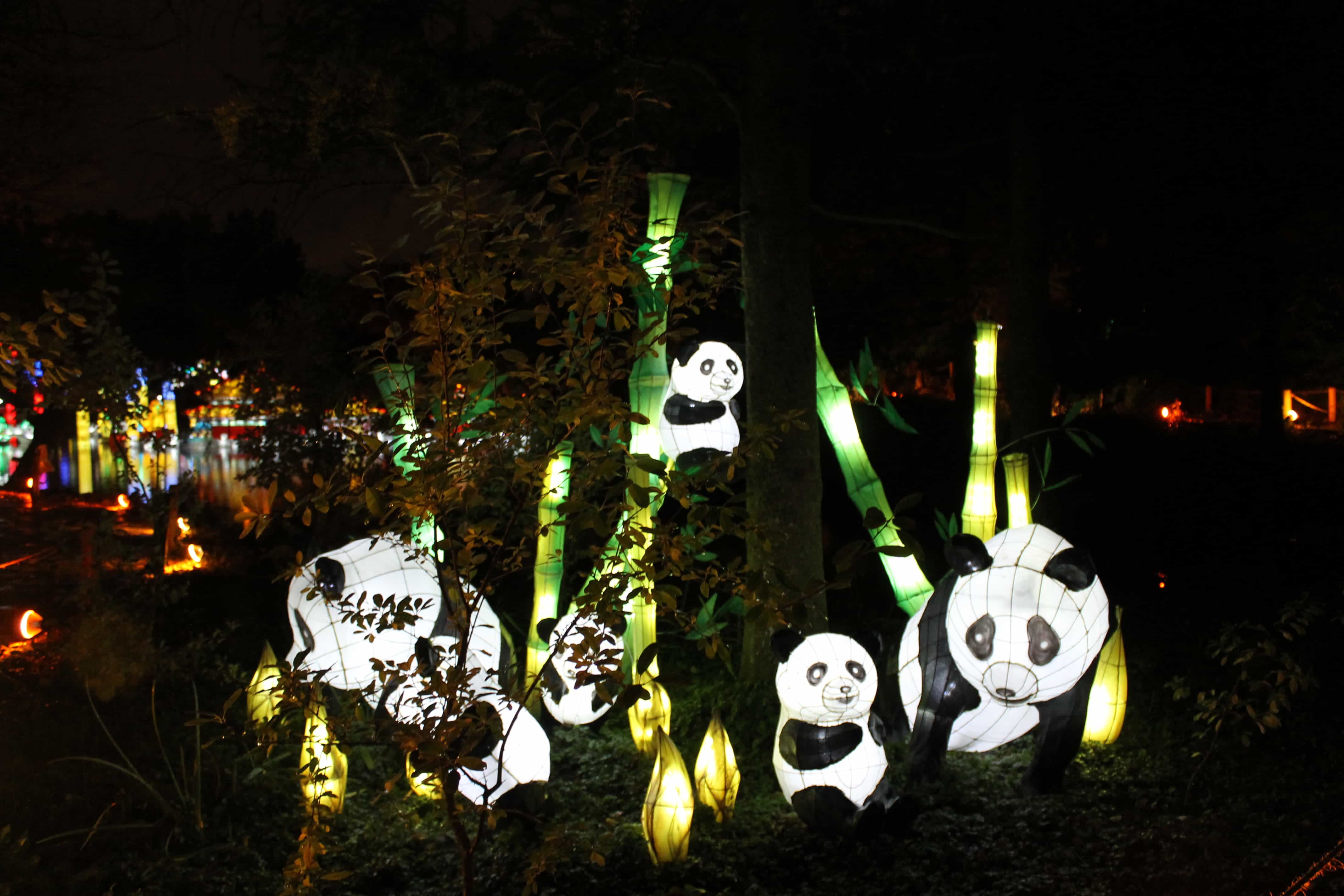 Our final meal of the day was pretty lazy – we decided to spend it at home and ordering from Just Eats (Korean Fried Chicken) while watching Netflix. Yes we Netflixed in Montreal but like I mentioned earlier, we are definitely not the nightlife types so as it was after 9PM, we were ready to get into our pyjamas. We live an exciting life, we know.
Day 3 of 4 Days in Montreal
We started off the day by eating our market loot – we had cheese, salami, and bread before heading out to Bota Bota for a mini spa day. Fun fact – the spa does not have a real physical address as it in on a boat. We opted for the water circuit where we got to experience the hot tubs, saunas, cold baths, and more!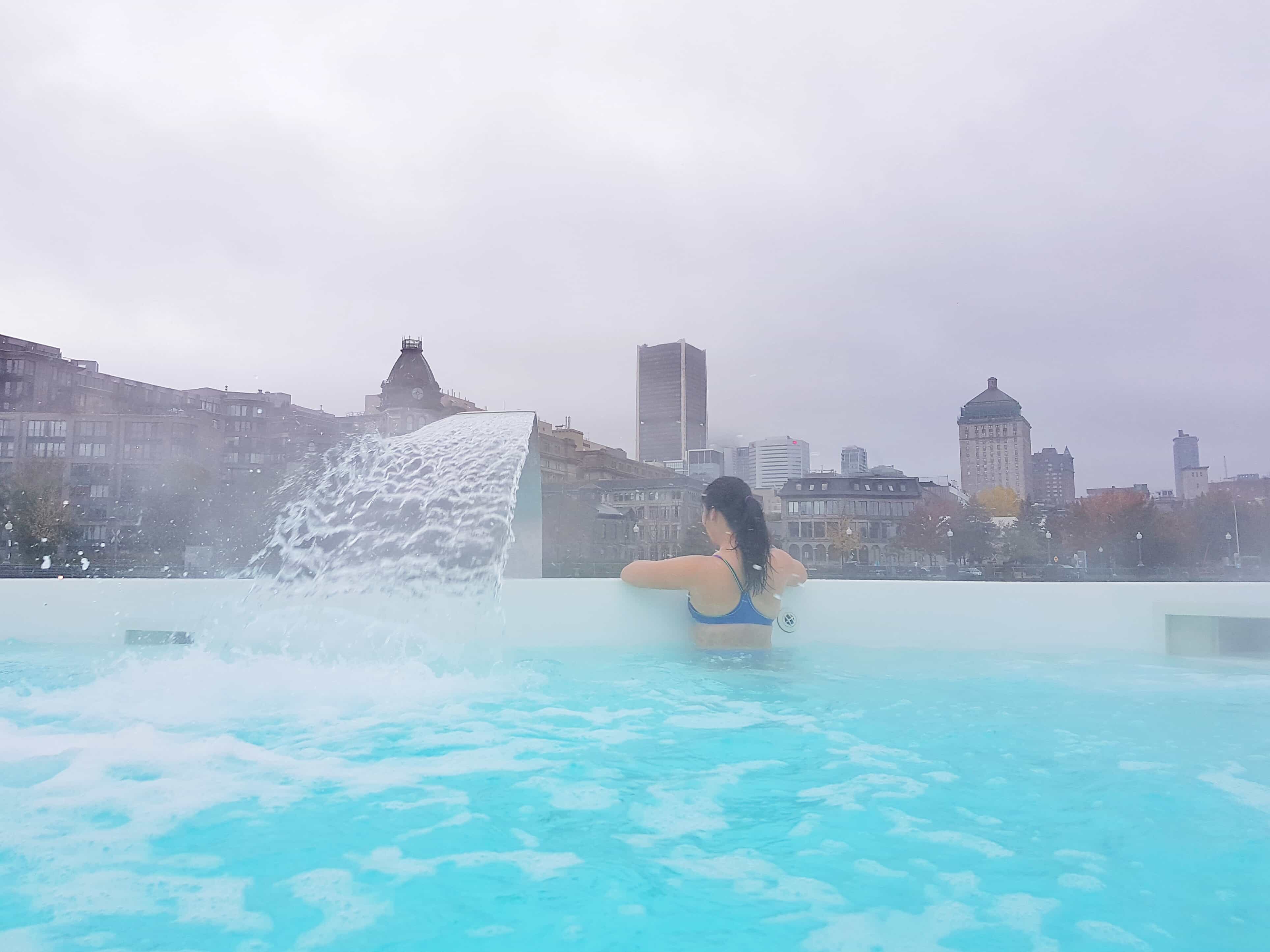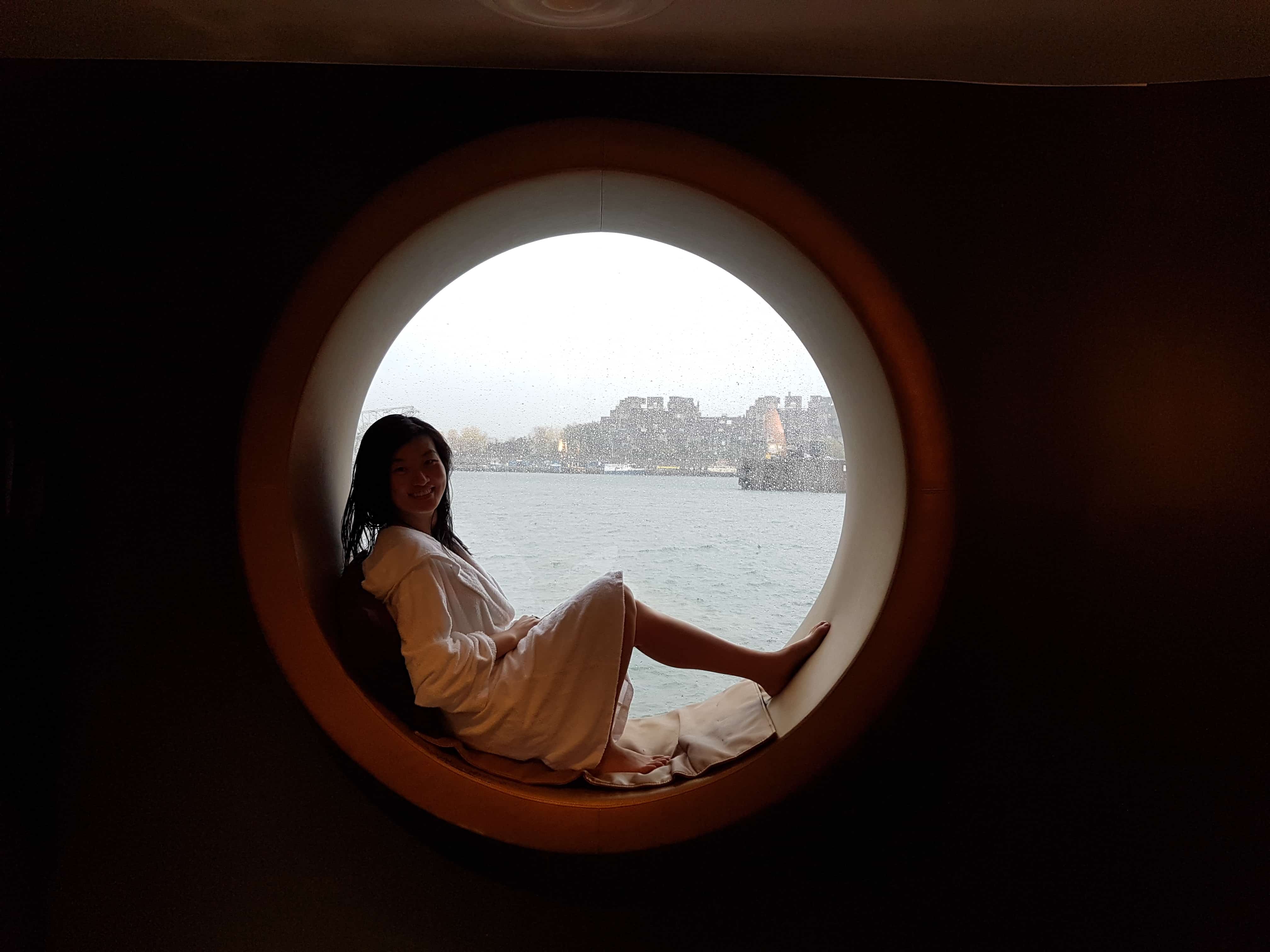 Needless to say, we totally zoned out and relaxed all morning. We stayed for around 2 hours before heading out of a meal everyone should have while visiting Montreal. We went for poutine. We picked La Belle Province based on its price and its reviews. I ordered the original whereas Jen ordered the original with bacon (I regret not ordering bacon immediately. Never. Say. No. To. Bacon. Lesson learned).
After that, I decided that stationery was needed (I may or may not hoard collect cute items) and we ended up at papeterie nota bene which had a pretty nifty selection of product but the person who I'm guessing to be the owner wasn't exactly the friendliest. Being the stationery addict I am, I ended up leaving with a cute little notebook as my first souvenir item.
After that I was determined to tackle the Underground City again because I wanted to see the piece of the Berlin Wall. And FYI, If you ask anyone how to get to the Underground City and everyone (and google) is giving you a different answer, it means that there are multiple entrances and whoever that's telling you that you have 6 stops away is potentially wrong. Just an FYI. There was a lot of walking, circling, back tracking, until we decided to just ENTER a building not fully lit and lo and behold, WE FOUND IT.
Note that by the time we made it (combined with the rain) it was super dark. We were exhausted from a full day of walking (and getting lost trying to figure out how the Underground City worked – my solution was to just walk straight and we'll get there. Jen's was we should turn. So we made a pretty good team) sooooooo we asked Siri what to eat again and we were suggested a cute little pizza joint called Bros nearby! And CLEARLY the two of us had not had enough cheese in Montreal, we ordered a 4 cheese pizza with a pesto base to tide us over before we headed back to our home base and ate…you guessed it, more cheese.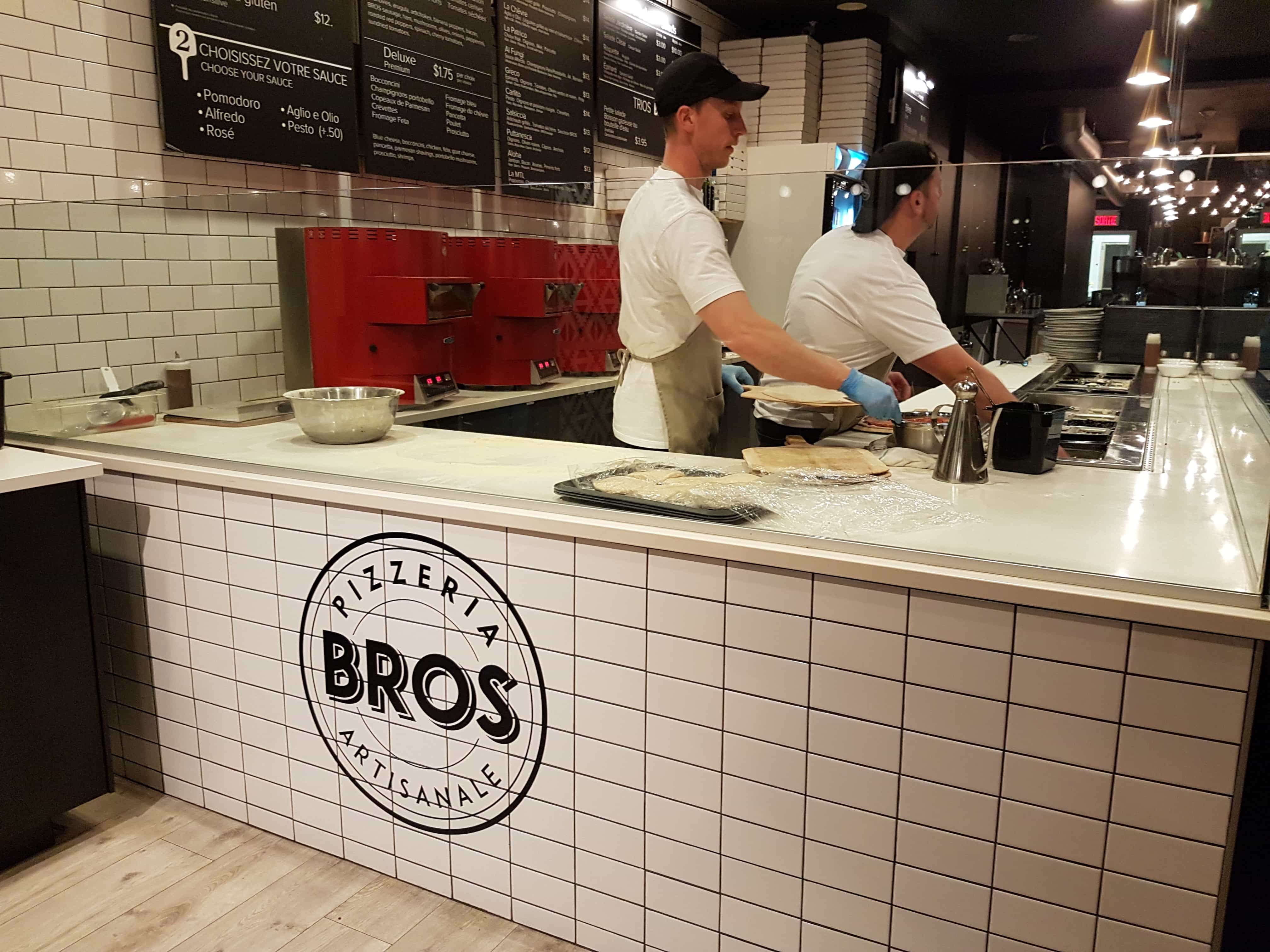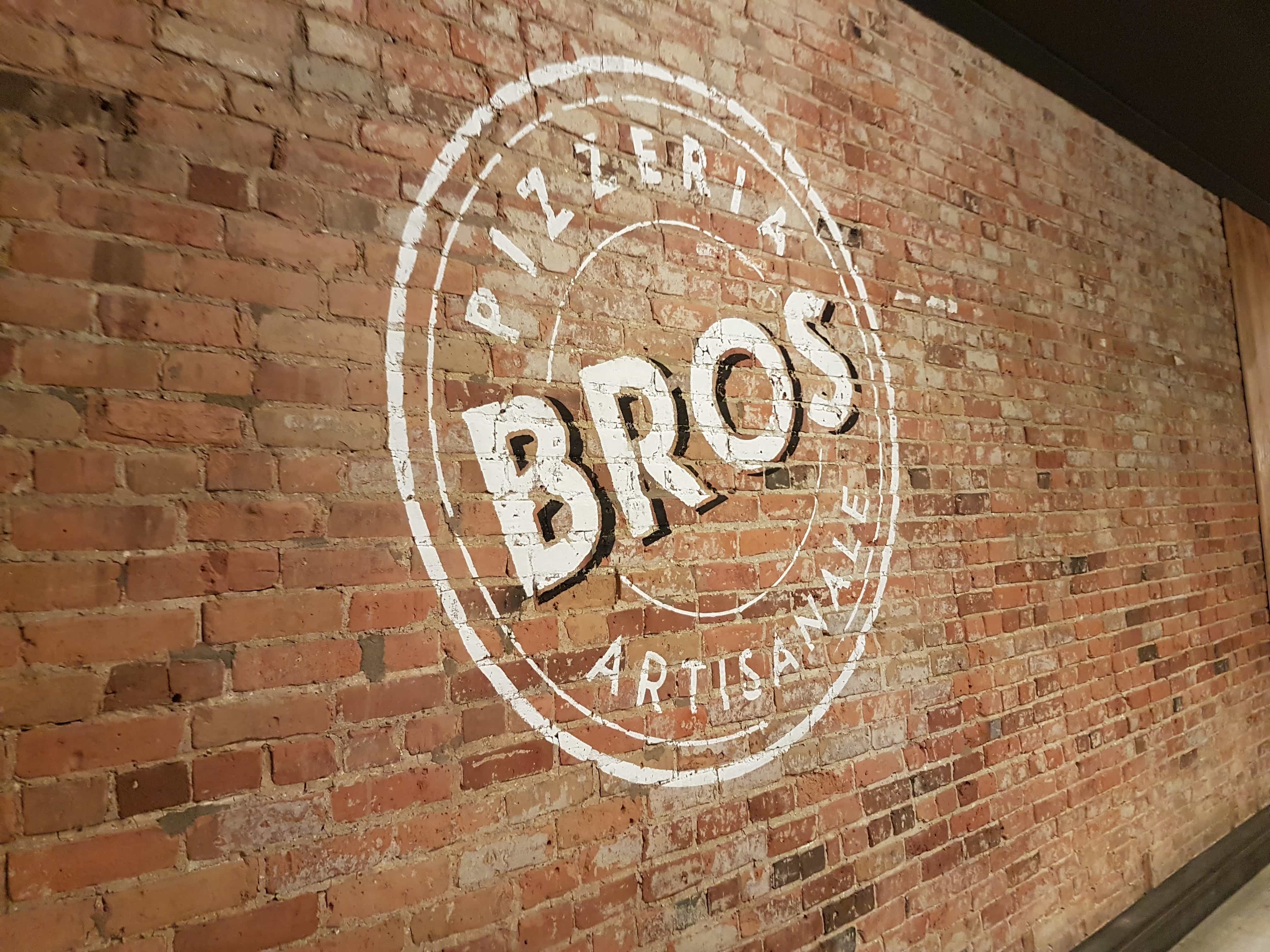 Day 4 of 4 Days in Montreal
Do not judge our day 4. It really was a miracle that we made it this long WITHOUT A NAP. Yup, we spent part of us last day in Montreal napping. But lets backtrack a bit. We started off the morning on the hunt for Montreal's famous bagels. We picked St Viater over Fairmount. Back story: Way back when, Fairmount had decided to move and doing so, part of the staff left and split into St Viater. Some say the bagels are exactly the same and some say that they are different. From my understanding, the only difference is that St Viator uses an environmentally friendly wood that makes the bagel taste less smokey.
So what makes a Montreal bagel a Montreal bagel? 1. High egg content 2. Flash boil in honey water 3. Baked in a wood burning oven. If it doesn't include these 3 things, it is not a Montreal style bagel. As a runner, I've had my fair share of bagels and let me tell you, we bought a dozen and it was worth it. It tastes fluffier and you can definitely taste how much sweeter it was than a regular bagel.
Next we ventured down the block to check out Kem Coba but sadly it had closed earlier in the month for the winter months. I was so looking forward to it and was pretty disappointed. It had come highly recommended by multiple friends. So we wandered until we found Chez Vincenzo and I bought myself a panna cotta gelato to soothe my sadness (it was delicious).
Still bummed from the let down that was Kem Coba closing (google did not update for seasonal hours), we made our way home to regroup what to do next. It was around lunch time by then and while walking home, we decided to get take out from this place around the corner. Now let me tell you about this place. It had had a line up out the door every time we walked by – even in the rain. And it had no sign. Being that I didn't want to just randomly walk in and hoping it was delicious, I had held off going in for 4 days. I mean we didn't even know what cuisine it was and it didn't have a menu at the front!! Of course there was a line so we were pretty much like "well if it has had a line the last 4 days, it can't be that bad" and walked in. Refusing to stand in the rain to wait for a table, we opted for take out which was when we finally found out what the name of the restaurant was via their menu. Ganadara. A Korean fusion restaurant. I got eh seafood todoki and fish katsu which promptly put me in a food coma.
Waking up, it was around 5 and that's when we learned apparently a bunch of places such as malls will close at 6PM on a weekend. Confused and not sure what to do next, I remembered walking by the Barbie Expo on day 1. I kind of love Barbies so I looked at Jen and said that admission was free and we need to go. Please enjoy my phone photos with the glass reflections down below.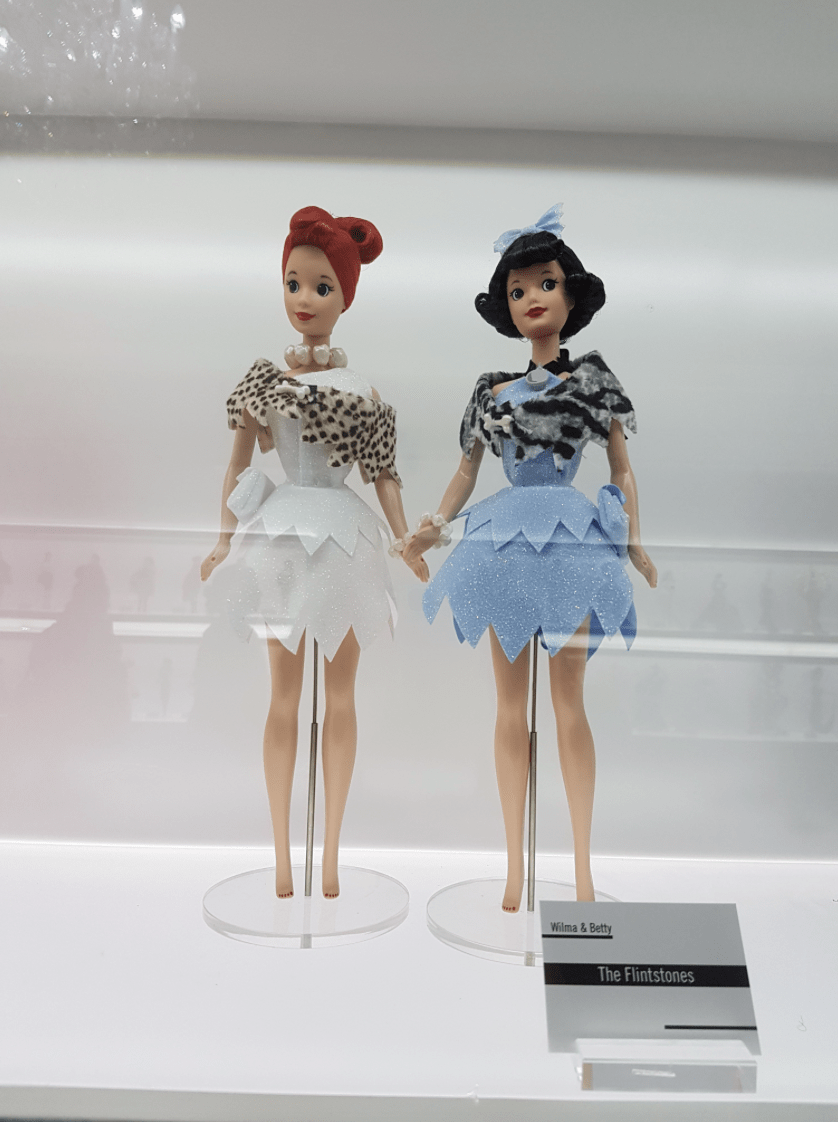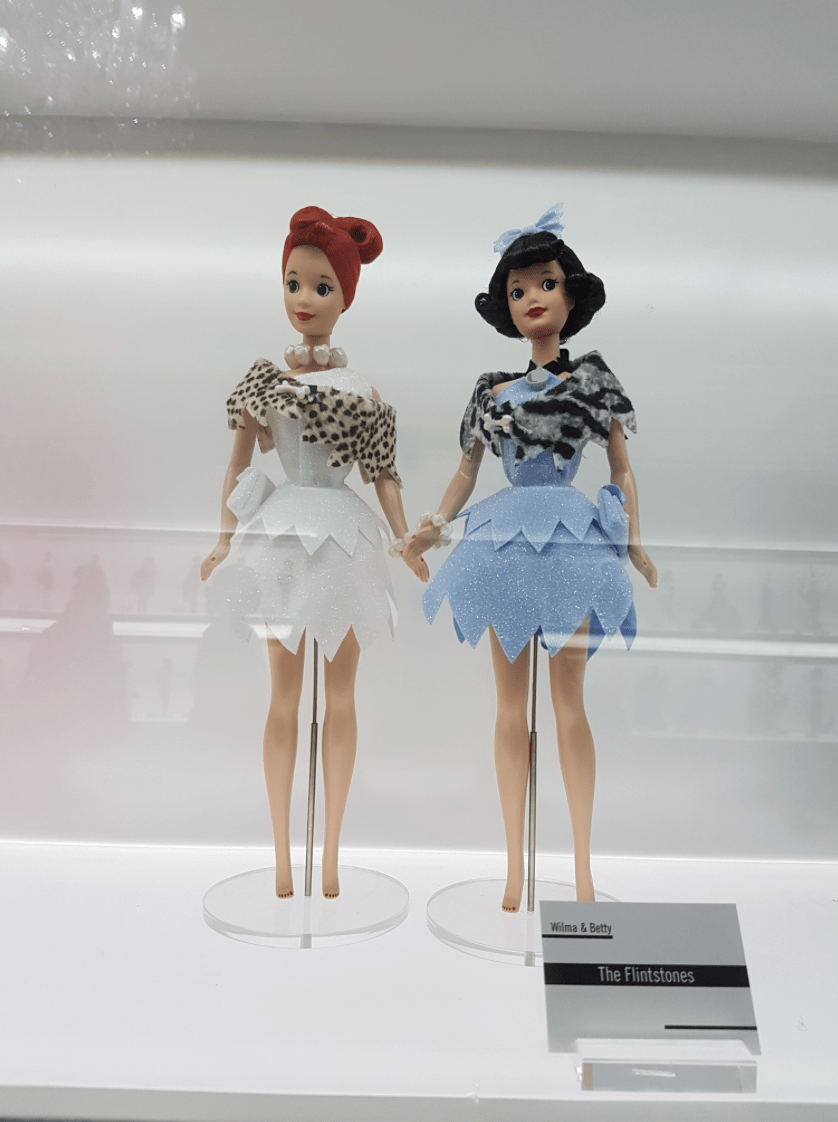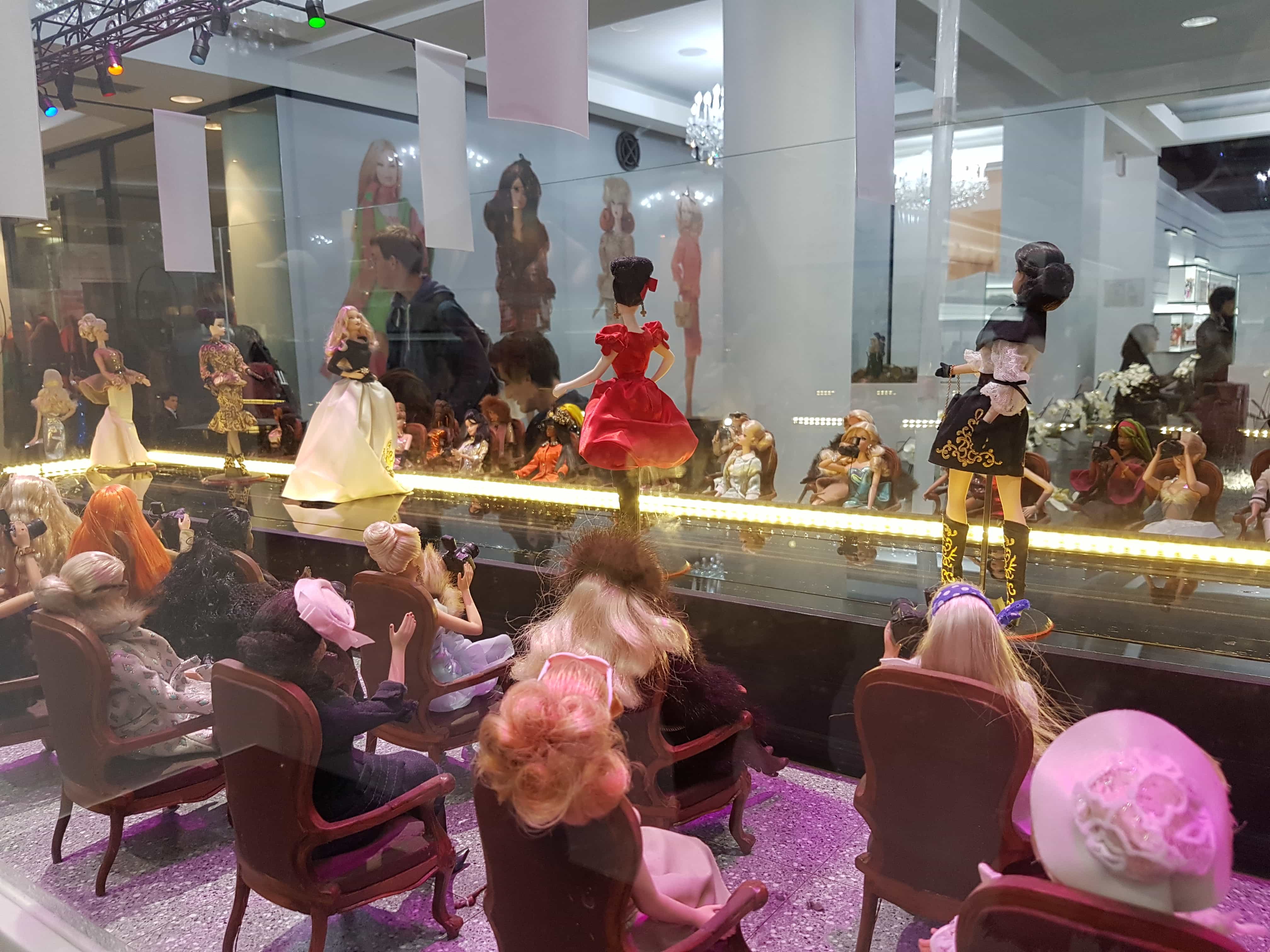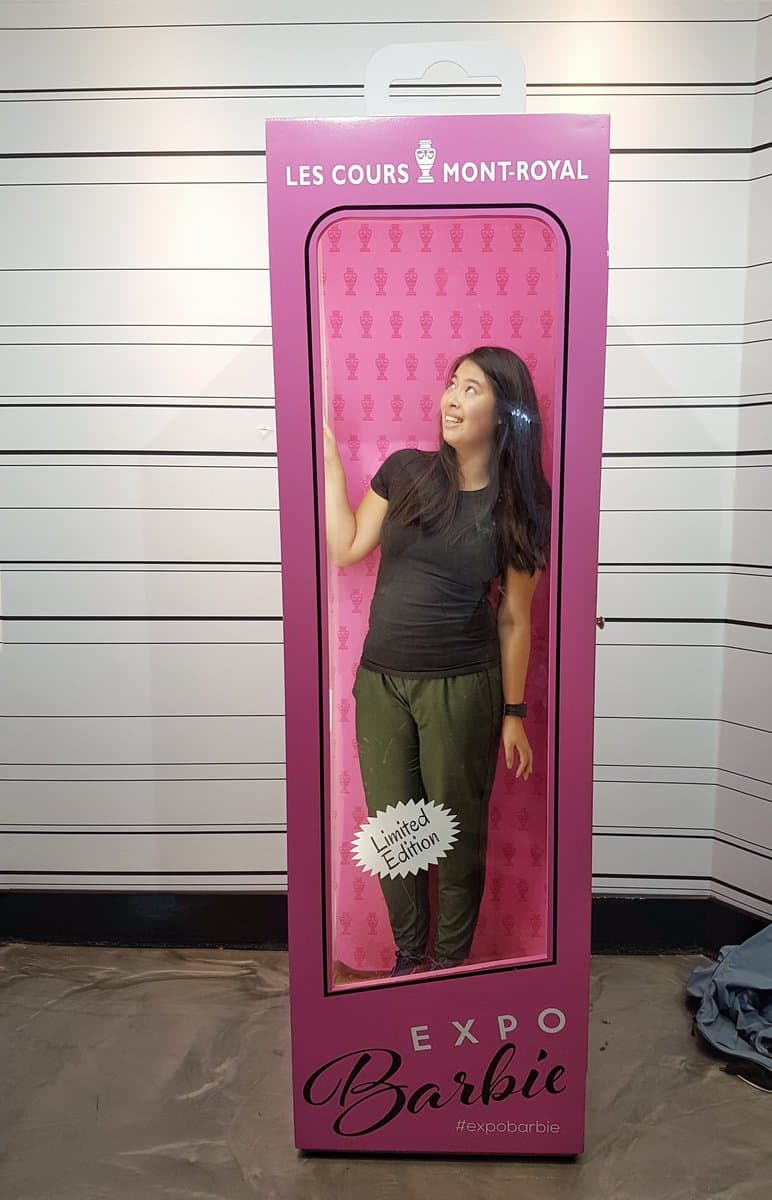 I got to live my childhood dream of being a Barbie! There were Barbies dressed by Calvin Klein, Christian Dior, Christian Louboutin, and Diane Von Furstenberg. There were Twilight Barbies, a Legally Blonde Barbie, Barbies representing countries, different time periods, holidays, and more. It was definitely worth stopping by. They had a display (pictured above) with a moving runaway and camera flashes to simulate a real runaway.
The Barbie Expo was connected to the Underground City so we decided to see if we could see more of it since we were at a different starting point than before. That's when we found out that things closed at 6 and we ended up hanging out in Indigo where I bought myself a Ban.do agenda for 2017.
Day 5
Or Day 4 and a half. We packed our things and said our goodbyes to our AirBnB before going to the market one last time to get our fill of pastries before taking the bus back to the airport. Unfortunately our plane was delayed and we left later than expected. Technically, at that point, we could have had a 5th day in Montreal as it was actually sunny instead of raining! Just our luck! Oh well – you can't control the weather.
Final thoughts
Montreal was quite a lovely place! Montreal is what is considered a walking city, you can really see a lot just by walking around or renting a bike to ride around in. There weren't many places where we had a burning desire to visit that required us to have to had rent a car as most places were quite accessible by public transit (or just walking if it wasn't raining). We had joked that it was why everyone looked so thin and fit – Montreal has such amazing bike baths and multi-purpose paths that it really helps to keep the community healthy and active. If you're looking for fun then Montreal's got it. Hopefully on my next trip, I get to spend more than 4 days in Montreal.
More Posts on Montreal
Why You Need To Visit the Montreal Markets 
Where to Run in Montreal 
How To Spend 4 Days in Montreal
10 Free Things to do in Montreal
QOTD: Have you been to Montreal? Where are you planning to visit next?
[Tweet "How to Spend 4 Days in @Montreal @ExploreCanada @TourismQuebec"]
pin me!
Disclosure: Some of the activities, I was an invited guest. In addition, Jen and my bus passes were covered. Thank you Tourisme Montreal! As usual, all opinions are my own and thank you for your constant support in making this blog possible.
Other places to connect with me
Instagram: @runcarmyrun @curiouslychasing @carmyshungry
Twitter: https://twitter.com/runcarmyrun
Facebook: http://www.facebook.com/carmyycom
Email: [email protected]
Vlogs/Recipe Videos: Youtube