Last Tuesday I was invited to a press preview of the first Pure Barre opening in Canada. Pure Barre utilizes the ballet barre to perform small isometric movements set to music. Pure Barre is a total body workout that lifts your seat, tones your thighs, abs, and arms.
Ever since reading Wednesday Martian's experience of a barre class in her book "Primates of the Upper East Side" I've been dying to check a Pure Barre Toronto class out. Who doesn't want a toned tush, arms, core, and legs?
Our instructor's name was Paige and the second I saw how amazingly defined her upper body was, I was SOLD. I've been dreaming of getting my upper body back in the shape it used to be when I swam. I would have traded my left kidney for that definition again but clearly barre could help me achieve it without such drastic measures.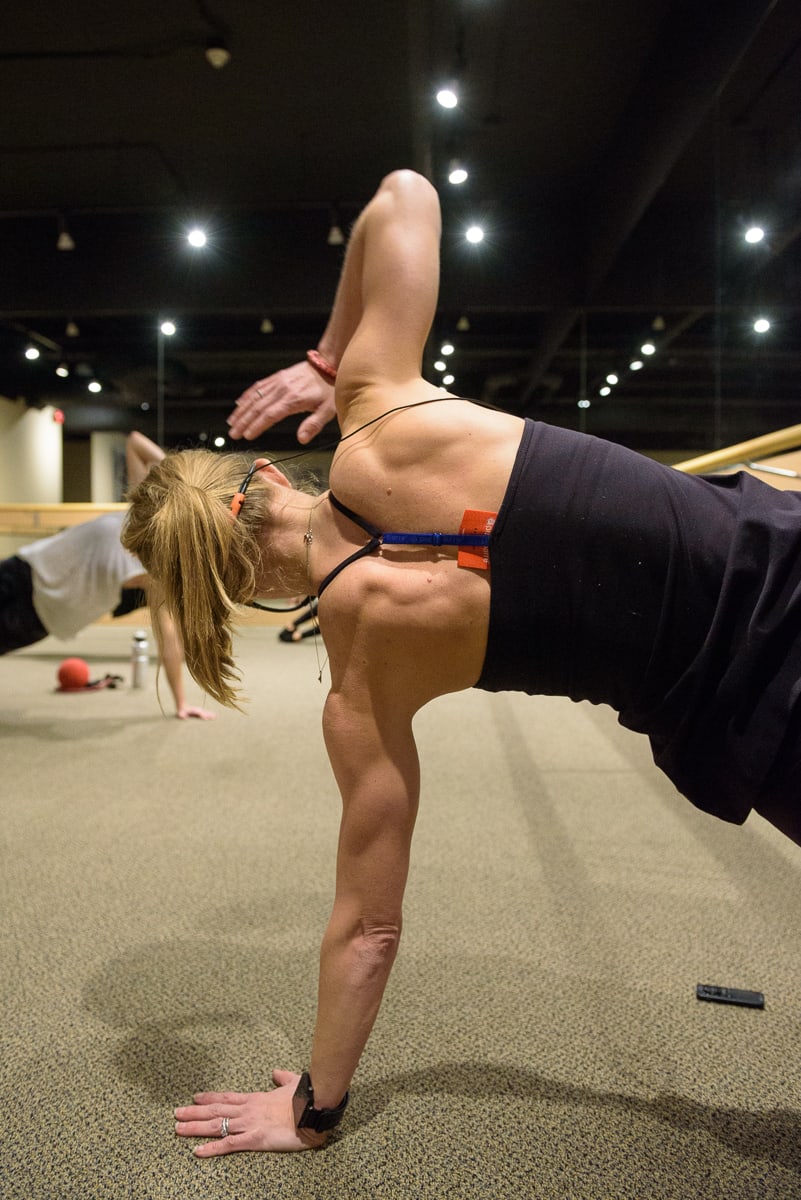 Photographed by Tobias Wang
Walking in, the studio was spacious. All four walls had a set of barre so there was no need to arm wrestle for a good spot. However, only 2 of the 4 walls had a mirror so if you really want to keep an eye on your form, I'd suggest going a little early and staking it out.
Photographed by Tobias Wang
Starting off, we had a set of light weights, a ball, and a tube (Paige brought us the mats for floor core work when the time came) so other than ourselves and a water bottle, we didn't have to bring anything of our own.
Make a note: no shorts, Leggings/capris only. Shorts prevent you from getting the grip needed to keep the equipment, such as the ball, in place. This location has a snazzy filtered water refill station, so no need to worry about forgetting to fill up your bottle. We were given grippy socks to help retain our body's heat as well as prevent our feet from sliding and they can be purchased from Pure Barre.
Photographed by Tobias Wang
We started with a warm up – core work and arms. My core was burning and my arms – I could barely lift them near the end. I had used the smallest set of weights out of the 3 and boy was I glad (no shame in small weights!). I was genuinely shocked when Paige said "Congratulations! You survived the warm up!" My reaction? "Warm up? That was ONLY the warm up?!" There were moments where I laid down exhausted – my body was definitely not expecting this workout at 7AM. I loved how such little movements/pulsing could have such an impact; it felt a lot different than the standard arm session at the gym.
Photographed by Tobias Wang
Soon after, we moved to the bar after some light stretching. I was expecting this to be tough because I have insanely tight hip flexors. However, the energy was upbeat, the music was pumping, and I was ready to tackle it.
We worked a lot with the ball and my glutes were on. freaking. fire. Remember how I do glute activation work for physio? Well clearly I've not been working hard enough because this was working my rear like no tomorrow. I absolutely loved it. All the little tucks and holds were targeting all the right places. My physio would be so proud of me!
The lower bodywork at the bar was clearly my favourite and I was sad that it had to come to an end. Up next was more core work and let me tell you … I'm always avoiding core work and here I had no escape. I liked how we were sitting up against the wall and using the bar to help us tuck and squeeze.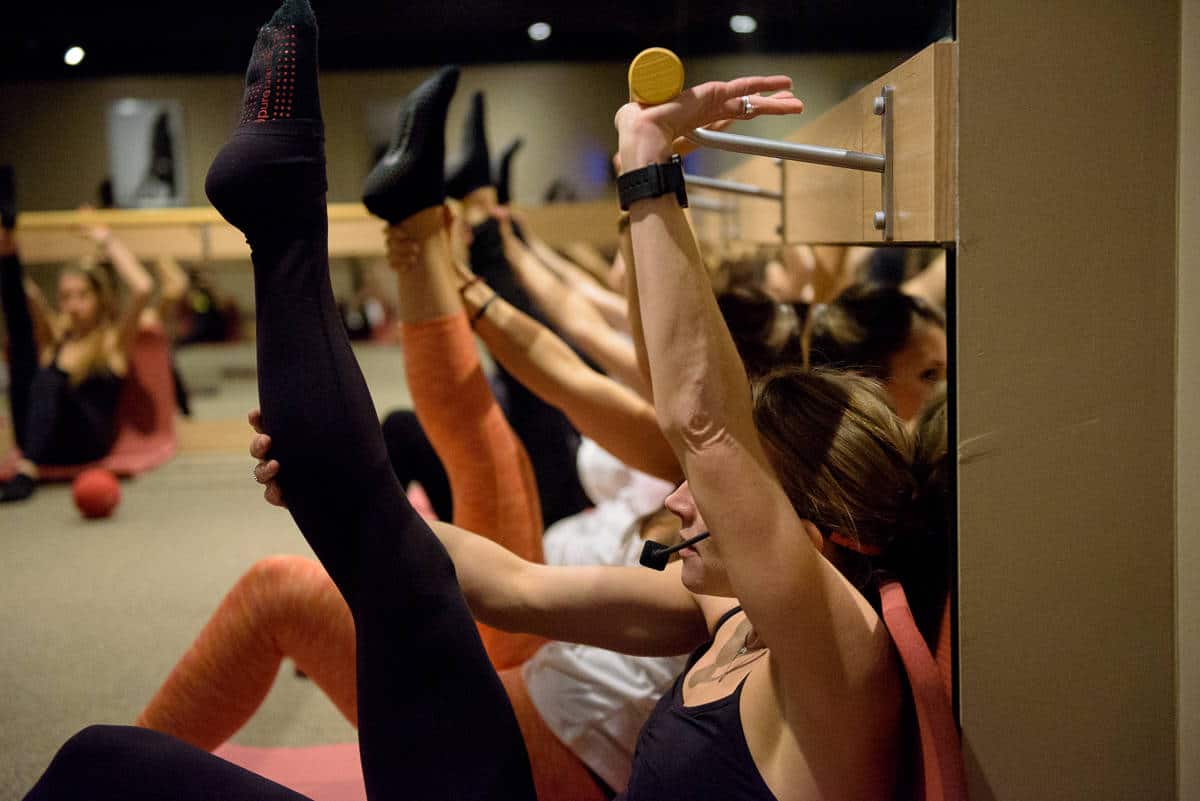 Photographed by Tobias Wang
It was definitely a (low impact but) calorie-torching workout. I had my eye on my Polar M400 and every time I glanced at it, it said my heart rate was sitting around 140/zone 3. It was a great "first" for me and Paige was just wonderful. She was a upbeat and constantly moving around the class demonstrating one on one what we were supposed to be doing if we looked lost. She fixed our form, cheered us on, and kept the energy going.
Photographed by Tobias Wang
When the workout was over, Vega greeted us with delicious coconut smoothies and we got to have a group chat with Miranda Malisani – holistic nutritionist and on-air expert for the Marilyn Denis Show. Stay tuned for part 2 of this blog post where I will go over the chat we had with Miranda. Topics range from our ideal intakes, running fuel, and more!
Lift, Tone, Burn!
Thanks for the invite! Here's a peek into what I got in my swag bag from the Pure Barre Toronto event!
There was fresh snow so I decided to use it instead of a whiteboard as a background. Ha!
Pure Barre (Toronto) will be coming to Queen Street W. Opening date TBA
[Tweet "Curious about @pure_barre? First impressions at #purebarretoronto. Canada's first studio!"]
Other places to connect with me
Instagram: http://instagram.com/runcarmyrun
Twitter: https://twitter.com/runcarmyrun
Facebook: http://www.facebook.com/carmyycom
Email: [email protected]

<3 Carmy
PIN IT