Get your heart pumping and legs burning with one of the best cardio machines at the gym: the StairMaster! Work up a major sweat with this quick and effective 20 minute StairMaster HIIT Workout!
What HIIT on the StairMaster Did For Me
If you've been following along on my little corner of the internet here, you might remember my little stint where I didn't run consistently between Sept 2016 – Jan 2017. During that time, I had some grievances I needed to air out with running and instead I hit the gym. I lifted weights, I hogged the spin bike, and most of all, I practically died on the StairMaster.  Then I took a pretty chill approach to running between Ragnar Relay and Ragnar Trail and I kinda just wafted around. I ran a couple times a week but it wasn't long nor was it hard.
Fast forward to today, I got some DMs about how I was able to knock out these higher weekly mileage and longer recovery runs when months ago, I wasn't consistently "training." Well 1. I have a wonderful coach who helped me progress to where I am today, carefully building my mileage. There are days where I feel like I could run for forever but having someone rein me in keeps me from burning out. And 2. the StairMaster. I had started hopping on the StairMaster for a 20ish minute StairMaster HIIT workout after I had grilled my amazingly fit friend Patty about her workout. I had asked her about how in the world she ran a 1:35 half marathon despite "not running" and her answer was how she worked her butt off on the StairMaster. So while I wasn't running consistently, I used the StairMaster to keep my cardio up. And that's it, plain and simple, my secret is that I sweat my butt off on the StairMaster.
Down below, I have for you to print/pin/save the 20 minute StairMaster HIIT workout that I did during what I now consider my off season. And under that, I have a quick little blurb on the benefits of using the StairMaster. Also note that I am not a personal trainer – this is a workout that has worked for me and I'm sharing it with you. Please consult a doctor before making any drastic changes or starting a new fitness routine.
20 Minute StairMaster HIIT Workout
The StairMaster I used goes from 1-20 so that's what my workout is based off.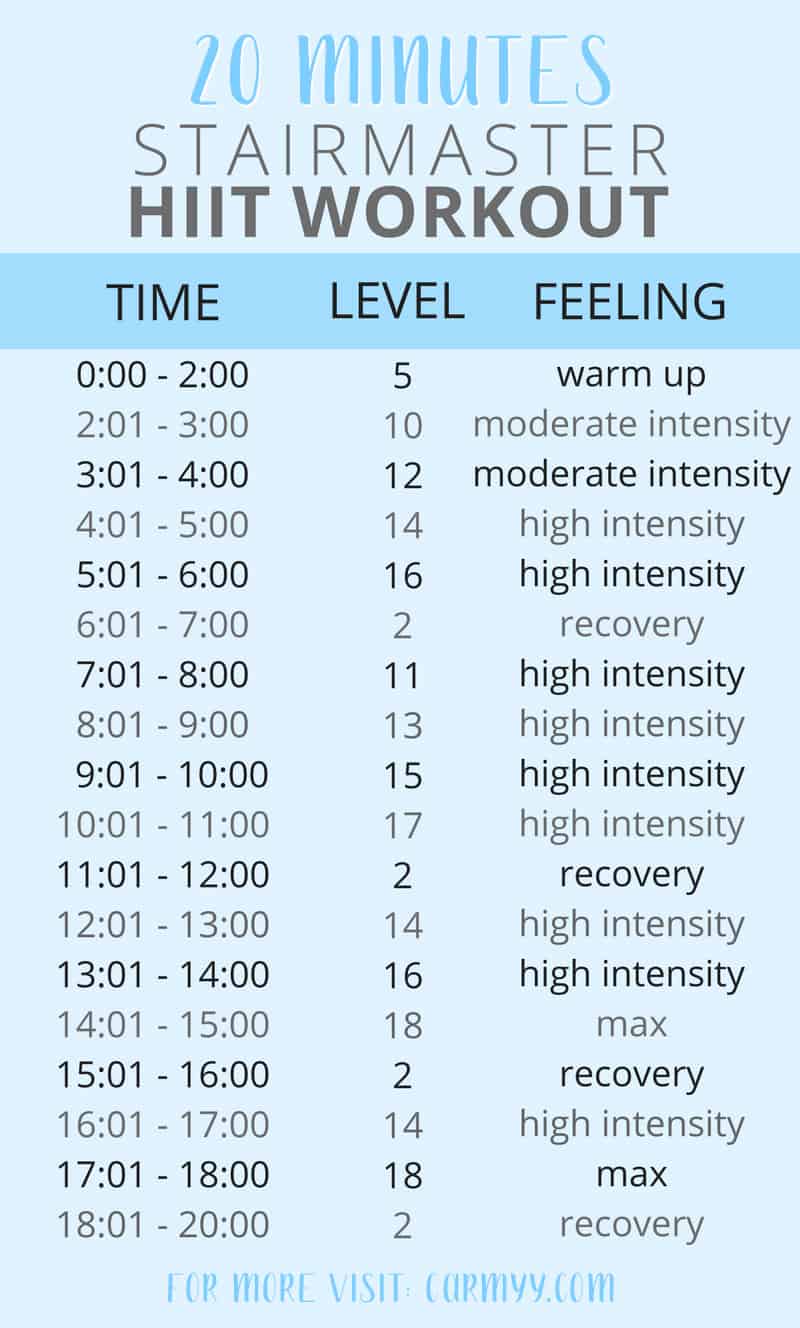 Benefits of Using the StairMaster
Increase of core activation from balancing while climbing up the stairs.
An increased range of motion in the hips and knees ­— something runners (aka me!) usually lack
The StairMaster gets your heart rate up immediately compared to running so it maximizes the 20 minutes spent on the machine
Using the Stairmaster engages every major muscle in your lower body
It's an lower impact activity compared to running so prefect for cross-training on your off days
[Tweet "20 Minute StairMaster HIIT Workout"]
Let's Chat! What's your go-to StairMaster workout?
Other places to connect with me
Instagram: @runcarmyrun @curiouslychasing @carmyshungry
Twitter: https://twitter.com/runcarmyrun
Facebook: https://www.facebook.com/carmyycom
Email: [email protected]
Vlogs/Recipe Videos: Youtube