Something that I go through once a year is the urge to chop off all my hair. It's always in the way when I'm working out and sweating and it can be such a pain to detangle if it's a windy run. But every time I chop off my hair, I immediately regret it! I love my long hair and I love being able to have a million options on how to style it. So this time around, instead of going for a drastic chop then being bummed about my hair, I teamed up with Goody to find some sweat proof hairstyles!
Here are my tried and tested sweat proof hairstyles that my friend Jen and I put to the test and passed!
Pony tail
Plain and simple, I love the pony tail. One thing that I noticed that is if I use just regular ol' hair ties, my pony will slip and slide – one of the reasons I get so annoyed that I want to chop off my hair! However, the Goody SlideProof Silicone Elastic has a layer of thin rubber on it that helps grip your hair. Same for the headband that's pictured above.
Top Knot
Taking the ponytail up a notch, the top knot keeps my hair up and tangle free! Confession: when my hair gets too long or it gets too hot out, the sweat from my hair would drip down and splash onto the back of my arms! So the bun keeps that from happening if it gets too hot out and I'm too sweaty. I have a lot of baby hairs framing my face so the Goody Athletique Double Strand Headwrap helps keep it out of my face. All you have to do for this style is to twist your pony tail until it curls up into a little bun and then you secure it with a hair tie.
Fishtail
See what I mean about my baby hairs?! SO MANY. Luckily the headband keeps most of them back. But the fishtail is another favourite of mine if you have a few extra minutes on your hands. The fishtail is adorable and keeps all my hair away from where I don't want it – my face. We loosened it for the photo but if you want to keep it tight, it will keep the strands from loosening up. Here's a diagram showing you how to braid your own fishtail.
Side Dutch Braid Bun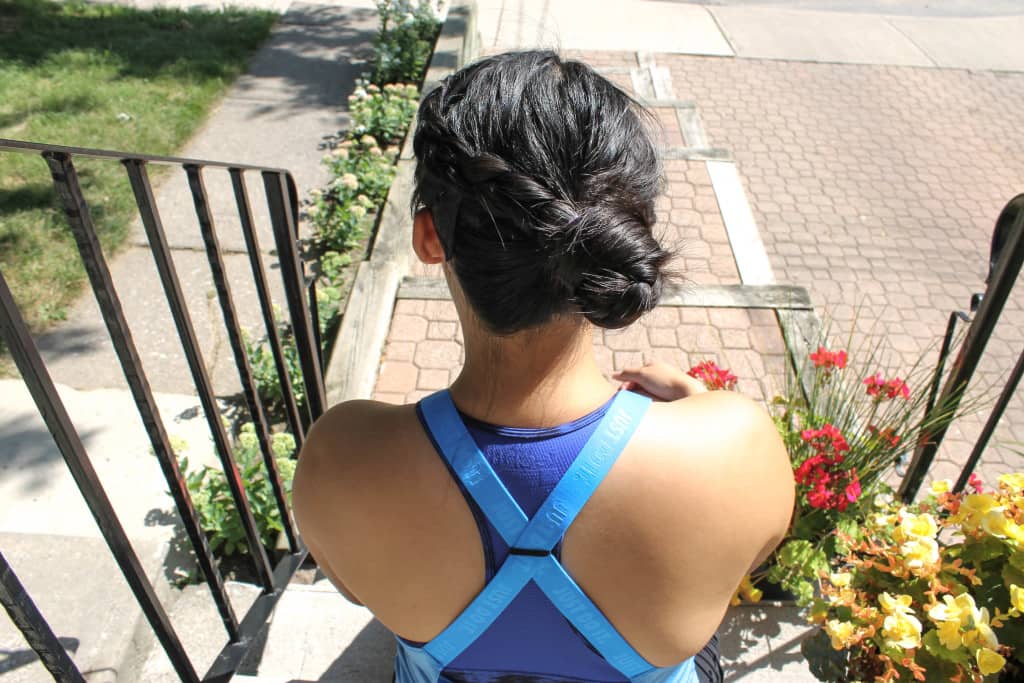 That was a mouthful! Anyways, this one is my favourite – you do a dutch braid starting from your side part (to keeps your hair that frames your face out of your face) and then continue to the end (without grabbing any additional hair past your ears) before twisting all of it into a bun to keep hair off the nape of your neck.
Anyways, like I said, Jen and I put these hairstyles to the test. For example, I did 10K in the bun pictured below (stay tuned for my next post to see more of it!) and the bun did.not.budge. It even lasted through my post run stretch. I was pretty sad to have to take it down to shower but the SlideProof Elastics kept the bun from moving. And speaking of which… here are my favourite post run stretches. Last month I took a little break from stretching due to a time crunch and I definitely felt it. This month, I've added my favourite stretches back into my post run routine and my hip flexors are way happier with me!
Product used:
Goody® Athletique™ Double Strand Headwraps
Goody® Ouchless® Elastics
Goody® SlideProof™ Secure Fit Elastics
Goody® SlideProof™ All Day Bold Hold Jelli-Bands
QOTD: What's your favourite sweat proof hairstyle?
[Tweet "Tried and Tested: Sweat Proof Hairstyles ft @GoodyHair #runchat "]
DISCLAIMER: This is a sponsored post in collaboration with Goody Hair. Once again, a thank you to readers for supporting these collaboration that makes this blog possible. All opinions are my own.
Other places to connect with me
Instagram: @runcarmyrun @curiouslychasing @carmyshungry
Twitter: https://twitter.com/runcarmyrun
Facebook: http://www.facebook.com/carmyycom
Email: carmy@carmyy.com
Vlogs/Recipe Videos: Youtube