These fresh and healthy Vietnamese Rice Paper Shrimp Rolls are so easy to make! They're accompanied by my go-to creamy peanut sauce. Bonus: other than boiling water, you don't have to cook at all!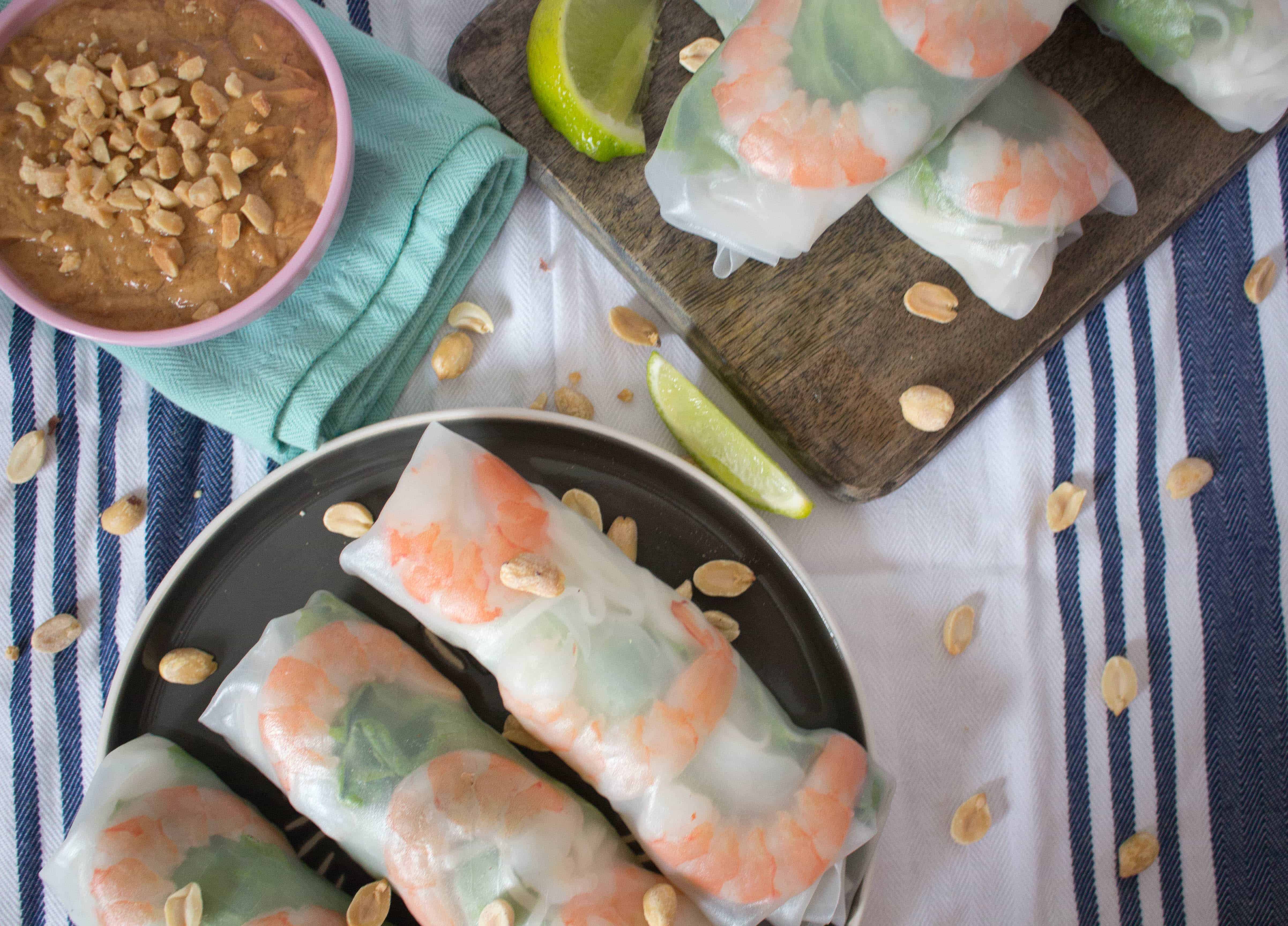 This post is sponsored by OceanPrime.
Vietnamese Rice Paper Shrimp Rolls
Growing up, my mother used to make these for me. Being the picky eater that I was, I always had the simplified version because I did not like bean sprouts, mint leaves, and any additional greens! As an adult, I'm still not a fan of bean sprouts soooooo if you're looking for the super duper traditional version of these shrimp rolls then sorry, this is not it!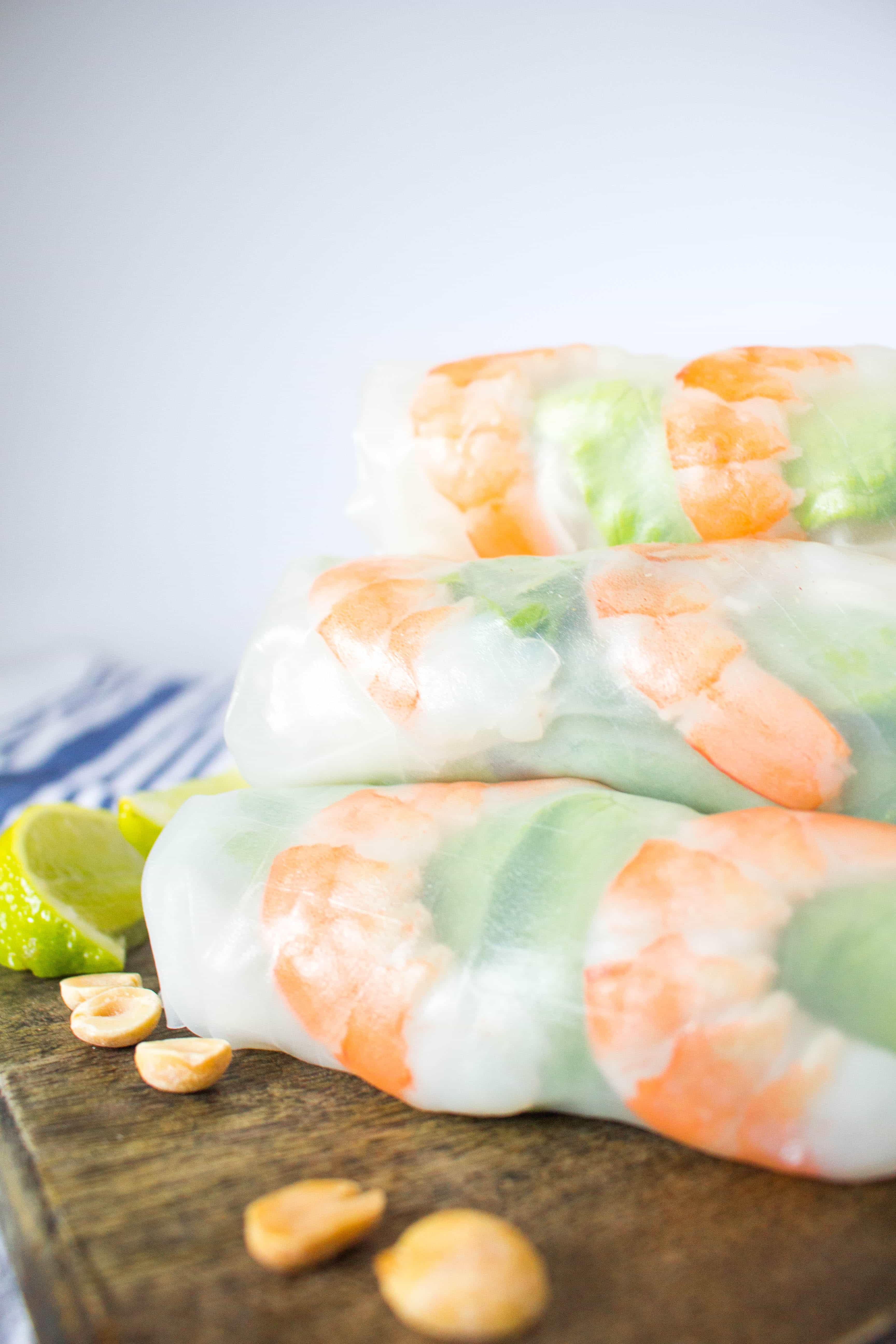 The other day, I was absolutely craving these and like I mentioned earlier, I'm pretty picky so going to a Vietnamese restaurant for a roll means I'd be sitting there picking out the bean sprouts (since my partner likes it, there's no point in ordering them without).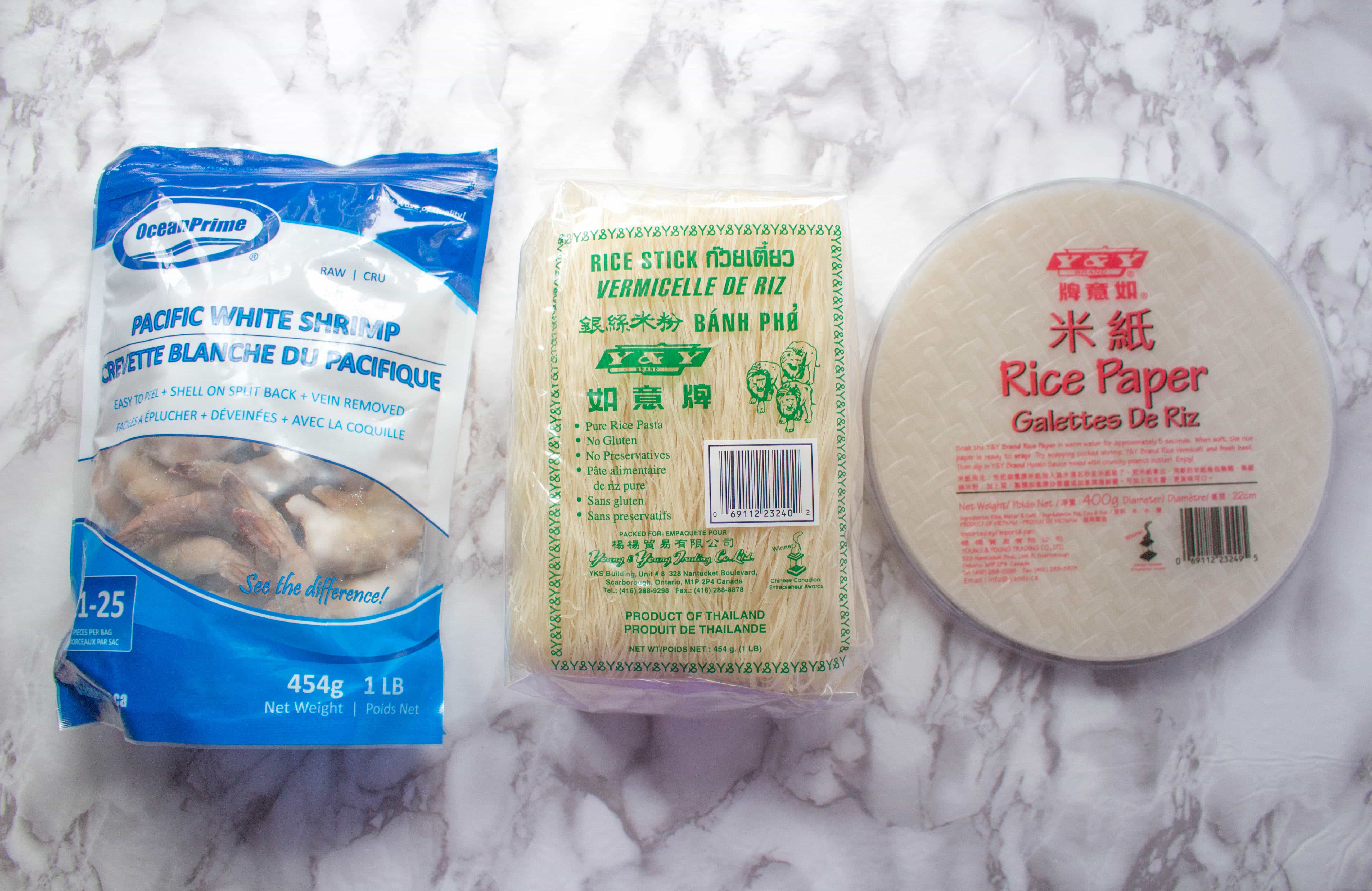 One of the reasons I love this recipe is that other than boiling water, there isn't any cooking involved. It's a great way to get some greens in too without really thinking about it as it's wrapped inside. The shrimp is a great source of vitamin B12 and protein too. Healthy and easy!
If you have a little dinner party, you can also set up "stations" and have your guest do a fun little DIY rice paper shrimp rolls!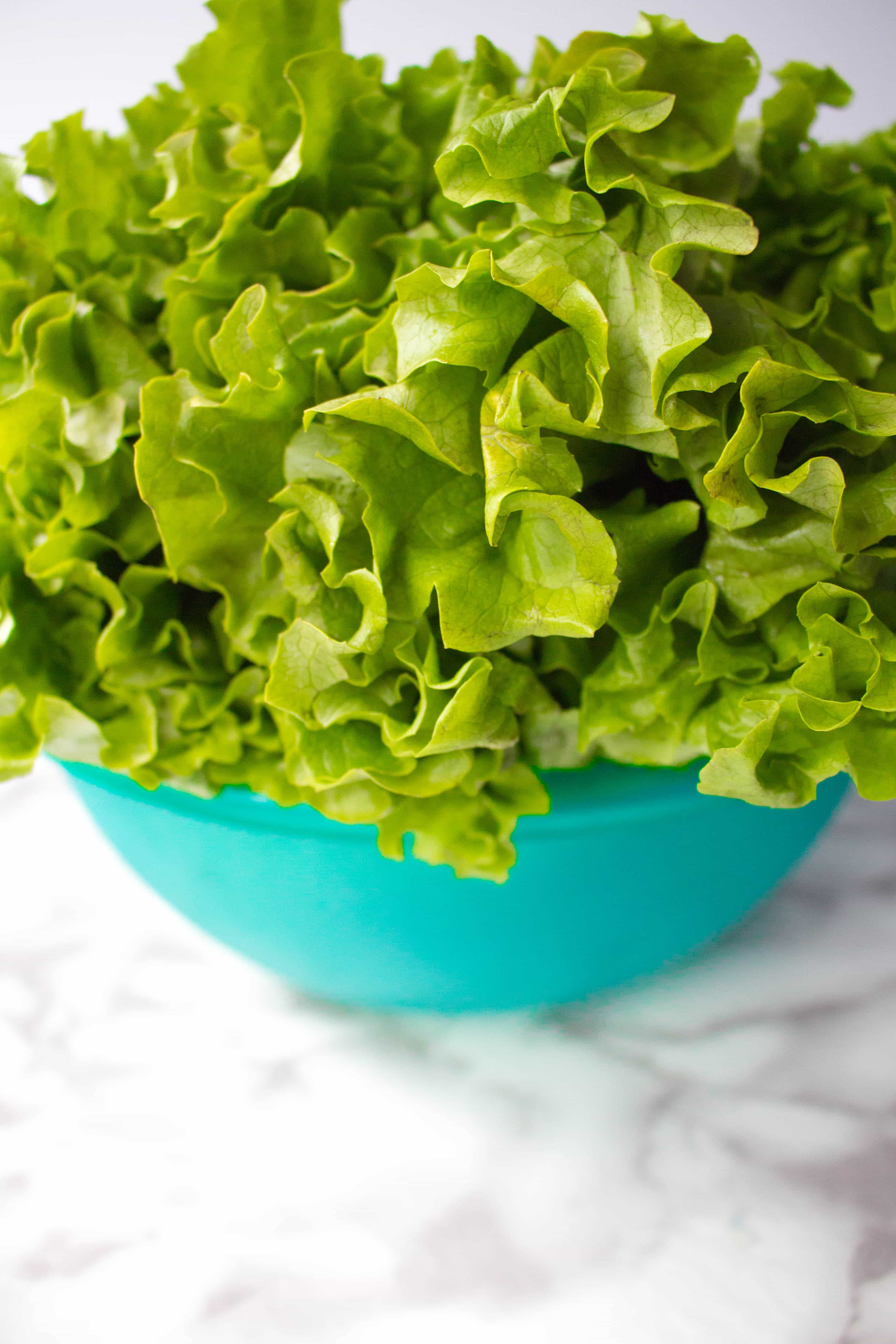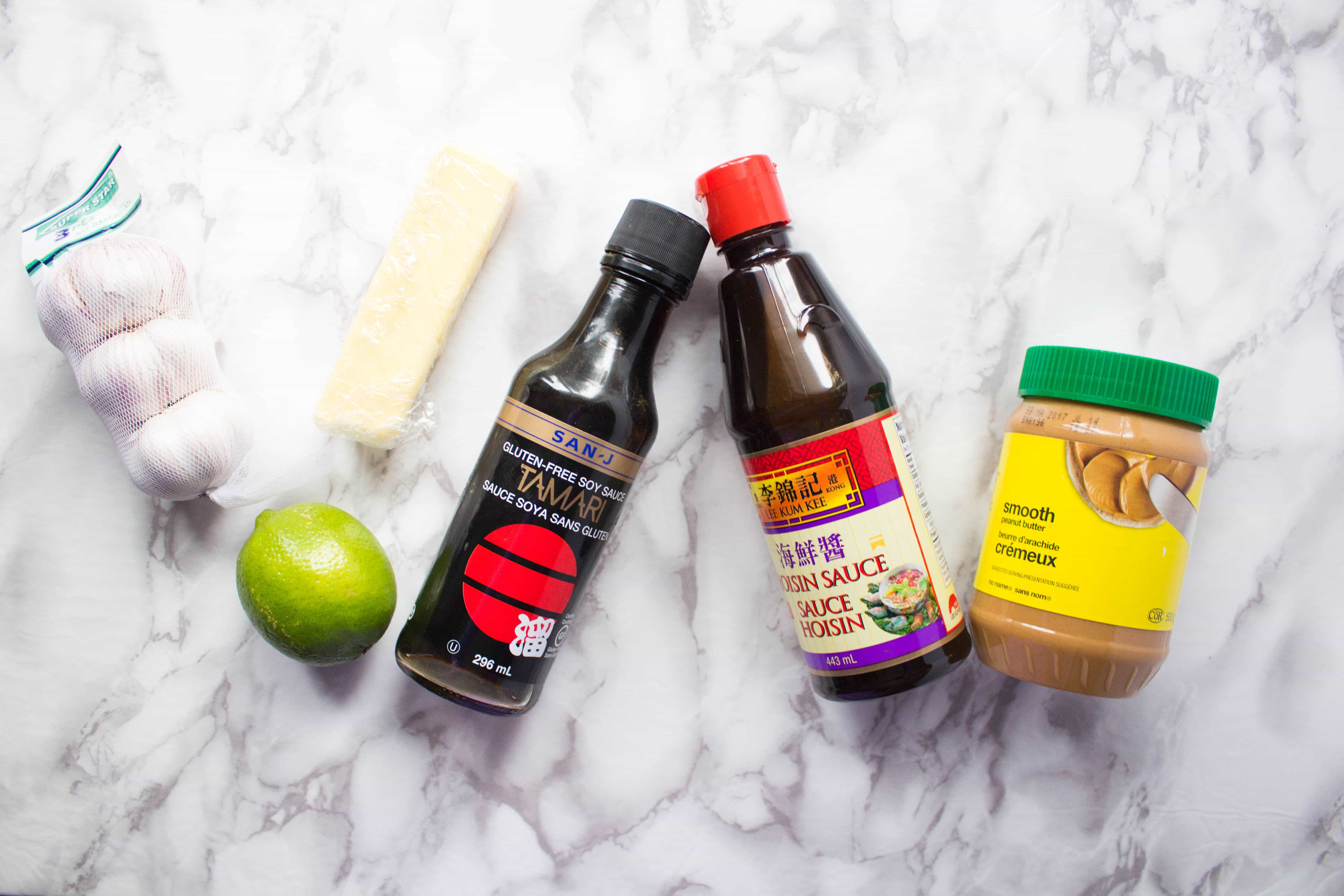 This recipe is super simple. Most of what you need is pictured up above. Curious about that butter? I ran out of olive oil (yes, can you believe it?!) so I melted some butter to keep the noodles from sticking together after they've been cooked.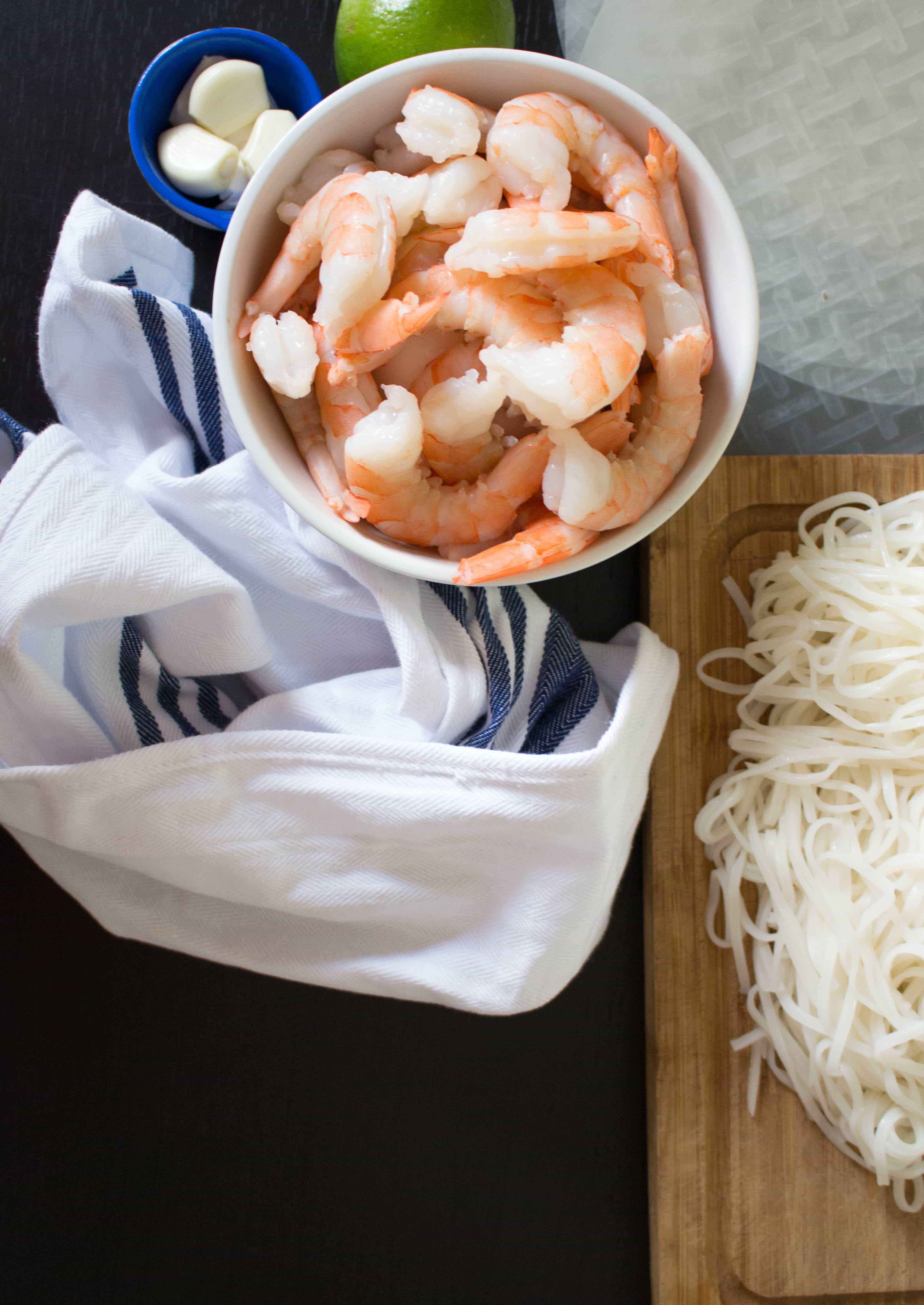 Vietnamese Rice Paper Shrimp Rolls with OceanPrime
For this recipe, I used OceanPrime's uncooked white shrimp. OceanPrime is Canadian company and they have been working with SeaChoice to ensure that their seafood is caught in a sustainable manner. Sustainable seafood are fish or shellfish caught or farmed in ways that consider the long-term viability of harvested populations. Overfishing in the fishing industry is a huge problem that even despite Canada's strict regulations, we unfortunately take part in it. However, knowing that OceanPrime is not only Canadian but is high in quality while being caught in a sustainable manner makes them a trusted brand in my books and is something I'll be keeping in mind while browsing seafood at the grocery store.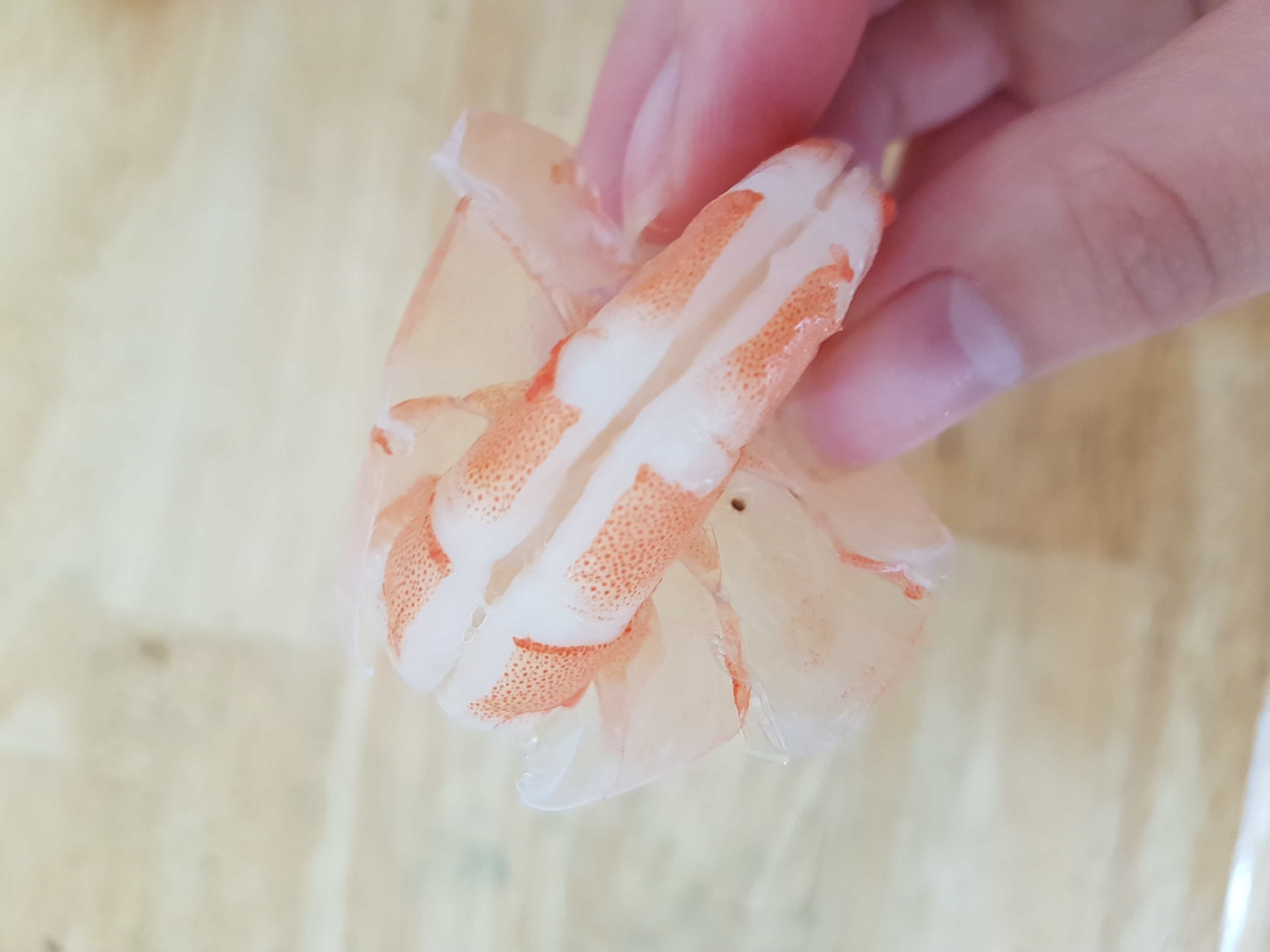 The shrimp comes deveined with makes my life so much easier as I don't have to waste time sitting in my kitchen with a toothpick, picking out the sand vein. A bonus is that with their deveining process, it makes peeling the shrimp a breeze as pictured above.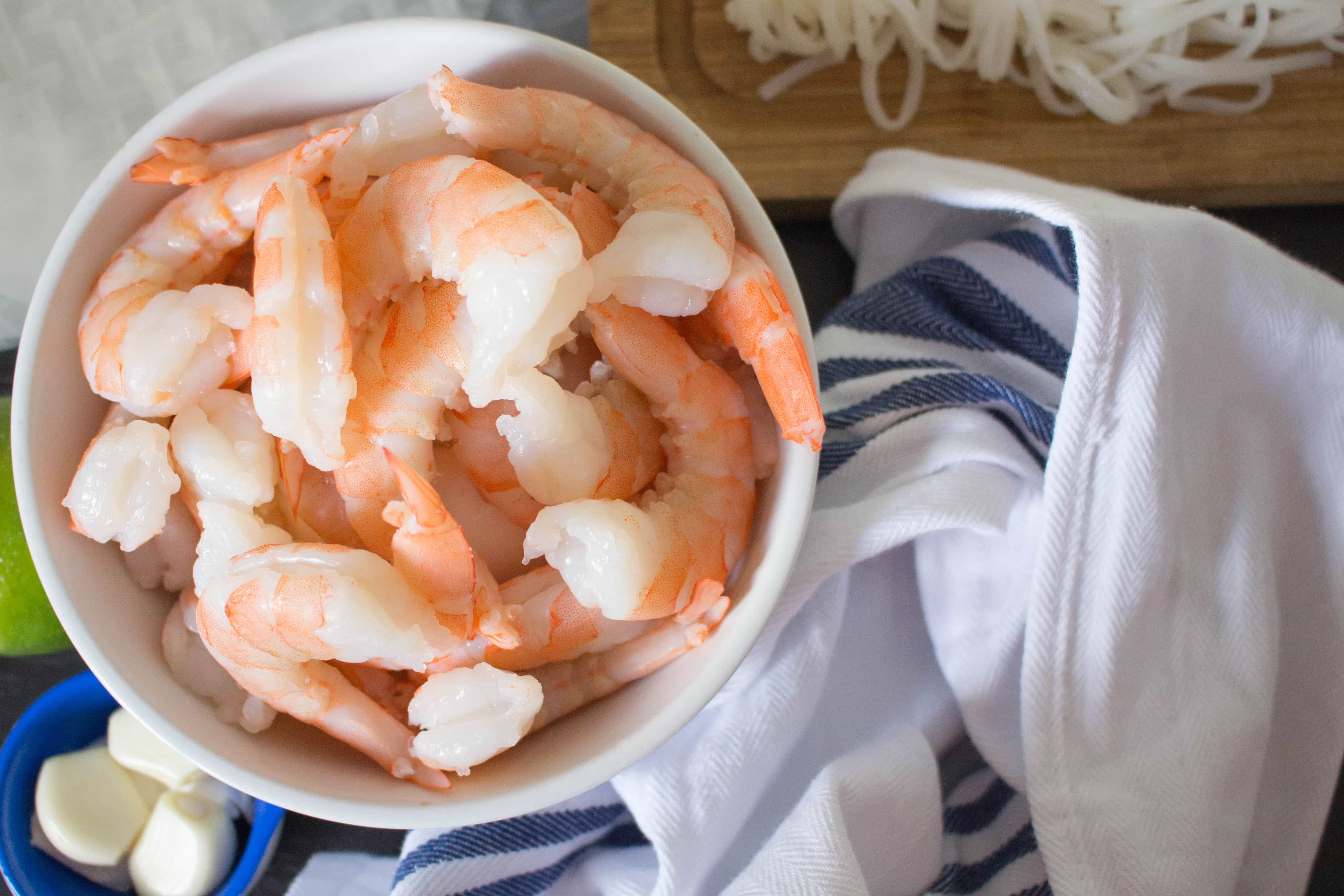 Having the cut there from the deveining process is really helpful for this recipe too as you need to cut the shrimp in half. The pre-cut line there is a great guideline of where to cut! You can see below how the shrimp looks once cut in half.
Step by Step on How To Roll The Vietnamese Rice Paper Shrimp Rolls
Below is a little step by step photo instructions to show you how I wrap my rolls. I find it easier to roll if the noodles are pre-rolled into the lettuce (step 3), this keeps everything in place!
How To Roll The Vietnamese Rice Paper Rolls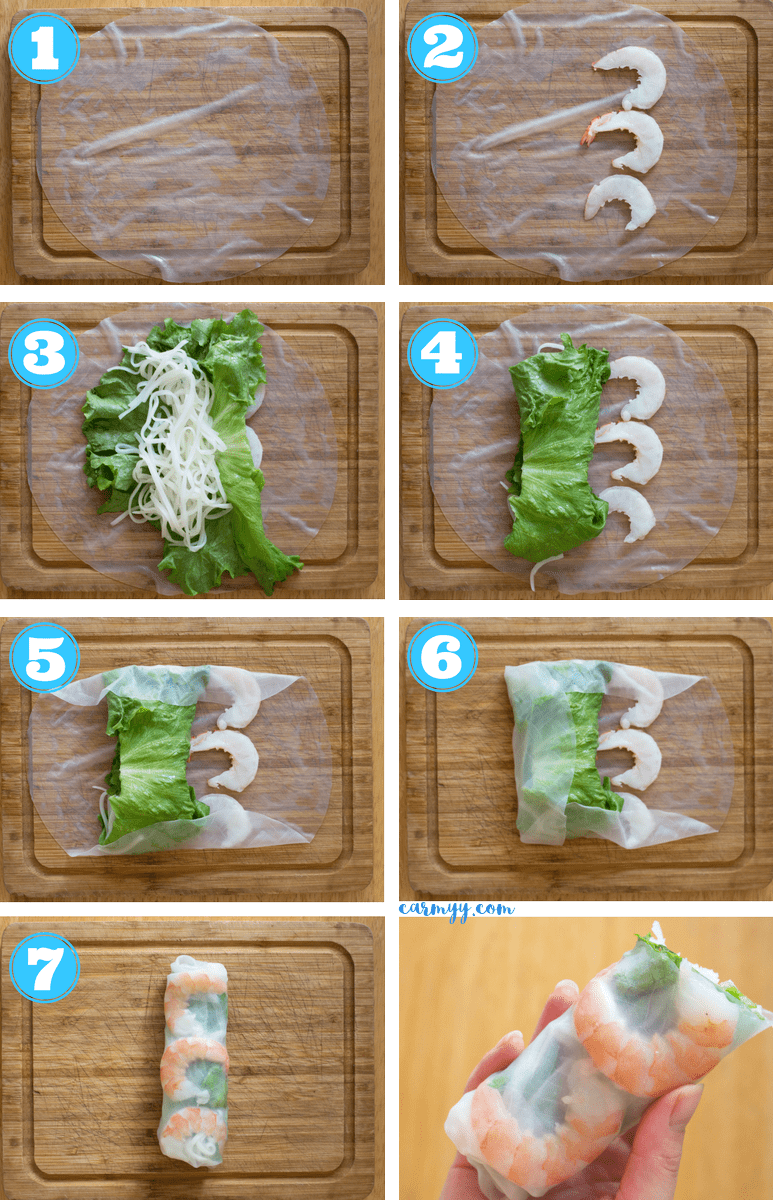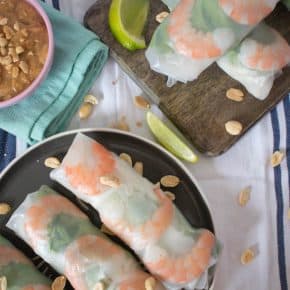 Vietnamese Rice Paper Shrimp Rolls
These fresh and healthy Vietnamese Rice Paper Shrimp Rolls are so easy to make! They're accompanied by my go-to creamy peanut sauce.
Print
Rate
Ingredients
Rice Paper Shrimp Rolls
15

sheets of round rice paper

,

22cm/8.5"

55

small shrimp

,

cooked (3 shrimps per roll, two bags of shrimp from OceanPrime)

1

pack of dried vermicelli noodles

15

portioned lettuce leaves
Peanut Sauce
½

cup

smooth peanut butter

1

tbsp

sugar

4

tbsp

hoisin sauce

1

tbsp

soy sauce

2

small garlic cloves

,

minced

2

tbsp

lime juice
Instructions
Cook the shrimp and noodles (I cooked it by placing them in boiled water)

Get a large bowl and fill with warm water. Place your

rice paper

into the water to soak until they're soft.

Place three shrimps, a leaf of lettuce, and your noodles onto your rice paper and roll them up as pictured above (sides first then roll in from the bottom).

For the dipping sauce, start with 2 tbsp of water and add in all the peanut sauce ingredients. As you mix, add additional water until the consistency is just a bit thicker than ketchup.
Notes
Avoid iceberg lettuce as the leaves are stiffer and more difficult to roll
Tried this recipe?
Did you make this recipe? I'm always so happy to hear about it! I'd love to see how it turned out. Tag me at @CarmysHungry on Instagram so I can see it! If you enjoyed the recipe, I'd really appreciate a comment with a 5 star rating! ♥
[Tweet "Fresh and healthy! Easy Vietnamese Rice Paper Shrimp Rolls "]
pin it for later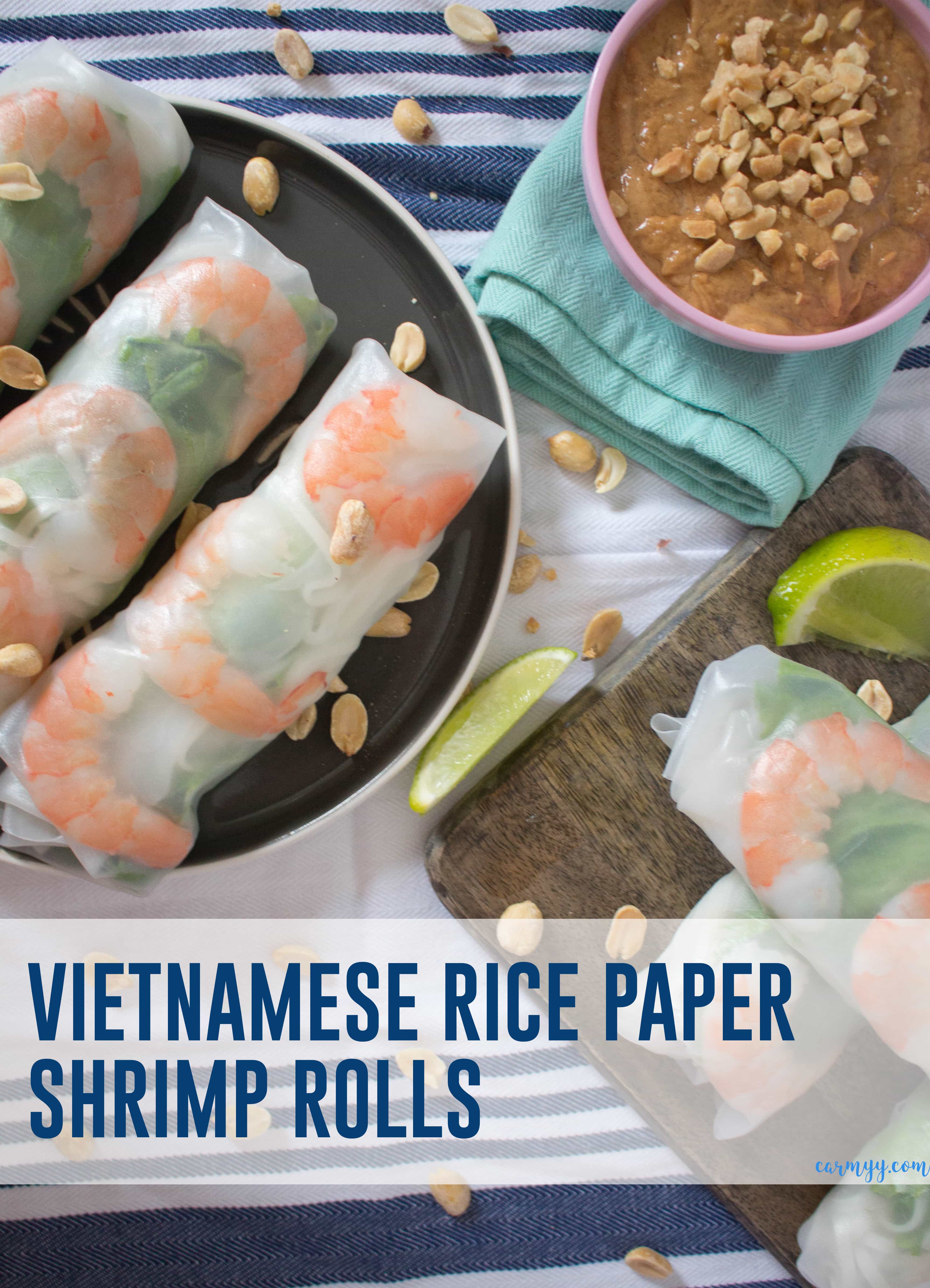 Other places to connect with me
Instagram: @runcarmyrun @curiouslychasing @carmyshungry
Twitter: https://twitter.com/runcarmyrun
Facebook: http://www.facebook.com/carmyycom
Email: [email protected]
Vlogs/Recipe Videos: Youtube