I don't like buying too many appliances as I am obsessed with keeping my counters as clear as possible. So when we bought our place, we were debating if we needed a rice cooker.
Growing up in an Asian household, I grew up with a rice cooker on the counter 24/7. But since it was just the two of us, we were debating if we should just cook rice on the stovetop. However, after a bit of back and forth, we settled on getting a rice cooker.
Why I Bought a Rice Cooker
It's simple. You simply rinse your rice and cook it in the rice cooker.
We eat rice pretty much daily. It's just easier to use the rice cooker since we cook rice daily.
It frees up the rest of the kitchen. While we can use the Instant Pot to make rice, I only have one so if I use the Instant Pot for a recipe, we can't use it for rice. Also, sometimes I use all four burners on the stove! So the rice cooker helps keep the stove free for cooking the entrees or sides.
It's hands off. Dinner can be elaborate some days (haha) so it's easier to set the rice cooker and not think about it until the music plays indicating that it's ready.
Which Rice Cooker Did I Buy
There's a few different types of rice cookers at different price points. Some as cheap as $10 to some as expensive as $500. But what even is the difference?
There are some less expensive ones out there tends to only have one switch. You press it down and it'll cook and when it's done, you'll find out by the switch flipping up. I personally don't recommend one of these as I find that rice is not cooked to perfection. There's also a higher chance of your rice being dried out or be stuck to the bottom.
After a lot of research, I ended up buying the Zojirushi Neuro Fuzzy® Rice Cooker NS-ZCC10. It's not the cheapest cooker on the market but I feel like the price point is worth it for me.
Zojirushi Neuro Fuzzy Rice Cooker Review
Let's start with how it works. This rice cooker is a micro computer. It knows when to turn itself off and make fine adjustments to temperature and heating time to cook perfect rice every time.
Rice Cooker Settings
While the more simple rice cooker only lets you turn it on and off, the Zojirushi Neuro Fuzzy Rice Cooker allows you to pick different types of rice. You can make white/sushi rice, you can set it to be harder or softer, brown rice, mixed rice, you can even make porridge or use the quick cooking option for days you forget to cook your rice an hour in advance.
You can even set a timer on the rice cooker to cook later on in the day. Something we did often growing up was setting the rice cooker in the morning and at 5PM, the rice cooker would automatically start cooking!
Rice Cooker Inner Liner
Compared to our previous rice cooker, I love how the Neuro Fuzzy Rice Cooker liner has high contrast writing inside to indicate how much water to put into the pot. My previous rice cooker, the inner liner's colour was very close to the line markings so it was difficult to see it sometimes. We would have to squat down a bit to check under bright lighting.
Even better, this rice cooker's liner has this silicone bit on the side acting as a handle of sorts so you can lift out the liner while it's still warm without burning your hands or need thick oven mitts.
It can also make up to 5 cups of rice but if you have a larger family, they have a 10 cup model.
The Cord
This is also going to sound a little odd but despite all the cool features this rice cooker has, the one that sealed the deal was it's retractable cord! It was down between the Induction Heating System Rice Cooker & Warmer NP-HCC10 which is a bit fancier and approximate $100 more and the Neuro Fuzzy and it was the retractable cord that won me over! Apparently the same model sold in Asia has a retractable cord but the one sold in Canada doesn't.
I tuck my rice cooker in the cupboard under my counter and it drove me nuts whenever I took out my old one and the cord would whack the cabinet door or dishwasher. Eventually it would have left a mark and I was dreading it! So when I saw the cord could be retracted, I was sold!
The Lid
The inner lid is removable for easy cleaning. My last one was supposed detachable as well but I could never get it out! This one pops right out.
What Comes with the Rice Cooker
The Neuro Fuzzy Rice Cooker also comes with a rice measuring cup, a rinse-free rice measuring cup (the cup is slightly smaller!), a nonstick rice spatula, and spatula holder. I much prefer this rice spatula to my previous one as this has little nubs on it so rice doesn't stick to the spatula when you're fluffing it and scooping it out.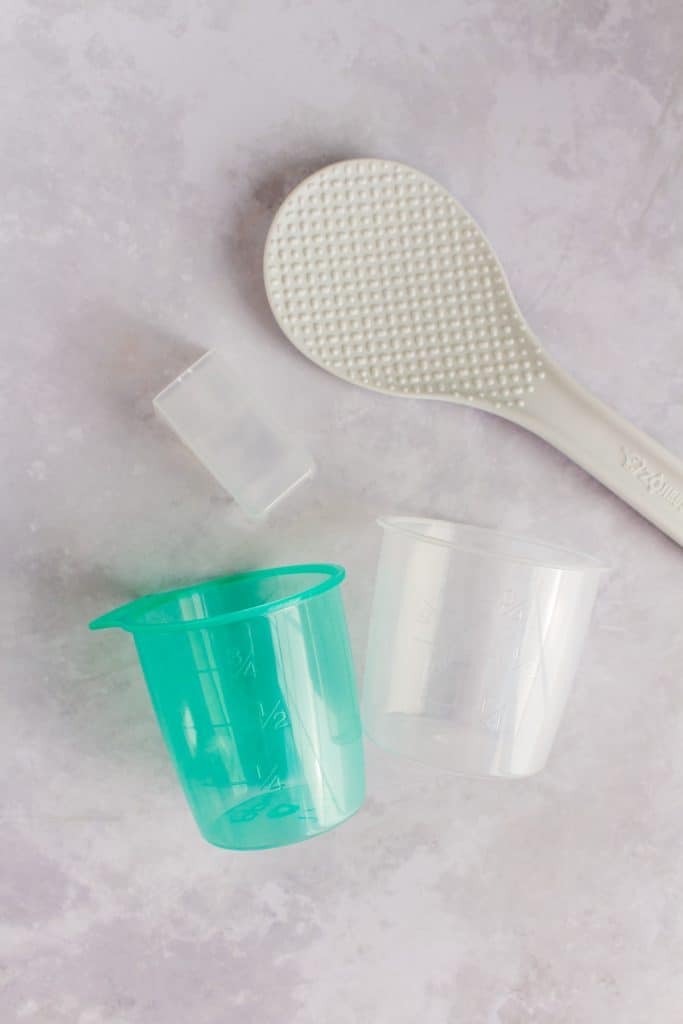 There are so many small details that make this rice cooker user friendly. While it does cost around $200, I think it's worth every penny! You can get your own Zojirushi Neuro Fuzzy® Rice Cooker NS-ZCC10 here on Amazon!
Want some recipes to make alongside your rice? Give these recipes a try!
Other places to connect with me
@carmyshungry on Instagram
Facebook
Shop my Amazon faves
Email: [email protected]