Guess who turned 25?! Leading up to my birthday, I had tracked flights to Berlin obsessively until the price dropped. Once I got that email, I grabbed a friend, we packed our bags, and flew out to Berlin, Germany for a week! Come see how my friend and I spent 6 days in Berlin!
Why did I pick Berlin? The history. After spending a good chunk of my undergrad studying European history, the wars, and Canadian history – my favourite course was a year long course called the History of Espionage. We studied intelligence gathering, their governments, the Cold War, and more. At the end of it, Germany was the most fascinating with the East vs West, the Stasi, and their role in WW2. I know, I have weird interests haha. But anyways, that's how I ended up picking Berlin as my most recent travel destination! Prepare yourself for a ton of photos in this post!
Before I left for Berlin, I had printed out documentation to pick up a Berlin Welcome Card to make our trip start smoothly. The Berlin Welcome Card includes transportation, a city map, and discounts for various activities. This meant that once we landed, we just had to pick up our Welcome Cards at the airport information desk, get them timestamped at the U-Bahn, and we were good to go for the week. We didn't have to line up to purchase tickets for transportation.
How to Spend 6 Days in Berlin
Day 0 in Berlin
Okay, so while the title of this itinerary says 6 days, we were really in Berlin for 7 days. However on our first day, after our plane landed, we spent the afternoon checking in at our hotel, the ECONTEL HOTEL Berlin Charlottenburg (via Booking.com – this is my referral code! If you find this helpful, I'd appreciate you using it as we will both get $25 each :) it helps support the blog!). I had picked this hotel as it came recommended by a coworker.
The ECONTEL HOTEL Berlin Chalottenburg is 10 minutes from the Tegal Airport, I came in from Schönefeld Airport but I was able to take the X9 to Tegal Airport from the Zoologischer Garten U-Bahn for two stops that dropped us off right at the front of the hotel. In addition, the Mierendorffplatz U-Bahn was just down the street from the hotel.
After checking into the hotel, we went to REWE, a grocery store that was directly behind the hotel to stock up on some snacks. The hotel itself was pretty close to everything we needed: snacks, bus stop, underground, and you can walk to the Charlottenburg Palace! Shortly afterwards, we walked over to Restaurant Schnitzelei (where they promptly set down two glasses of beer as we sat down) for dinner. I had the wiener schnitzel and Jen had the cordon bleu on top of us sharing an appetizer. With all the food in our bellies and snacks for days in our room, we called an early night to sleep off the jet lag.
Day 1 of 6 in Berlin
Our very first day was a packed one! We started off the morning making our way over to Museum Island. Depending on your plan here, you can get a 3 day museum pass or you can use the Berlin Welcome Card to get a discounted entry into the museums. They are currently working on building underground tunnels to connect all the museums here which would make it the largest connected group of museums in the world!
We started with the Neues Museum which is the home to the famous bust of Nefertiti (no pictures of her allowed unfortunately). I loved their Egyptian collection here. We spent most of the morning at Neues Museum before walking over to the House of Small Wonders for lunch. House of Small Wonders does breakfast, brunch, treats, and unique drinks with a Japanese influence. I had the Okinawan Taco Rice, Tex-Mex with a Japanese twist: ground all-natural pork, chopped vegetables, Parmesan and fried organic egg over rice with a green tea latte. Jen had Soboro Don: ground chicken and scrambled organic egg (semi-sweet Japanese style) over rice with spinach & red pickled ginger.
After lunch, we made our way back to museum island and went to Pergamon Museum. The Pergamon Museum will more than likely have a line outside so be sure to either go early or book a time slot. We ended up waiting in line but luckily it was a lot shorter than the line in the morning that we saw. The Pergamon Museum is well worth the wait as it has the Pergamon altar, the Ishtar Gate and the Processional Way from Babylon, the Market Gate of Miletus, and the Mshatta façade. Walking in and seeing the larger than life reconstructions were absolutely breathtaking.
When we were done, it was still raining outside so we were wondering what we should do. We were deciding between going to another museum on the island but after flipping through our Berlin Welcome Card booklet, we decided to go to AquaDom & SEA LIFE Berlin as the Welcome Card gave us a discount.
Afterwards, since it was still raining, we decided to walk the couple hundred metres over to the DDR Museum (GDR Museum). Again, the entry was discounted thanks to the Berlin Welcome Card! The DDR Museum was definitely one of my favourites as it is a very hands-on history experience. Y'all know I love touching things I shouldn't be so, being at a museum where you can touch pretty much everything was a dream. The DDR Museum showed what life was like under East German rule – check out the photo down below of a 1970s East German living room! Life in the DDR/GDR was a dictatorship – there were no free elections, no division of powers, and no freedom of movement. If you were living in the East and your family was in the West when the wall came up, you pretty much longer get to see them. Sure you can send letters but the government goes through all the mail that goes in and out of the East. The back of the museum are replicas of what a government built homes in the DDR/GDR is like. The interior and exterior of the buildings were uniformed, they were built that way to eradicate any signs of social or economic privilege. In addition to the recreation of a home in the GDR, you can also walk into an interrogation room and a prison cell! After the museum, we stopped by Zur Gerichtslaube for dinner before heading back to our hotel.
Day 2 of 6 in Berlin
Our second day started at the Berlin Wall and the Topography of Terror, both of which are free. I'm not going to sugar coat it but just as a warning, this part of my day was very emotionally draining.
The Topography of Terror is located where once the main vein of the Third Reich was located. It was also the headquarters of the Gestapo, as well as the Reich Security Main Office. The Topography of Terror is an indoor and outdoor museum that documented the history of the rise of the Nazi regime to their fall. Be prepared to spend a lot of time here as there is a lot of reading to be done.
There are also some graphic photos so if you're coming with children, some images might not be suitable for them to see. There were images of executions, public shamings, and other non-PG documentation. As depressing as the museum is, I believe that everyone should take advantage of the free admission and visit to have a better understanding of how the Third Reich rose to power and the damage that they did.
Afterwards, we decided to wander around a little by walking over to Checkpoint Charlie. There's an associated museum there but we decided to not go in. Checkpoint Charlie was the crossing point between East Berlin and West Berlin during the Cold War where at one point, Soviet and American tanks briefly faced each other during the 
The Berlin Crisis of 1961, the last major political/military incident in the Cold War. The checkpoint was the official crossing for foreigners and diplomats until German reunification in October of 1990. To be honest, the checkpoint itself felt a bit gimmicky (you can get a photo between two "US soldiers" holding an American flag for a couple of euros), it was very crowded, and overall, I tried to get out of there once I saw what I came to see.
Our next stop was the The Memorial to the Murdered Jews of Europe. It was surreal walking through the concrete slabs of varying heights in a grid formation on a slope. Underneath the memorial is the Place of Information. To be honest with you, I was hesitant on visiting the Place of Information because I was just so emotionally exhausted from the Topography of Terror. Unsure if I should skip the exhibit or not, Jen and I went across the street to Italia Bella for some pizza and to decompress.
Afterwards, we ended up going to the Place of Information because I felt that it was important to visit. The Place of Information is free to enter but you have to go through a metal detector. The exhibit started with with an overview of the National Socialist terror policy between 1933 and 1945. The next room was the Room of Dimensions where on the floor is a backlit blocks of texts – letters, diary entries, and notes that shared their distress on the impending threat of death.
The next room, the Room of Families, was the one I found the most interesting due to being able to follow different families' histories. Here you are able to follow the journey of 15 Jewish families from different social, cultural, national backgrounds. While some families were able to flee, some where not so lucky.
The Room of Names was after where the reading of the short biographies of Jews murdered or missing would play. The Room of Sites was the last "room." Here, films and photographs on some 200 localities of the persecution and destruction of Jews and other groups of victims were placed along the walls.
To the sides were little pockets where you could sit down and pick up a phone where they had audio from survivors. The most haunting recording for me was of the mother who had told the soldier at a concentration camp that her son was under 12 and requested that her "senior" mother go with him to the "children and senior" part of the camp, thinking she was sparing her son from the labour camp and hoping her mother could care from him. It was only afterwards that she learnt that instead of sparing them from the labour camp, she had unknowingly placed them in line to go to the gas chambers. The fact that she had to go through a concentration camp on top of knowing that she had unknowingly sentenced her family to death, it was a disheartening recording to listen to.
Note: the Brandenburg Gate is right around the corner from the memorial but due to the World Cup (I'm assuming with the amount of jersey-clad folks walking through the checkpoint), it was very crowded and somewhat blocked off so we skipped it.
Once we left the Place of Information, we could see the storm clouds forming so we sped walked our way to the German Spy Museum Berlin/Deutsches Spionagemuseum. After a pretty emotionally tiring day, we thought it'd be nice to end off the day with something a little more light-hearted.
The Spy Museum's entry was, once again, discounted thanks to the Welcome Card! I say that this museum is a little more light-hearted because it was another interactive museum that is extremely child friendly.
They had a lot of gadgets to play with such as a program that teaches you morse code and allows you to print off a strip of paper with your message, there's a laser course to test your ability to Mission Impossible your way through a hallway, and throwbacks to James Bond movies.
We ended the day off with a little more cheer than we started by stopped by Häppies! It is honestly the cutest little restaurant in (dare I say) all of Berlin. They do handmade sweet and savoury steamed buns. Jen and I shared a "julia," a bun stuffed with veggie sausages, mozzarella, topped with tomato sauce, and parmesan and we each got a "barbel," a bun stuffed with goat cheese, honey, walnut, topped with rucola cashewnut pesto and cranberries. And as a dessert, we got the "Netti," which is plum jam-fillled with brown butter infused with cardamom topped with icing sugar and poppy seeds that were hand picked and grounded from Austria. If you want to try this for yourself, go early because she's known to sell out and closing early!
Day 3 of 6 in Berlin
Day 3 of our trip in Berlin was unfortunately still rainy. We had originally planned to go to the zoo on our third day (it was forecasted to be sunny all week!!) but due to the rain, we ended up going to the spa instead! We had first planned to go to the LiquidRom which had a pool that played music underwater but due to not being able to book last minute massages, we ended up at Vabali Spa.
Google Maps took us to the path that required us being lost in a park/forest before a nice runner steered us in the right direction. If you're following Google Maps, try and find the non park path entrance on the opposite side. We had made it literally with seconds to spare for our massages which was pretty stressful but our massage therapists worked those knots out for us. It was pretty blissful and it wasn't until after the massage and in the changing rooms that we realized something. The spa was unisex. "What's the big deal?" you may ask? Well, it took us a moment to realize that while the website states that swimsuits/clothing is not allowed inside the saunas/pools, that it didn't mention that those saunas and pools were unisex. I saw a lot more dongs than I had planned on this trip and 100% of them were at the spa. We had narrowly missed being t-bagged at one point too due to a crowded sauna. Definitely was not expecting that as a lot of the spas I've been to in the past had segregated the naked bathing part and had us in clothes in the unisex sauna part. Consider this your exclaimer haha.
The spa itself was very spacious and lovely and I had a great time there after the initial shock wore off. We spent most of the day there before heading out for some food at Peter Pane. This was also when we learned that on Sundays, malls are closed in Germany. We had originally planned to go to the spa then hang out at KaDeWa for some light shopping but we had to put a pin in that.
Day 4 of 6 in Berlin
Day 4 was my birthday! We made our way over to the Berlin Zoological Garden & Aquarium! It was only two bus stops away for us so we didn't have to wake up too early to be able to get there for the opening hour. Walking over to the zoo, we learnt that this zoo housed Germany's only pandas! As two girls obsessed with pandas, we were beyond excited. Needless to say, we spent almost 6 hours at there and couldn't be happier!
The Berlin Zoological Garden is the oldest and best-known zoo in Germany that covers 35 hectares (that's 26.5 football fields!). It's definitely a place that you have to visit and allocate a chunk of your time to. The aquarium on site is also Germany's largest!
> see our trip to Montreal where we got to see Panda lanterns! <
After the zoo, we stopped by KaDeWa for some lunch before wandering over to the Mall of Berlin to buy some souvenirs. Then after a quick Google search, we ended up at Hokey Pokey where I believe I found the best ice cream ever. You know how they say birthday calories don't count, well I took full advantage of that by getting two double scoop cones for myself. First I got the namesake, Hokey Pokey on top (vanilla with crunchy caramel) and Rocky Road on the bottom (caramelized pecan and para nuts, marshmallows and chocolate). Then for my second cone I got their Pistachio on top and their White Macadamia Nut on the bottom. If I could have gone for a third cone, I would have!
Day 5 of 6 in Berlin
Day 5 was our last full day in Berlin. In the morning, we visited the Stasi Museum, which I had been looking forward to all week! The museum itself is actually the former headquarters of the Stasi where the working quarters of the former Minister of State Security is preserved! It's not everyday that you get to step into a snapshot of history (you know, unless you work there…).
The Stasi were described as one of the most effective and repressive intelligence and secret police agencies to have ever existed. It is honestly fascinating how they were able to conduct surveillance on almost everyone. They employed a total of 274,000 people and it is believed that they had over 500,000 informers! Neighbours spied on neighbours, friends spied on friends, members infiltrated the state and the home, and holes were drilled into walls to spy on inhabitants and visitors. They hand handbooks for everything – how to B&E, how to turn suspects into criminals, how to recruit, how to turn citizens into informations. They also had files on everyone from their efforts! It's both so horrifying and fascinating at the same time.
After the museum, we headed towards to Botanic Garden and Botanical Museum. We weren't very hungry so we did an icecream pit stop at the mall we exited our U-Bahn through. Be sure to give yourself some time here at the botanical garden because it's 43 hectares and with around 22,000 different plant species. It's bigger than the zoo!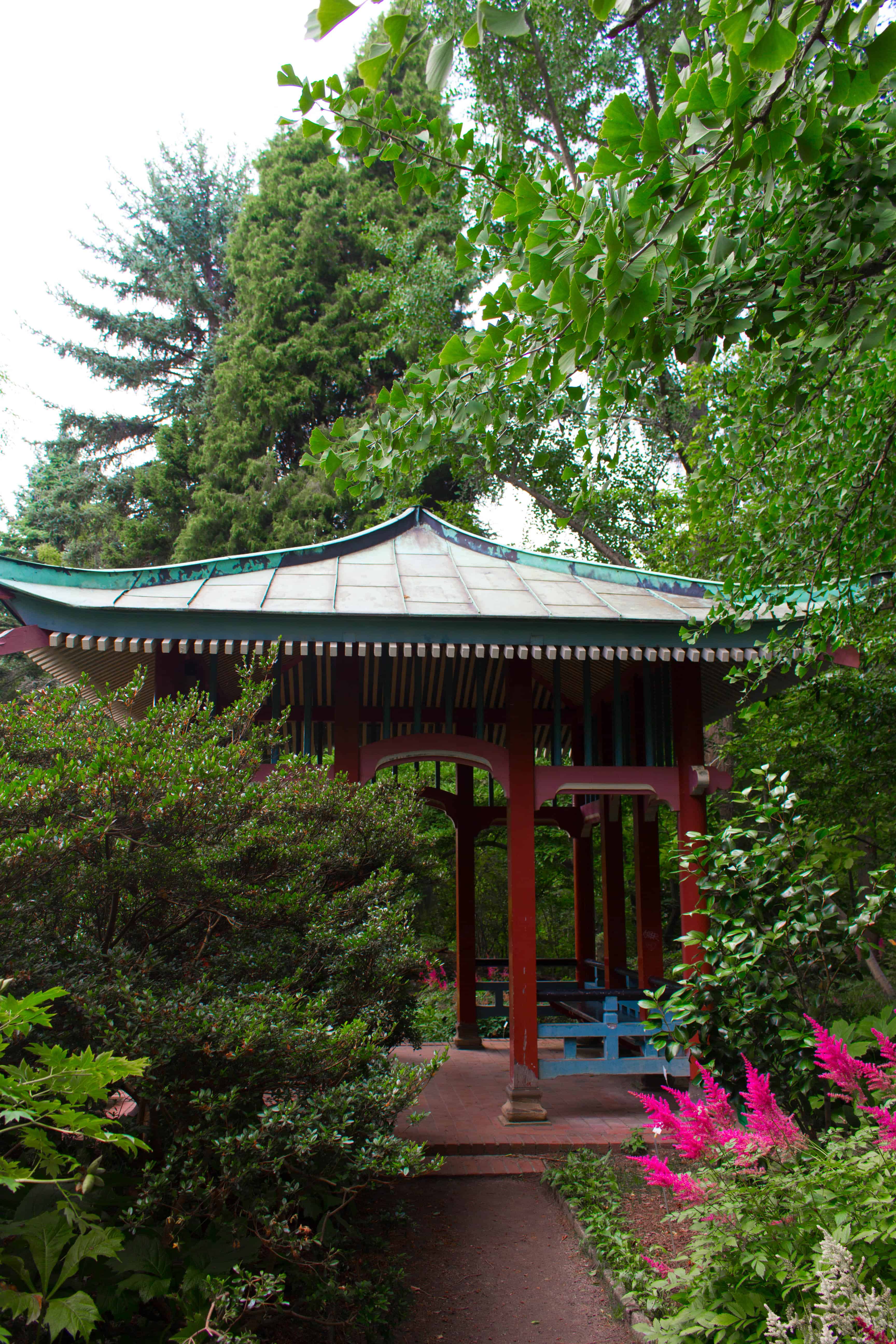 It was our mission to find those giant lily pads up above. They are from Argentina and can hold up to 100kg! While beautiful, these giant water lilies have spines on the bottom of the leaf to provide a defence against hungry mantees and capybaras. Isn't that amazing? Anyways, I had a blast going through their Tropical Greenhouse and seeing all the cool plants they had. We also had this handsome fox follow us from the Japanese garden to the exit. It was pretty surreal as it sat there posing for the camera!
For dinner, we went to Lutter and Wagner and I ordered the most delicious creamy veal goulash with pepper served with handmade Swabian butter noodles.
Right after dinner, we walked over to Haagen-Dazs and proceeded to blow our money on ice cream! First we both got the peachy frozen yogurt which was 3 half scoops of their limited edition yellow peach frozen yogurt and a half scoop of raspberry sorbet, served on top of a bed of apricot confit, peach pieces, raspberries, and mini meringues. Next, because Haagen-Dazs was minutes to closing, we got a cone to-go! I got their second limited edition flavour: cherry blossom ice cream with cherry sauce plus cookies and cream. With our stomaches full of ice cream, we went back to our hotel to send the rest of the night packing.
Day 6 of 6 in Berlin
Our last (half) day in Berlin was spent trying to find things to eat that we hadn't had the chance to eat and activities we didn't get to do the last couple of days (note, we are lugging our huge duffles around at this point). We started the day by eating ice cream on a boat tour for breakfast. I personally found Reederei Hadynski to be a great boat tour as the guide spoke in English and German. She cracked jokes and was able to change up the commentary when we had to do a u-turn when one of the gates were down – something audio recordings cannot do! I highly recommend going on a boat tour to see the city and I highly recommend going on a tour where there's a real human guide! Bonus: we got a discounted entry thanks to the Welcome Card.
Then we went for some currywurst which was pretty much cut up sausages with ketchup and curry powder on top. We also tried some cheesy pretzels. We had wanted to head up to the Fernsehturm for a meal but they didn't have lockers at their building nor did they let us take our bags up with us. The alternative was to go use the public lockers across the street at the U-Bahn which just sounded sketchy to be honest. I wasn't about to lead my laptop in my bag unattended across the street outside a subway while I was 300m in the sky! We had also tried to check out the Weltballoon but despite it being our third time going past it, it was closed due to the "strong wind." After some more wandering, it was time for us to say goodbye to Berlin and head to the airport.
Final Thoughts
We had considered purchasing a sim card for our trip so we would have data but after looking up how it can be difficult to activate a sim card, we decided to skip it. We relied on the wifi in museums and U-Bahns to get from point a to point b. I had also downloaded an offline map on Google Maps onto my phone in advance. The wifi at our hotel was pretty spotty but we spent most of our time out explore so while it got frustrating at times, we survived. Would I go back to Berlin again?  While I got to see almost everything I had hoped for, there is so much more to Berlin that I'd like to explore. I'd love to go back and have more häppies that's for sure! I would love to go back to Germany in general as I'd love to explore the Christmas Markets! I'll have to keep my eyes peeled for some flight sales back to Germany.
---
On a budget? Check out my post on 12 Free Things to do in Berlin to help you plan a budget friendly trip to Berlin!
---
Let's chat! Have you gone to Berlin? Is Berlin on your bucket list?
Other places to connect with me
@carmyshungry on Instagram
Facebook
Shop my Amazon faves
Email: [email protected]