Disclaimer: Our race was sponsored by Reebok Canada.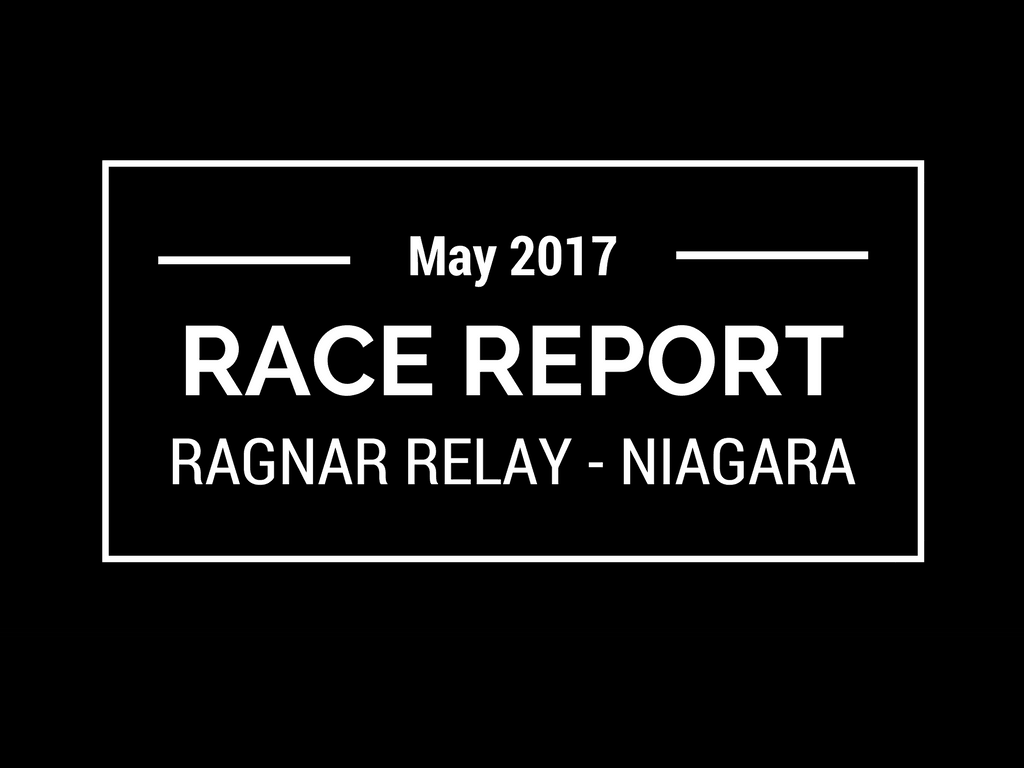 The Training
Unlike last year, I was actually better prepared to run Ragnar Relay Niagara this year. Leading up to the race, I've been training for a half marathon and I peaked at around 28K a week before the Ragnar Relay. At first, I was going to be runner one again so I was feeling pretty good going into the run as I'd max out around 18-19K total. However, at the last-ish minute, we did a little swap and I was runner three, which meant I was doing 31.4K total. Needless to say, I was not as confident with 31.4K compared to 18K as I've done an 18K long run so breaking it up into 3 would be easy. However, after a short chat with my coach, we agreed that the distance will be do-able for me and I won't die. Leading up to the relay, I had been running three times a week: one day of hills, one day of easy, and a long run. If you're thinking of doing Ragnar Relay Niagara, I'd recommend not skipping hill training because both last and this year, my legs had hills in them.
How Does Ragnar Relay Niagara Work?
There are two vans for Ragnar Relay Niagara if you are not doing it ultra style. For us, we have 6 to a van plus a driver for Van 1 and Van 2. How it works is Van 1 starts and we relay our way through exchanges until we've all ran once. Once we're all done a leg, we meet up with Van 2 and hand off to them. Rinse and repeat 3 times until we end up from Cobourg to Niagara.
Ragnar Relay Niagara Race Day: Morning
Being in Van 1, I had to wake up before the Van 2 peeps. My alarm was set for 4AM and after meeting up in at hotel lobby at 5AM, Van 1 was off to the start line! We had a pretty early start time but it's always good to arrive a little earlier since you have to find parking, check in, watch a safety video, collect your flags, and of course, take photos.
Ragnar Relay Niagara Race Day: The Race
Leg 1 – 11.7K
Leg one was a hard one. While running it, I had decided I hated Maria, my van-mate as I had swapped runner one's legs with her. It was hill after hill after hill "after another runner running by joking saying it's never ending" hill! However, thanks to running hill repeats on a weekly basis, I pulled through without having to walk or die. I felt like the most difficult part of this course was not the hills but the terrain – we went from sidewalk to gravel/sand to cracked road edges, and etc. It was an ankle buster for me so I'd watch your footing if you have weak ankles and you're runner 3.
To make things a little worst, if you're not aware, June, in Ontario… isn't exactly cool. The weekend was starting to move towards 30C (86F) and it was starting to get a littttttle hot. Oh and did I mention that like two weekends ago, a "make up artist" for my friend's wedding decided to shave off my eyebrows for funsies? So when you put sweat and lack of eyebrows together, this gal kept getting sweat in her eyeballs. I was not impressed. My drawn in eyebrows do not have the same function as real eyebrows.
At the end of it, I actually kind of enjoyed the course, in a weird masochist way as it cemented in me that hills are not impossible and won't kill me. Oh, and I decided I didn't hate Maria anymore haha.
Leg 2 – 7.3K
After a stop at Pickle Barrel (I had a salmon salad) my second leg was due to start around 7PM. This leg was the easiest for me since it wasn't hiilly and the path itself is literally a straight end in the east end of Toronto (aka where I'm most comfortable).  At this point, we had to put on our night gear (head lamp and vest) but as you can see in my watch selfie, it wasn't dark yet by the time my leg finished.
Leg 3 – 12.4K
After a short little nap and a visit from Van Mom from last year's Ragnar Relay Niagara (Hi Janice! Thanks for volunteering!), we dropped off our first runner and started towards finishing our FINAL LEGS! This year my leg was scheduled to start around 4-5AM which was great since this meant I didn't need a pacer with me. It was starting to get bright as I was half way through my leg so that was nice. On this leg, I was running along the service roads so I wasn't too far from the highway. There were 2-3 runners on the road signs up for the cars going by but I wish they'd put up more signs for runners so we'd know if we were going the right way or not. While it was mostly straight, it was reassuring to see the signs letting me know I wasn't just running along the highway on my own for no reason.
While this was my longest leg, it didn't feel like it was the hardest due to the distance. Mentally, it was a tough one since it was like 5AM and I was just running on my own. Not a lot of (regular) cars or runners went by but I did see a bunch of Ragnar vans go by. I really appreciated their honking since it helped keep me going (and served as a reminder that I'm almost there!).
Finale – 200m
Ron – ALL THE WAY FROM NEW YORK! – was our last runner. This meant he got a special medal that just the last runner on each team got, the Oh Canada medal pictured above (since they have to run up the worst hill ever along with dodging tourists who are staring at the falls). Once we saw Ron approaching, we all gathered around him and ran up that last little stretch together to run through the finisher chute together.
Tips for Ragnar Relay Niagara
Get to your major exchanges early! You don't get to see half your teammates often and the major exchange is pretty much the only time I got to see Van 2. So getting there early to say hi and catch up is great.
Get used to using a portapotty. Always keep a large pack of baby wipes in the van with you and remember to bring it with you to the bathroom! You're going to appreciate the baby wipes after your 100th trip to the bathroom using their 1 ply toilet paper (or worst, have none!!!!)
The baby wipes are also great for wiping down after your leg
Get comfortable: be sure to pack sandals with you because your feet are going to want a break from your running shoes!
Sleep when you can since this is an overnight relay and you don't really have much time to sleep until the relay is over.
If you can, save money on other things and spurge on your van! Look how comfy Erik (who has at least 6 inches on me) looks in the back of the van! I personally felt like I had plenty of room during my napping because our seats were spacious and our van was tall enough for me to tall straight and not hit my head on the ceiling.
Bring all the snacks. I snacked non-stop throughout the entire relay and STILL felt hungry on my legs! I find snacking helps keeps me awake (and from being cranky) so having a ton of snacks on hand is a must.
Last but not least, if you can, van support your runner! I unfortunately didn't get to see my van mates during my legs but other vans driving by helped motivate me with cheering and honking. A few times I ran past vans who had pulled over to wait for their runner to go by to cheer and refuel them with liquids (shout out to the team of ladies who cheered for me while waiting for their runner… who zoomed past me!!).
[Tweet "Race Report: @ReebokCanada @RagnarRelay Niagara #runchat "]
 Let's Chat: Have you done a relay before? 
---
Want more Ragnar Relay posts? Check these out:
---
Liked my outfits? Check out Reebok.ca to find them! Thanks Reebok for outfitting us and getting us to the start line!
---
Other places to connect with me
Instagram: @runcarmyrun @curiouslychasing @carmyshungry
Twitter: https://twitter.com/runcarmyrun
Facebook: http://www.facebook.com/carmyycom
Email: [email protected]
Vlogs/Recipe Videos: Youtube