Delicious and easy to make, this tahini free beet hummus will be the star of the show!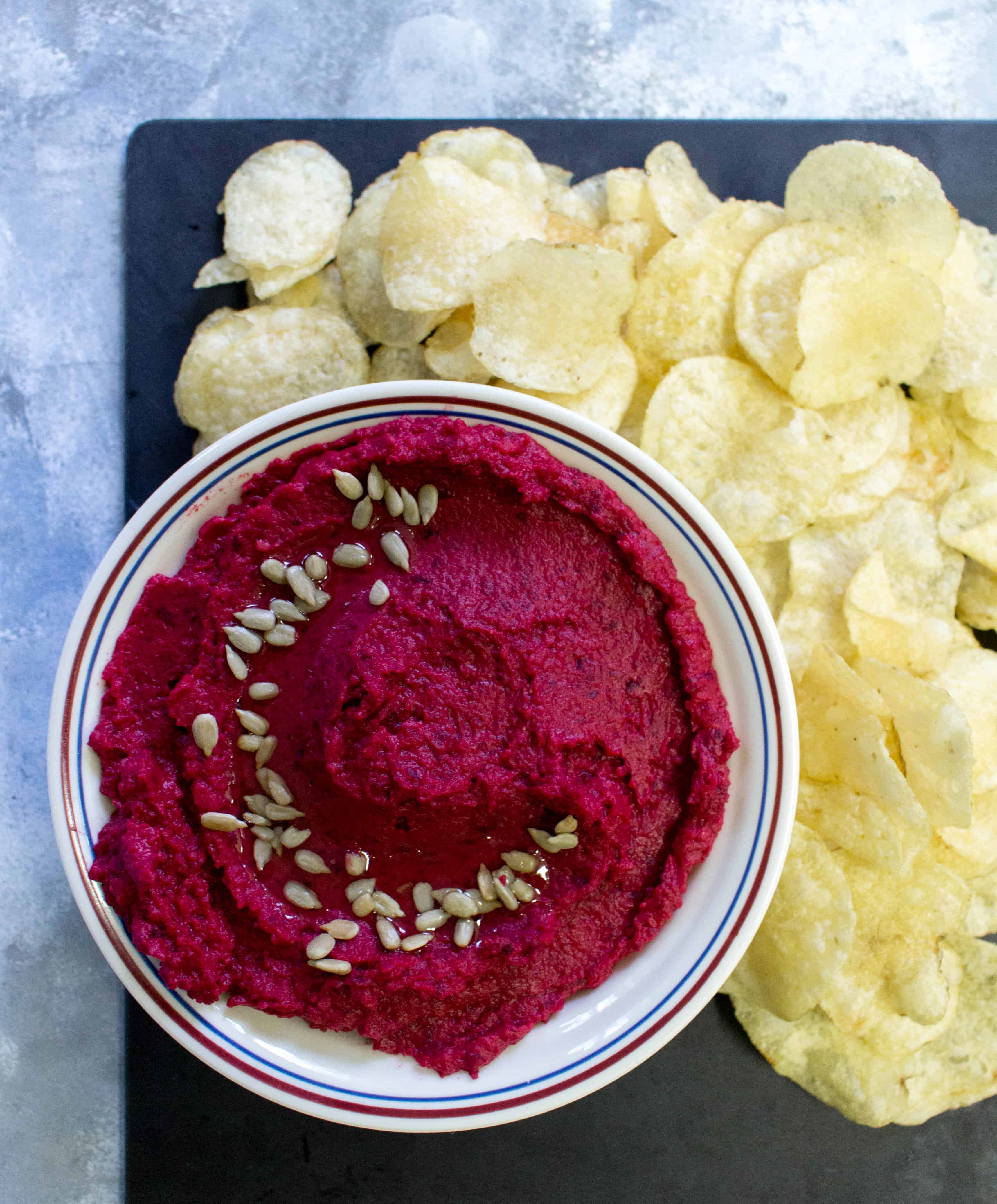 Why Tahini Free Beet Hummus?
I freaking love hummus, like I'll eat a whole container in one sitting if I could, love. However, on my last store-bought hummus binge, I broke out in hives. I'm not 100% sure what set it off but after breaking down the ingredients, it seems like tahini might have been the culprit. Soooooo just in case, I've tried to decrease my consumption of tahini. I found that even without the tahini, it tasted just as good, if not better!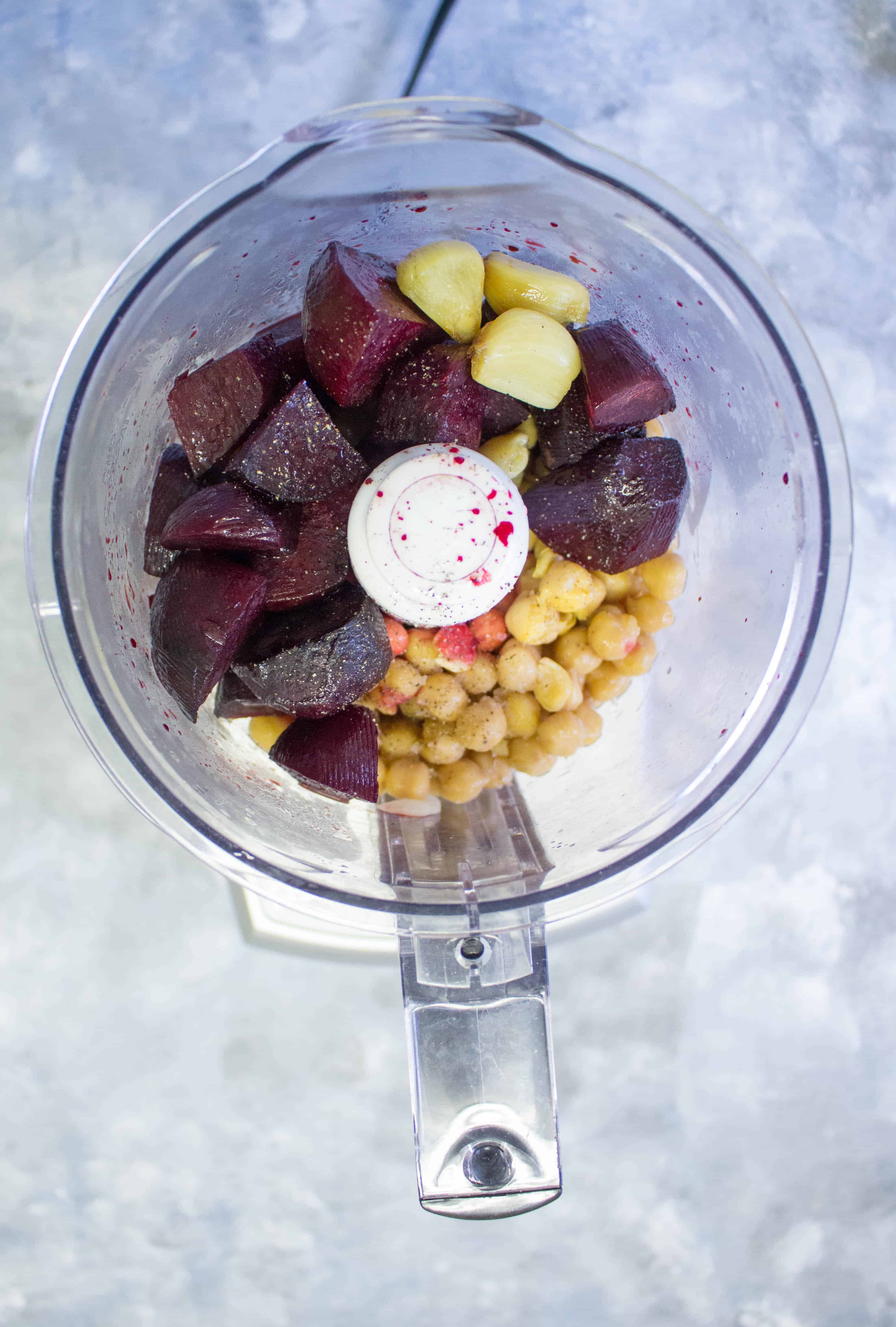 Roasted Beets
This tahini free beet hummus requires roasted beets. I know some people roast beets as is but I prefer peeling the beets first then dicing them (and seasoning) before wrapping it in tin foil and baking it. I kept it simple with salt and pepper. While roasting the beets, I also threw in a head of garlic and roasted that too.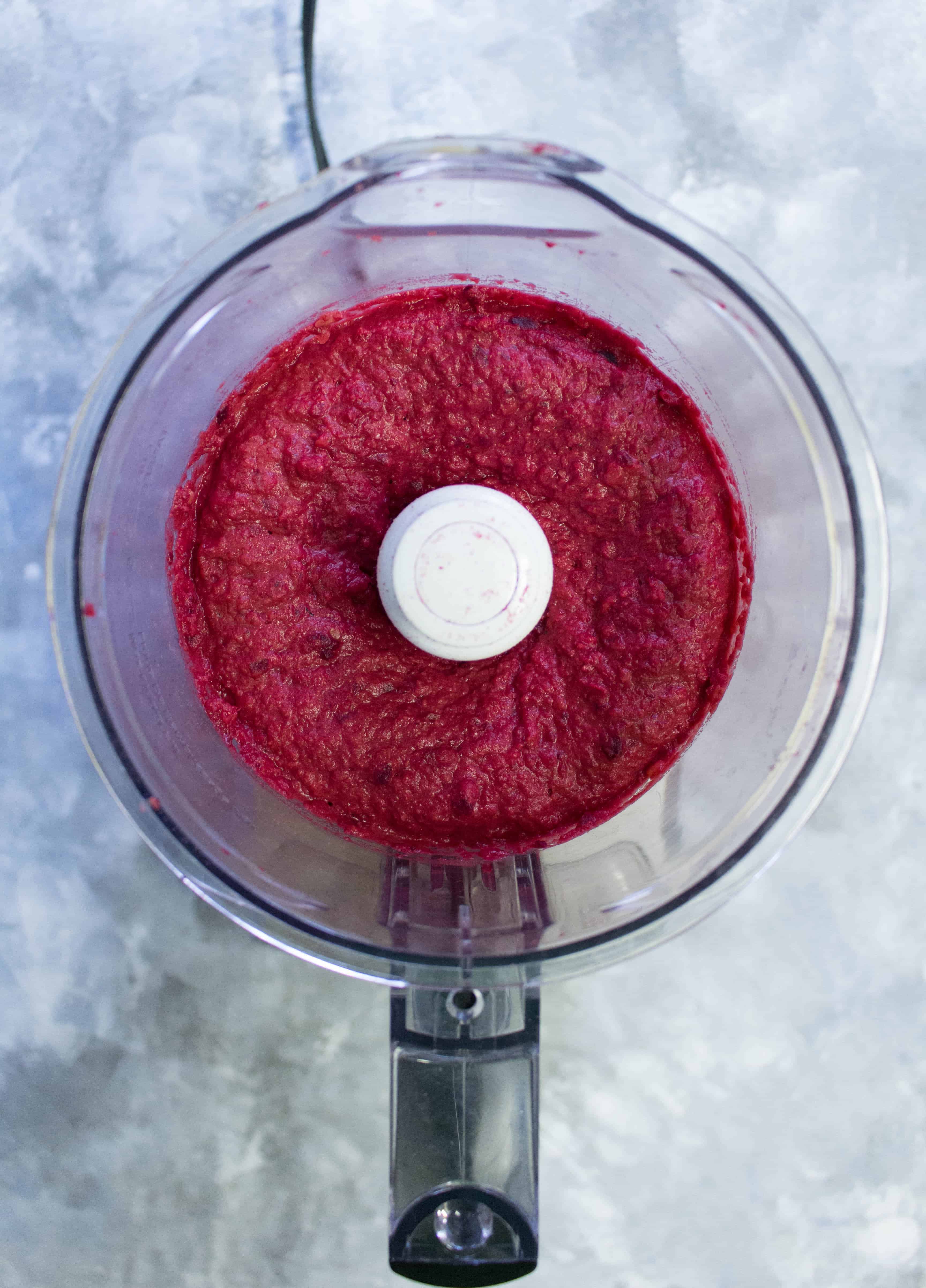 Fun Ways to Enjoy Tahini Free Beet Hummus
STRAIGHT UP AS IS
In a sandwich
As a pizza "sauce"
As a salad dressing
Toss your pasta with hummus
Tahini Free Beet Hummus
Delicious and easy to make, this tahini free beet hummus will be the star of the show!
Print
Rate
Ingredients
4

small

roasted beets

diced

3

cloves

(roasted) garlic

3

tbsp + 2 drizzles

olive oil

1

can

chickpeas

2-3

tbsp

lemon juice

salt and pepper
Instructions
Heat your oven to 400 and in a piece of tinfoil, wrap up peeled, diced, and coated with a drizzle of olive oil, salt, and pepper. Place it in the oven for 20-30 minutes.

OPTIONAL: At the same time, cut off the top of a head of garlic, place it in the middle of a piece of tinfoil, drizzle olive oil on the top of the garlic, and wrap it up and bake alongside the beets.

Once everything is cooked, in a food processor, place your beets, 3 cloves of garlic, a can of (drained but keep liquid aside) chickpeas, lemon juice, salt, and pepper. While pulsing in the food processor, if liquid is needed, add the liquid from the chickpeas into the food processor.

You may need to scrap down the sides with a spatula in food processor. Once done, serve as is. (Optional: garnish! I put some olive oil and some sunflower seeds to add a bit of a crunch).
Tried this recipe?
Did you make this recipe? I'm always so happy to know when you make it! I'd love to see how it turned out! Tag @CarmysHungry or tag #HealthyIsAttainable on Instagram so I can see it! You can also email me at carmy(@)carmyy.com if you don't have Instagram ♥
Let's Chat! What's your favourite way of eating hummus?
---
For more hummus…
---
Other places to connect with me
Instagram: @runcarmyrun @curiouslychasing @carmyshungry
Twitter: https://twitter.com/runcarmyrun
Facebook: http://www.facebook.com/carmyycom
Email: carmy@carmyy.com
Vlogs/Recipe Videos: Youtube