Are you a runner heading to Toronto? Here are six scenic places to run on your next trip to Toronto!
Disclaimer: this post is sponsored by the new 2017 colourways for the Reebok Floatrides. You may recognize these from when I ran Ragnar Relay Niagara in them. These amazing kicks have high cushioning without compromise! The Floatrides retails for $180 at Reebok.ca
Toronto is one of my favourite cities to run in. There are so many places that you are able to check out on foot or on bike and there is always a running route nearby that you can explore to give you a better feel of the city. So here's where to run in Toronto!
The Beaches (Woodbine)
Down at Lakeshore Blvd East, you have our Toronto Beaches. If you're staying near the east end of the city, the Beaches is the perfect place to start your morning. The Beaches has a boardwalk in addition to a multi-use paved trail where you can rollerblade, cycle, or run right by the sand and water! The multi-use trail also leads you towards Ashbridge's Bay (check out the lighthouse) and Lakeshore Blvd E (that leads you towards Sugar Beach!).
Scarborough Bluffs
The Scarborough Bluffs stretch for about 14km along the Lake Ontario shore, from the Eastern Beaches of Toronto in the west, to West Hill in the east. At their highest over at Cliffside, the bluffs rise 65m above the water! It is quite the spectacular view! There's parking if needed and there's even a full sized track at the Brimley parking lot if you want to do some intervals.
Graffiti Alley
Want to see some awesome street art? If you're staying downtown, I'd recommend you spend a few minutes and detour over to graffiti alley and check out the street art and then head north for 1.5K towards Kensington Market, a neighbourhood marked as a National Historic Site of Canada. It's also right by Spadina's Chinatown! Toronto is an extremely diverse city and on this route, you'll be able to get a great feel of it.
Trillium Park
Earlier this year, the Trillium Park and the William G. Davis Trail at Ontario Place officially opened. If you're running along the Martin Goodman Trail, you can take a left turn into Trillium Park (or park right outside of it!) and enjoy the waterfront views. What used to be a large parking lot, this is now a beautiful public green space.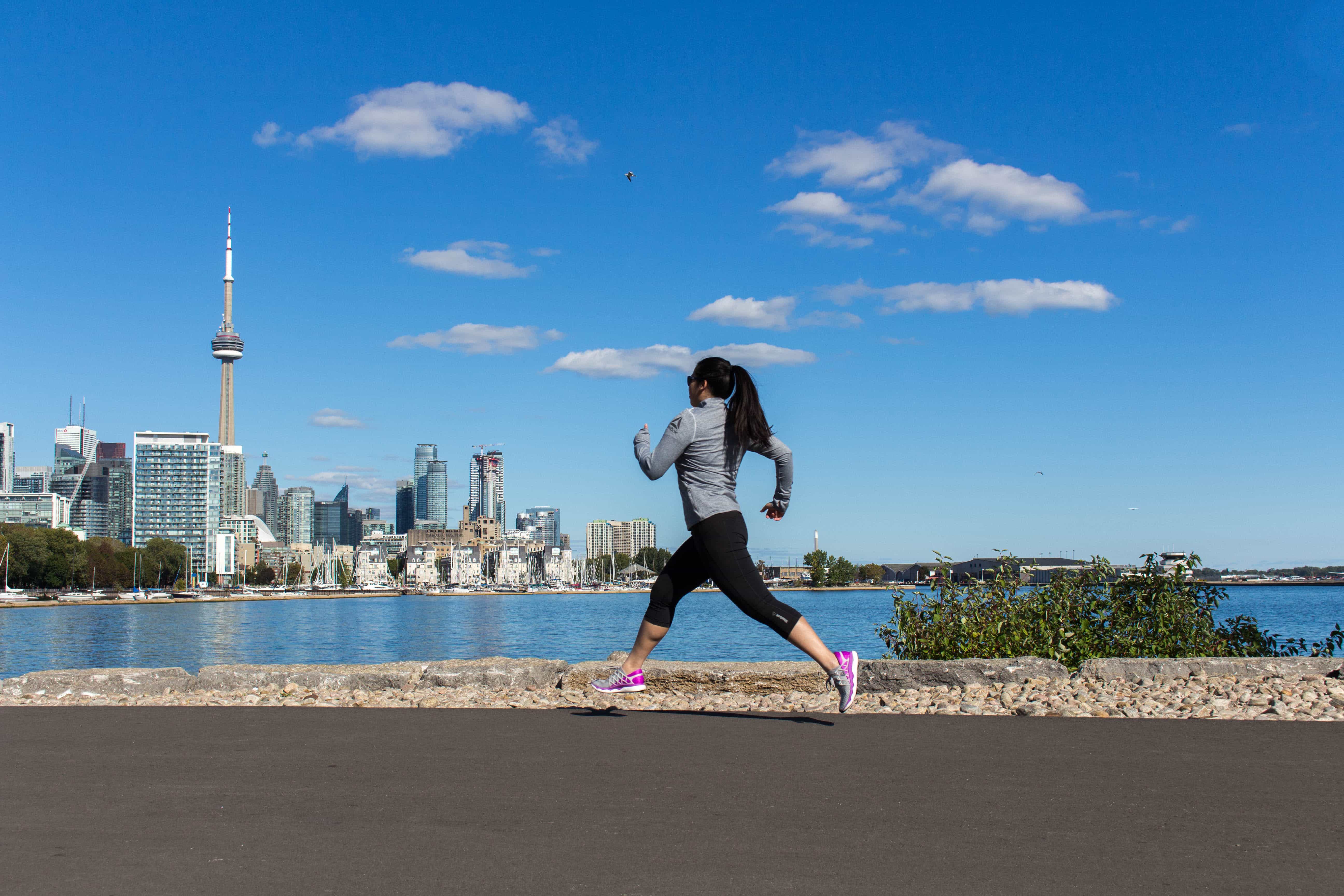 High Park
Over on the west end, there's 161 hectares of land with paved running paths, trails, and even a zoo! If you're looking a hillier route, head on over to High Park (yes there's parking but traffic in the area can be a little…terrifying) and do some loops! You can even see if you can spot the infamous capybara's that had escaped the zoo ;) (note: they've been found and brought back)
Sunnybrook Park
Do you love trails? Sunnybrook Park has an abundance of hidden trails that the mountain bikers use and are perfect for trail running. Keep your eye low to the ground you'll spot breaks in the wooded areas where you can duck in and explore the trails. Sunnybrook Park also leads you back down to the Don Valley Trails or up towards Edwards Garden, a beautiful little botanical garden! (Note please bring your phone with you, it's very easy to get lost in the trails)
Let's Chat! What are your favourite cities to run in? Have you ever ran any of these Toronto routes before?
[Tweet "Heading to Toronto? Here are 6 scenic places to run on your next trip to Toronto! ft @ReebokCanada"]
Once again, thank you to Reebok Canada for sponsoring this post and thank you to my readers for supporting the brands who support me to make this blog possible!
The Floatride Foam has a consistent cell structure that delivers the optimal mix of cushioning and responsiveness so you can float through your run! You can find these shoes for $180 at Reebok.ca
Other places to connect with me
Instagram: @runcarmyrun @curiouslychasing @carmyshungry
Twitter: https://twitter.com/runcarmyrun
Facebook: http://www.facebook.com/carmyycom
Email: [email protected]
Vlogs/Recipe Videos: Youtube