Missing that cozy warm belly feeling? Then you're going to want some soup! Learn how to build your own soup from scratch and how to store them!
I will never say no to a big bowl of soup as a bowl, especially on a cold day, is just so comforting and brings me so much joy. Whenever I'm feeling down, craving comfort, feeling like celebrating, or need something quick, I turn to soup. Soups are so easy to make and a lot of time, a lot of the ingredients needed are already in your kitchen! Soup is easy to make, easy to share, and travels well.
Sometimes, there's a bit of a misconception that soup can be hard to make. I have some friends who are anxious when they see me throwing in ingredients willy nilly because I'm not using exact measurements. I feel like unless you are following a recipe for something super specific, you shouldn't stress too much about how much of something you need for a soup.
Today, I'm going to share with you how you can easily build your own soups, no exact measurements needed! Okay, I lied, a little measuring because my rule of thumb is you'll need around 1 qt (4 cups) of soup per person when making soup as that leaves enough for leftovers!
Tools To Make The Perfect DIY Soup
Build Your Own Soup from Scratch
Soup can be made from almost any combination of broth and veggies! Be sure to check what you have in your pantry and fridge to see what you have available so you can save money by working around ingredients you already own! The amounts down below are mostly suggestions so if you have more or less of each ingredient, you can work around it.
Aromatics: 2-3 cups of a combination of chopped onions, carrots, celery, garlic, and/or shallots.
Meat: 1-2 lbs of meat of choice
Broth: 6-8 cups of chicken/vegetable/beef/mushroom broths.
Vegetables: 3-5 cups

Hearty/Root veg: broccoli, butternut squash, potatoes, sweet potatoes, rutabaga, turnips, etc
Soft/Tender veg: leafy greens (ie kale/spinach/etc), mushrooms, peas, beans, etc

Starch: optional starches such as pasta
Extra: fresh herbs (basil, parsley, cilantro, etc), grated parmesan cheese, lemon juice, pesto, etc
How To Make Soup From Scratch
Start with some oil of your choice in a hot pot and stir in your aromatics, until soften/golden with a pinch of salt.
If you plan on adding meat, this is when you'd sear your meat.
Once seared, add in your broth, using it to help deglaze your pot.
Add in your hearty/root vegetables.
Bring the pot to a boil and then reduce the heat and let the liquid simmer for 15-20 minutes.
Stir in your softer vegetables and starch if you choose to add it in. Simmer for 10 minutes.
Once done, add in the extra bits if you choose to (fresh herbs, cheese, lemon, etc).
How To Store and Freeze Soup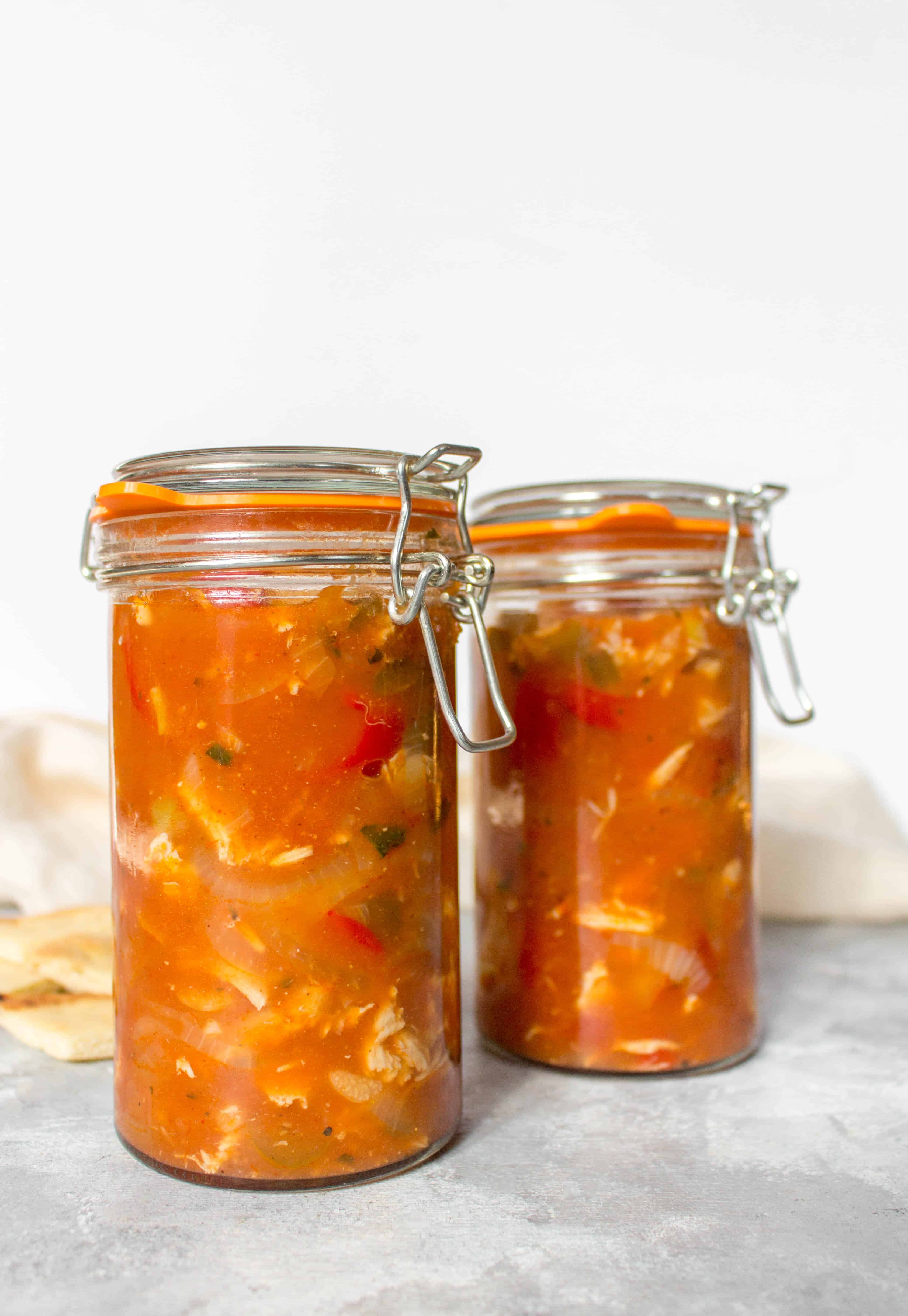 You can use anything from mason jars to cleaned yogurt containers, or ziplock bags to store your soup. However, if you plan on freezing your soup, I'd recommend using a mason jar, that way you can freeze the soup in individual portions. Freezing them in individual portion means it's easy to meal prep/pull out a jar when needed.
Do not freeze hot soup. Once your soup has cooled, pour it into a mason jar, leaving a minimum of 1 inch of space on top.
When ready to use, let the soup thaw out overnight in the fridge before re-heating it. Follow glass safety instructions – the sudden change in temperature is a no-no. If you don't want to chance anything, these plastic containers are great for soups.
Soups can usually stay in the fridge for up to 4 days or up to 4 months in the freezer.
Soups that are dairy based or has starch does not freeze well. Either omit the dairy before freezing and add it in afterwards, or don't freeze it.
As for soups starches, if you choose to freeze it, you can use a slotted spoon or colander to separate the broth from the starch and veg to freeze them separately. (Note, starches will soak up the soup in the fridge as well so you might want to consider separating them or cooking the starch later and adding it into the soup when you're ready to eat.)
Soups To Try