This easy deconstructed spring roll in a jar is a fun and delicious way to get your spring roll fix without having to fry or wrap a roll! Plus it's easily transported with a mason jar!
Mason Jar Meals: Easy Deconstructed Spring Roll
So the Magic School Bus got rebooted and being one of those kids who grew up watching an episode every morning before leaving for school Monday to Friday, I just had to binge watch the reboot. While watching it, I was reminded of my childhood – how simple things used to be, the lack of bills I had to pay, and of course, my mother.
While watching the show, my heart ached a bit, wanting to be able to turn around and see my mom there, reminding me to hurry up and get ready for school but sadly, she was not. For those of you new here, my mom had passed away when I was in high school and had been a stay at home mom when I was growing up. The nostalgia while watching the Magic School Bus reboot was strong and I found myself yearning for a spring roll that my mom would make for me for special occasions (parties, bake sales, etc).
H knows that I'm picky AF when it comes to spring rolls because I'm in general a picky eater but because my mom would make the spring rolls exactly to my liking. I'm saddened to say that I never got the full recipe from her before she passed away so I've been constantly ordering spring rolls at every Vietnamese restaurant I've gone to in hopes of finding a new "favourite." A few places have come close but no one makes it like my momma bear did.
So I decided to try my hand at making my own version. Of course my mom didn't make it with the traditional ingredients because like I said, I was picky. That means no fish sauce – sorry not sorry. That's right, despite the Vietnamese food that was fed to me, I would never have fish sauce. Not even the homemade jar that would always be in our fridge (but hey, for all I know, mom hid it in my food but you'd never see my reaching for it willingly!).
What Did I Omit From This Mason Jar Meal?
wood fungus mushroom
taro
egg
green onion
sugar
fish sauce
oh and the spring roll wrappers of course!
I also changed it up (other than you know, putting it in a jar and not wrapping it in a spring roll wrapper) by keeping the shrimp and pork separate instead of mixing them together.
Make this Easy Deconstructed Spring Roll Faster!
Doesn't that gif make it look super easy? Well it is! If you want to save time while making this, here are some suggestions:
buy pre-cooked shrimp
use coleslaw
cook the pork and coleslaw together
This deconstructed spring roll in a jar recipe fills around 5 mason jars depending on how tightly you pack it in and how much of each layer you'd like you have.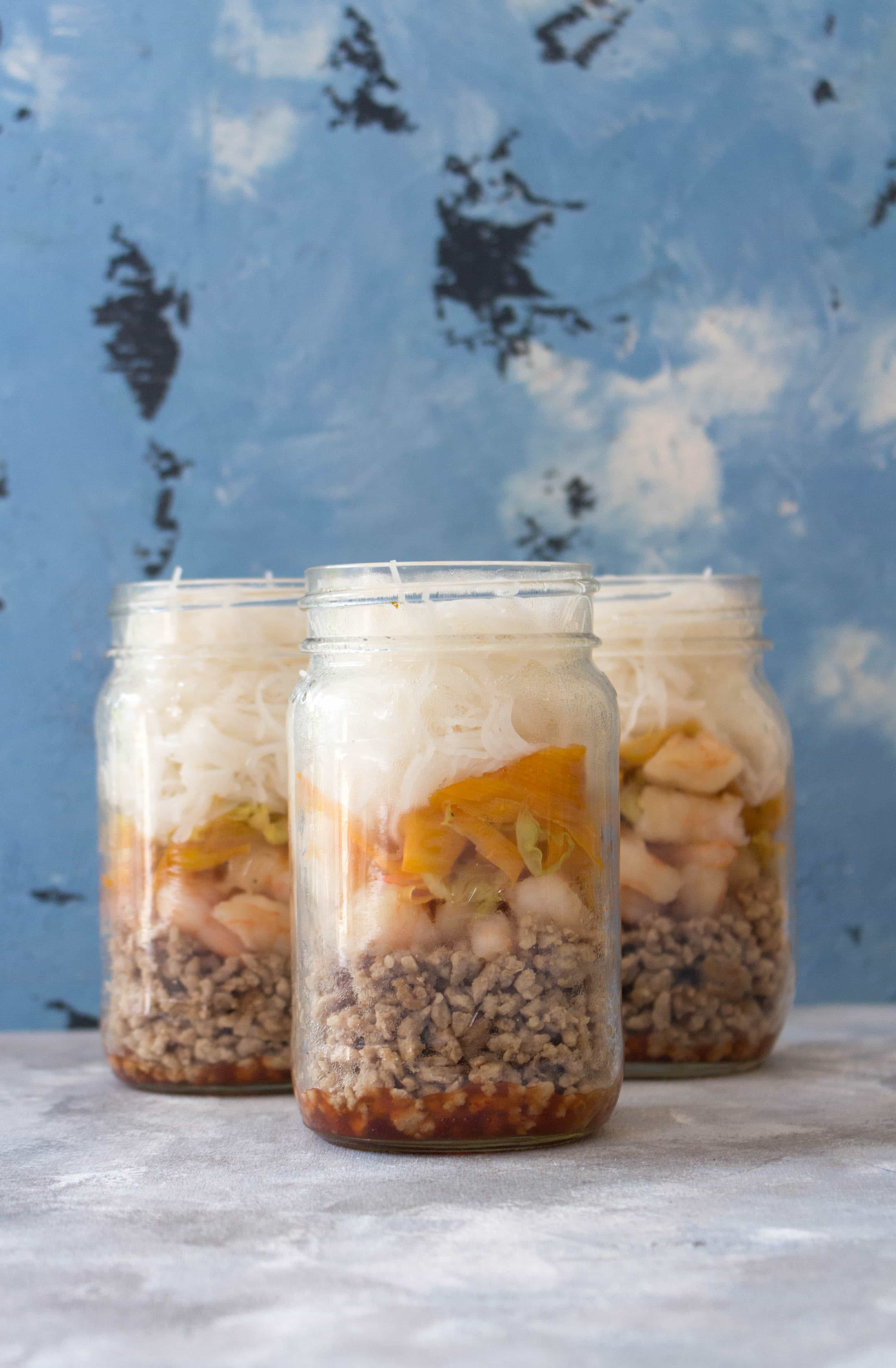 Easy Deconstructed Spring Roll in a Jar
This easy deconstructed egg roll in a jar is a fun and delicious way to get your spring roll fix without having to fry or wrap an spring roll!
Print
Rate
Ingredients
Carrots and Cabbage
4

carrots, sliced thinly

1/4

head

cabbage, julienne

1

tbsp

tamari
Shrimp
350

grams

shrimp, deveined, peeled, cooked, cut into 3
Instructions
On a hot wok or pan, cook through your pork with the oyster sauce, tamari, and garlic powder mixed in.

Once the pork is cooked through, place your pork to the side on top of some paper towels to absorb the liquid.

Optional: quickly toss your shrimp in the wok the get some of the flavouring from the pork into the shrimp.

In the same wok, quickly cook the carrot and cabbage with tamari sauce until it's soften.

At the same time, bring a small pot of water to boil. Drop your vermicelli and cook it as directed on the bag (should be less than 6 minutes).

Once everything is done, layer each ingredient into a mason jar, starting with the sweet thai chili sauce at the bottom. Top of some basil and/or crushed peanuts.
Tried this recipe?
Did you make this recipe? I'm always so happy to hear about it! I'd love to see how it turned out. Tag me at @CarmysHungry on Instagram so I can see it! If you enjoyed the recipe, I'd really appreciate a comment with a 5 star rating! ♥
So, what do you think? This deconstructed spring roll is an easy grab and go mason jar lunch that is an healthier alternative to a deep fried spring roll!
Want to try a more traditional Vietnamese dish?
Want more mason jar meals?
[Tweet "This easy deconstructed spring roll in a jar is a fun and healthy way to get your spring roll fix!"]
Let's Chat! What dish makes you think of your childhood? 
pin me for later!
Other places to connect with me
Instagram: @runcarmyrun @curiouslychasing @carmyshungry
Twitter: https://twitter.com/runcarmyrun
Facebook: http://www.facebook.com/carmyycom
Email: [email protected]
Vlogs/Recipe Videos: Youtube