Take your work lunch to a whole new level by bringing your very own mason jar ramen!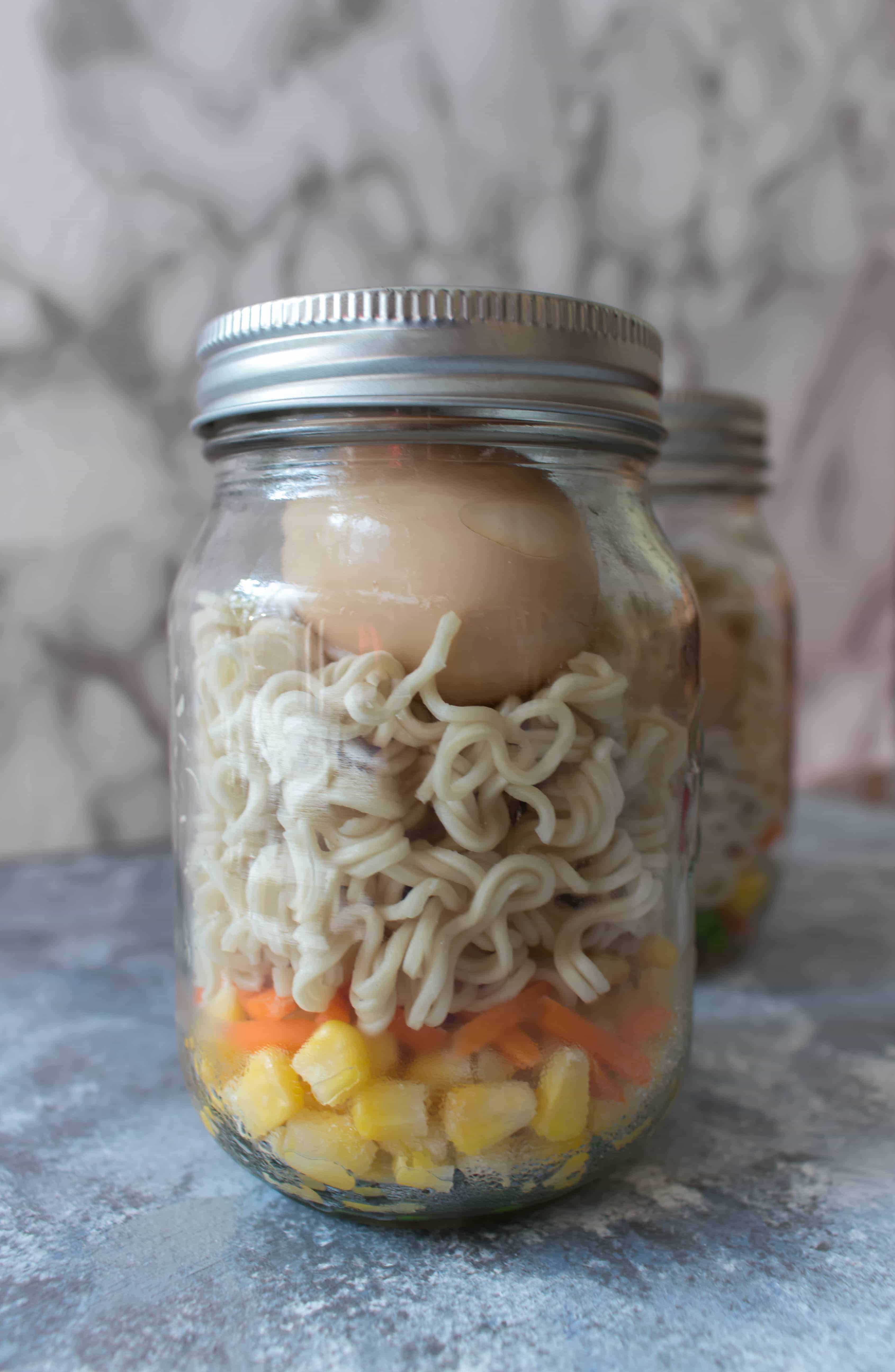 Disclaimer: this post is sponsored by Natural Delights. Thank you for always supporting the brands who support me and make this blog possible!
A few posts ago, I wrote a Q&A on meal prepping where I broke down what it was and how to start. A question that I got was if I could break down how exactly I meal prep for the week. This post is the second in my two part-er where I show you how I use similar ingredients to make two different meals for the week, you know, to keep things exciting for lunch. I pretty much made both consecutively and thought this would be the easiest way to share with you my meal plan/prep so you get a better sense of how to meal prep yourself! If you've missed part one, you can read it here: "Meal Prep: Healthy Cauliflower Fried Rice with Baked Snap Peas." So let's get started!
Meal Prep: Mason Jar Ramen
Can we talk about ramen? I love a good bowl of ramen but going out for lunch at the ramen place down the street from my work place costs me around $11. ELEVEN. Not including tax or tip! I mean yes, a bag of instant ramen costs around $0.99 but it just isn't good as the ones from the restaurant. So that got me thinking… how can I recreate it and be able to bring it to work? Well I figured it out and I'm here to share! Plus it's easy!
One of my favourite part of ramen is the soy sauce egg. The soy sauce egg takes the most work because it requires a bit of prep beforehand as it needs to marinate in the soy sauce mixture for 2-6 hours. A traditional soy sauce egg marinate is made with a mixture of soy sauce and sugar. I decided to try a different route because to be honest, I feel a little guilty about putting straight up white sugar into my marinate. Instead, I made a paste with some medjool dates and used it to naturally sweeten the marinate.
Okay, let's talk about the next steps and how this is part two of my meal prep. In the healthy cauliflower fried rice recipe, I mentioned buying a large bag of frozen corn, peas, and pre cut carrots because it's cheaper. For this mason jar ramen, I used all three of those as you may have noticed dehydrated versions in instant ramen packs. This way, with the inclusion of the vegs and sugar swap, I feel less guilty about eating ramen. I didn't have any snap peas left from the last recipe but if I did, I would have thrown those in too!
Other things you can add into your ramen:
pork
chicken
beef
seaweed
mushrooms
bok choy
spinach
tofu
So minus the marinating of the egg, it really took less than 5 minutes to put this mason jar ramen together. You put in your base (beef stock and miso), then you layer in your frozen corn, peas, carrots, noodles (that were cooked for around a minute), and finally your egg. Then you seal it up and when you're ready to eat, pour some boiled water in the jar (or pour it into a bowl at work) and give it a good mix!
I used marukome organic miso (in low sodium) and Better Than Bouillon beef base as my soup base for this mason jar ramen. I've mentioned before that I love mason jar soups and let's be honest, I do not drink the soup that comes in instant noodle packs because of the MSG that is in it. With this mason jar ramen, the soup is actually tasty and healthy because we are making our own little mason jar soups with no added sodium! A delicious healthy soup to go with your ramen! Win-win!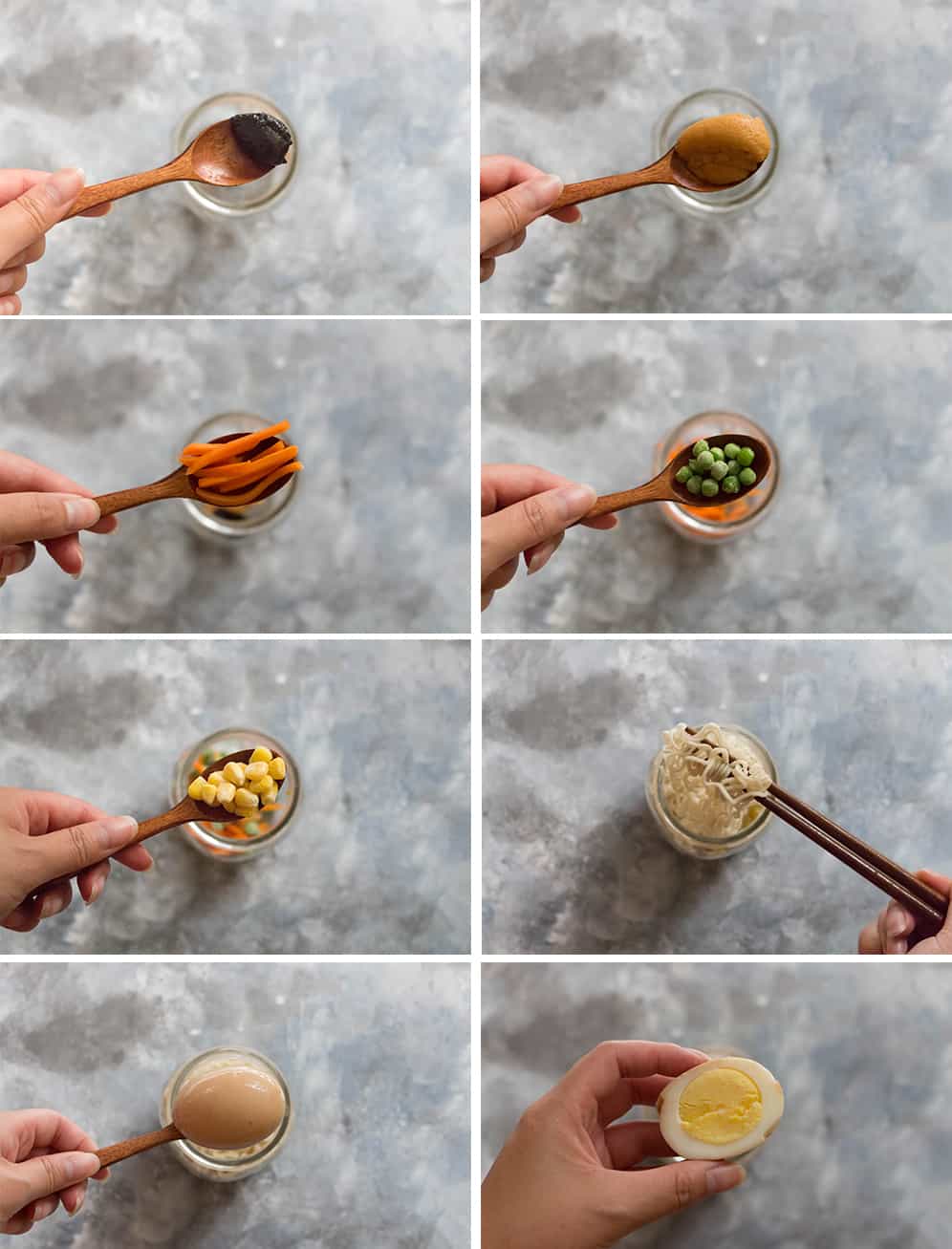 the amount in the spoon is for display purposes only. these are not the measurements!
So are you ready to take your work lunch to a next level with this mason jar ramen? Let's do this 🙂
Meal Prep: Mason Jar Ramen
Take your work lunch to a whole new level by bringing your very own mason jar ramen!
Print
Rate
Total Time:
2
hours
5
minutes
Ingredients
Soy Sauce Eggs
2

Natural Delights medjool date

pitted

3/4

cup

low sodium soy sauce

2

cloves

garlic

minced

1/4

cup

water

4

eggs

boiled
Ramen
4

packs

instant noodles

2

tbsp

Better Than Bouillon beef (0.5 tbsp per mason jar)

4

tbsp

marukome miso (1 tbsp per mason jar)

frozen corn

frozen peas

carrots
Instructions
Soy Sauce Eggs - The night before
Soak your dates for 5-10 minutes until soften. When they're ready to go, put them in a food processor with a bit of liquid and process until it becomes a paste consistency.

In a pot, pour in your soy sauce, water, garlic, and date paste. Bring it to a boil.

Once the mixture has come to a boil, let it simmer for 5 minutes. Then let it cool.

Once cooled, pour the liquid into an airtight container and place your peeled boiled eggs in. Let it sit in the fridge for two hours minimum or overnight.
Ramen
Cook your noodles 2 minutes under the cook time according to the instructions on the bag. Do not add in the seasoning. Rinse with cold water once the noodles are done to stop the noodles from continuing to cook.

In each mason jar, put in 0.5 tbsp of the Better Than Bouillon beef, 1 tbsp of the marukome miso, and as much corn/peas/carrots/other toppings you'd like. Then layer in the noodles.

Before sealing your mason jar, get your egg from the marinate from the night before (or two hours earlier) and place it in your jar.

When you're at work, fill the jar with hot water to finish the cooking process and to make the broth (please be careful, the glass jar + hot water = hot glass jar!)
Tried this recipe?
Did you make this recipe? I'm always so happy to know when you make it! I'd love to see how it turned out! Tag @CarmysHungry or tag #HealthyIsAttainable on Instagram so I can see it! You can also email me at carmy(@)carmyy.com if you don't have Instagram ♥
Nutrition
I hope you've enjoyed this two part-er on meal prepping! Having similar ingredients but different dishes provides me with a bit of variety and prevents me from getting bored from eating the same lunch every day. You can either do it all at once at the beginning of the week if you want to alternate the dishes. Or you can prep two to three days ahead and have half the week eating one dish and the second half another!
Click here: Meal Prep: Healthy Cauliflower Fried Rice with Baked Snap Peas if you want to read part one of the two part-er.
[Tweet "Take your work lunch to a whole new level by bringing your very own mason jar ramen!"]
Let's Chat! Are you a fan of ramen? What is your favourite dish to bring to work?
---
Check out this post if you're looking for tips on how to meal prep.
If you're looking for additional meal prep recipes, check out my meal preps here!
If you're looking for more help with meal prepping, subscribe to my newsletter (sidebar or click here) to get a week's lunch and snack meal prep and the shopping list.
---
Other places to connect with me
Instagram: @runcarmyrun @curiouslychasing @carmyshungry
Twitter: https://twitter.com/runcarmyrun
Facebook: http://www.facebook.com/carmyycom
Email: carmy@carmyy.com
Vlogs/Recipe Videos: Youtube