This easy Homemade Flatbread is soft, light, fluffy, and super flavourful! It's a great simple bread recipe for beginners looking to make some homemade bread.
Carbs are my best friend. If you tell me that I need to cut carbs out of my life then we cannot be friends. I love how versatile flatbread is — you can snack on it, you can turn it into a flatbread pizza, turn it into a shawarma, dip it into saucy recipes, etc. And because of how versatile it is, I've been making my own to use throughout the week in various ways. I also have a giant jar of yeast that I bought and need to use up and this recipe for flatbread uses yeast! Seriously though, when you only use 1-2 tbsp of yeast at a time… a block of yeast takes a while to use up so this easy flatbread recipe is just what I need to help use up my yeast!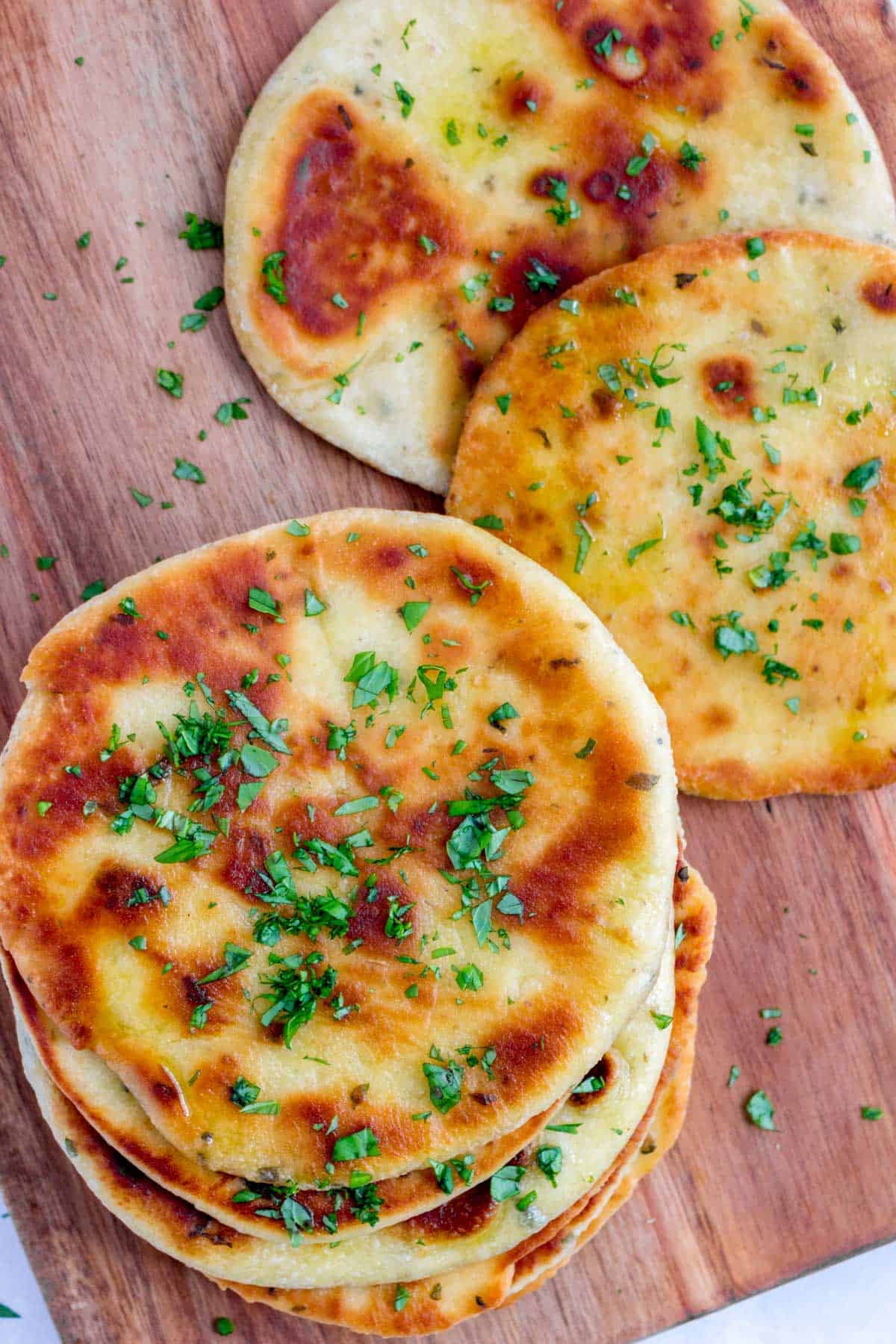 Why You'll Love This Easy Flatbread Recipe
There's some extra protein in this flatbread. Like my air fryer bagel recipe, this flatbread recipe uses Greek yogurt. It also gives our flatbread an extra tangy flavour to it.
While I use a mixer, this easy flatbread recipe can be made by hand. You'll just have to knead it on a floured surface and give yourself a 5 minute arm workout!
This homemade flatbread recipe is way better than what I've had in stores. Seriously, H called it the best flatbread recipe because it's so flavourful! Especially with the garlic and basil, yum, yum, yum!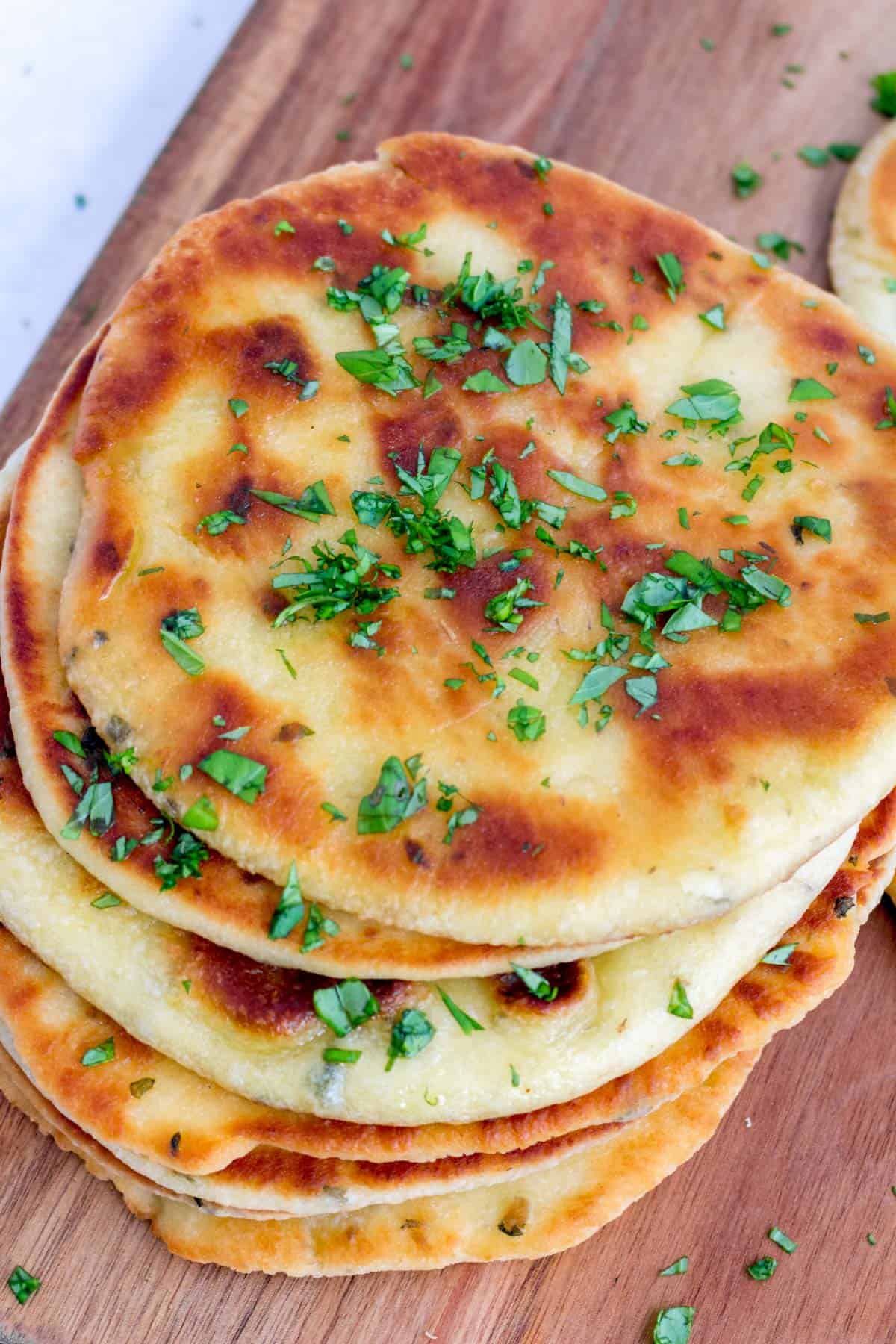 What You'll Need to Make Flatbread at Home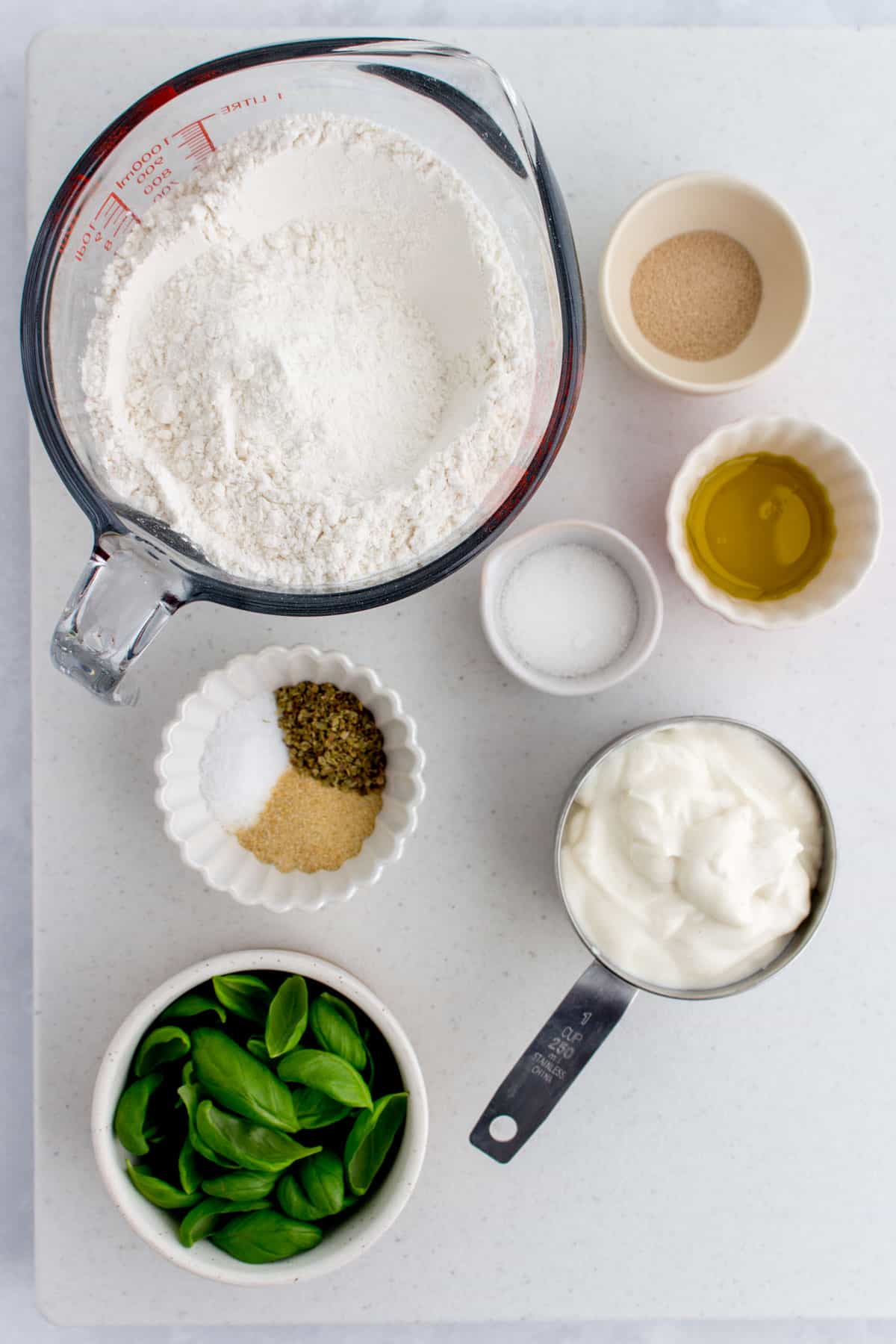 warm water — you want water that isn't too hot or cold as you want your yeast to bloom. Too hot and you'll kill your yeast, too cold and it won't bloom. Lukewarm is pretty much water that's warm enough for you to stick your finger in without it being uncomfortable. Around 100F to 110F (36.5C to 40.5C)
yeast — I use active dry yeast. You can also use instant yeast.
sugar
Greek yogurt — I used vanilla bean Greek yogurt. You can use plain.
oil — I used olive oil
salt
garlic powder
dried oregano
flour — I used good old fashion all purpose flour. Nothing fancy.
fresh basil
How to Make Homemade Flatbread
Add in the flour and fresh basil. Mix on speed 2 in your mixture for 4 minutes or hand knead the dough on a flour covered surface for 5 to 6 minutes or until the dough has come together.
Cut the dough into 10 equal pieces (or as equal as they can be) and form each piece into a small ball. Dust some flour on top of them and cover with a lint-free linen towel and rest for 15 minutes.
Roll out each of the balls into around 5 to 6 inch flatbreads.
Heat a frying pan up on the stove on medium heat.
Brush the top of the flatbread dough with olive oil and add it, olive oil side down, into the frying pan.
Let the flatbread fry for around 2 to 3 minutes, the top of the dough will start looking bubbly.
Brush olive oil on the dough and then flip it over. Fry for another 2 to 3 minutes.
Transfer the cooked flatbread to another tray. I like having it on a rack overtop a tray. Cover with a clean lint-free kitchen towel to keep it warm.
Repeat the process until you're done the 10 flatbreads.
I like to serve mine with some extra olive oil brushed on top and chopped basil.
Tips and Notes
A larger frying pan makes it easier to flip your bread. I usually use two at a time to get this done faster and I have an 11 inch and 8 inch pan and the extra space in the 11 inch pan helps!
You can toast these flatbread as much as you'd like. Sometimes we like them crispier (when used for dipping into saucy dishes) and softer if I'm using it as a flatbread pizza.
It's fine if your dough gets rolled out in more of an oval shape. It all tastes the same at the end!
While I like mine topped with regular olive oil, H likes his with truffle oil lol.
Basil can be swapped for chopped cilantro leaves or parsley.
To properly scoop flour, if not using a scale, fluff up the flour and then spoon the loose flour into your measuring cup. Don't pack into the flour densely. However, not to worry, this easy flatbread recipe is very forgiving!
More Bread Recipes to Try
Other places to connect with me
@carmyshungry on Instagram
Facebook
Shop my Amazon faves
Email: [email protected]