Curious about what an Instant Pot is? It seems like everyone and their mothers have been raving about the Instant Pot recently and how it the best kitchen gadget ever as it keeps selling out but is it just the hit product of the year or is it here to stay? Here's everything you need to know about the Instant Pot.
SO WHAT'S AN INSTANT POT?
You may have noticed a bunch of new Instant Pot recipes pop up on the blog recently and wondered what in the world an Instant Pot is. The Instant Pot is a brand name for a programmable electric pressure cooker. There are other brands of electric pressure cookers and traditional pressure cookers but the Instant Pot is the one that I own. Compared to a traditional pressure cooker, the Instant Pot has more safety features and is more user friendly.
I have the Duo Plus 9 in 1 Instant Pot (6 qt) and this is the one that my recipes has been tested in. The Duo Plus replaces 9 commonly used kitchen appliances – Pressure Cooker, Slow Cooker, Rice/Porridge Cooker, Yogurt Maker, Cake/Egg Maker, Sauté/Searing, Steam, Warm and Sterilize. It's quite the multi-use product! No, I'm not being paid by them and yes, I'm absolutely obsessed with mine.
Why Should I Buy An Instant Pot?
One of the reasons the Instant Pot is beloved is because the Instant Pot allows you to cook food from a frozen state. That's right. If you forget to thaw out your meat, you're able to just toss the frozen item into the pressure cooker and cook straight from frozen. All you need is to make sure there is enough liquid (usually 1 cup) for the Instant Pot to come up to pressure. I've cooked my share of frozen chicken in the Instant Pot that I've meal prepped and froze!
The Instant Pot is also extremely fast and hands off. I'm able to Chipotle style chicken and rice with beans and corn in less than 30 minutes! While I can make it the traditional way is around 30 minutes, the Instant Pot allows me to put in all the ingredients, turn it on, and walk away. No need to keep an eye on it!
Another reason is that the Instant Pot is so easy to clean! Everything is done is the stainless steel lining so you're really only washing the one item.
Which Model of Instant Pot Should I Get?
As Instant Pot is a brand, there are a couple types of Instant Pots that are under the brand name. This includes the LUX, DUO, ULTRA, SMART, and GEM. As someone who has a limited amount of counter space, I find owning the Instant Pot to be very useful as it covers a few different kitchen appliances.
The Lux is a basic 6-in-1 multi cooker is a: pressure cooker, slow cooker, rice cooker, sauté/searing, steamer, and warmer.
The Duo is a 7-in-1 multi cooker that is a: pressure cooker, slow cooker, rice cooker, steamer, sauté/searing, warmer, and yogurt maker.
The Duo Plus is a 9-in-1 multi cooker that is a: pressure cooker, slow cooker, rice cooker, steamer, sauté/searing, warmer, cake maker, yogurt maker, and sterilizer.
The Ultra is a 10-in-1 multi cooker that is a: pressure cooker, slow cooker, rice cooker, steamer, sauté/searing, warmer, cake maker, yogurt maker, and sterilizer PLUS an Ultra program. The 'Ultra' provides complete custom programming for pressure and non-pressure cooking and it has an altitude adjustment.
The Smart 7-in-1 multi cooker that is a: pressure cooker, slow cooker, rice cooker, steamer, sauté/searing, warmer, and yogurt maker with a Bluetooth function that lets you add cooking steps in recipe scripts on your smartphone/tablet on their app to execute on the cooker wirelessly.
The GEM is a 8-in-1 multi cooker that is a: slow cooker, sauté/searing, rice cooker, warmer, plus it can roast, stew, bake, and steam. HOWEVER, while the GEM is an Instant Pot brand, it is not an "Instant Pot" in the sense that it is not a pressure cooker. (Note: as of March 1, 2018 Instant Pot has announced a voluntary recall of Gem 65 8-in-1 Multicookers with batchcodes 1728, 1730, 1731, 1734 and 1746.)
What is a Water Test? What is QR? What is NPR? What does PIP mean??
There seems to be a ton of new acronyms to learn when reading recipes for the Instant Pot. I'll be covering some of the most common ones I've encountered.
A Water Test is the first thing you should do to make sure the Instant Pot is working properly. Instructions are in the manual.
QR: Quick Release. When your Instant Pot is done cooking (via pressure), you can turn the knob from sealing to venting to release the pressure. Beware, face it opposite of you because a strong stream of steam will come bursting out. This is not suitable for large liquid volume or high starch content because it might come out of the vent.
NPR: Natural Pressure Release: When your Instant Pot is done cooking (via pressure), instead of doing a QR, let the pressure come down naturally by leaving it alone until the float valve pin has dropped to indicate that the pressure is gone. (You should NPR red meats)
PIP: Pot in Pot: Pot in Pot is using an oven safe dish to cook your meal, side or dessert in, inside your Instant Pot. AKA you are putting a pot inside the Instant Pot. Pot in Pot! Here's an example of an Instant Pot Pot in Pot meal.

Pot in Pot is great for reheating meals, preventing certain things from burning/sticking to the bottom such as rice, making things such as lasagna or cakes, and it's great for when you'd like to prepare multiple items at once. You can use stackable steamer baskets, springform pans, and oven safe dishes.
DO NOT place a cold glass oven safe dish into the Instant Pot straight from the fridge/freezer. Yes you can cook a freezer meal in the Instant Pot but do not place a cold dish into the Instant Pot just like you wouldn't do that in the oven. TIP: freeze your meals in ziplock bags inside a container so it will fit in the Instant Pot while frozen without having to place the whole container into the Instant Pot.
Common Issues with the Instant Pot
There are a few bumps in the road I've encountered with the Instant Pot so here are my solutions!
The Instant Pot won't come up to pressure. When it's building pressure and it's been a while and the pin won't pop up, my Instant Pot just needs me to push down on the two handles on the side to help the seal in the lid fully seal.
My Instant Pot is taking too long to come up to pressure. Use pre-heated liquids instead of cold liquids, have the IP on sauté mode for a bit before hand so it's already hot, and make sure the seal is on properly. Time taken to build pressure in the Instant Pot depends on what you have in there and how much you have in it.
Why does my Instant Pot seal smell? Sometimes the seal will hold onto smells. You can buy an extra one to use for savoury vs sweet recipes. I also store my IP with the lid upside down so the seal airs out.
My stainless steel insert has weird stains! It's no big deal. If it bothers you, you can use Bar Keepers Friend or Arm & Hammer baking soda to clean it.
I burned my food! 1. next time, add more water 2. clean it by using Arm & Hammer baking soda.
Looking for instant pot recipes for beginners?
Well you're in the right place! Here are a few of my favourite recipes for beginners to try!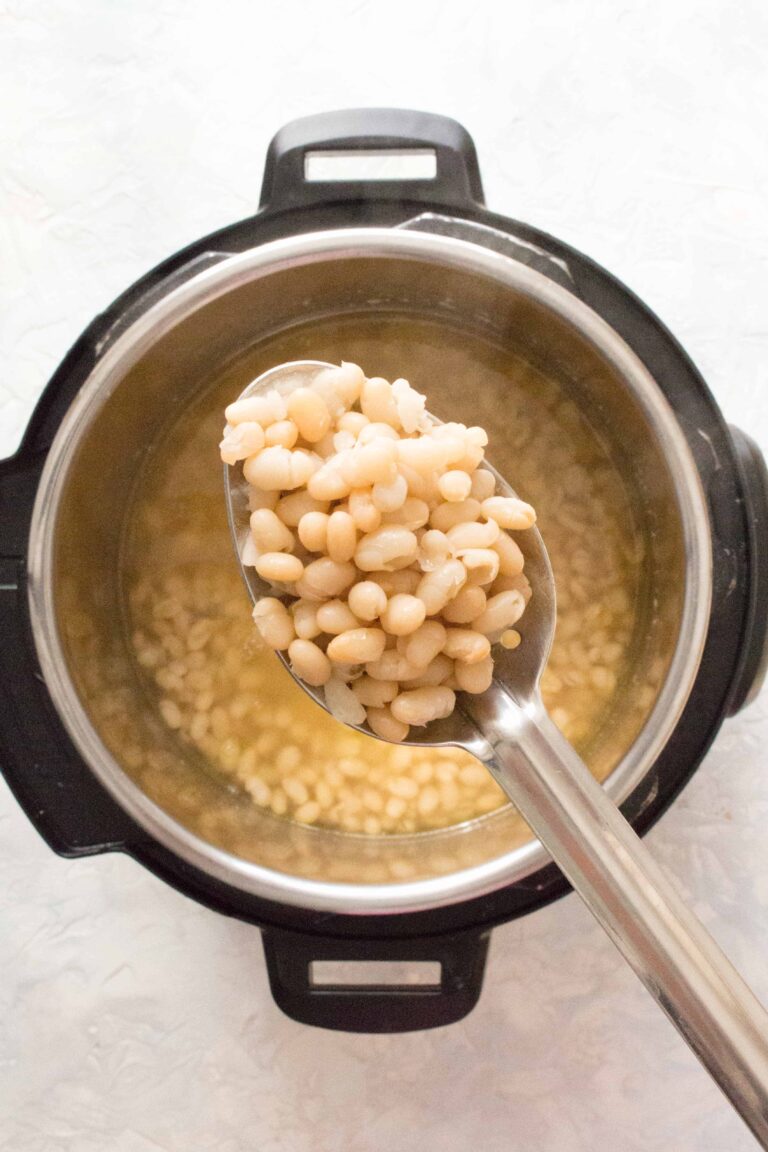 How To Cook A Whole Chicken in an Instant Pot
Instant Pot Barley Soup with Beef
I hope you found this "What Is An Instant Pot" post to be helpful! Please feel free to comment below if you have any questions and I'll try my best to answer them. Be sure to sign up for my newsletter either on the side bar to your right or click on the bloglovin' button to add me to your reader so you don't miss a recipe or post! If you want to learn more about meal prepping, you can read all about meal prepping 101 over here.
---
Other places to connect with me
@carmyshungry on Instagram
Facebook
Shop my Amazon faves
Email: [email protected]