The concept behind meal prepping is a pretty straight forward. Once or twice a week, you make a batch of food and you portion it out! Easy peasy right?
Yes and no. While the concept of meal prepping is simple, even though I've been meal prepping over a year, it can get difficult sometimes. You're tired, you're not streamlining everything to the fullest extent, you don't seem to have the time, or you're just looking for tips and tricks to help you cut down on time spent in the kitchen.
After meal planning for so long, I've picked up some shortcuts here and there so today I'm here to share with you some of my tips and tricks to help you meal prep for the week successfully!
click here to pin this meal prep resource for later!
If you're looking for a post on what meal prepping is, why you should meal prep, what my go-to kitchen items are, and other Q&As, I recommend that you check out this Meal Prep 101 post I wrote!
Best Tips To Help You Meal Plan For the Week Successfully
1. Buy In Bulk
One of the goals with meal prepping is to save money on eating out. To further save money while meal prepping, I like to purchase items in bulk whenever I can. While things like vegetables, it can be hard to buy in bulk for, I buy things such as meat, grains (rice, pasta, quinoa, etc), and bases (Better than Bouillon) in bulk.
When buying meat (such as chicken breast) in bulk, before placing them in the deep freeze, I portion them out to how I know I'll be prepping them and freeze them in their individual ziplock bags. For example, if I buy the 10-15 packs of chicken breast, I'll freeze them in 2s or 4s depending if I'll be meal prepping for just myself or for myself and my partner. Down below is a list of things that you can buy in bulk. Be sure to store them in airtight containers or freezer friendly ziplock bags if they require freezing.
Here's what I buy in bulk:
rice
quinoa
pasta
meat
stock bases
dried beans and lentils
frozen vegetables such as corn, peas, etc
frozen fruit (for smoothies)
oats
spices
2. Plan, plan, plan!
It's super easy to figure out how to meal plan! Plan out what you're going to eat that week and break it down to see what you can cook ahead – for example, if chicken is on sale, pre-cook your chicken and alternate between prepping chicken salad, chicken pasta, and chicken wraps for the week. You could also switch it up and put some of that chicken in an omelette for breakfast!
Think about what your goals are: making a week's worth of lunch to avoid buying lunch at work? looking for ways to prep ingredients so you can make dinner for your family in under 30 minutes after work? looking to make mornings easier by having pre-made nutritious breakfasts? Going through your goals will help you figure out how much time you need to meal prep and what you need to do and buy. Be sure to make a list of what you'll need as well and stay focused! It can be tempting to fill up your shopping cart with things on sale, but if you don't have a plan on using the items, it's just going to be wasted!
Curious as to how one week of my lunch/snack meal prep looks like? Subscribe to my newsletter (sidebar or click here) to get my meal prep and the shopping list!
As well as the meal prep, you can also get my weekly meal planner printable
Click here to check out some meal prep recipes to add to your meal prep calendar
Tip: if you don't have time to grocery shop often, try out ButcherBox, a monthly meat subscription for hormone and antibiotic-free meat delivered to your door! Freeze what you can't use right away, and you'll always be prepared with meat in your freezer!
2A. How To Make A Meal Plan
Here's a very basic example of how to put together a weekly meal plan. Tweak to suit your week!
Start with figuring out who you are planning for: is it yourself or yourself and a partner or a whole family?
Check out your pantry and freezer: what do you have right now? Got a few boxes of pasta and frozen beef? Well, you'll save some money by planning around the pasta and beef.
Find recipes that work with what you have and make a list of what you're missing: for example, you might want to make lasagna, bolognese, korean beef bowls, and beefaroni because you have a ton of pasta and frozen beef. These recipes can either be made ahead of time or you can cook them after work and have it for dinner and leftovers for lunch the next day. Figure out what works best for you!
3. Use multiple methods of cooking and multitask
After you're done planning, you can streamline your meal prep by figuring out what you can use and cook at the same time to cut meal prepping time down (or you can plan according to this!). For example, you can start by making a freezer friendly chili in your slow cooker, cook some chicken in an Instant Pot, have sweet potato, asparagus, and broccoli baking in the oven, and rice cooking in the rice cooker and/or quinoa cooking on the stovetop.
Bonus: most of these are very hands off so once they're going you don't have to babysit a pot. Once they're cooking, you can prep your breakfast by portioning out frozen fruit for smoothies or chia pudding. And just like that, you have chili for dinner (you can also freeze it in 1 cup portions to defrost for later in the month), chicken with your roasted vegetables and grain for lunch, and breakfast ready to go without spending the entire day in the kitchen!
Yogurt with Fruit and Granola Breakfast Meal Prep
4. Make a double batch of dinner and learn how to repurpose leftovers
We don't like to meal prep weekend meals since we have extra time in the day to cook dinner so to cut down on extra meal prepping for the upcoming week, sometimes we just cook a double batch of what we're making for dinner and pack it up for the next day for lunch. I'm also a fan of repurposing leftovers – here's an example of how I repurposed leftover rotisserie chicken to make 3 different lunches.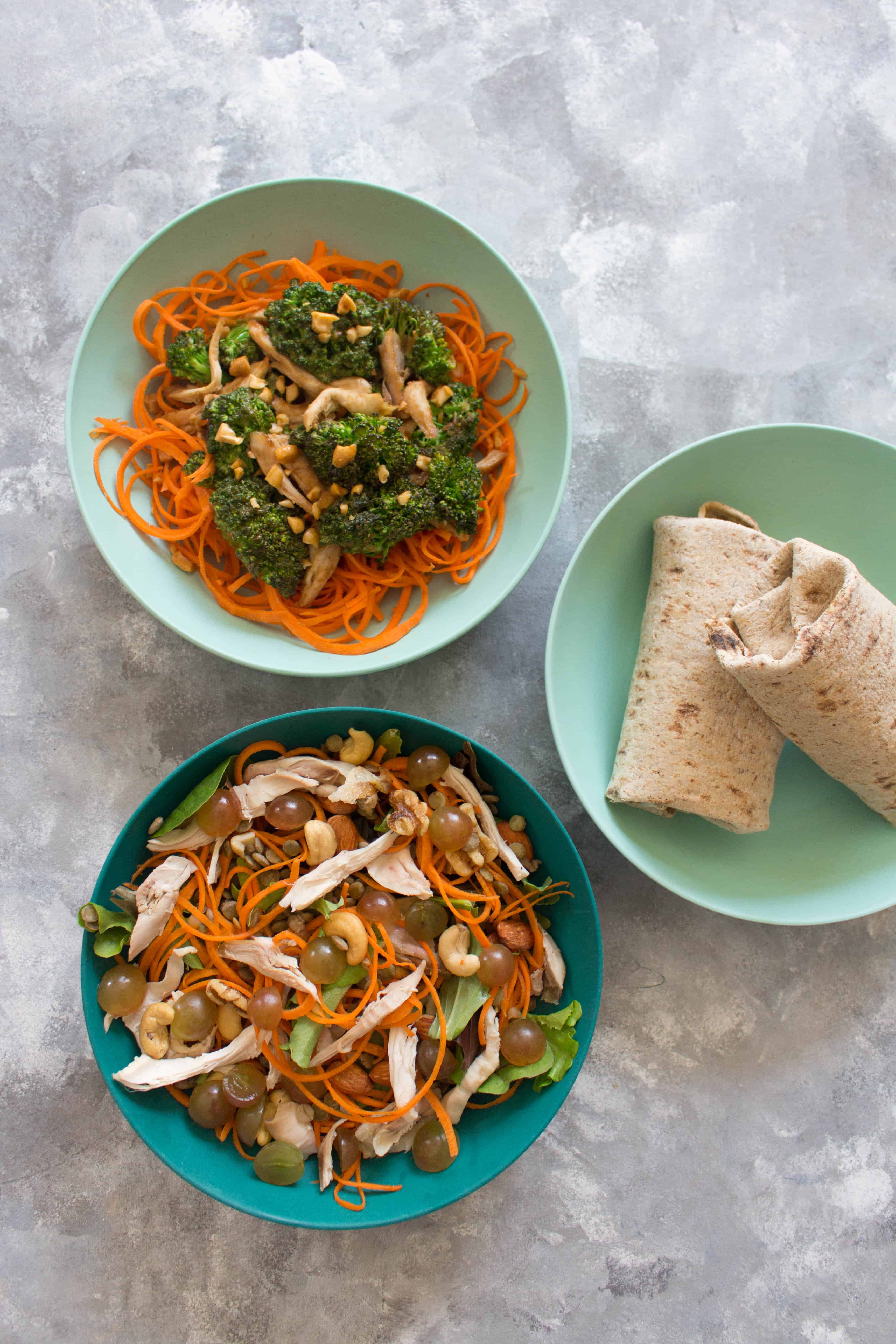 5. Cook staples in batches
Similar to buying in bulk, you can cook your staples in bulk if you don't want to meal prep entire meals in one go. For example if you cook chicken in bulk, you can shred it and place it in an airtight container in the fridge and use it for  wraps, salads, and more! You can see more ways on how I repurposed shredded chicken in my leftover post linked above. A way to think about this is that it's a "buffet style" meal prep where you make use these staples to be a base for meals throughout the week.
Suggestion of things you can prep to use in different meals over the course of a week:
starch: quinoa, pasta, sweet potato, lentils
snacks: hummus, boiled eats, trail mix, vegetable sticks
meats: shredded chicken (great for wraps), ground meat (great for tacos), meatballs, pulled pork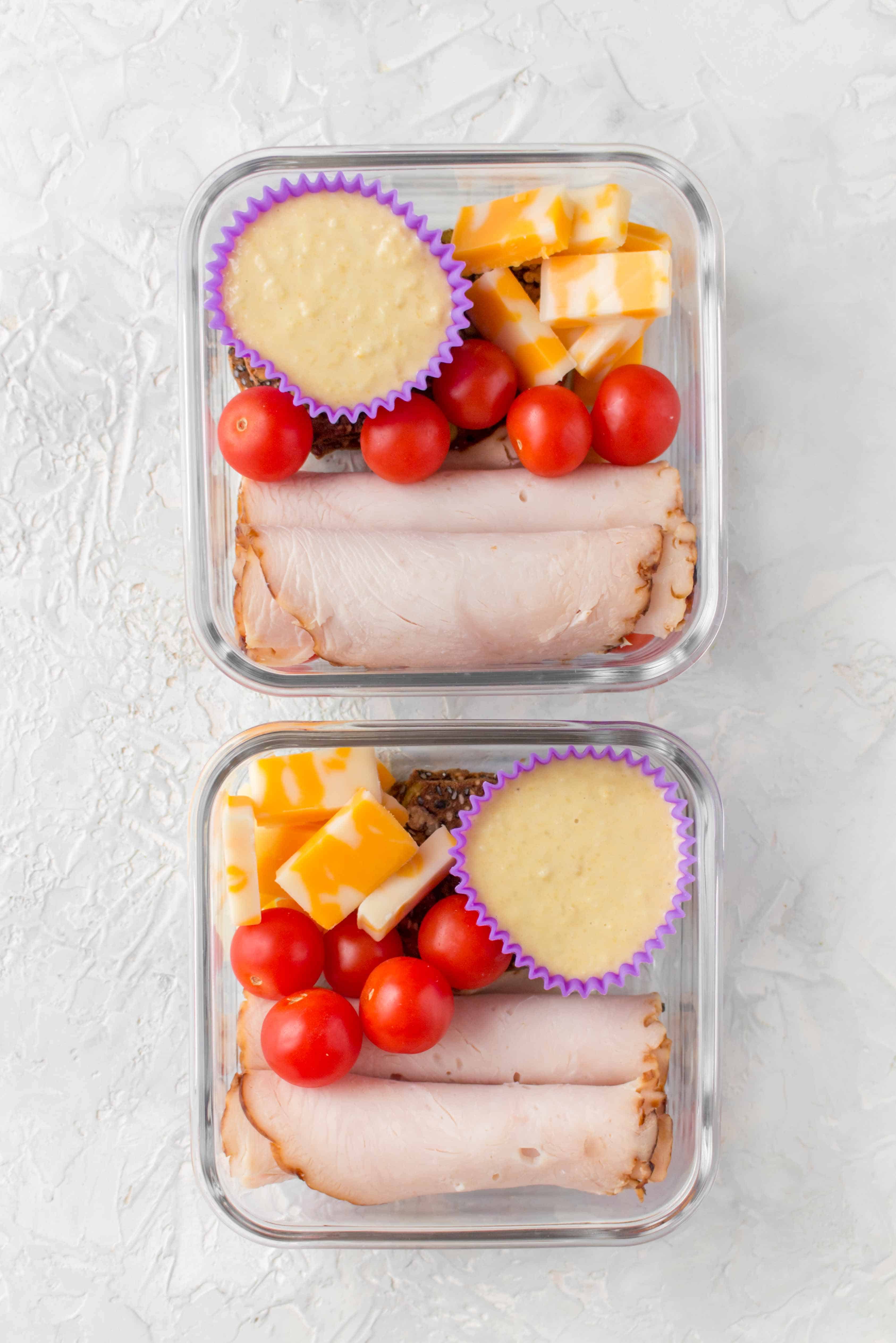 LOOKING FOR MEAL PREP RECIPES?
Check out my meal prep recipes that I have on the blog!
---
Meal prepping shouldn't be stressful – with some practice, your meal preps will become fast and easy. I hope you found this post to be helpful! Please feel free to comment below if you have any questions. Be sure to sign up for my newsletter either on the side bar to your right so you don't miss a recipe or post!
---
RESOURCES AND TIPS FOR MEAL PREPPING
Other places to connect with me
Instagram: @carmyshungry
Facebook: https://www.facebook.com/carmyycom
Email: [email protected]