Monday – 2K
Tuesday – REST
Wednesday – REST
Thursday – 9K
Friday – 5K
Saturday – REST
Sunday – 5.85K + 101 MIN BADMINTON
Happy Monday! How are you today? Spring has arrived in Toronto and I'm quite happy and of course I caught a cold right away. #win. Just my luck right? Haha! Luckily that didn't stop me from getting my sweat on.
On Monday, I was still in Myrtle beach and decided two hours after eating a ton of BBQ was a good time to run. I suffered. Hard. It was awful but I got through it and got to see some pretty views along the way!
I was pretty bummed to leave Myrtle Beach on Wednesday but I was happy to be home and back in the running paths that I was most comfortable with. I convinced H to go on a run with my since I should probably start upping my run mileage soon if I want to survive Ragnar. I managed to get 9K out of me with a few short breaks and three 100m hill repeat.
Friday I wanted to run again on tired legs to get my body used to doing that for Ragnar and went out and dragged myself through 5K (my legs were so shot).
Sunday, I convinced my friend to sign up for the Toronto 10K and convinced a friend to go running with me! All on the same day! Not bad huh? So I ran 1K before getting to my friend and I helped her run/walk (watchwas paused during the walks) 4.5K before I ran the rest of the way home, totalling out on 5.85K. Then the gang and I went out to play a few games of badminton and oh my god, I forgot how hard a game was for your cardio because I thought I was going to pass out in set 2 of game 1.
Sunday was actually quite productive for me as I also managed to get my week's meal prep done in the morning! A lot seems to get done when I wake up on a 9AM on a weekend! I did a variation of my One Sheet Chicken and Vegetables.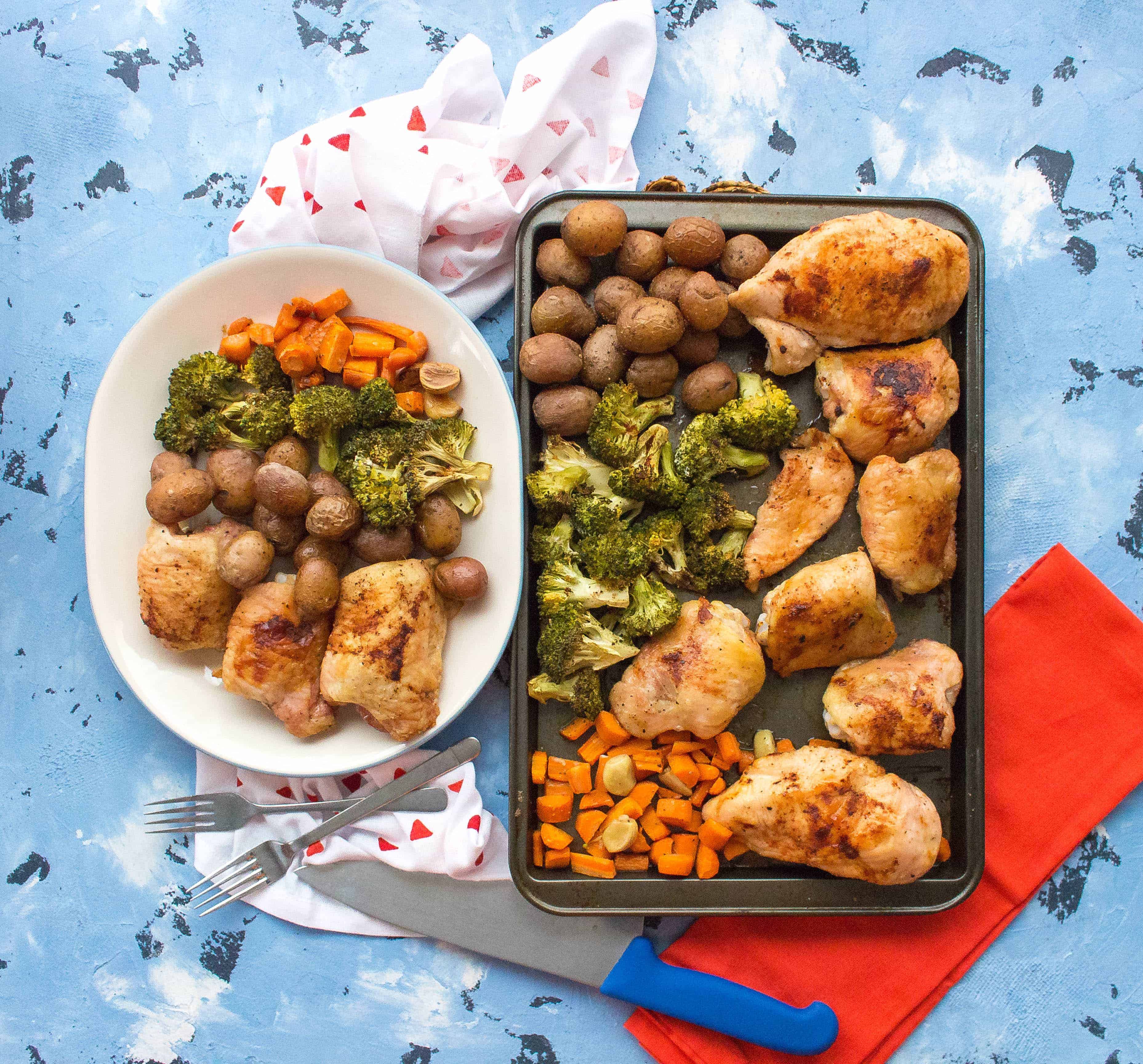 One Sheet Chicken Vegetables and Potatoes
Need a meal prep idea? This One Sheet Pan Chicken Vegetables and Potatoes is so fast and easy to make plus it packs well!
Print
Rate
Ingredients
1

bag

mini potatoes

3

heads of broccoli

4

carrots chopped roughly

5

cloves

garlic

8

chicken thighs

,

seasons with salt, pepper, and paprika

2

chicken breast

,

seasons with salt, pepper, and paprika

3

tbsp

broth

2

tbsp

olive oil
Instructions
Heat your oven up to 375F.

Once you've chopped up your vegetables and peeled your garlic, spread it evenly in 2 sheet pans. The drizzle some olive oil on top.

Arrange your chicken after seasoning it with salt and pepper (thighs skin up), onto the sheet pans evenly. Pour in a splash (or 3 tbsp) of chicken broth into the pans.

Place the sheet pans into the oven for around 40 minutes (more if you want crisper skin).
Notes
I had some extra chicken breast in the fridge so I threw it in, hence why this meal prep needed 2 instead of 1 pan.
Tried this recipe?
Did you make this recipe? I'm always so happy to hear about it! I'd love to see how it turned out. Tag me at @CarmysHungry on Instagram so I can see it! If you enjoyed the recipe, I'd really appreciate a comment with a 5 star rating! ♥
This one sheet chicken and veggies took me around 5 minutes to prep but you can prep it the night before
cut the broccoli and carrots and keep it in a sealed container in the fridge
season the chicken and leave it in a ziplock bag
So how was your week? Did you get all your workouts in? What was your meal prep this week?
PIN THE RECIPE FOR LATER
Other places to connect with me
Instagram: http://instagram.com/runcarmyrun
Twitter: https://twitter.com/runcarmyrun
Facebook: http://www.facebook.com/carmyycom
Email: [email protected]
Vlogs: Youtube