How did summer fly by so quickly?! I can't believe we are in September already! To kick off the end of summer, my partner and I took a road trip to Montreal from Toronto to spend the long weekend eating our way through the city. Below is how my partner H and I spent the long weekend, hopefully my itinerary helps you plan yours!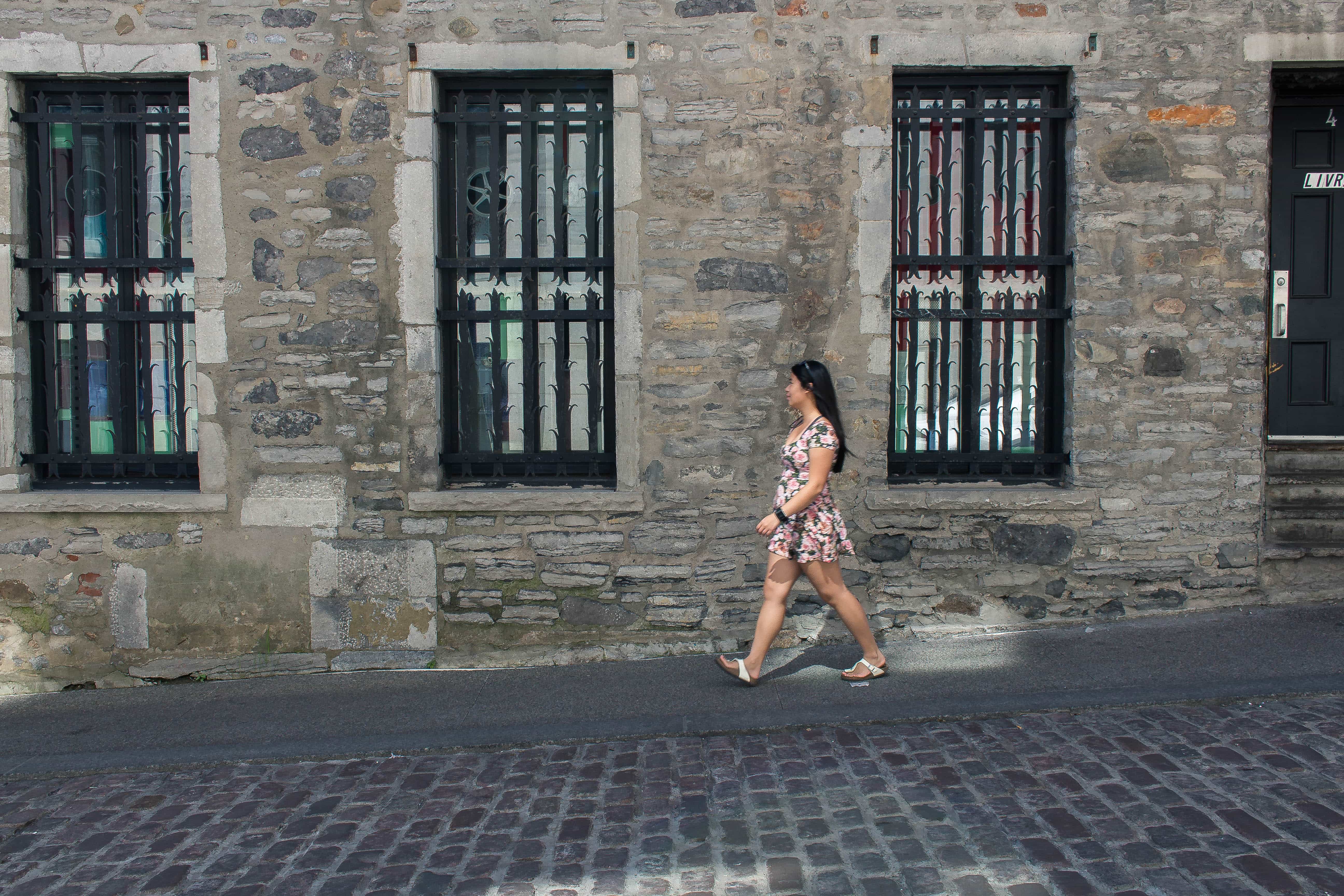 If you've followed along on previous trips with H and I, you'd know that H isn't that big on detailed planning. Remember how he and I went to the airport and decided then and there which plane we were going to hop on and ended up at Myrtle Beach? Yeah. So we didn't plan our stay in Montreal (minus one dinner reservation) and pretty much winged our trip. We tried to find things that the two of us (who've been to Montreal already) haven't done before and let things roll from there. (But let's be honest, our main goal was to eat as much as possible and mine was specifically dessert…) So let's see where our lack of planning got us!
Day 1
H and I arrived in Montreal around 11 on Friday and started our morning by going straight to Marche Jean Talon/Jean Talon Market (for more about Montreal's amazing markets, check out my post here) and went straight for the baked goods for a late breakfast. If you can, I'd recommend heading to a market bright and early in your trip if you don't want to eat all your meals out in Montreal. What I did last time and this time was purchase freshly baked bread, cheese, salami, and Riviera yogurt to keep on hand so we could have a low key breakfast in our rooms in the morning before heading out (or as a late night snack lol).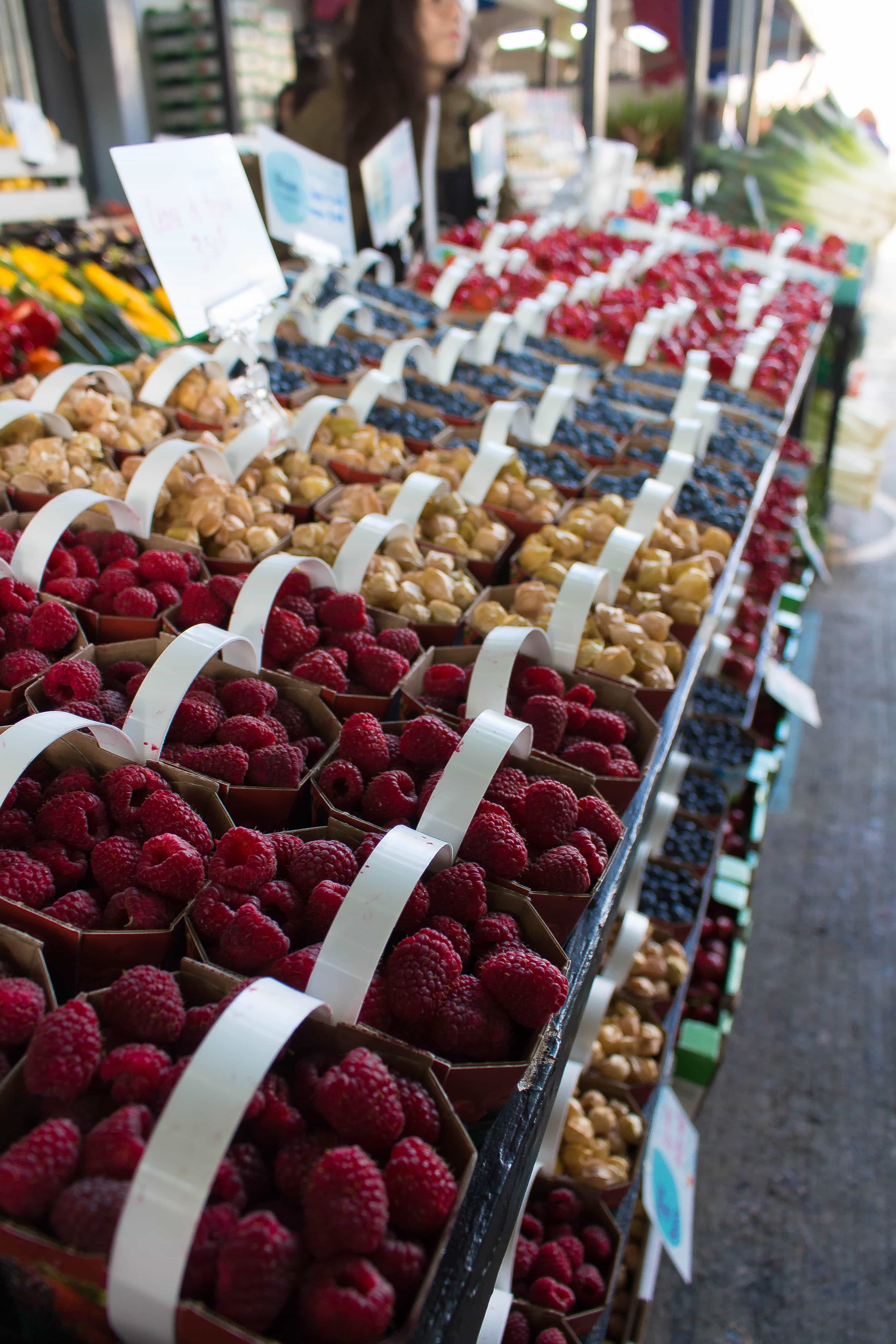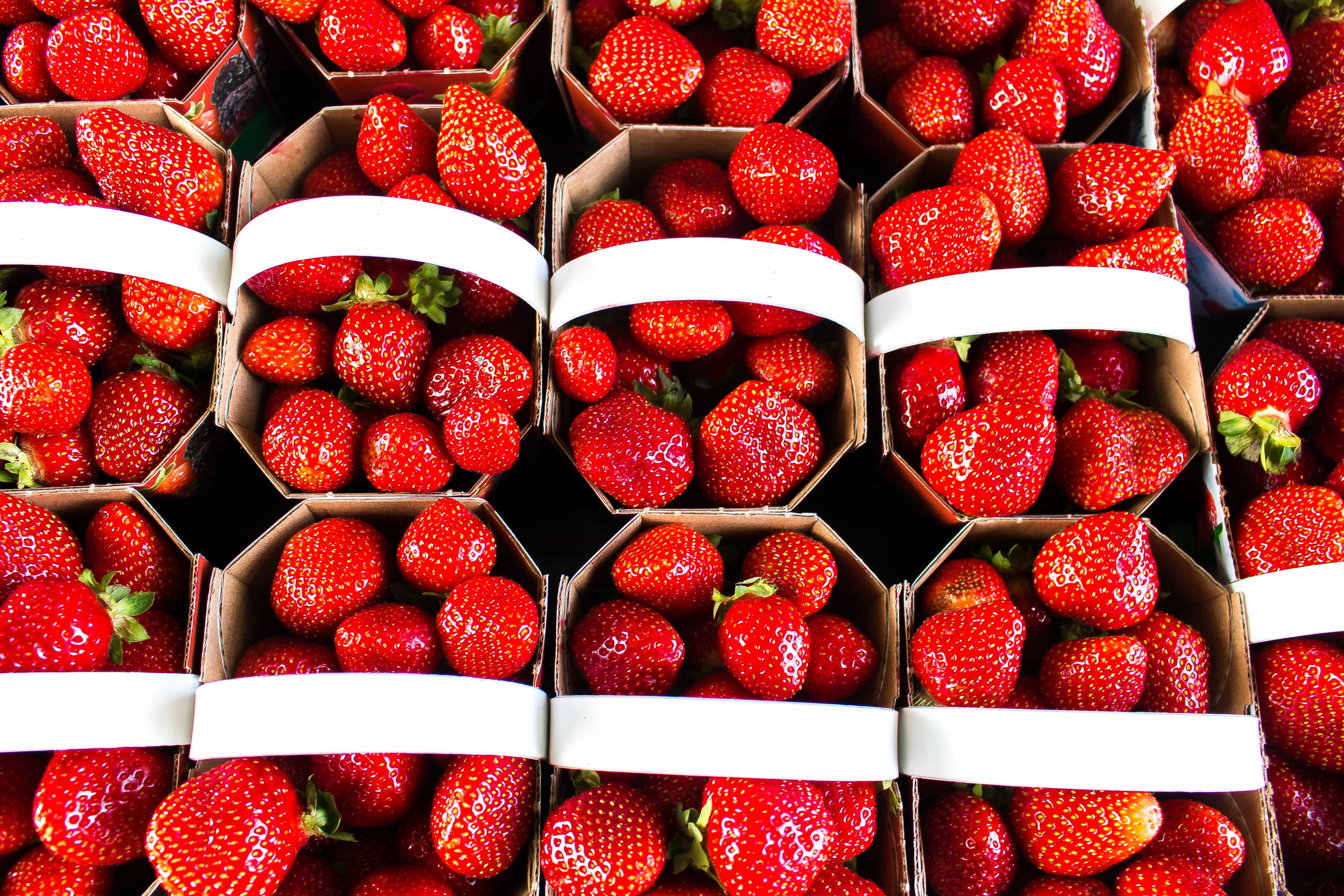 I am absolutely obsessed with the markets in Montreal – if you don't think you're going to buy something, visit anyways. The hustle and bustle of the market combined with the bright fresh fruits and vegetables is a vibe that you need to soak up if it is your first time in Montreal.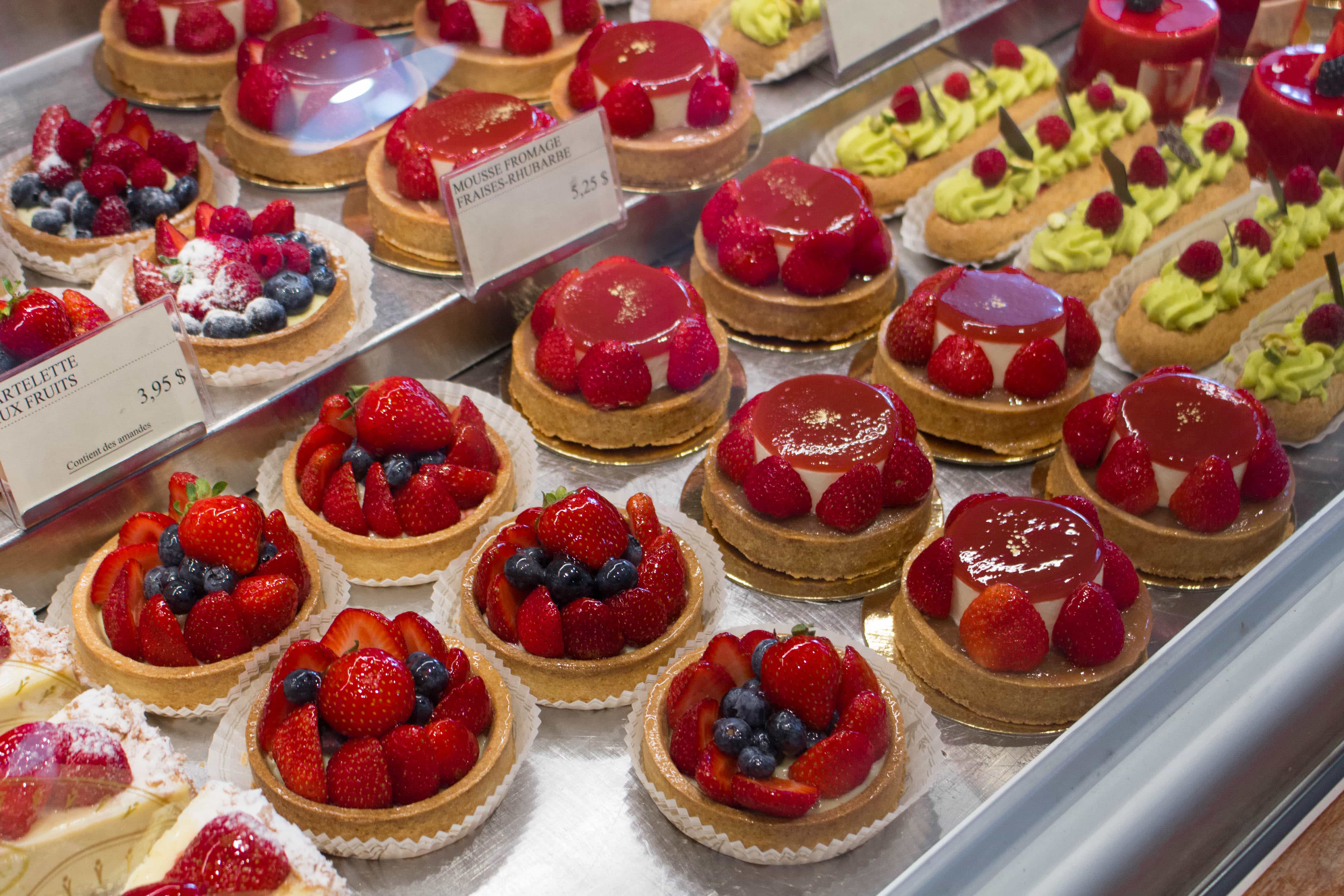 After, we stopped by the Mile End, a neighbourhood that some might classify as a hipster neighbourhood. We took a stroll down where I got to check out some cute little shops such as Boutique Vestibule before going to Boucle & Papier to pick out some adorable Montreal themed postcards. If you're a coffee lover, this little neighbourhood has a ton of little coffee shops that makes a mean cup of coffee. The world famous Montreal bagel shops St-Viateur Bagel and Fairmount Bagel are within walking distance from here too. As I went last time and H wasn't interested in a bagel run, we passed on it but I highly recommend you check it out if you've never had a Montreal bagel. Check out my last Montreal itinerary to see what makes a Montreal bagel so special.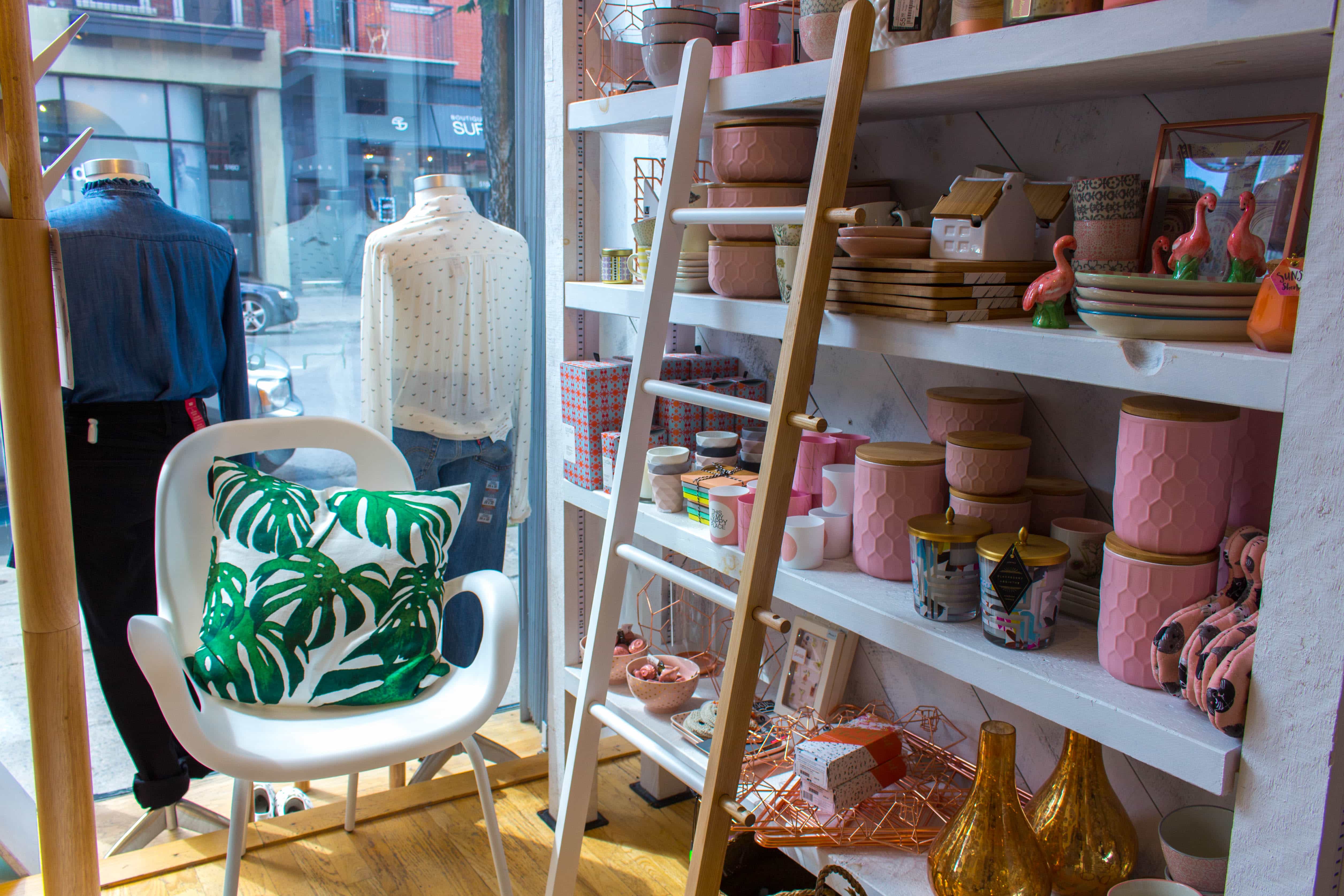 Then it was finally time to check into our AirBnB so we drove over to our home for the next few days. (H and I drove in but if you're flying into Montreal, there is a terminal as the airport that lets you buy bus/metro passes so you can go directly to your AirBnB/hotel/where ever from the airport via public transit). We stayed a bit out from the downtown core as we had our car with us and wanted to park it nearby without having to worry about it. Our AirBnB was adorable and if you're a couple looking for a cute little spot that has free street parking out front, I'd totally recommend the place we stayed at. (Be sure to use my referral code to save $40!)
[Image from AirBnB]
After dropping off our things, we made our way over to the St Henri area because my quest for delicious ice cream had begun. Our first stop was Dalla Rose where they do ice cream sandwiches, regular ice cream in a cone or a cup, and vegan options. So what makes them special? Their ice cream is handmade, spun every day, and the cookies are fresh and home made. All ingredients are locally sources so I made sure to make this my first stop! They also have a cute little patio our front for you to sit and enjoy your ice cream!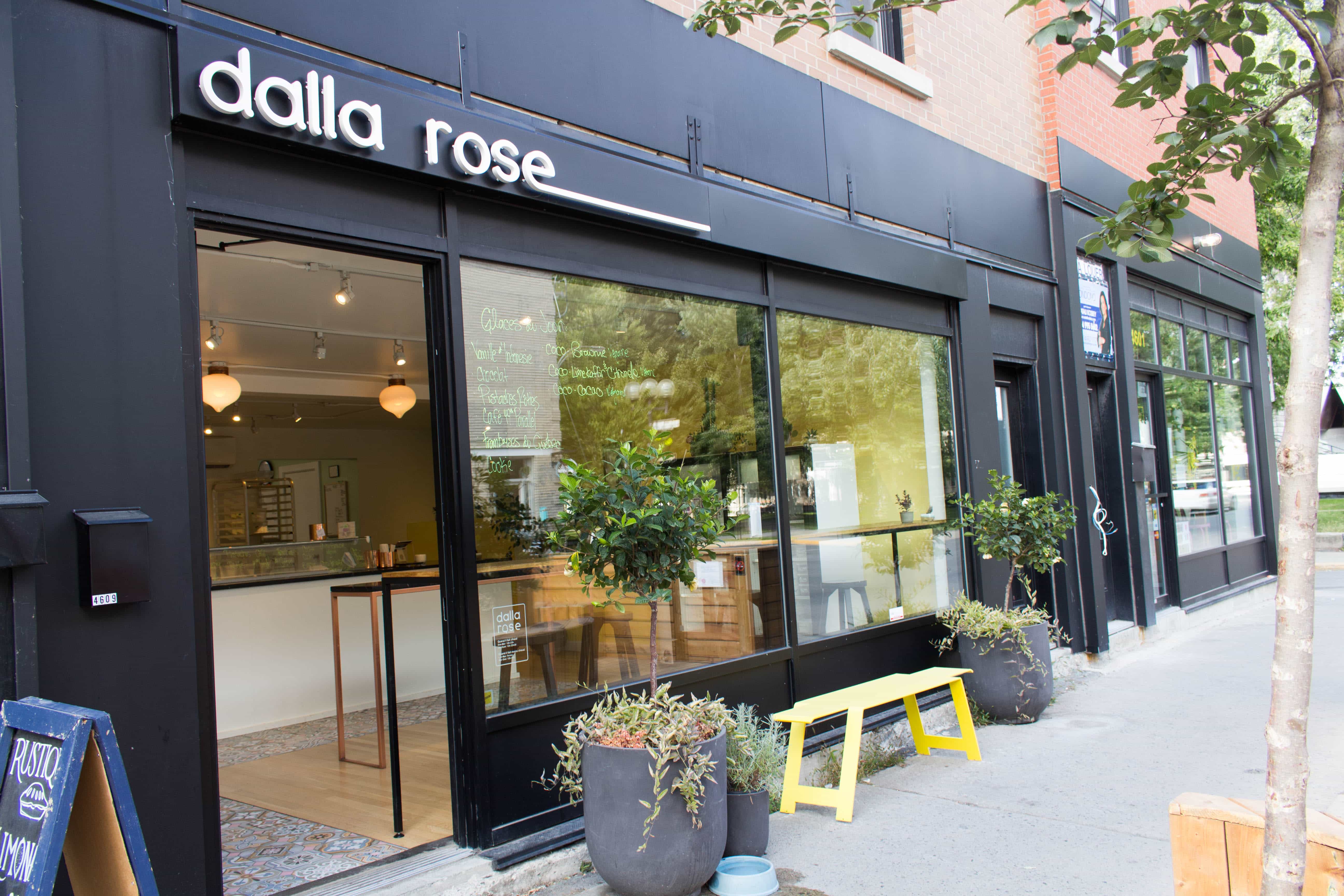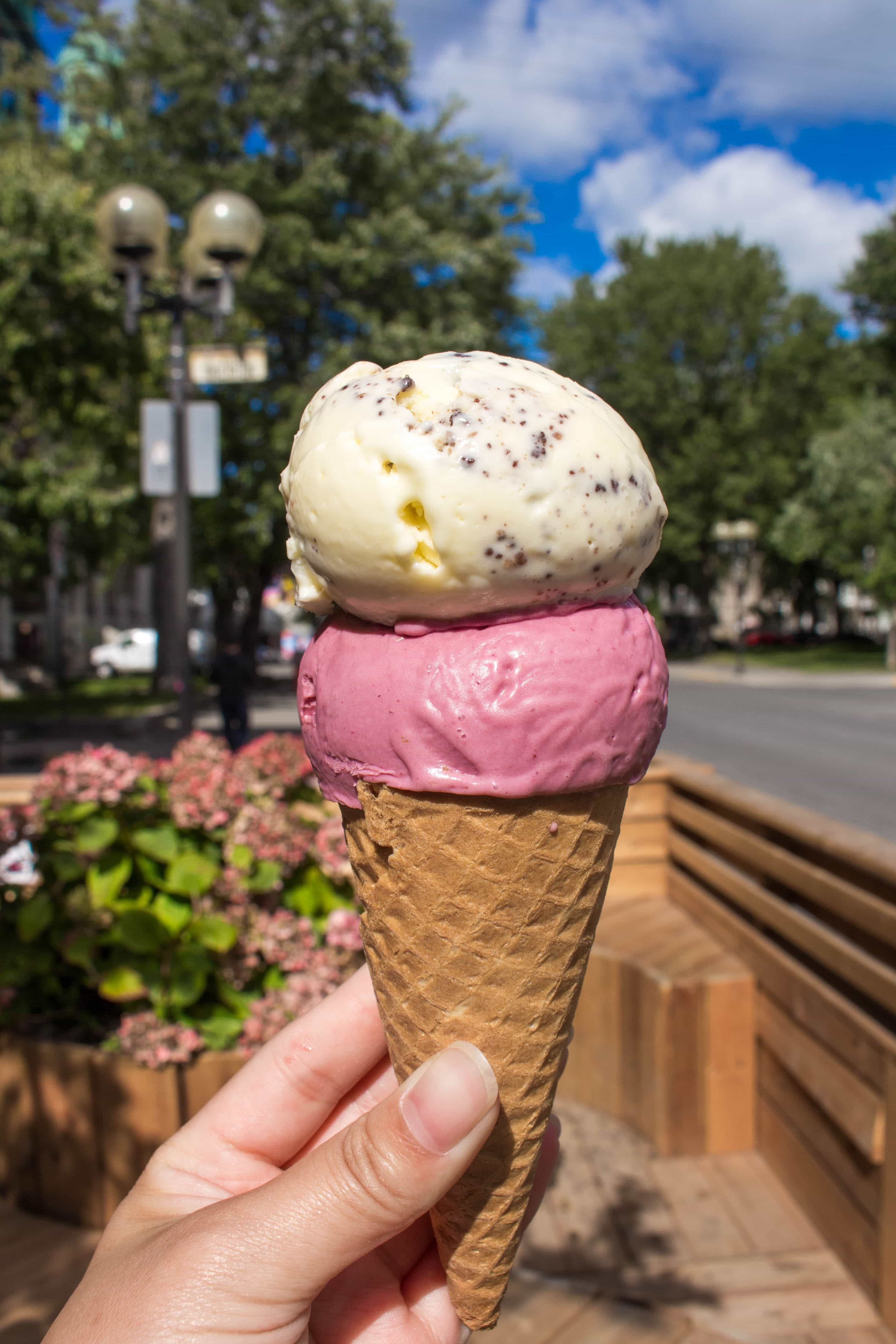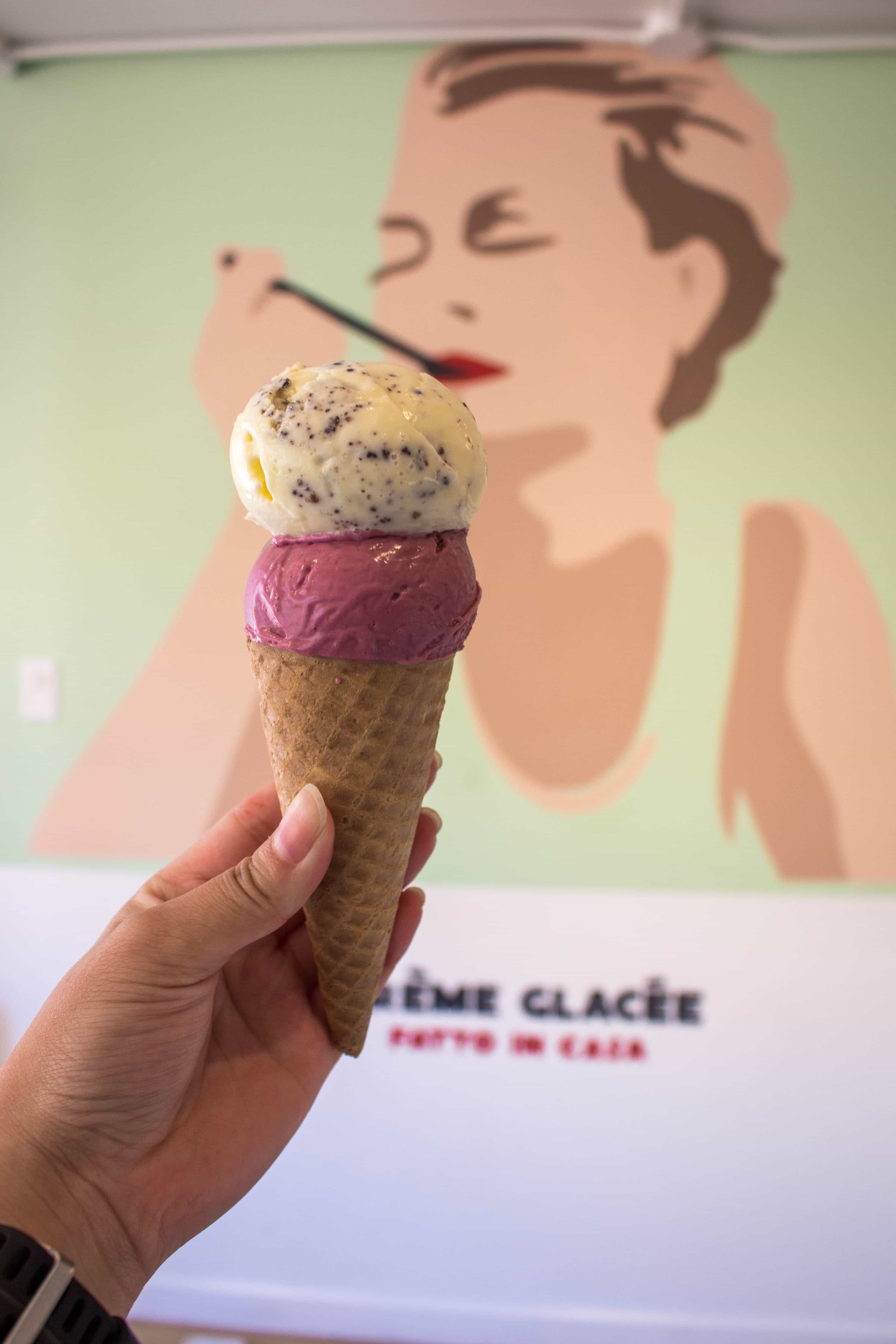 Note: La Diperie is also down the street from Dalla Rose but they have a location in Toronto so I took a pass on it. They do soft serve with a variety of fun dips.
Of course, after I've gotten my ice cream cone (H got a Kola, a soda brewed in small batches in Montreal!), H spotted a cute little pizza joint called Adamo that got his stomach rumbling. So of course we had to go in and I got a slice so I could eat it after I finish my ice cream. H got bacon and pineapple and I stuck with the classic pepperoni.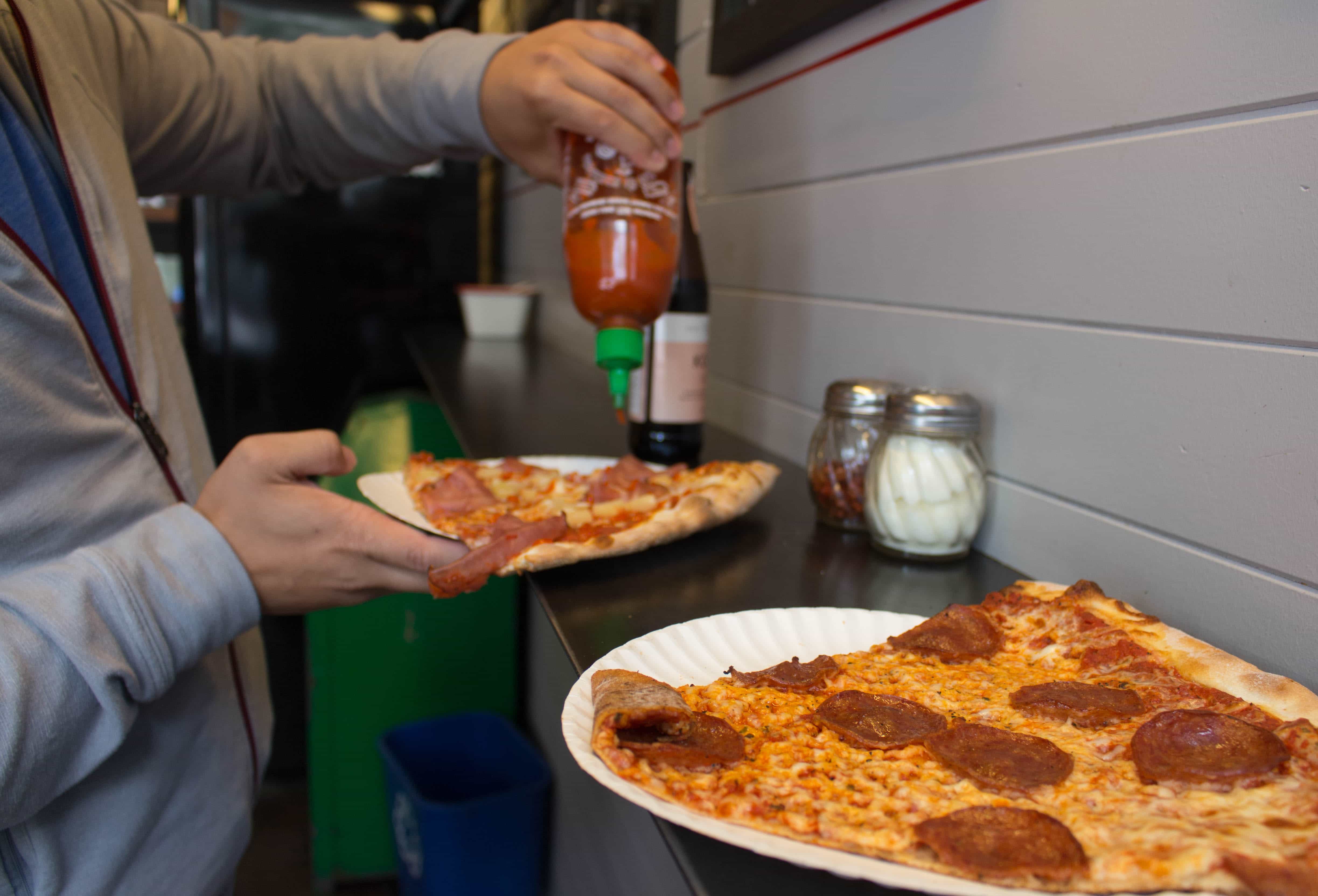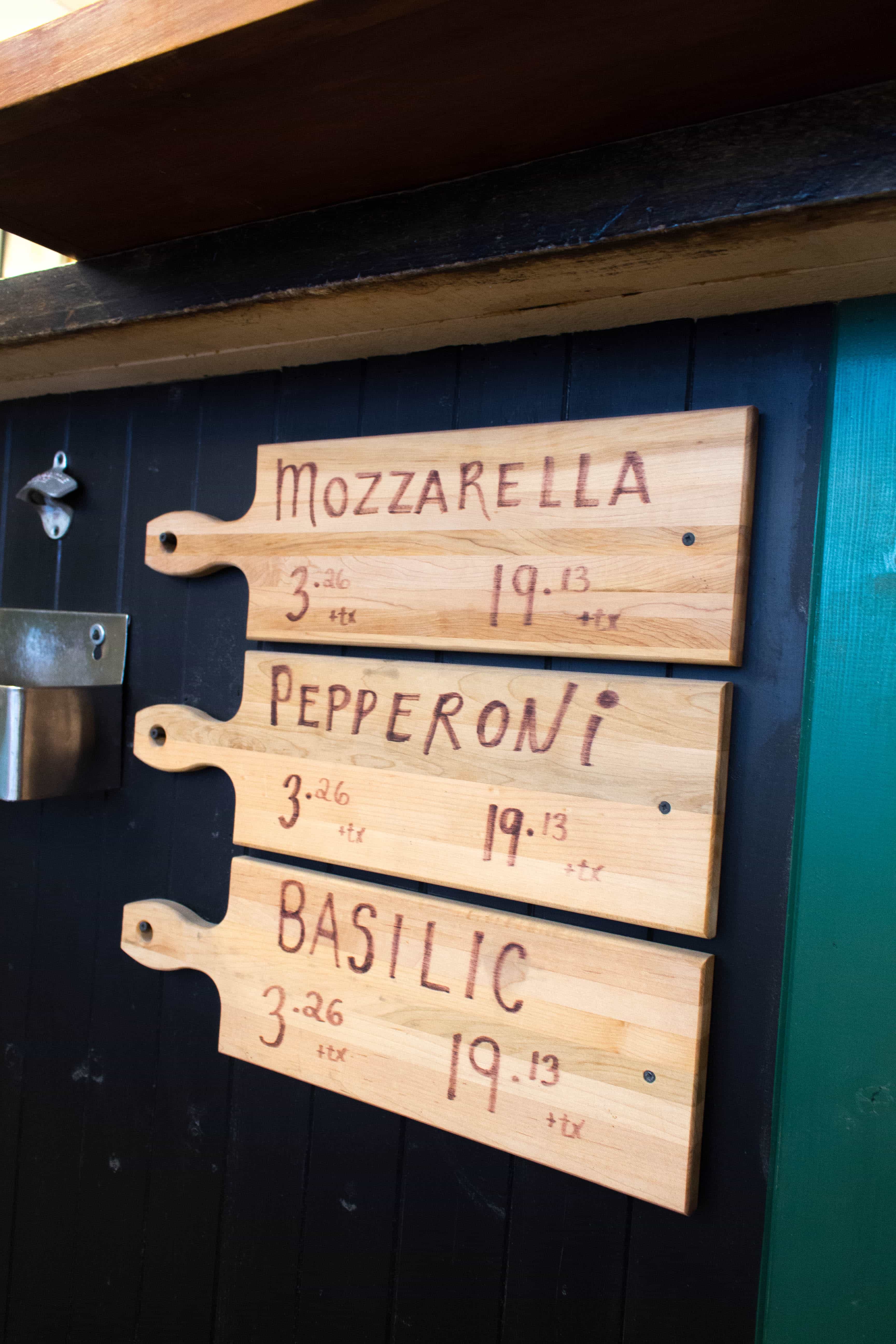 Later in the day, we had reservations at Foeigwa so we didn't want to go too far from the area. After finishing our pizza, we stopped at Atwater Market (see, obsessed with their markets!) and picked up some pate and grabbed a bubble tea. The shop at Atwater had this delicious mango green tea bubble tea with blueberry boba that I'd recommend you get if you want something to sip on while checking out the market (we bought more salami and cheese lol).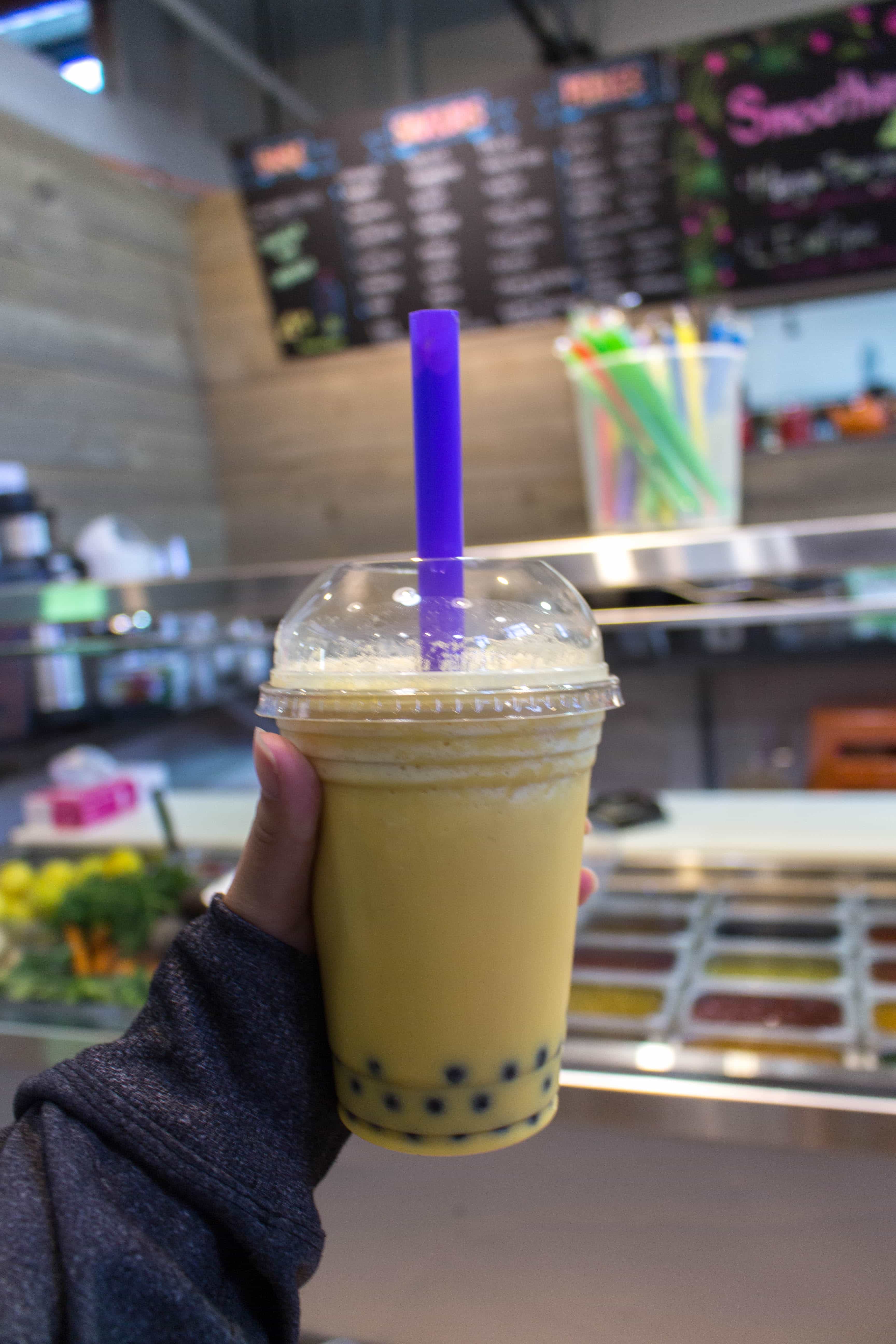 Across the street, there's a SAQ where we picked up a couple bottles of Caribou for a friend. Caribou is a sweet Québécois alcoholic beverage made out of red wine, hard liquor (usually whisky), and maple syrup or sugar and it's supposedly only available in Quebec. So our thoughts were pretty much why not pick up a bottle to try while we were there?
And then finally, it was time for our reservations at Foiegwa!!!! Yes, it lived up to the hype. Yes, it was worth the price. And yes, go make a reservation if you're in Montreal!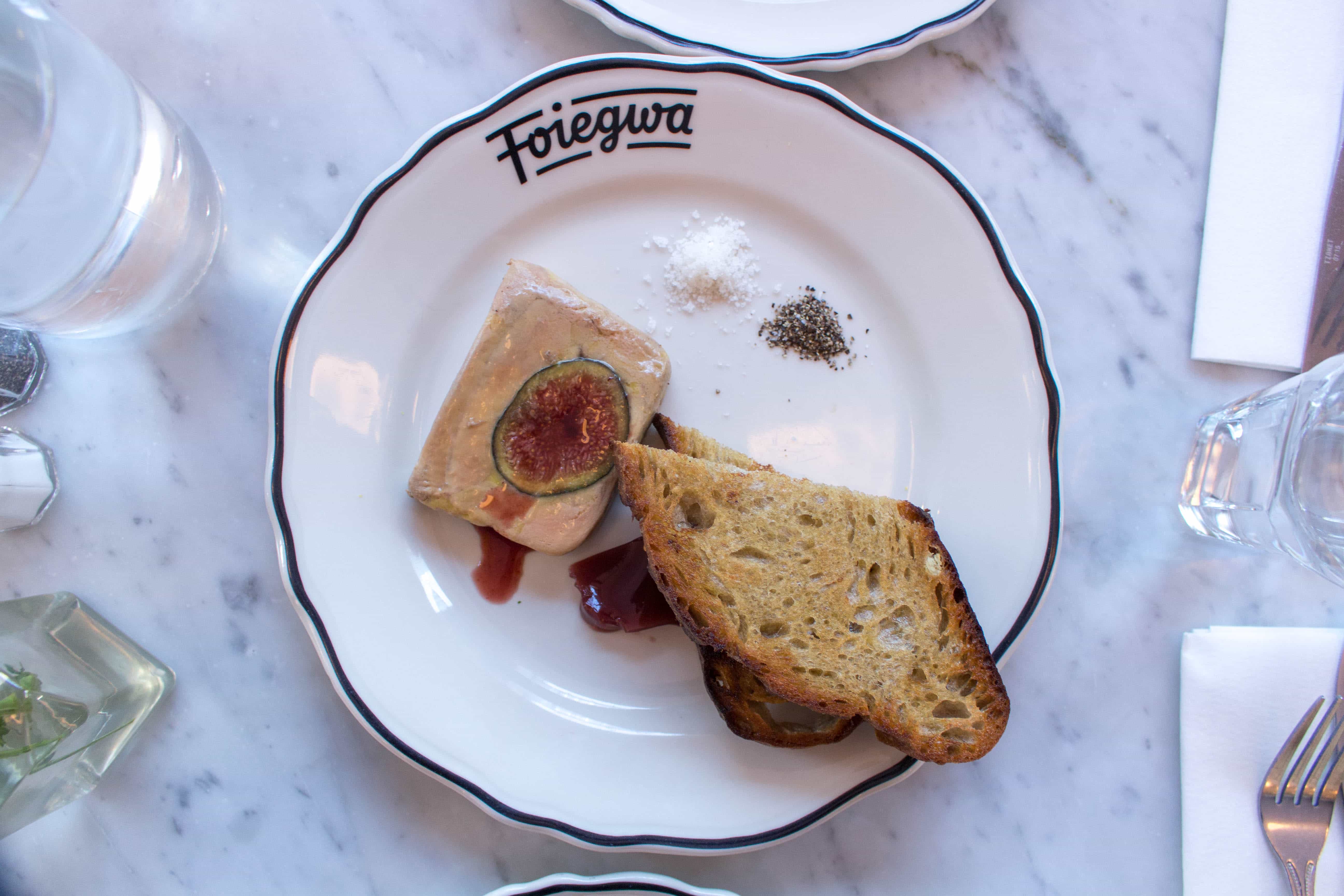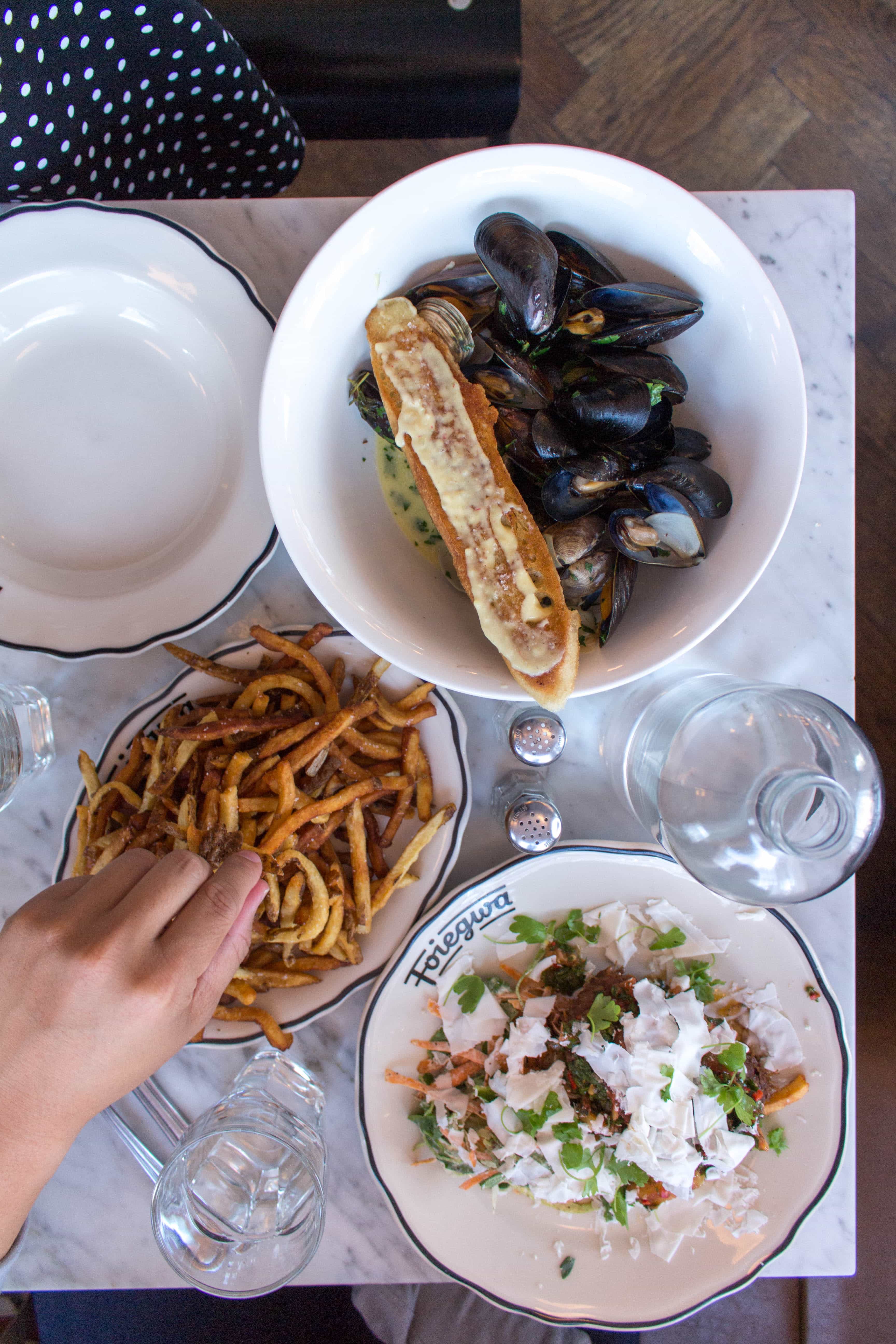 We started with a fig and port foie gras terrine with crispy country bread. Then I had the mussels and clams marinière with fries and H had the confit chuck steak, fresh herb pesto, san marzano tomatoes, feta, farm vegetables rèmaulade. It was pretty much a #getinmybelly moment right away.
At this point, it was not even dark out but H and I were exhausted. I'm secretly an old lady (as shown from my last Montreal itinerary where I skipped out on the nightlife with my gal pal ?) so I was ready to head back to our AirBnB. Me mostly wanting to go into a food coma and him because I don't drive so he was tried from driving to Montreal.
Day 2
We started our morning eating our basket of bounty from our trip to Jean Talon and Atwater from the day before. It's pretty much life goals to start off the day with a platter of salami, cheese, pate, and bread. I mean, what more can you ask for?
After breakfast, we drove over to Gay Village and strolled down the pedestrian only/closed off street where we admired their "18 Shades of Gay" balls in the sky, aka the 1km long linear installation suspended in the sky by Claude Cormier.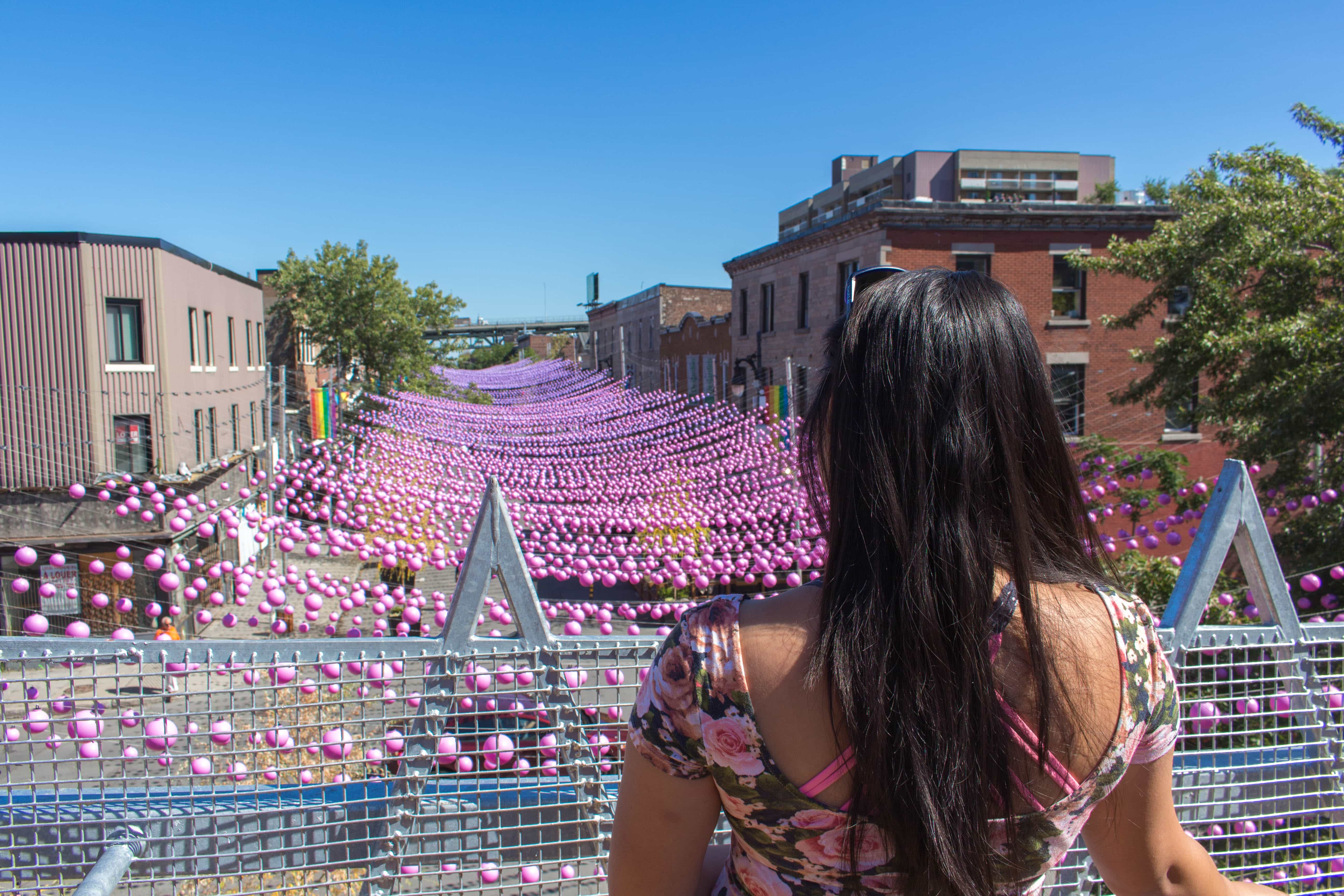 After, I made H take me to Old Montreal (despite both of us already having been) and we wandered along Rue St-Paul until we got hungry. I personally love the street as I find the cobblestone street to be quite charming and the buildings to be gorgeous to look at.
On a whim, we stopped by La Maree for lunch as the menu looked decent. However, let me just stop you here. Please do not be like me and do a quick Google search. Do not be lured in by the host in the front! I do not recommend this restaurant – my food came out barely warm and H's portion of poutine was not worth the price. We had finished our food before the table seated next to us who came at the same time even got their mains. Service wasn't great and food was meh.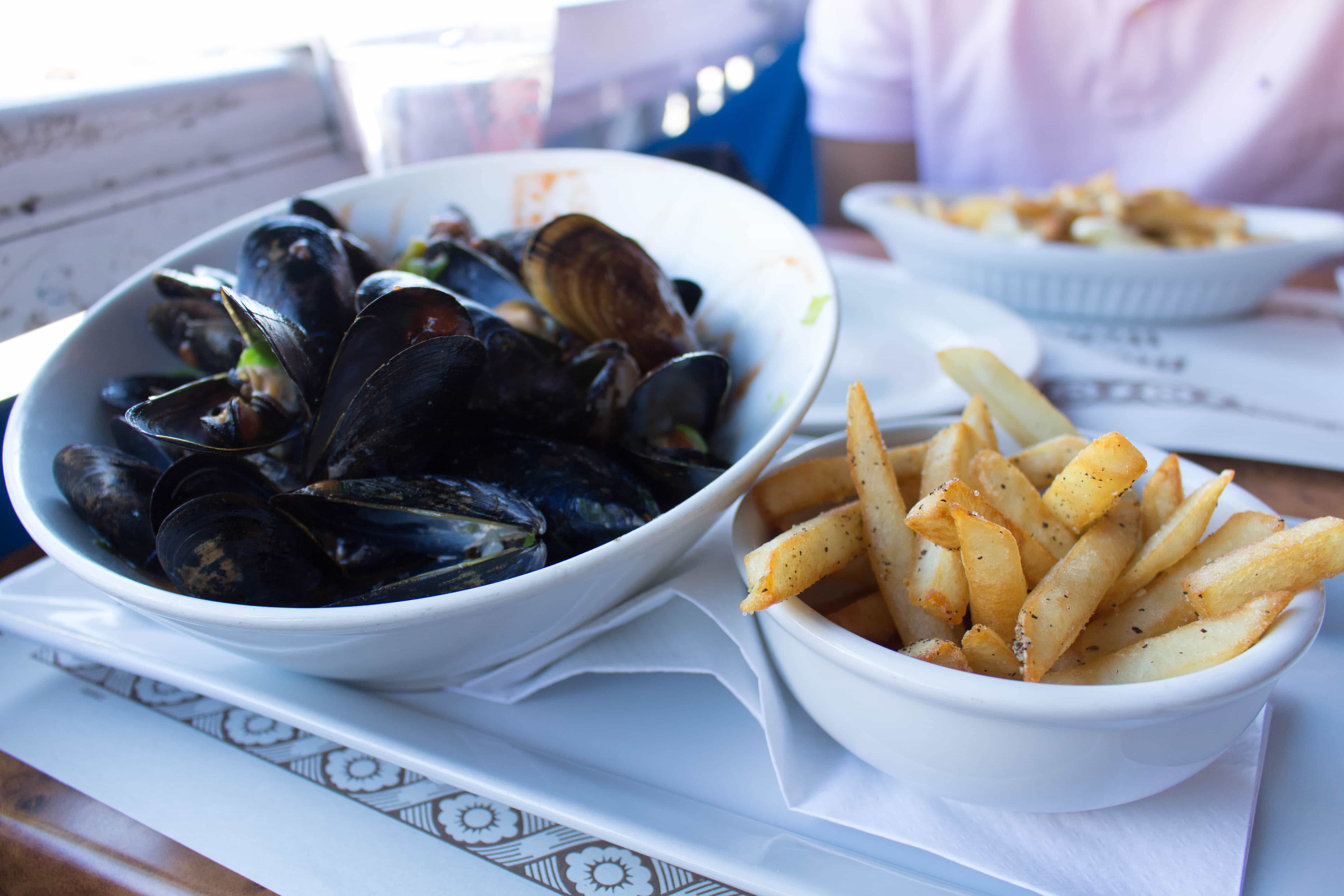 Once we finished lunch, I requested we head back to Gay Village because an ice cream spot I wanted to hit up was opened. Kamehameha is a cute and quite Instagrammable snack bar that knows how to get their product on Instagram – people were asking where I got my cone as I stood outside Instagramming it ha. Check out the ice cream and their little pink bar below! The matcha ice cream was yum but the fish cone was okay. The outside was great but near the bottom, it got a little dense and tasted a wee bit under.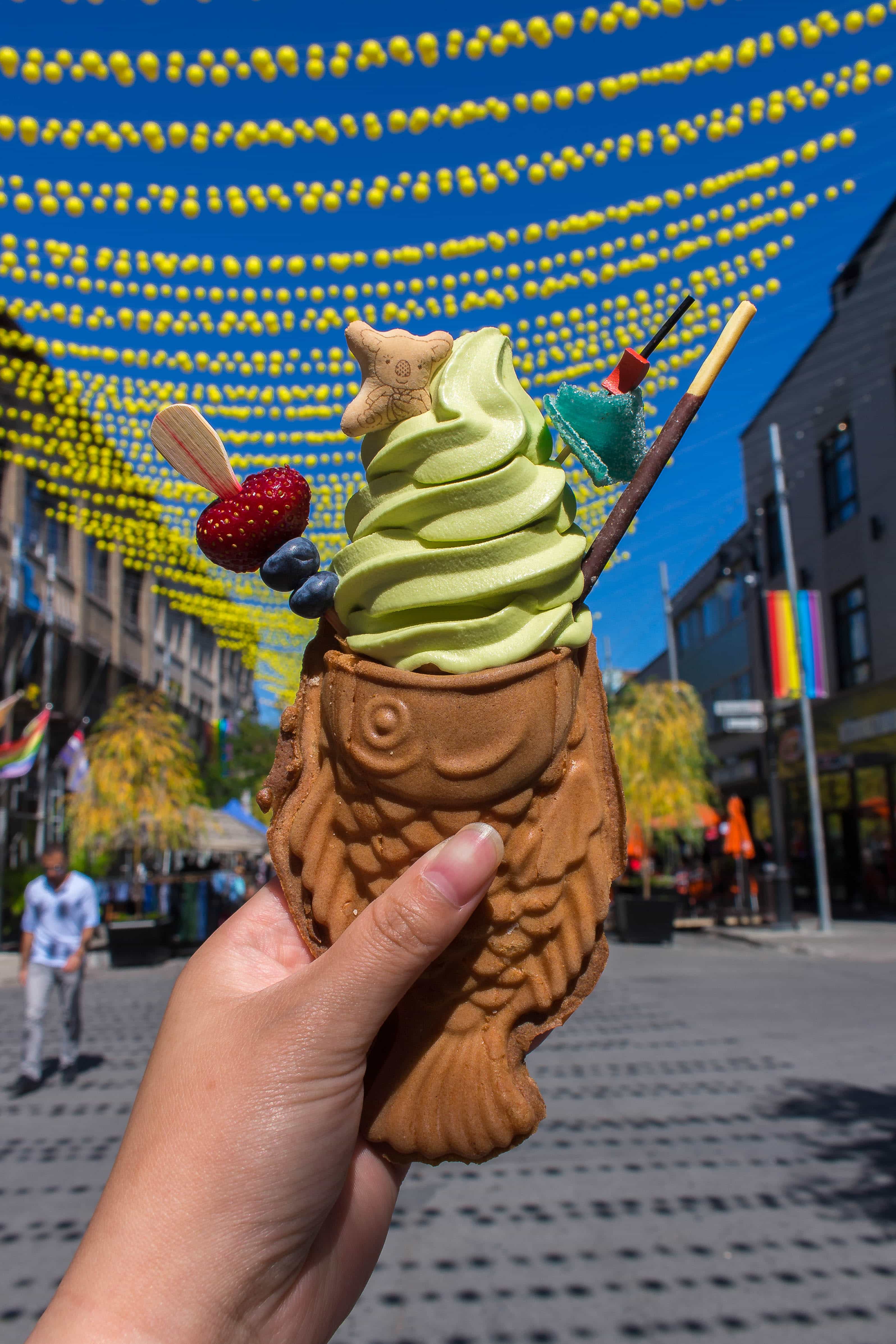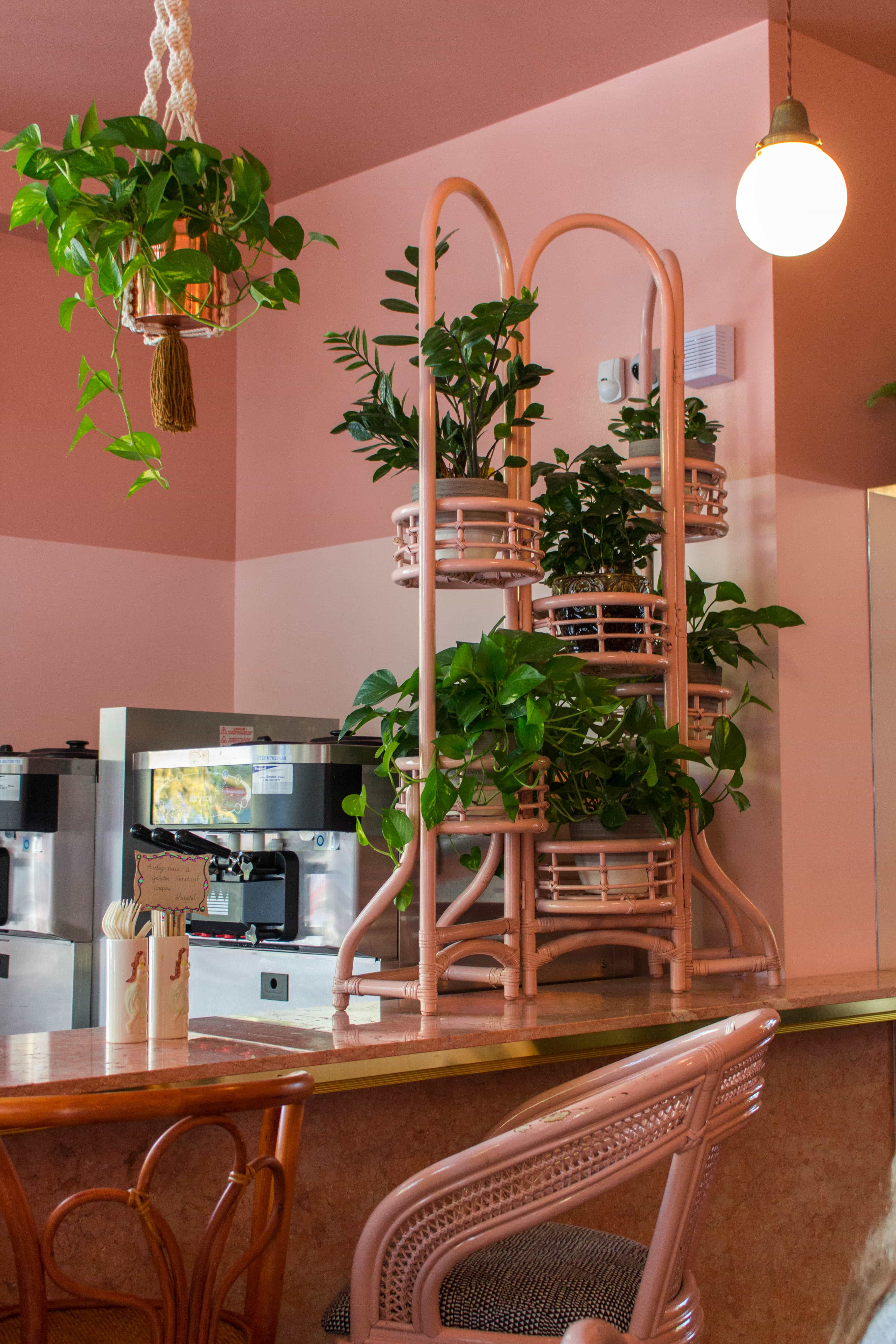 After I got my ice cream fix, H and I made our way over to walk down to Rue Ste-Catherine and checked out some shops such as Simons. We also saw some art installations and went by the start of a concert!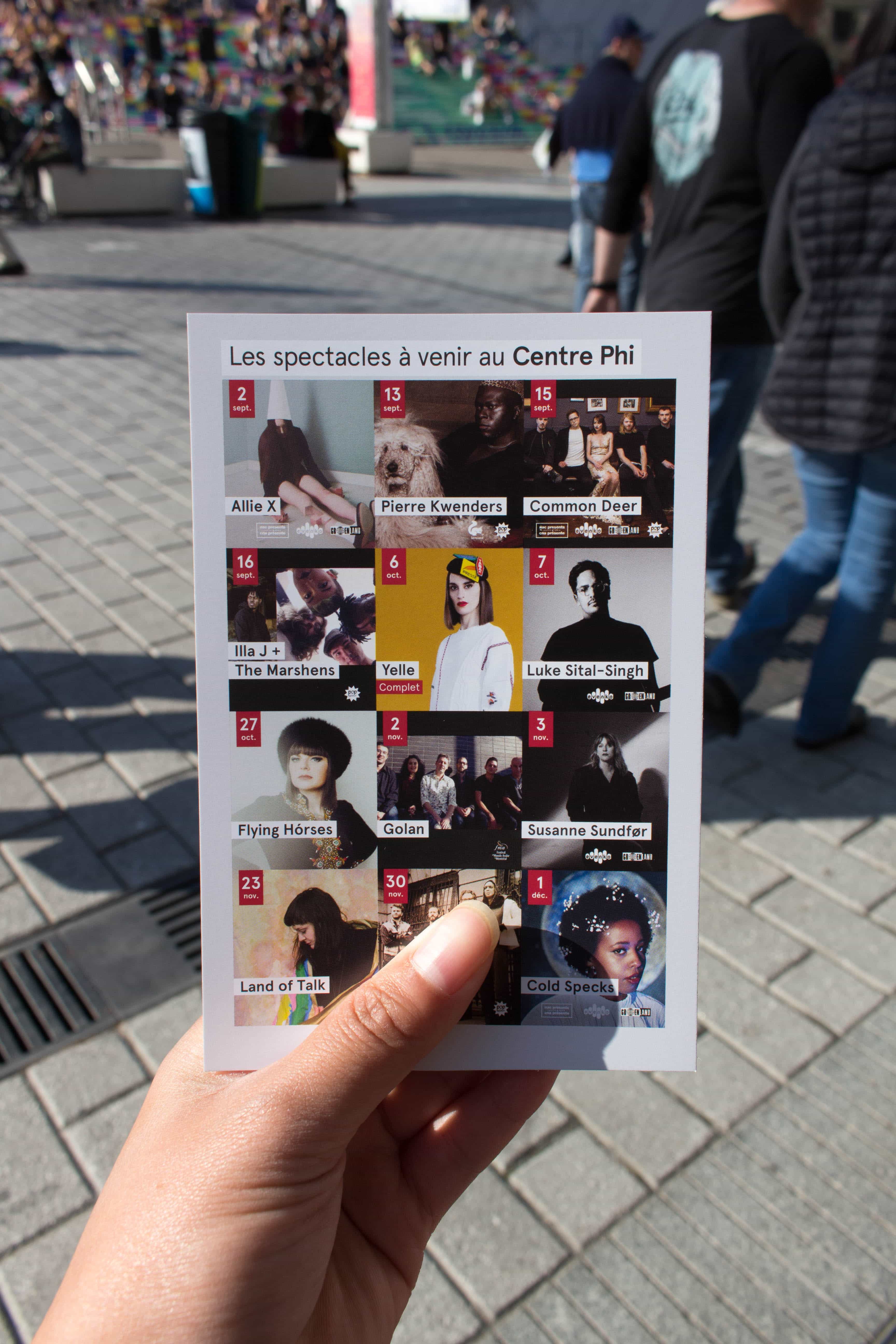 Starting to feel hungry again after some time on our feet, we headed back to our car and tried to decide where to go for dinner. We settled on JukeBox Burgers & Bar thanks to a listicle I found and I'm glad we took the chance (it was a bit of a drive!). They have this fun 50's vintage diner vibe that made me quite happy when we entered. I mean, how can you have a frown on your face when you see their bright red interior and giant milkshakes! H got the Honolulu burger with a side of buffalo chicken poutine and I got their Sweet Heat burger with a side of burger mac and cheese. If I had to pick between the mac and cheese and the poutine for the side, I'd pick their poutine! It was quite filling and we had to pack our sides to go as we couldn't finish it after our burgers! This also probably explains how the two of us ended up in a food coma and slept early ? I keep hearing about this whole Montreal night scene but every time I'm visiting, I seem to be in a food coma in bed before the night has begun!
Day 3
Our last day in Montreal, I was a little sad. It had started raining and we didn't pack umbrellas so we were limited in what we could do. After some Googling, we decided to do to the Biodome. Yes, we went to the Biodome on a Sunday. Yes, it was a long weekend. And yes, there were a lot of crying children. But hey, it was that or stay at our AirBnB watching Netflix until we were hungry! Note – parking was $18 and tickets were $20 each sooooo I'd skip this if you're not too keen to check out their animals, it was a lot smaller than I thought it'd be. (THEIR OTTERS WERE MIA SO I WAS 100% SAD ABOUT THAT) Also, you can purchase the tickets online in advance and just show it on your phone. The line to buy tickets was ridiculously long and we stood there for a couple minutes because we weren't sure if you had to pre-print the tickets at home or not. If you're stuck on a rainy day, I'd recommend visiting their Botanical Garden instead – it's quite pretty!
However, our day 3 was not all rained out because we found this lovely little restaurant that if I had the chance, I'd eat their everyday. We had found one of my favourite things to eat… chicken and waffles at the Bird Bar! Their chicken and waffle was absolutely the bomb dot com. The chicken was crispy and the meat was so juicy, it was glistening! The waffle was served with a Sriracha maple syrup which had a delicious smokey flavour to it and was not overly sweet like maple syrup can be. It also came with a small side of watermelon with feta that I thought was the perfect way to finish off the chicken and waffles. Then because it was burger week in Montreal (we picked a great time to go!) I insisted H get their burger made specially for the competition: a nacho crusted chicken with smoked bacon and fried garlic salami topped with Pico di Gallo, guacamole, and a smokey chipotle sauce. Served with homemade spiced tortilla chips and a side of sour cream and smokey chipotle sauce for dipping. Um, if that didn't get you drooling… I don't know what will! When the waitress described it to us, I was like "I'll be getting the chicken and waffles and he'll have that" without second thought. Sorry H if you wanted something else. The burger was delicious, H mentioned that there was too much Pico di Gallo on the burger but he loved their homemade spiced tortilla chips. Those were a winner! I'm currently low key regretting not ordering one of everything because I regret not ordering everything.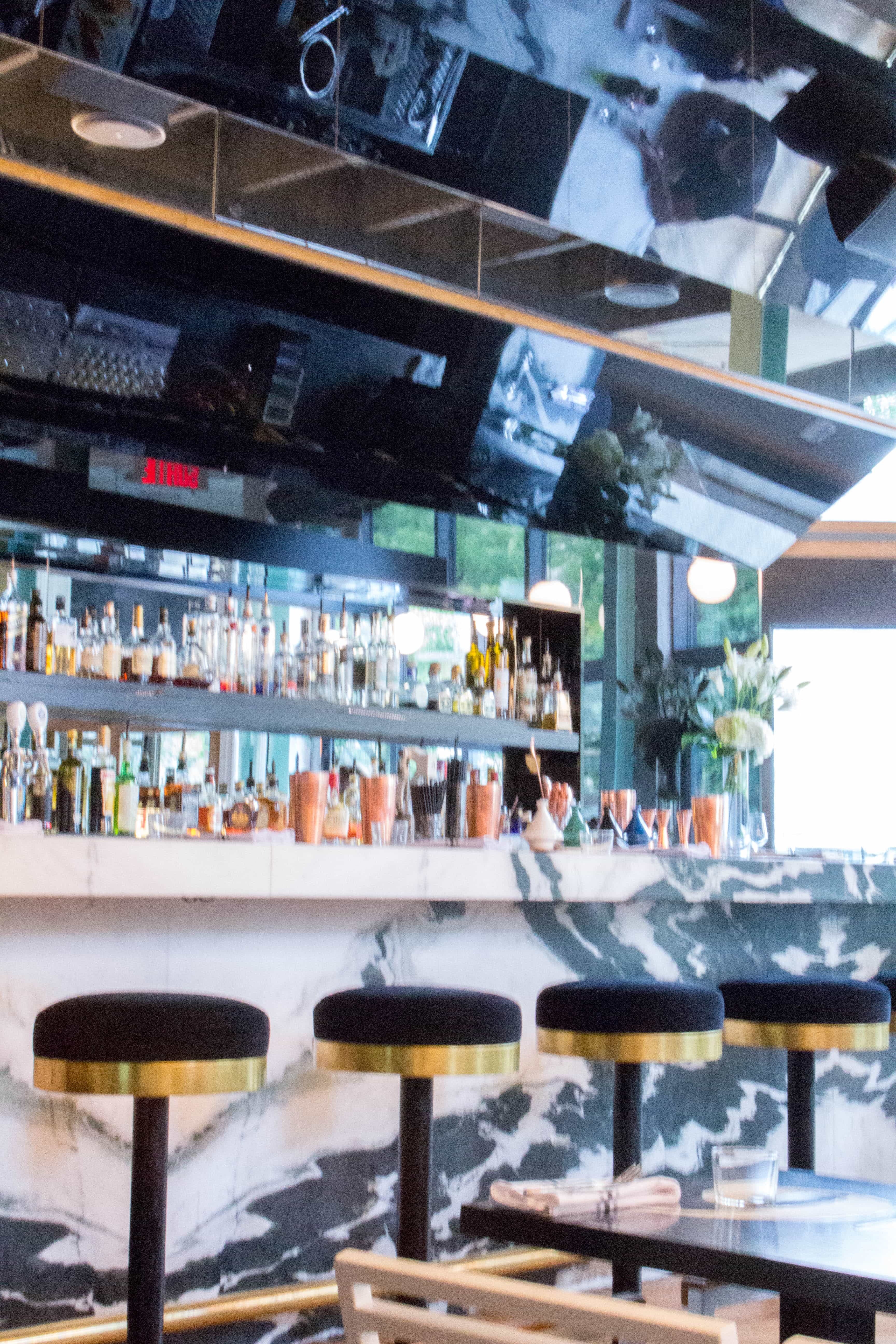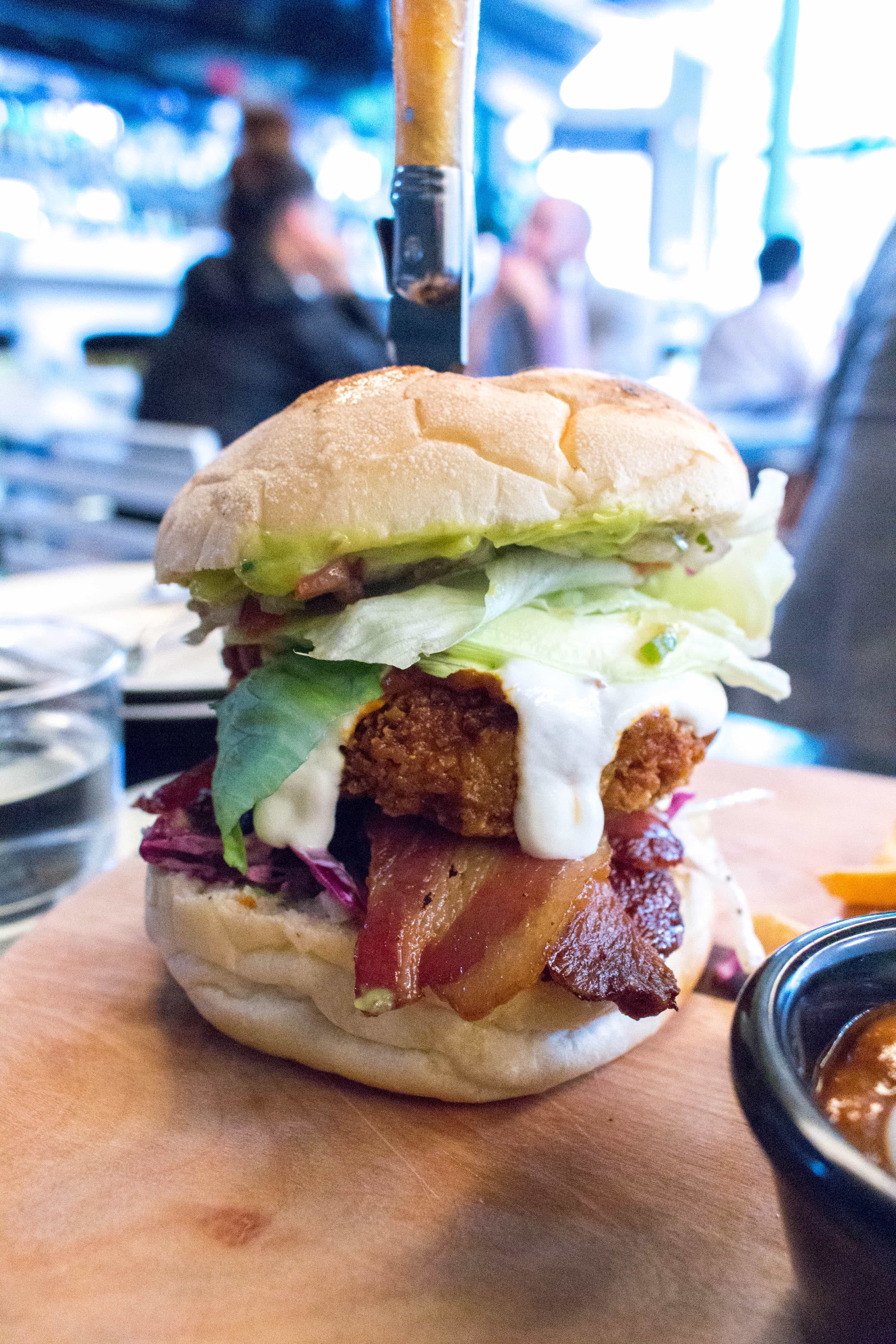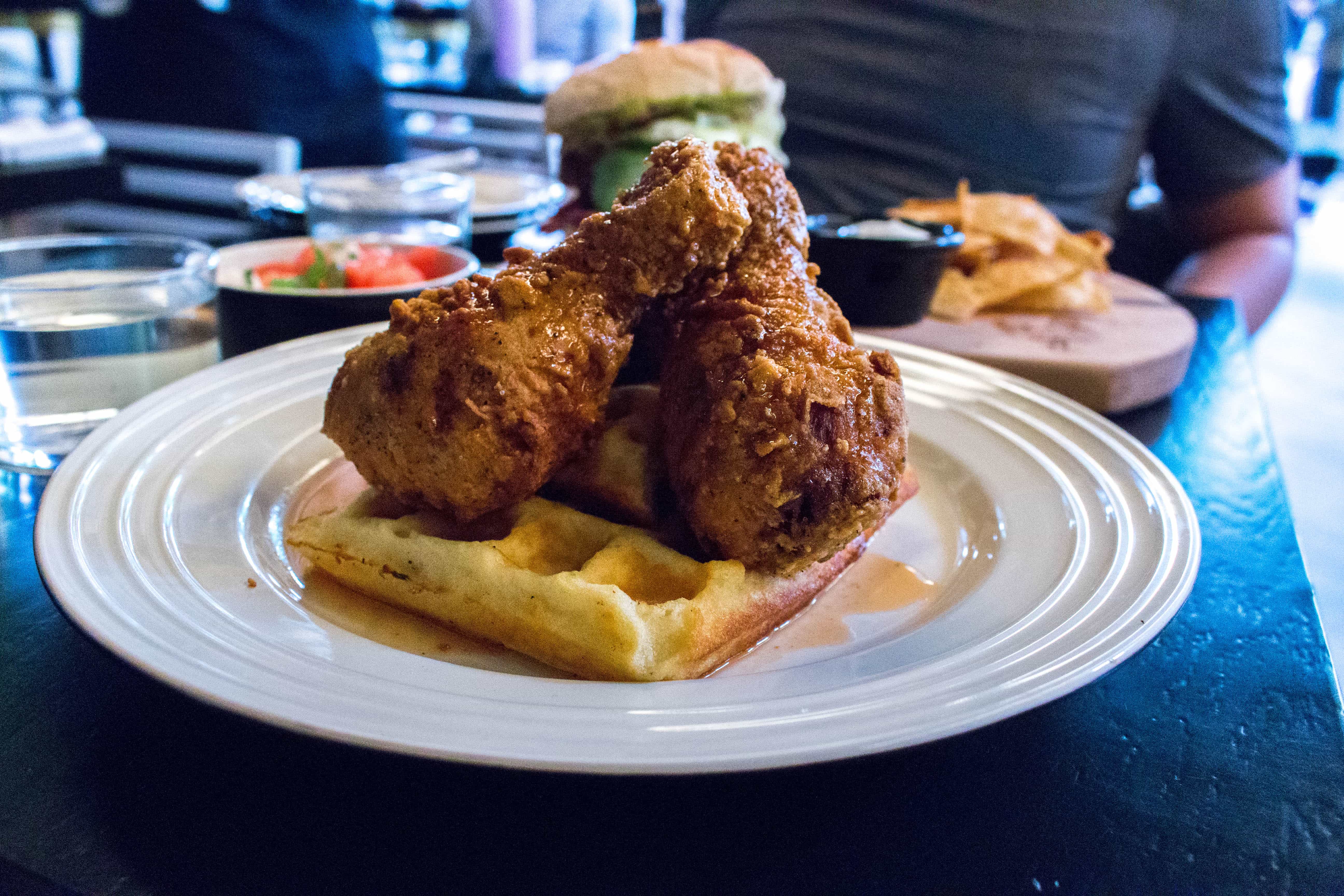 Sadly, it was still raining as we left so we decided to head back to the AirBnB. However, there was an ice cream place not too far from where we were staying so I insisted we stop by despite being full. And boy am I glad we stopped by. Guys, I think this is it. This is officially my number one pick of ice cream in Montreal. Number. Freaking. One. INTRODUCING CA LEM. Ca Lem is Vietnamese for ice cream so it immediately brought up memories of when I was a kiddo and my parents asked if I wanted "ca lem" (the answer was yes, always yes). I saw on Instagram they had their soft serve twist nicknamed Watermelon and it looked GOOD. I of course got it. The green side was honey melon and the pink side was strawberry. Usually these "trendy" ice cream places focuses on aesthetics over taste (I'm looking at you charcoal ice cream!) but this was worth the calories and the Instagram post. Their flavours were strong and I'd recommend this place as the #1 pick if you only have time to visit one ice cream place.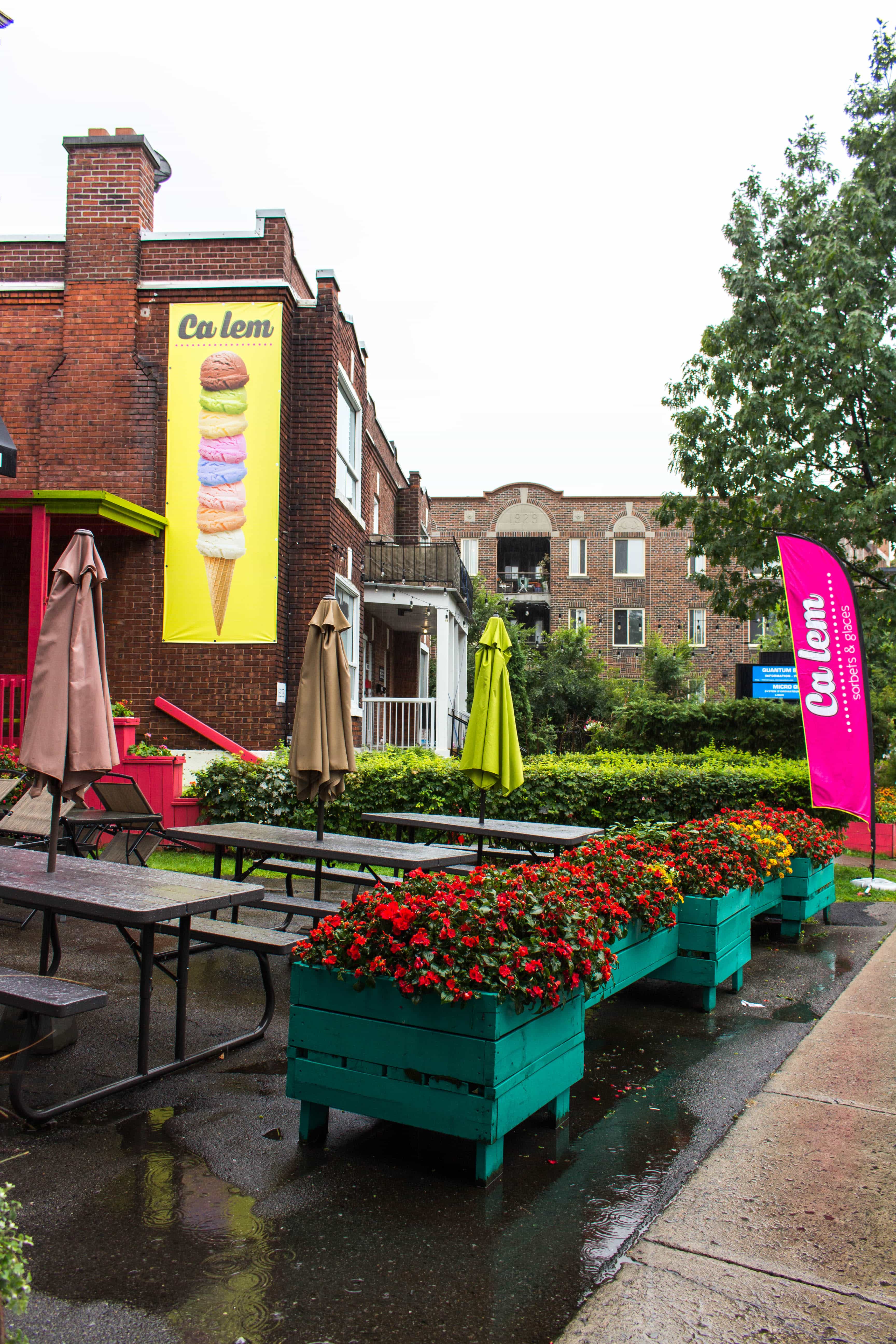 After the ice cream, we went back to our AirBnB to bask in our food coma but within 1.5 hours, I prodded H and gave him the puppy eyes. I wanted to go back to Ca Lem. That's right. Ca Lem was so good that we went back right after. So run, don't walk to Ca Lem.
This pretty much explains why on our last night, we didn't get dinner until 9PM. Your girl here was too full from the double ice cream cones she got. #NoShame! Around 8PM, we found a restaurant called Chez Leveque that had a late night menu that got my attention. I don't have any photos of my food at this point because it was late and I was tired so just trust me when I say their Lobster Bisque was delish and I loved my Veal Liver with Raspberry Vinegar Sauce. The veal liver was perfect and I didn't think I'd be full when I saw it but I couldn't even manage to order their creme brulee!!!! If that's not a tell tale sign of my fullness, I don't know what is.
Final Thoughts
Overall, I had another great trip to Montreal. I was bummed about the rain (it rained during my last trip to Montreal too!) but hey, 2/3 days of sunshine isn't so bad! In my last Montreal itinerary, I mentioned that Montreal was a great walking and biking city and I stand by that. This time around, H and I drove a lot (and walked a lot) so it was a different experience than last time. Parking was okay (we got a ticket due to their parking app ugh) so if you're staying downtown, I'd say skip the car but as we were located a bit out of the downtown core, the car worked well for us! And remember, run, don't walk to Ca Lem for ice cream ?
More posts on Montreal
Why You Need To Visit the Montreal Markets 
Where to Run in Montreal 
How To Spend 4 Days in Montreal
10 Free Things to do in Montreal
---
Let's Chat! Have you been to Montreal? Where are you planning to visit next?
pin me for later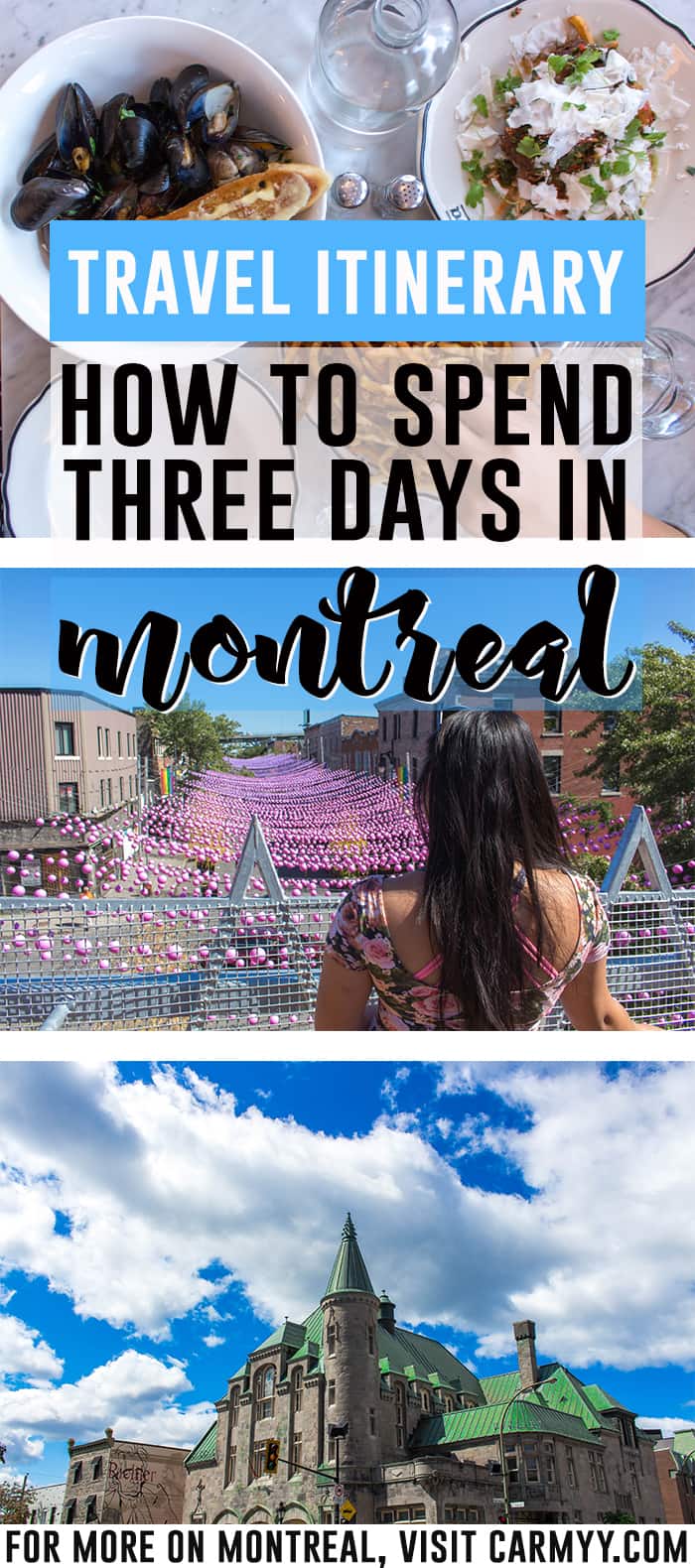 Other places to connect with me
Instagram: @runcarmyrun @curiouslychasing @carmyshungry
Twitter: https://twitter.com/runcarmyrun
Facebook: http://www.facebook.com/carmyycom
Email: [email protected]
Vlogs/Recipe Videos: Youtube