This one pan spicy pineapple chicken meal prep will have you craving for more! It's made in one pan, is healthy, sweet, and spicy plus it's is way better than takeout!
One Pan Spicy Pineapple Chicken Meal Prep
I absolutely love pineapple and I've come to love Sriracha sauce so the other day, I was wondering to myself what would happen if I was to mix the two together. This one pan spicy pineapple chicken meal prep starts off sweet but then there's a hot spicy kick that sneaks up on you. I know every recipe is pretty much my new favourite recipe but guys, I am obsessed with this one pan spicy pineapple chicken meal prep. It's the perfect meal prep because hello – they're delicious – and it only uses one pan. That's right, one pan! Just how I like it to keep my dish washing down. So skip the take out and grab these ingredients instead of make this delicious sweet but spicy chicken. (PS I love pineapple so most of the pineapple was eaten by me than used during the recipe test. It was a 2:1 ratio of me eating the pineapple slices and using it for the dish haha. Please tell me I'm not alone with having to always buy extra because you know you're gonna snack on it as you cook!)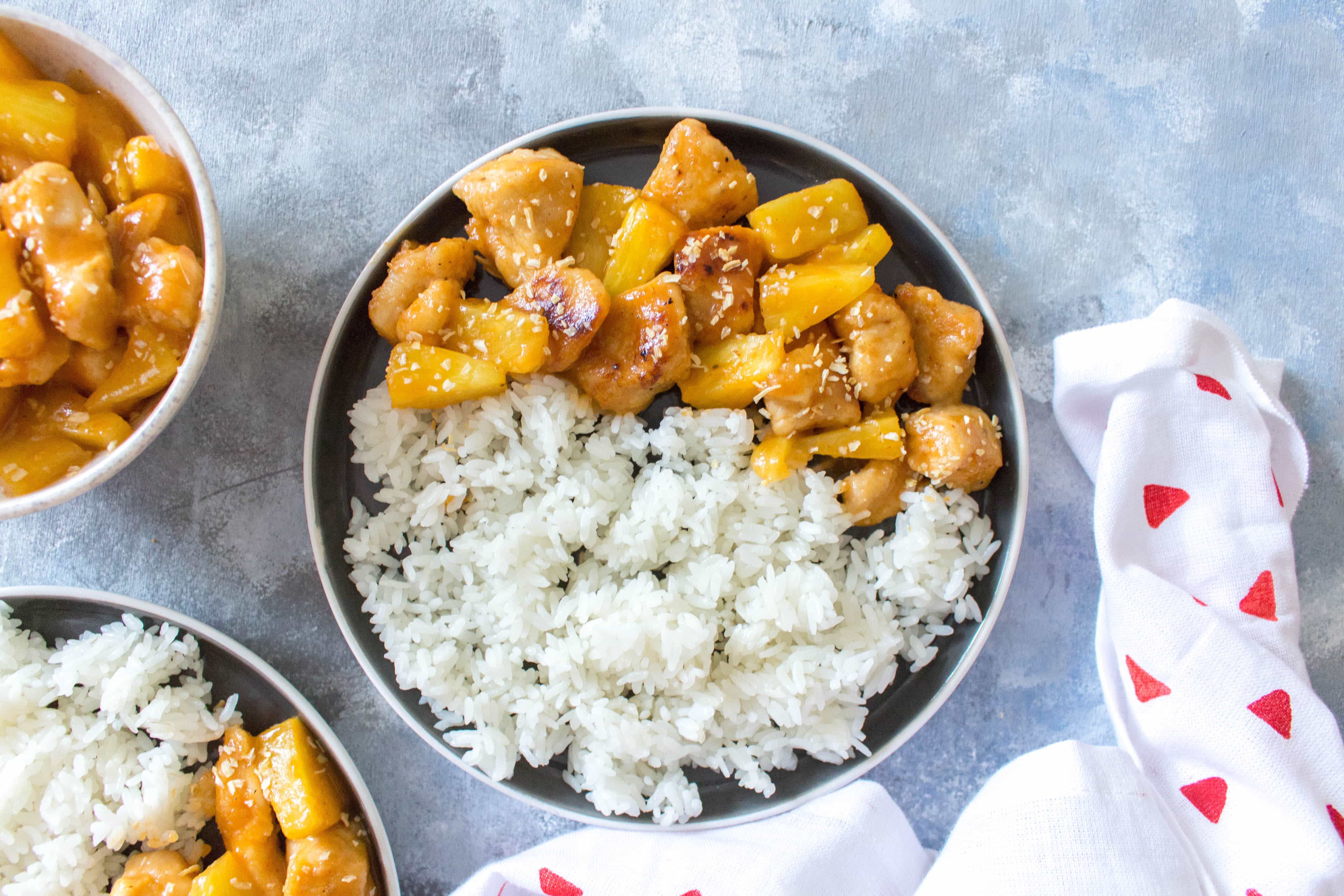 Tips On Making The Spicy Pineapple Chicken Meal Prep
This chicken isn't meant to be baked. I coated it with flour so it's go nice and golden ground. Baking it won't give it the same results.
Use a ziploc bag to coat your chicken with flour, salt, and pepper quickly without having to do it in a bowl and cleaning it.
If you're making it as a meal prep with a side of rice (or quinoa), keep the grain separated to avoid it going soggy from the sauce.
I used garlic paste from Gourmet Garden while making the sauce to 1. avoid mincing garlic (lol) and 2. so I didn't have to strain the sauce. You can use regular garlic and either strain the sauce or serve as is with the minced garlic.
I used dried minced onion flakes to top the dish because I don't have sesame at home. It also gives off a lovely fragrant!
Please remember to taste the sauce as it simmers – spicy food doesn't really bother me but if you find that the kick at the end is too strong, put in more pineapple juice/less Sriracha (or hot) sauce.
Change Up This One Pan Spicy Pineapple Chicken Meal Prep
Add crushed red peppers to up the spicy factor.
Don't have pineapple juice? Sub in with orange juice for that tangy sweetness.
Want to make this gluten free? Sub out the flour with tapioca starch and tamari sauce for the soy sauce.
Add sesame seeds, peanuts, cashews, etc for an extra crunch!
Switch the poultry with pork or shrimp.
If you want to take it up a notch, dredge the chicken in flour, then egg, then panko!
This can just be an easy chicken pineapple recipe by omitting the hot sauce.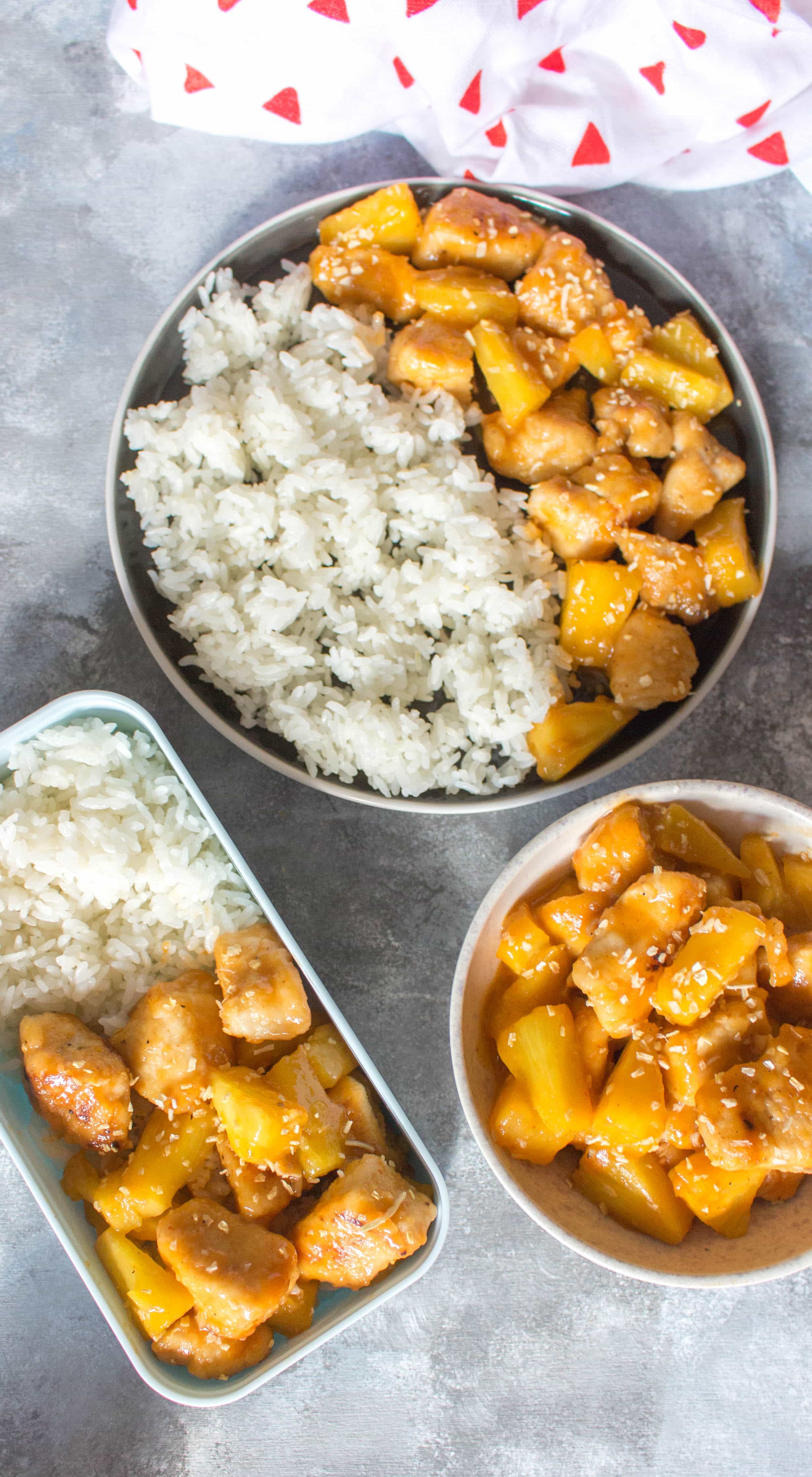 Tools I Used
Let's chat! What's your favourite take out item?
---
Check out this post if you're looking for tips on how to meal prep. If you're looking for more meal prep recipes, check out my meal preps here!
---
Want more simple sheet pan chicken recipes? Check these out!
---
Other places to connect with me
Instagram: @runcarmyrun @curiouslychasing @carmyshungry
Twitter: https://twitter.com/runcarmyrun
Facebook: https://www.facebook.com/carmyycom
Email: carmy@carmyy.com
Vlogs/Recipe Videos: Youtube