Curious about what a Dutch oven is? It seems like a staple in a lot of people's kitchens but do you really need one? Here's everything you need to know about the Dutch oven.
What is a Dutch Oven?
A Dutch oven is a heavy duty, thick-walled, and heavy bottomed cooking pot with a heatproof tight-fitting lid. A Dutch oven is usually made of a seasoned cast iron but there are also ceramic varieties. They are amazing for stewing and braising meat, making soups and chilis, they can cook grains, bake bread, and even be used for deep frying – you could call them the original multi-cooker before the Instant Pot broke onto the scene! Depending on the type of meal you are making, your Dutch oven can go from the stovetop to the oven.
What To Look For in a Dutch Oven?
Shape: round vs oval, the shape it up to you but the round Dutch ovens fit much better on the stovetop than an oval one. There are squares/heart/pumpkin/etc shaped Dutch ovens as well but as I said previously, the round ones fit best.
Size: I think a medium size Dutch oven (4-6 quarts) works with most recipes. However, if you're usually feeding a crowd, you might want to look into purchasing a large size pot (7-9 quarts).
Handles: you're going to want a heavier Dutch oven as thin/light Dutch ovens can cause your food to scorch easy so you're going to want a good grip on the pot. You're going to want to make sure the handles are large enough that you can easily and securely grip them while wearing oven mitts.
Insides: Enameled Cast Iron vs Cast Iron. Enameled cast irons have a smooth, nonporous surface and because of the enameled finish, it's not recommended they be used on the grill or over an open flame.. If not cared for properly the finish can chip. Enameled cast iron pots do not need to be seasoned before using, are less likely to rust in the same way traditional cast iron do, and they can be washed with soap!
Which Dutch Oven To Get
$$$ | Le Creuset Signature Enameled Cast-Iron 5-1/2-Quart | The classic French brand that is drool worthy and then to get passed down in the family as they are built to last. The Dutch oven is made of cast iron before enamel is applied to it (interior is white).
$$ | Staub 5 1/2-Qt. Round Dutch Oven | Another French brand, the dark, black matte enameled interior makes it much harder to stain and can build up a nonstick "seasoning" over time (like a cast iron pan). There are bumps on the inside of the lid which allows condensation to drip into the center of the pot when using it in the oven, giving it a "self-basting" effect. I own a Staub Dutch oven.
$ | Lodge 6 Quart Enameled Cast Iron Dutch Oven | An American brand, the porcelain enamel is glass that becomes bonded to the cast iron at high temperatures so the smooth glass surface won't react to ingredients.
How To Care For a Dutch Oven
Always let the dutch oven cool before cleaning to avoid thermal shock.
Start with cleaning the outer part of the pot first, I use a sponge to keep it gentle. Do not bring steel wool anywhere near your Dutch oven.
The inside of the pot should not need a lot of elbow grease as it should be non-stick. If there is burnt food, I boil some water with 1 tbsp of baking soda before giving it a gentle scrub with a sponge.
Wipe dry before storing.
To protect the Dutch oven, use silicone/rubber/wooden tools when cooking. Mteal tools can scratch/chip the surface of the Dutch oven.
Recipes To Try in your Dutch Oven
Looking for an easy recipe that looks impressive but takes little to no effort to put together? This Spicy Steamed Mussels is perfect!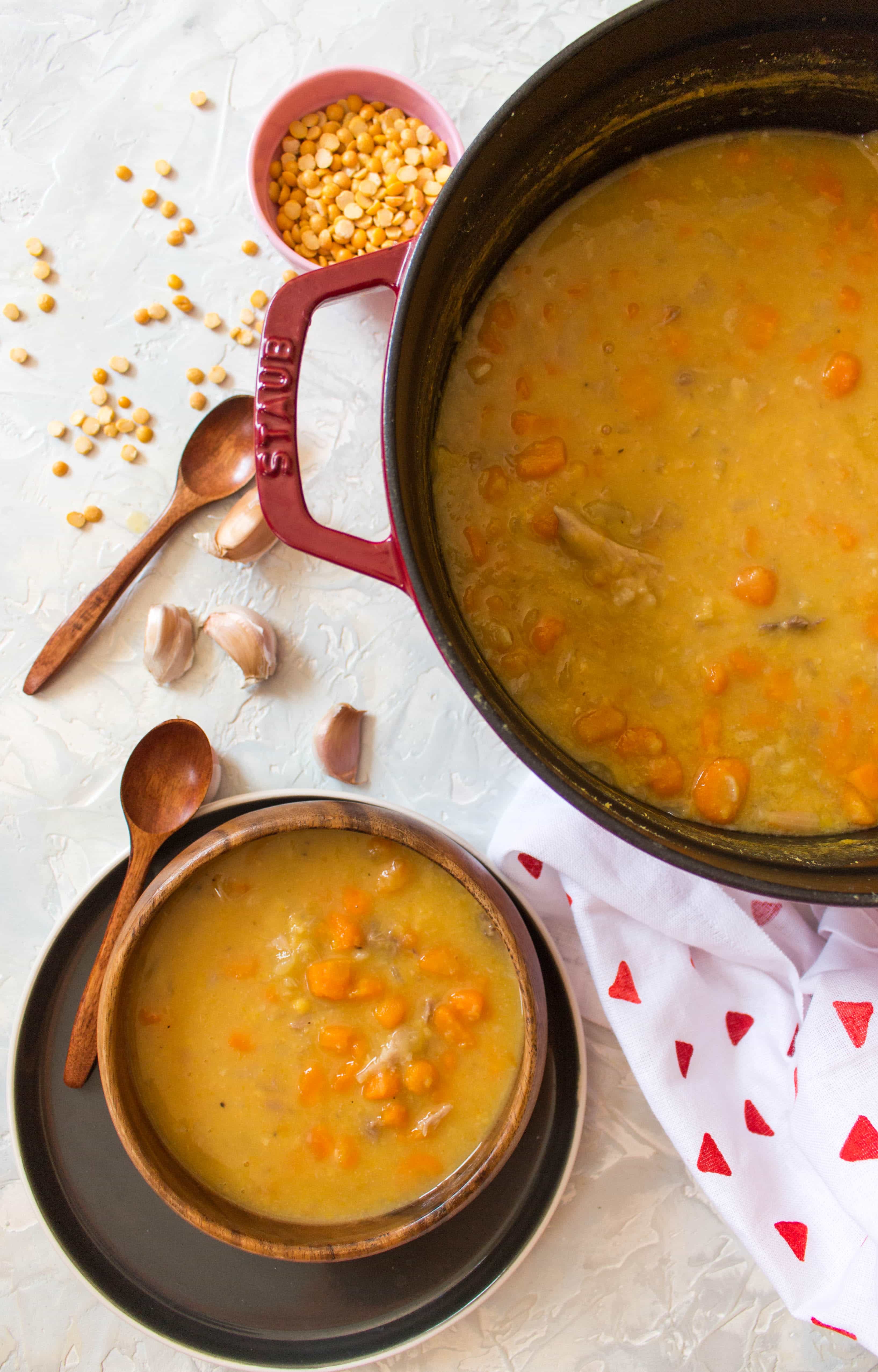 An easy take on theone pot beef tomato basil spinach pasta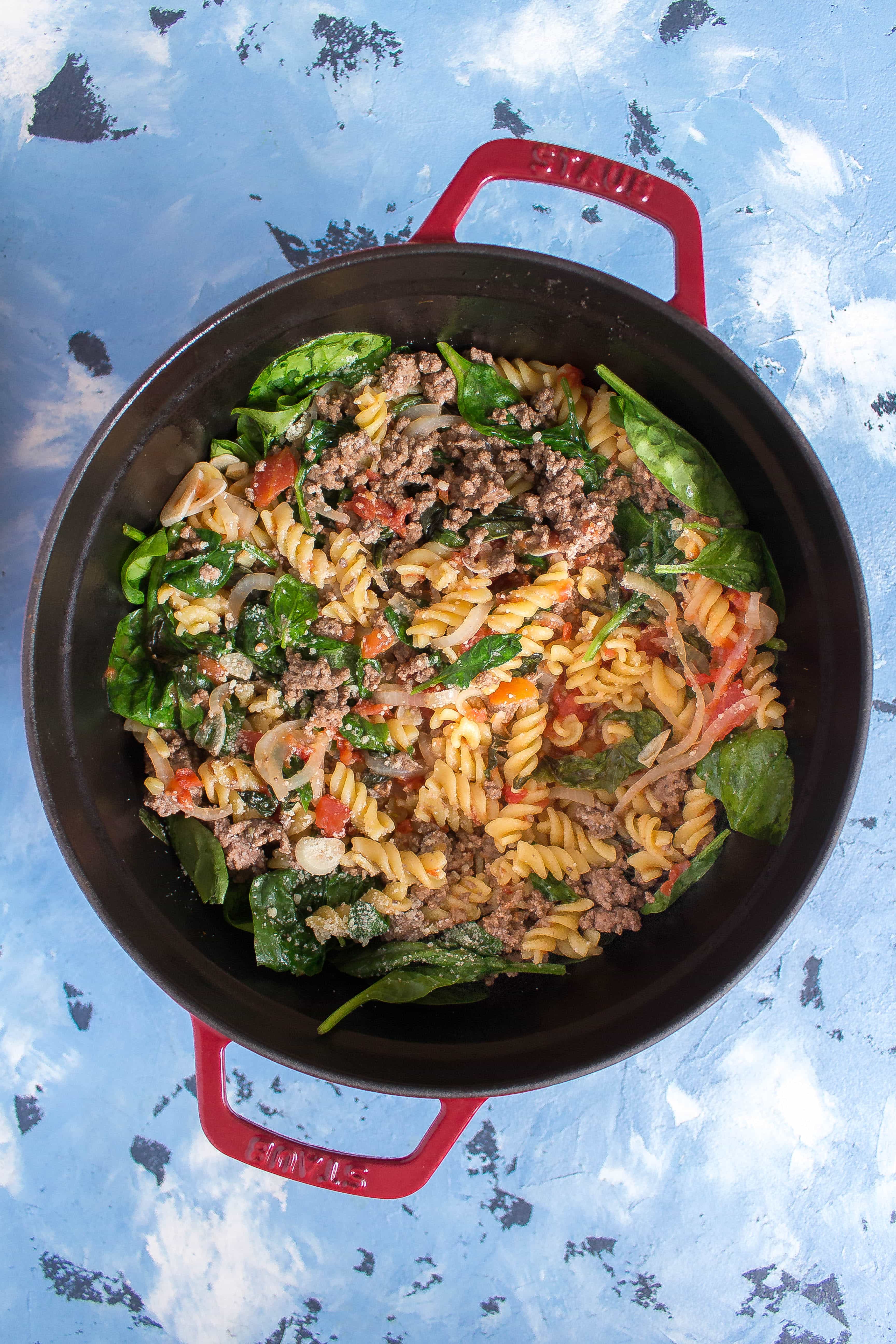 This one pot beef tomato basil spinach pasta is just what you need when you're busy and need a fast meal prep!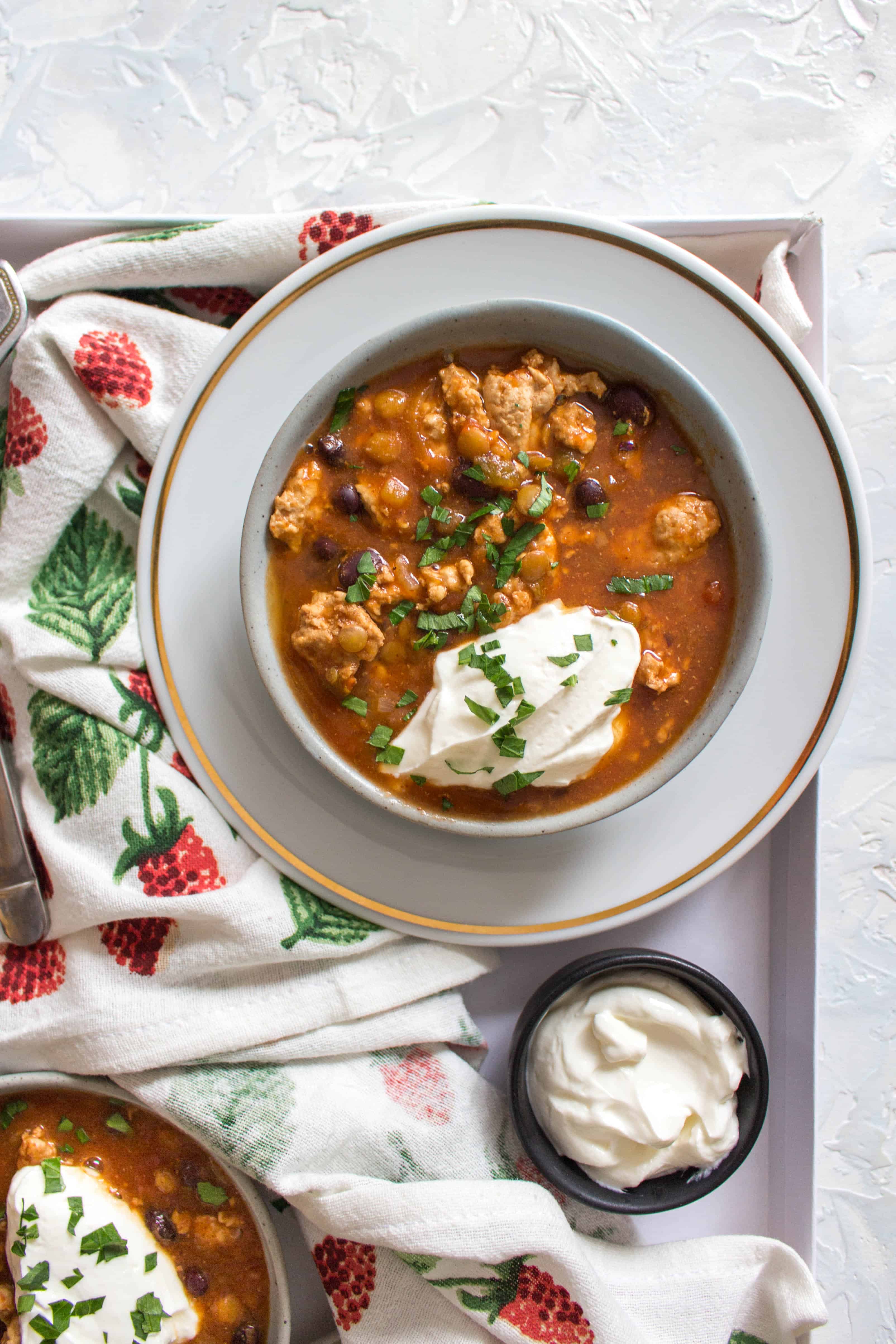 This Healthy Instant Pot or Dutch Oven Turkey and Lentil Chili Recipe is the perfect meal for any night of the week! The turkey keeps the calories low and the extra boost of lentils in the chili helps keeps you feeling full.
This perfectly soft and crusty bread is a cinch to make — all you need is a Dutch oven and four ingredients. Recipe from Killing Thyme.
Crispy skin, delicious flavour, and oh so moist, this Garlic Herb Butter Roasted Chicken in a Dutch Oven is going to have you drooling!
This is the best homemade 4 seed bread! Seriously easy to make, even if you're not used to baking with yeast. Baked in a Dutch oven, NO kneading required, and can be made to eat the same day – no need for an overnight rise. Your whole family will inhale this bread! Recipe from Nourish + Fete
Curious about other kitchen gadgets?
Other places to connect with me
Instagram: @carmyshungry
Facebook: https://www.facebook.com/carmyycom
Email: carmy@carmyy.com