This Air Fryer Korean Fried Chicken recipe is so easy to make and finger licking good! Also known as Dakgangjeong or Soy Garlic Fried Chicken, this Korean fried chicken made in the air fryer is sweet, sticky, and savoury. You only need a handful of pantry staples and you'll have this air fryer Korean chicken wings ready in no time.
If you've ever had Korean Fried Chicken then you know just how addictive they are. When H and I were in Busan, South Korea, we ate so much fried chicken as they came in so many flavours. However, there are two flavours that I always go back to are Yangneyom chicken and this Dakgangjeong chicken (soy garlic fried chicken). Today, I'll be share how I make soy garlic fried chicken at home but in your air fryer. Don't have an air fryer? Not to worry, you can also fry or bake the chicken wings and toss them in the sauce.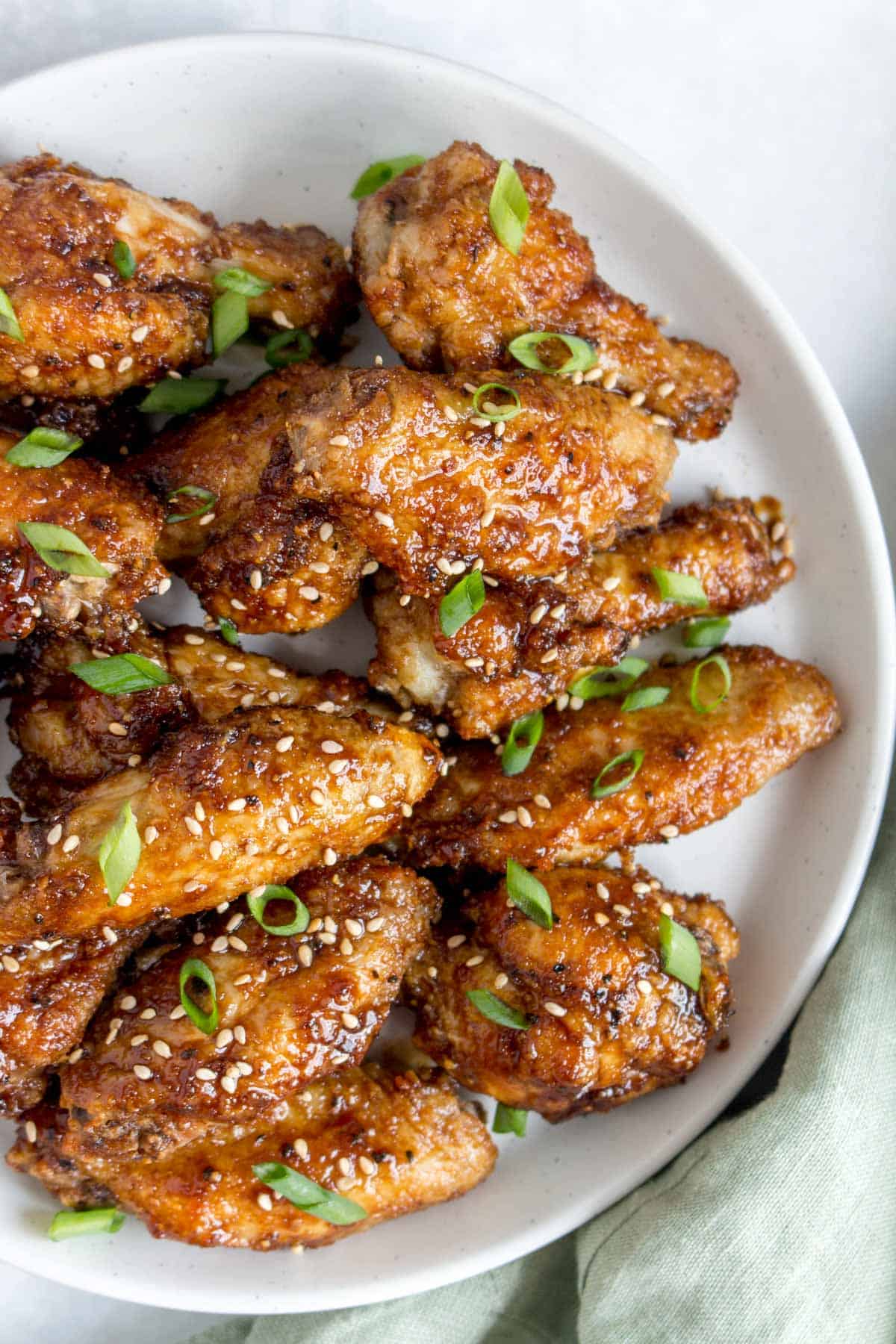 Ingredients You'll Need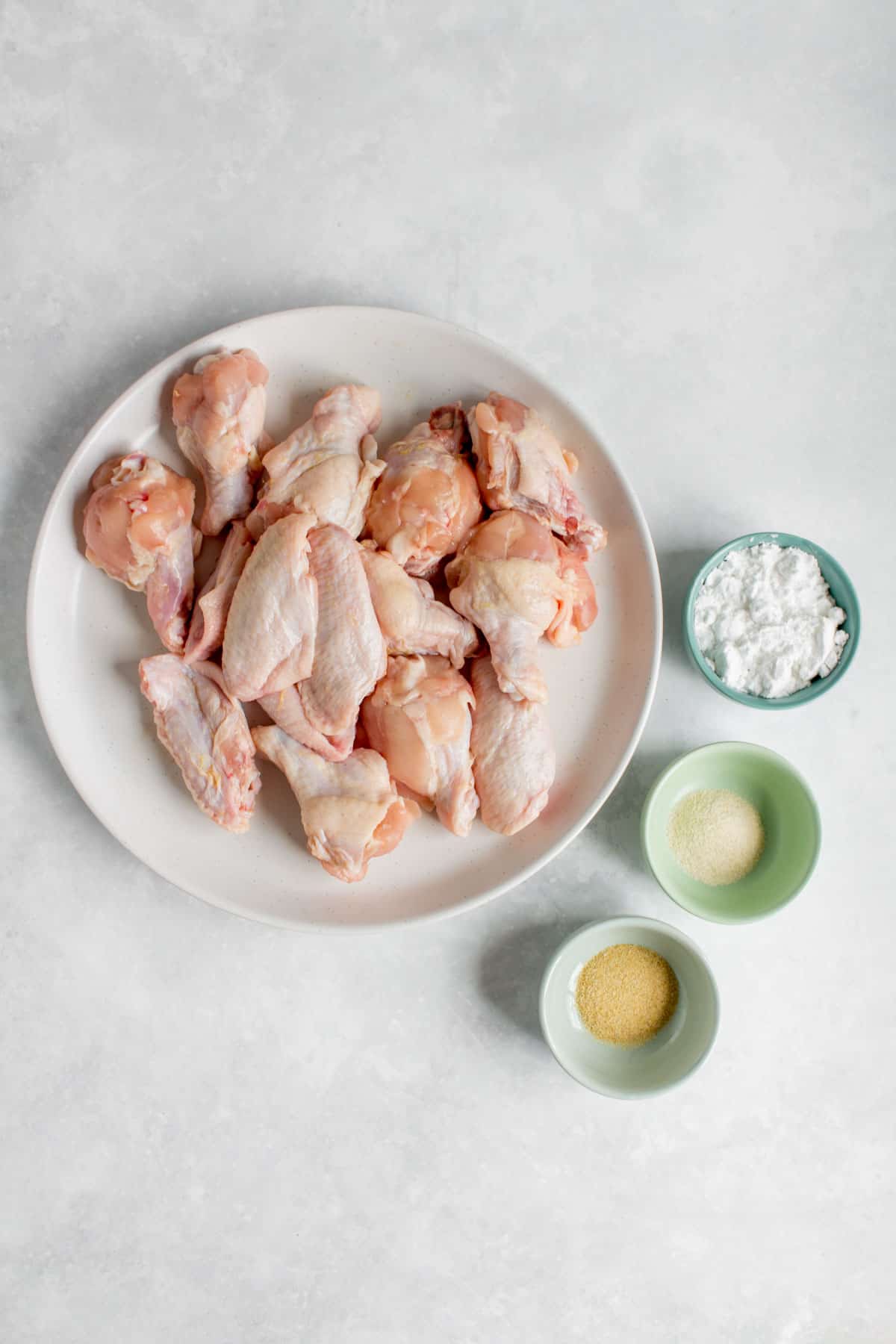 chicken wings — you can use a mixture of wingettes and drumettes or just one. It's up to you.
potato starch — cornstarch can be used as well. While I prefer making Korean fried chicken using potato starch, you can use what you have on hand.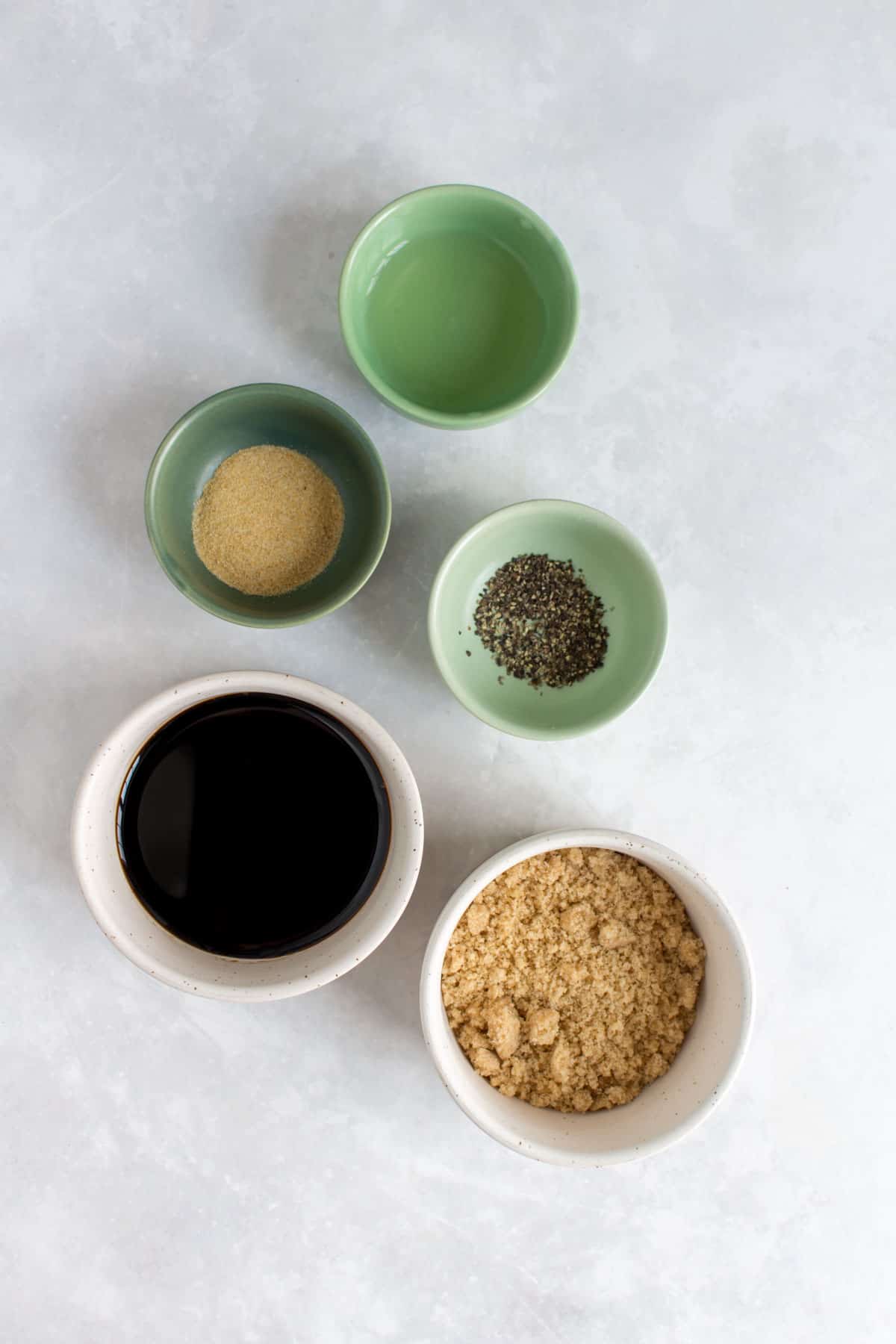 soy sauce — I recommend low sodium soy sauce.
brown sugar — light or regular brown sugar works.
garlic — while usually I use fresh garlic, I decided to go with garlic powder since I'm already using it to season the chicken.
coarse black pepper
water
What is the Difference Between Wingettes and Drumettes
Whole chicken wings are made up of three parts: drumettes, wingettes/flats, and tips.
The drumette is the part that is attached to the main part of the chicken and resembles a chicken drumstick. One end is rounded and meaty as it tapers off to the bottom.
The wingette/flat is the part between the drumette and tip. It's my favourite part as it has the most skin to meat ratio. There are two bones running horizontally with the meat in the middle. This piece tends to come out more crispy since there's less meat on it.
The tip is…the tip! It's tiny and pointy with next to no meat on them.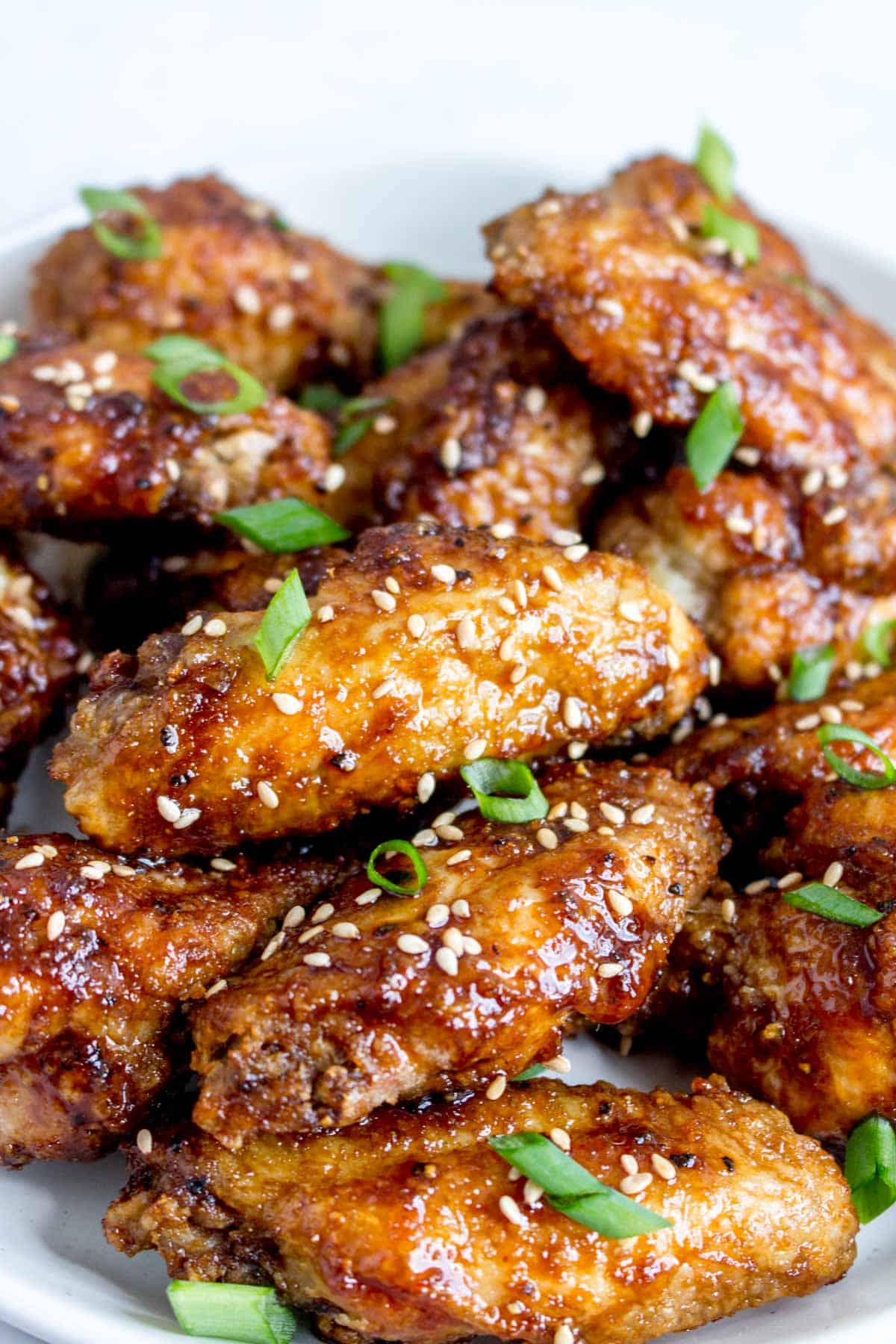 How to Make Air Fryer Chicken Wings
Pat dry the chicken wings with a paper towel if they are moist.
Mix together the potato starch, garlic powder, and onion powder before coating the chicken wings in them.
Place the chicken wings in a single layer in the air fryer.
Air fry at 400F for 20 minutes, flipping at the halfway point.
3 minutes before the chicken wings are finished, add the soy sauce, brown sugar, garlic powder, rice wine vinegar, black pepper, and water to a pan over medium-heat. Allow it to bubble, stirring throughout. The sauce will not be super thick but still be runny.
When the wings are done, remove the Korean fried chicken sauce from the heat and toss the wings in the sauce until coated.
Recipe Tips and Notes
While not spicy, there is a bit of a small kick to it from the ground pepper if you're not used to spicy foods. To me, it's not spicy but if you don't tend to eat spicy foods, I would decrease the ground pepper a smigde.
Chicken wings are done when they've reached an internal temperature of 165F/74C. I recommend using an instant read meat thermometer.
I like to garnish my Korean fried chicken wings with toasted sesame seeds and green onions.
The chicken wings can be pressed up against each other in the basket as they will shrink a bit as it cooks. Just avoid stacking them as you want the hot air to reach each wing.
Cook your wings in two batches if needed. Mine can almost hold all of the 1.5lbs of wings but it really depends on the size of your chicken and air fyrer.
I like using a pan to make my sauce so it's easier to toss the chicken wings than in a small saucepan.
If you don't have an air fryer, see this Korean Fried Chicken post on how to fry these Korean wings.
Make Ahead Tips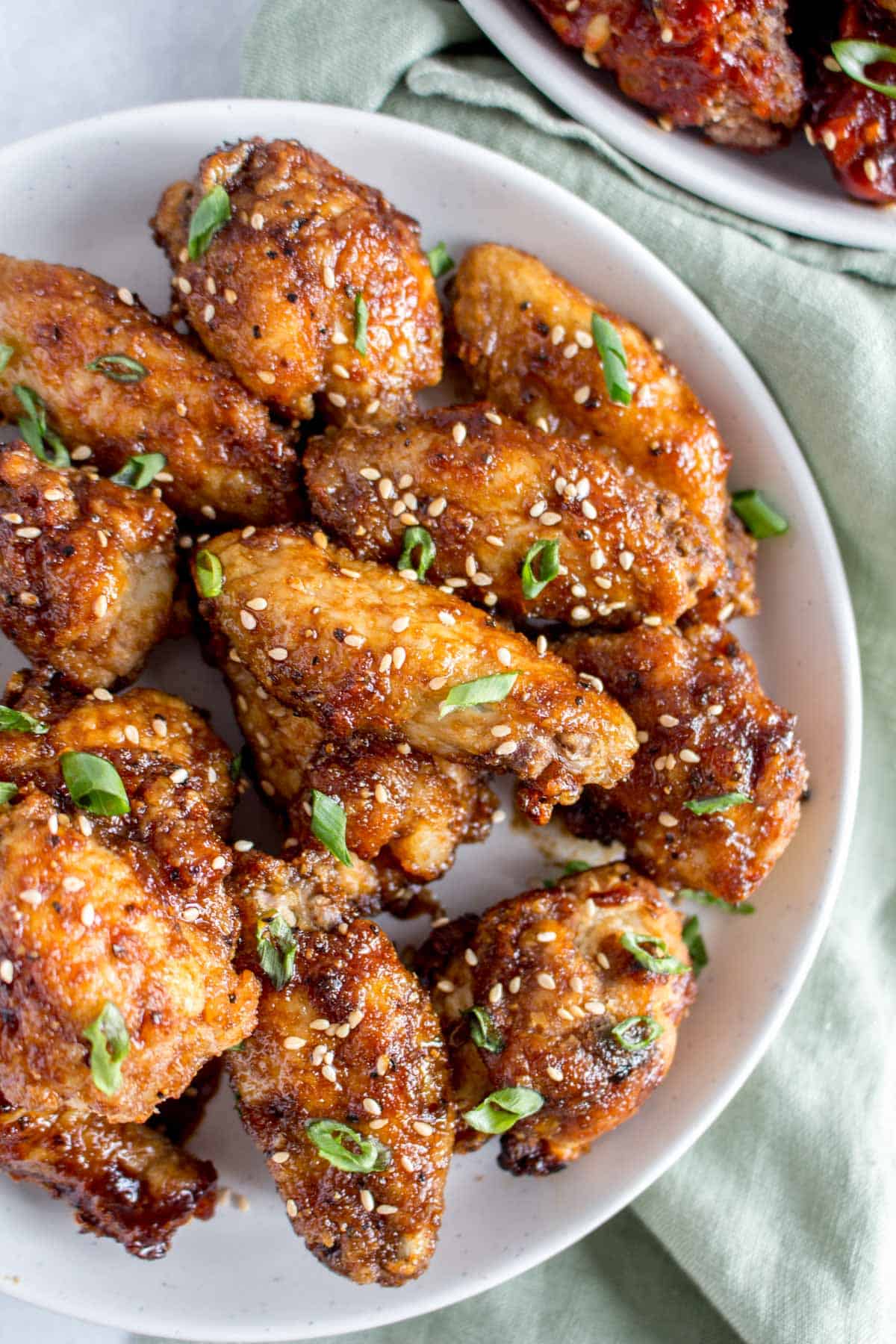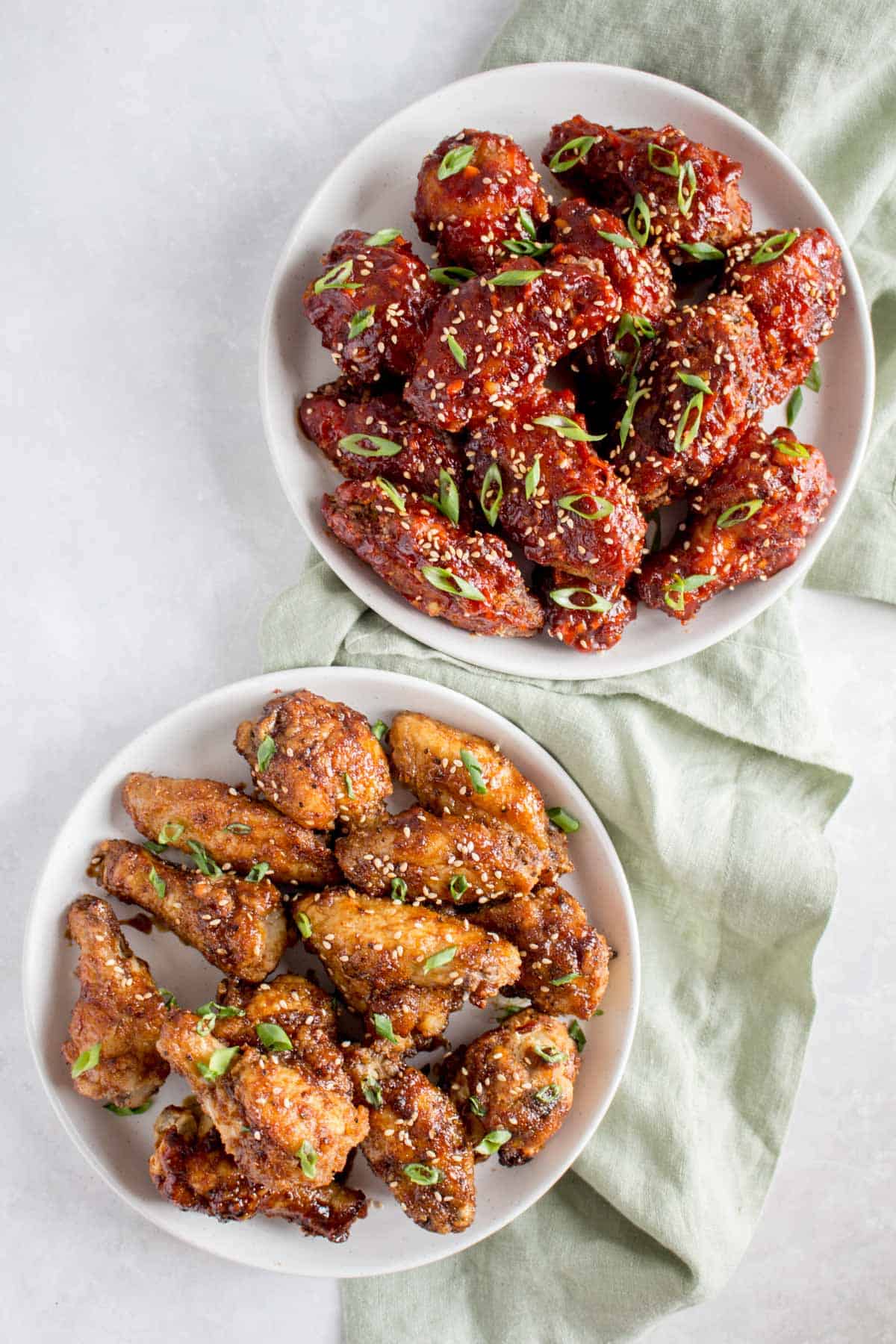 More Fried Chicken Recipes You'll Love
More Air Fryer Recipes
Other places to connect with me
@carmyshungry on Instagram
Facebook
Shop my Amazon faves
Email: [email protected]