These homemade beef Air Fryer Meatballs are so moist and juicy on the inside and crispy on the outside. Super easy to make, you'll love how they only take a handful of ingredients.
Made from scratch, it's so easy to make meatballs in the air fryer. While I love my baked meatballs, the air fryer is a great way to make a small batch of meatballs really quickly or a way to make meatballs without heating the kitchen with the oven.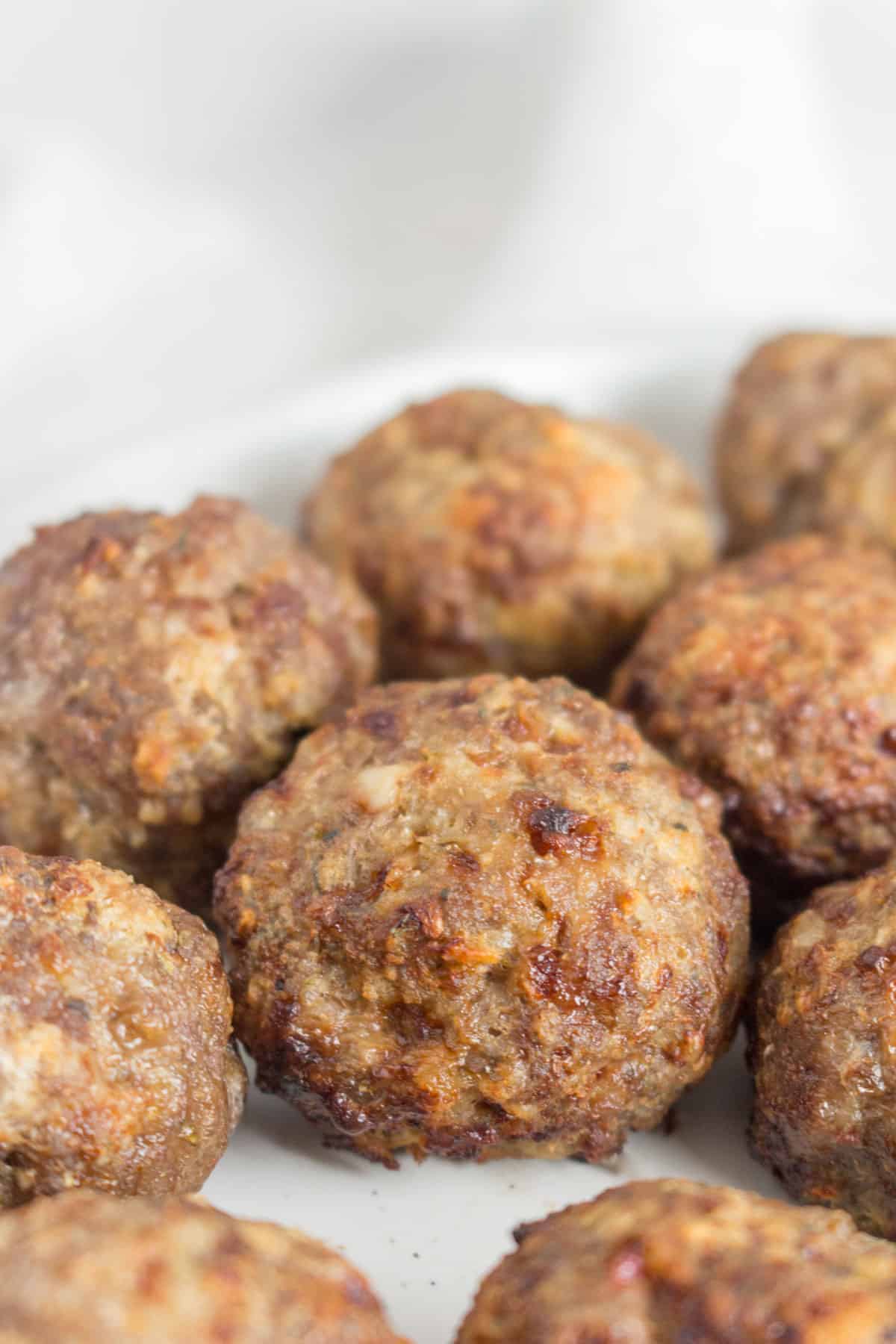 Why You'll Love These Meatballs
Thanks to the air fryer, these beef meatballs are crispy on the outside but juicy on the inside.
They're super flavourful thanks to the seasoning and parmesan cheese. I definitely love using parmesan cheese in my meatballs.
While this recipe only makes 19 meatballs, you can easily double this recipe. Simply double all the ingredients (but the egg) to make a double batch.
Due to the nature of the air fryer basket, any grease or fat drips through so the meatballs don't sit in any grease as it cooks.
What You Need
ground beef — you can also use ground pork or a 50/50 beef and pork mixture.
panko — I much prefer using panko than traditional breadcrumbs. If you only have traditional breadcrumbs then go ahead and sub it in.
parmesan cheese — I grated my own but you can use storebought.
Italian seasoning — Italian seasoning is usually made up of a blend of dried Italian-inspired herbs such as basil, marjoram, oregano, rosemary, and thyme along with salt.
salt
pepper
egg
olive oil — not a common ingredient in meatballs but the olive keeps the beef balls moist so be sure not to skip it.
olive oil spray — or oil spray of choice.
How to Make Air Fryer Meatballs
In a large bowl, combine all the meatball ingredients. Mix it until everything is just combined, be careful not to overmix.
Using a cookie scoop or a large spoon, scoop out the meat mixture and roll it up into a ball. Around the size of a golf ball. Be careful not to roll them too aggressively, you don't want the meatballs to be packed and dense.
Set the meatballs aside on a sheet pan as you roll out them out.
Spray the air fryer basket with some olive oil.
Transfer as many as you can to the air fryer basket and air fryer for 9 to 10 minutes at 400°F. Repeat this process until all the meatballs have been cooked.
Recipe Tips and Notes
The internal temperature of the meatballs should be 160°F/71°F. Depending on the size of your meatballs and the model of the air fryer, your cook time may vary by a minute or two.
I would not stack these meatballs when air frying them. Air fry them in a single layer with some space between the meatballs so they can individually crisp up.
No need to flip or turn the meatballs as it cooks.
Make Ahead Tips
Meal prep: once cooled, store the cooked meatballs in an airtight container for up to 4 days in the fridge.
Freezer: allow the air fryer meatballs to cool before transferring them into an airtight container before storing them in the freezer. They can last for up to 3 months.
More Air Fryer Recipes You'll Love
Other places to connect with me
@carmyshungry on Instagram
Facebook
Shop my Amazon faves
Email: [email protected]