Got a whole chicken? Today I have for you a whole chicken meal prep that makes 3 freezer friendly meals!
easy and delicious whole chicken meal prep
It is so easy to turn a whole chicken into a meal prep! This whole 4lb chicken netted me 3 freezer meals where each ziplock bag is two servings and took me under an hour and a half to make. That's 3 meals for both myself and my partner in under 2 hours! You can even make double this is you roast two chickens at the same time.
I personally love roasting whole chickens so I can use the bones to make broth but I can't always eat it all by myself before it goes bad – this is why I started to freeze portions of the meals. I'm usually pretty simple when it comes to roasting chicken – toss some root veggies underneath a chicken then pop it into the oven but I didn't want to freeze three portions of that. So I shredded up some chicken and essentially made a little quinoa bowl. See down below to see how easy it all is!
Tip: While I love roasting my own chicken in the oven but if you don't have the time, an alternative is to purchase a rotisserie chicken to breakdown to meal prep
what do I need to make this whole chicken meal prep?
For the chicken, I went with the basics:
whole chicken
olive oil
salt
pepper
paprika
lemon
garlic
However, if you'd like to change it up, you can try these different ways to season your chicken:
swap olive oil for butter and coat with fresh or dried herbs such as basil, oregano, thyme, rosemary
cajun seasoning
5 spice
bbq
fajita seasoning
lemon pepper with dried herbs
jerk chicken seasoning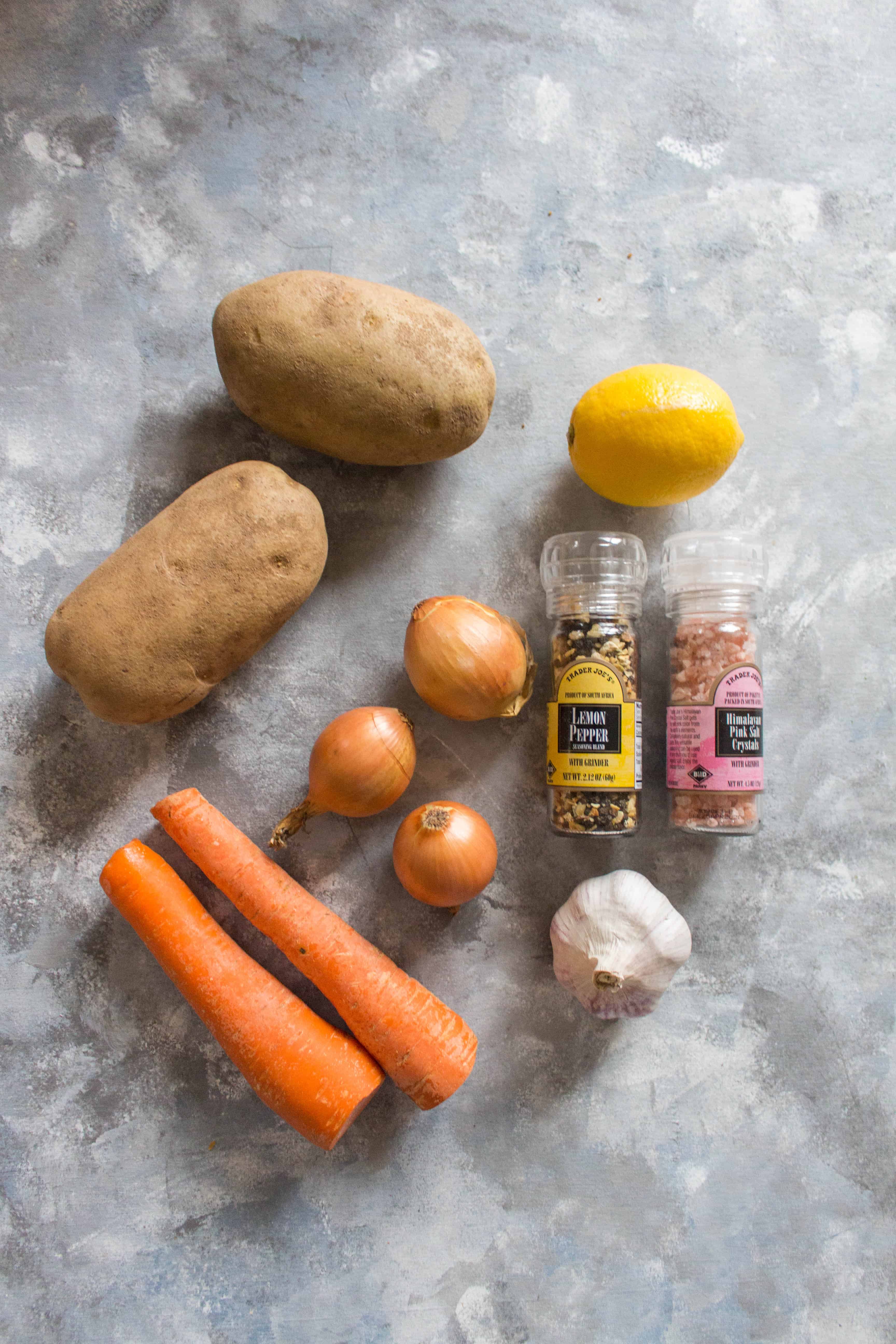 For the first freezer meal (cooked with the chicken), I went with my usual:
potatoes
carrots
onions
lemon
salt
pepper
garlic
For the second freezer meal (cooked on the stove top):
quinoa
spinach
salt
pepper
pesto
For the third freezer meal:
add ins such as frozen corn, peas, beans, cauliflower, broccoli, etc and swap out pesto for a different sauce, etc to mix into the quinoa meal
If you do not like quinoa, you can try another freezer friendly grain.
Why did I choose to do add ins for the third meal? The add ins is a fast and easy way to "change up" the original version of the meal without having to spend a ton of extra money and it also saves you time. If you want a completely different 3rd meal, you could always try a salsa chicken soup or chicken noodle soup!
How to make 3 freezer friendly meal preps with a whole chicken
This whole chicken meal prep is so easy to make.
After dicing up your potatoes, carrots, onions, drizzle oil on and coat with salt and pepper before placing it into a pan.
Then on a rack, place your seasoned chicken on top and bake in the oven for 70 minutes.
While the chicken is cooking, prepare your other two meal preps by cooking 2 cups of quinoa and then mixing in spinach and pesto. Divide it in half and add some add ins (such as freezer friendly veggies) to the second portion if you want to have 3 different meal options!
Once the chicken is done cooking, portion it out into 3.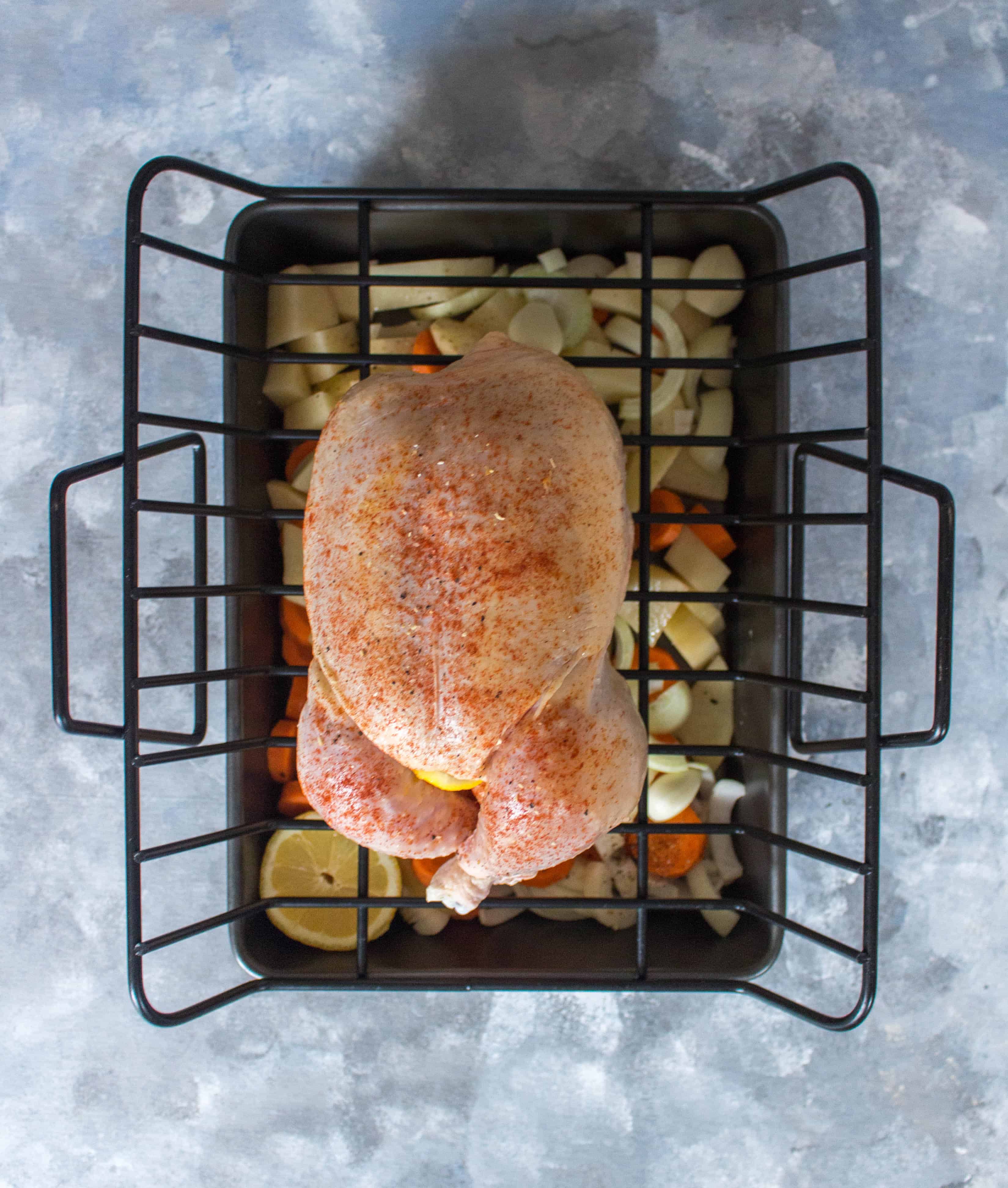 Alternative, if you do not have a roasting rack but have a dutch oven, you can use that to roast your chicken instead. Check out my garlic herb chicken made in a Dutch oven here.
How to store these freezer friendly meals
After dividing the chicken up (2 breast, shredded the rest) and cooking the quinoa, I put them in freezer friendly ziploc bags because they lay flat so it takes up less room in my freezer. You can also put them in freezer safe containers but because my freezer has limited space, the ziploc bags work best for me.
How to reheat this whole chicken meal prep
To get this freezer friendly whole chicken meal prep ready to eat, thaw it out in the fridge overnight and reheat in microwave.
Whole Chicken Meal Prep (3 Freezer Friendly Meals)
Got a whole chicken? Today I have for you a whole chicken meal prep that makes 3 freezer friendly meals!
Print
Rate
Ingredients
Whole Chicken
Roasted Veg (Meal 1)
2

potatoes

2

carrots

3

onions

3

cloves

garlic

2

tbsp

olive oil
Pesto Quinoa (Meal 2 and 3)
1.5-2

cups

quinoa

120

grams

spinach

4

tbsp

pesto

1

cup

frozen vegetables

,

such as corn, peas, carrots, caulitflower, etc as an add in for meal 3
Instructions
Heat your oven up to 400F

Season your whole chicken (inside and out) with the salt, pepper, and paprika before placing a sliced lemon and crushed garlic cloves inside the cavity of the chicken.

In a roasting pan, place your diced potatoes, carrots, onions, and garlic in and coat it with some oil and salt and pepper to taste. Then put your roasting rack on top of the pan and place your chicken on top before putting it in the oven.

While roasting your chicken and vegetables, cook your quinoa. Once cooked, add in spinach, pesto, salt, and pepper. Divide this in half.

In a separate pan, cook some frozen vegetables of your choice such as corn and edamame beans (this is what I had on hand). Once cooked, mix in with half of your quinoa.

Once the chicken is done, let the chicken rest for 10-15 minutes before cutting off the two breasts and place it in a freezer bag/container with the roasted vegetables. Shred the rest of the chicken and divide that in half and put each half in with your two portions of quinoa.

Either serve immediately or if you freeze it, thaw it out overnight before reheating via stovetop or microwave.
Notes
Note: this is set as seven servings because the first meal, chicken and roasted vegetables, while half is one serving for my partner, I'm full from 1/4 so that one ziploc bag would be three servings.
Tried this recipe?
Did you make this recipe? I'm always so happy to hear about it! I'd love to see how it turned out. Tag me at @CarmysHungry on Instagram so I can see it! If you enjoyed the recipe, I'd really appreciate a comment with a 5 star rating! ♥
Nutrition Disclaimer
Related: An alternative meal prep to use up any extra cooked chicken is this spicy peanut chicken wrap or these 3 recipes for leftover chicken!
Related: Want to try making this whole chicken in an Instant Pot? Click here!
---
Want more simple chicken recipes? Check these out!
---
Want a Week's Meal Prep and Shopping list for free?
If you're looking for more ideas on what to make, subscribe to my mailing list in the sidebar (or click here) to get a week's lunch and snack meal prep and the shopping list and a weekly meal planner printable! Download it and bring it to your next trip to the grocery store!