Looking for some Easy Healthy Meal Prep Snack Ideas? Here are 4 meal prep snack recipes for work, school, or home! Healthy snacks for both adults and kids.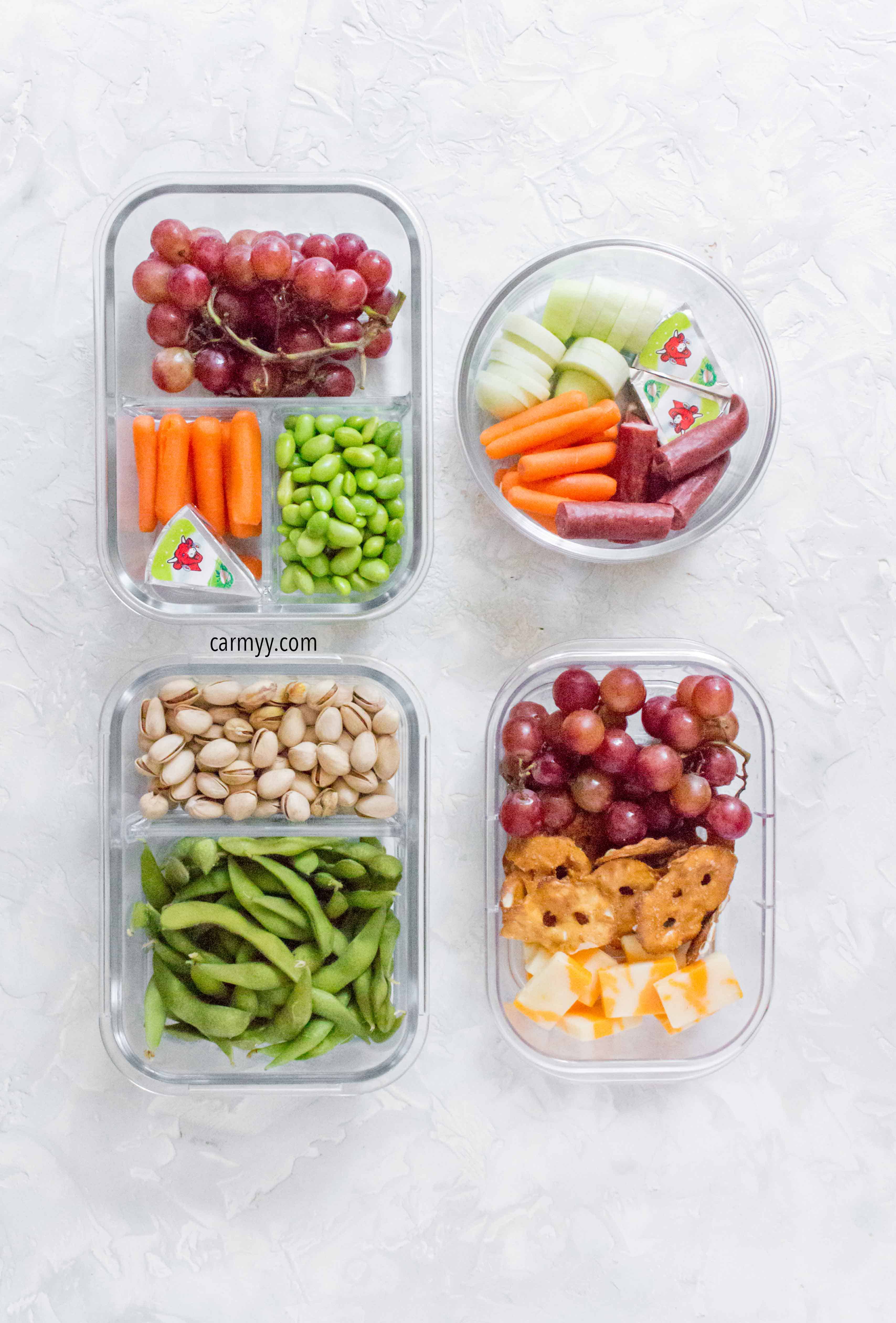 Healthy Meal Prep Snacks
There are two types of people that I know, people who don't snack and will eat at set times, and then there are people like myself, who will snack all day every day if given the option!
I love having healthy meal prep snacks on hand because if I don't, I'd end up with 3 bags of chips from the vending machine at work. This may or may not have happened more than once as it's $1.50 per bag at the vending machines at work LOL.
Anyways, these meal prepped snacks are perfect for both adults heading to work or class or kiddos going to school. They're great well as to have in your fridge so your kiddos know they can always grab bento box of approved snacks to munch on during the day.
Benefits of Meal Prepping Snacks
Portion Control: Like I said, I'd snack all day every day if I could! So meal prepping snacks is a great way to make sure I don't end up over snacking – once I've eaten everything in my bento box, I'm done.
I'm also one of those people where if I open a bag of crisps or nuts, I'll mindless eat all of it without even noticing. Things like nuts are very calorie-dense and can be easy to overeat so this makes sure I don't end up eating all of nuts at once.
Less Stress: Having snacks meal prepped available makes it less stressful when I'm hangry and looking for food! Plus I remember when I was a kid and would yell "mooooom, I'm hungryyyy" it would have probably been less annoying to my mom if I could have just grabbed a box of healthy meal prepped snacks from the fridge.
Plus if you are heading somewhere further than usual (ie a drive to the airport), the prepped snack boxes means you don't have to rely on figuring out where to find food.
Less Waste: More than once I've found some pack of cheese in the back of the fridge that I've forgotten about after I've bought it. Meal prepping snacks out in advance means you'll be less than likely to have to toss forgotten expired items.
Saving Money: Before I meal prepped snacks, I would just buy whatever snacks I felt like and end up with a ton of snacks at home. This is similar to having less waste as I've bought a zillion apples once only to have realized I bought cheese, crackers, more fruit, and more cheese as well. I would have bought less if I had gone in with a list of snacks that I wanted to meal prep!
What You'll Need For These Snack Meal Prep Ideas
I use airtight containers to store my snack meal preps. This makes them last longer and is more environmentally friendly than using multiple plastic bags or plastic containers. Here's what I use and the link to them at Amazon:
Healthy Snacking Ideas
pepperoni sticks
carrots
cucumber
cheese wedges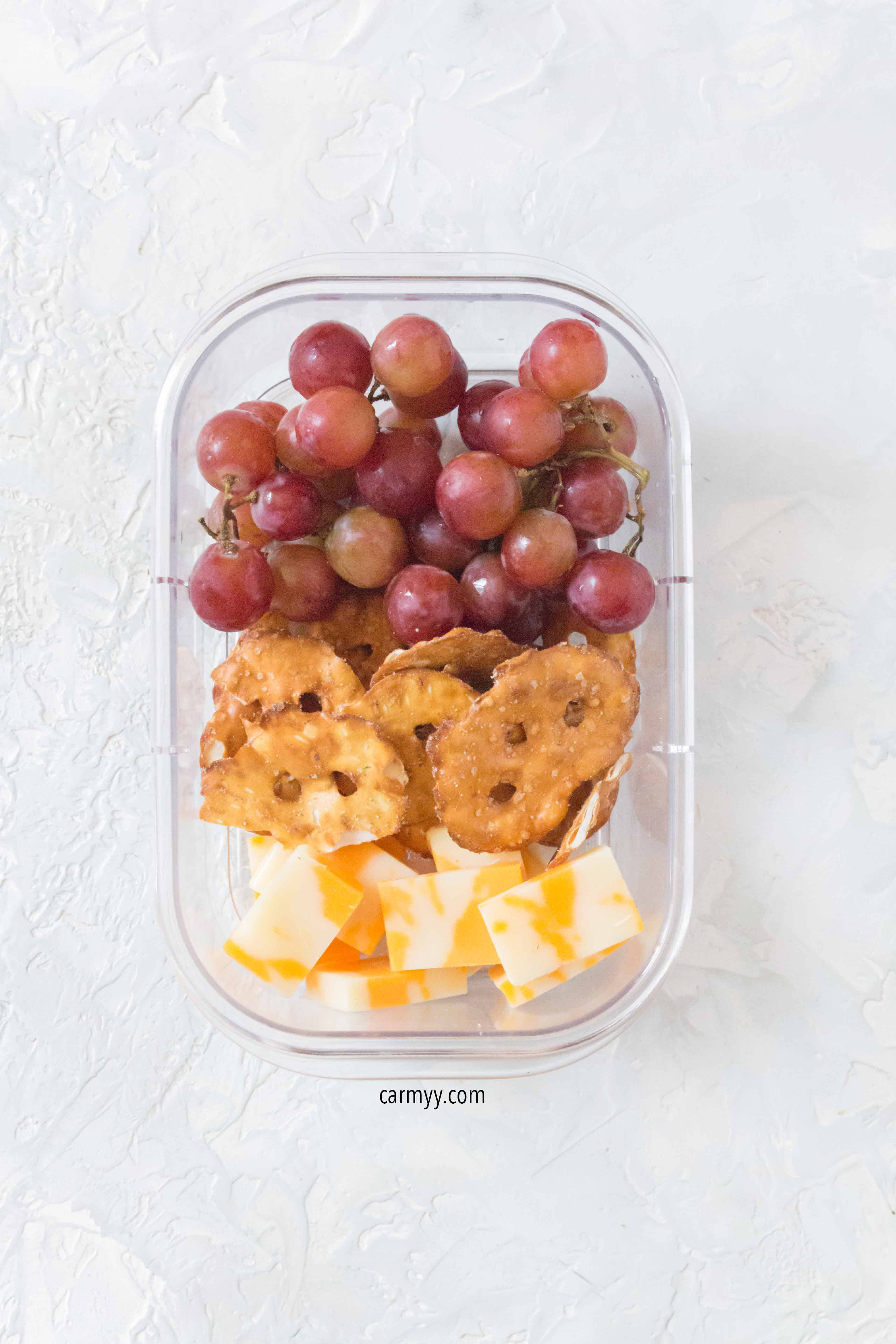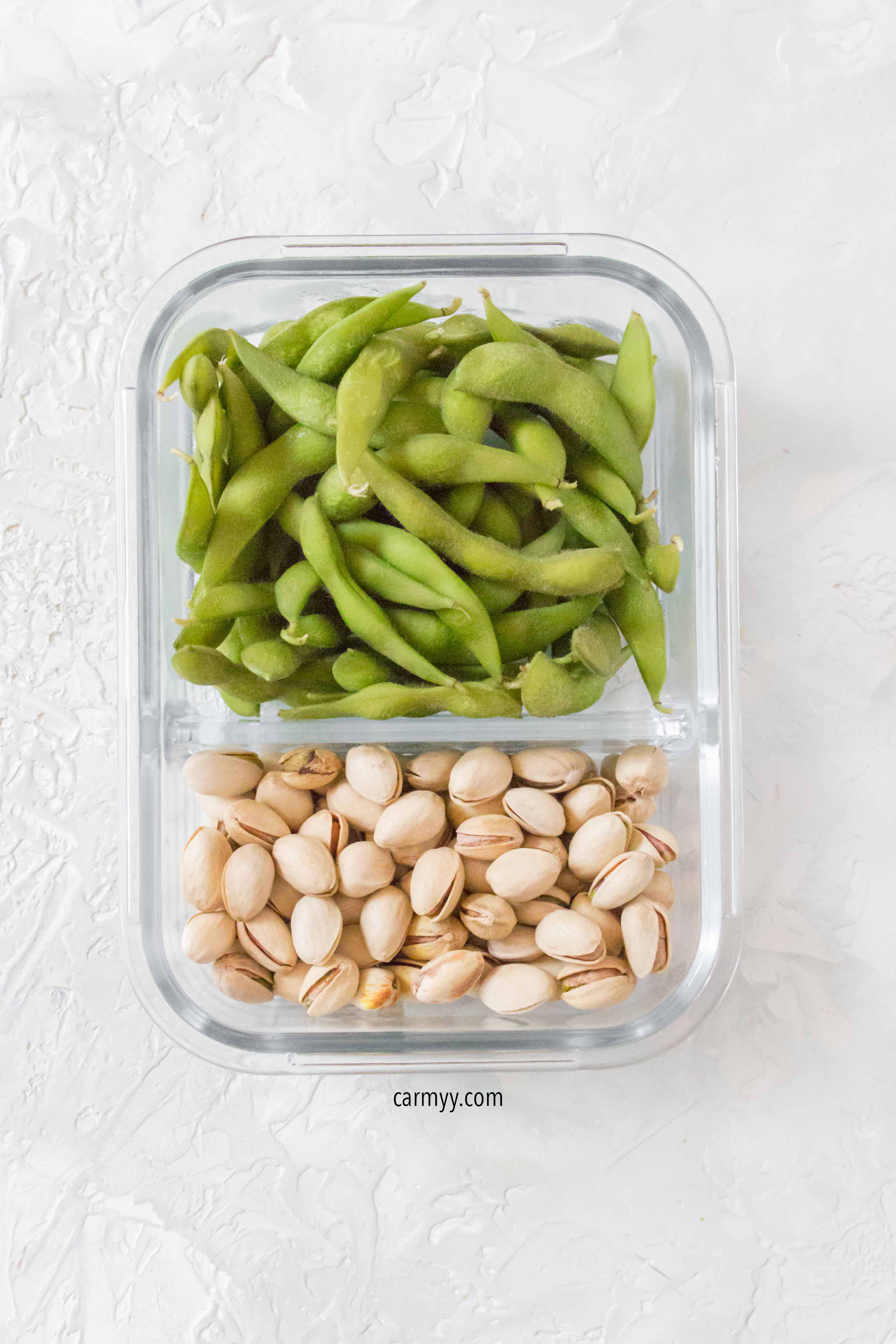 edamame beans
pistachio, roasted & unsalted
shelled edamame beans
carrots
cheese wedge
grapes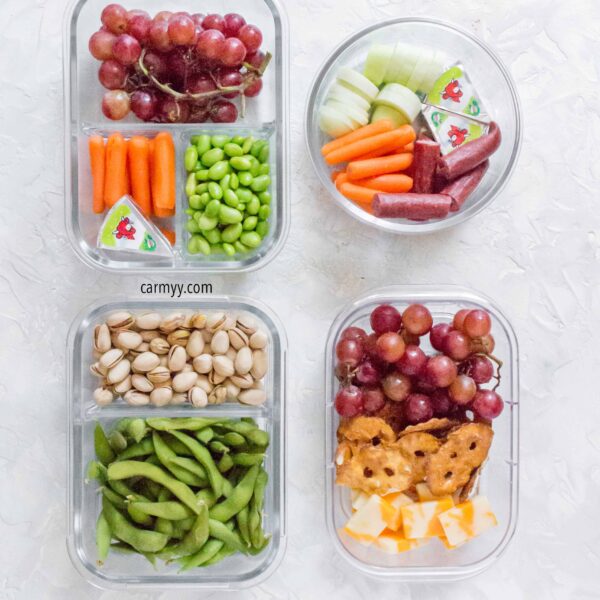 Healthy Meal Prep Snack Ideas
Looking for some Easy Healthy Meal Prep Snack Ideas? Here are 4 meal prep snack recipes for work, school, or home! Healthy snacks for both adults and kids.
Print
Rate
Ingredients
Snack Box 1
1

cucumber

,

sliced

1

handful

baby carrots

2

pepperoni sticks

,

cut up

1-2

cheese wedges
Snack Box 3
227

grams

edamame pods

1/2

cup

pistachios
Snack Box 4
1/4

cup

shelled edamame

1

handful

baby carrots

1

cheese wedge

1

cup

grapes
Instructions
Cook the edamame as directed on the box.

In individual meal prep containers, put together each snack box and store in the fridge for up to a week.
Tried this recipe?
Did you make this recipe? I'm always so happy to hear about it! I'd love to see how it turned out. Tag me at @CarmysHungry on Instagram so I can see it! If you enjoyed the recipe, I'd really appreciate a comment with a 5 star rating! ♥
Nutrition Disclaimer
pin this post for later!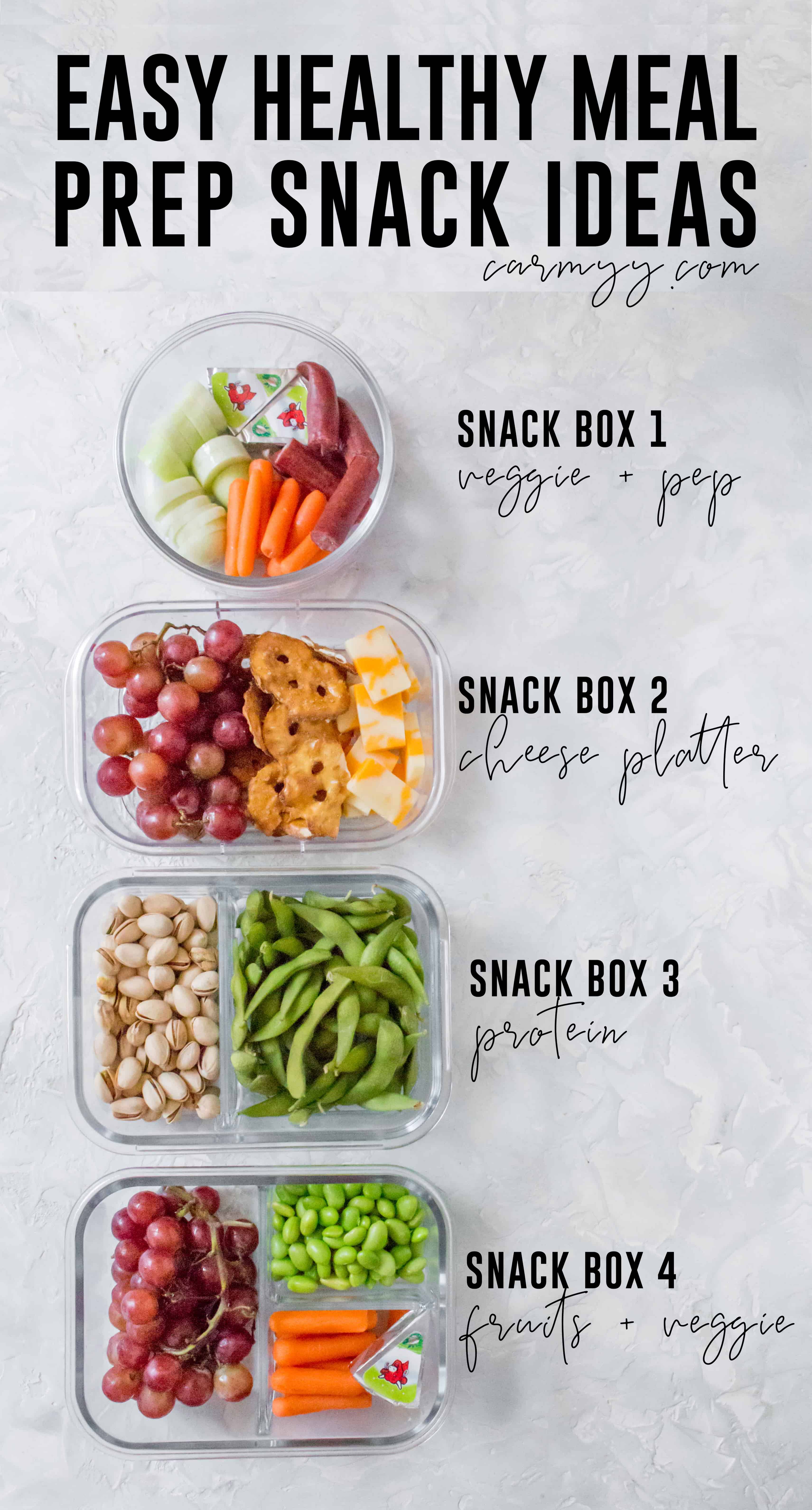 RESOURCES AND TIPS FOR MEAL PREPPING
Other places to connect with me
Instagram: @carmyshungry
Facebook: https://www.facebook.com/carmyycom
Email: [email protected]