Meal prepping on a budget? Check out these tips for meal prepping on a budget and 28+ recipes to help you stay on budget!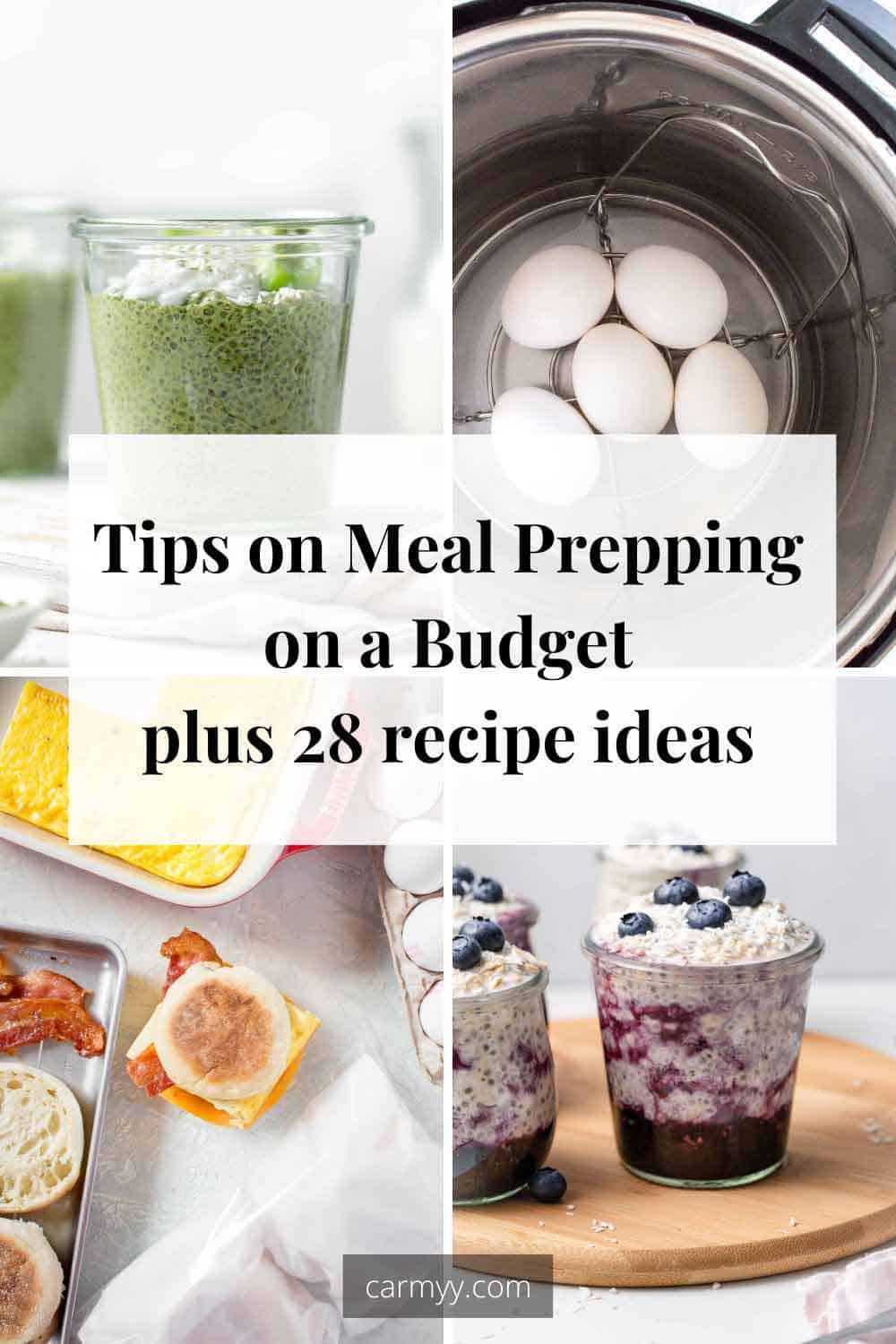 Meal Prepping on a Budget
When I first started meal prepping, I did it to save money as I would buy a lot of my lunches at work. Meal prepping definitely saved me from spending $10-15 a day at work and my wallet has been thanking me for it! Over the years, I've gotten the hang of budgeting for meal prepping and saving the extra money that I had used to spend on purchased lunches on my student loans.
Some weeks though, while I was saving money by meal prepping, I would spurge on things like a nice block of cheese or you know, accidentally buy way too much at the Nordstorm Anniversary Sale and suddenly my budget for my weekly meal prep just shrunk in half. Oops. During those weeks, I find myself turning to very simple recipes that involves a lot of pantry basics. I have four go-to budget meal prep recipe categories that I always turn to when my dollars are low. These budget meal prep recipes usually consists of items that are very cheap to purchase in bulk and have a very long shelf life so they're almost always in my pantries (think dried lentils, beans, etc!)
My budget meal prep staples
rice and beans
egg based foods
overnight oats
soups/stews
These 4 categories cover thinks from breakfast to dinner! I also find that these "staple" budget meal prep recipes to be very versatile as well so they're very easy to change up without spending too much. Some of these recipes can also do double duty as well as you can incorporate the leftovers into new meals such as using leftover vegetables and adding an egg to it to turn it into a new frittata!
Tips on meal prepping on a budget
Seasoning is your best friend when meal prepping on a budget. Seasonings increases the flavour selection that you now have with very basic recipes – for example, using smoked paprika and chili flakes in a frittata vs using lemon pepper for your frittata.
If you can't get fresh fruits and vegetables, frozen vegetables are a great budget alternative. Studies have suggested that frozen veggies have just as many nutrients (if not more) as their fresh counterparts as they are being frozen right after they're harvested. (here's a study on it if you're curious).
Dried beans tend to cost less than canned beans so extra step of soaking dried beans overnight can save you money on the long run.
Consider purchasing generic instead of name brands.
If you love meat but want to still meal prep on a budget, consider a less expensive cut of the meat. For example, consider buying skin-in, bone-in, or tougher cuts of meats. You can always remove the skin/bone yourself and use a slow cooker or Instant Pot to make those tough cuts of meats tender! Bonus if you purchase a whole chicken you'll have a ton of meat and you can use the bones to make chicken broth.
If your only options for purchasing cheap bulk foods that aren't freezable is Costco, consider splitting a yearly membership with a friend or family member so you can both get bulk items for cheap.
Look for sales in your weekly flyers and plan your week's worth of meals accordingly – for example, my local supermarket has ground beef on sale very often but it's usually the large family packs. I'll buy it, plan a week's worth of recipes that is based on ground beef with half of the beef, and freeze the second half (since it's usually like 4lbs and that can be too much for just me). Another thing I do is buy cuts of meat (like chicken breast or thighs) in bulk and then I split it into individual ziploc bags and freeze it.
Check back on this post every so often! If I find another delicious budget friendly meal prep, I'll add it here!
ARE YOU NEW TO MEAL PREPPING? HERE ARE SOME OF MY FAVOURITE ITEMS THAT I USE:
Budget Meal Prep Recipe Ideas: Rice and Beans
This Spicy Instant Pot Chicken and Rice Meal Prep is inspired by the chicken burrito bowls from Chipotle! It's so easy to make and takes less than 30 minutes to meal prep for four days!
Cajun Red Beans and Rice are a delicious and healthy vegetarian meal from The Food Blog.
A Hearty and flavourful meal made from rice, beans, and sausage to satisfy your crowd from Deliciously Plated.
A hearty, protein-packed, super nutritious, and one-pot vegan meal featuring rice, beans, tofu, and greens from The Full Helping.
Spicy Cajun flavors magically turn beans and rice into a delicious bowl of healthy, wholesome goodness from Monkey and Me Kitchen Adventures.
These Rice & Bean burritos taste AMAZING, but are easy to make! They're also freezer-friendly so they are perfect for Meal Prep from From My Bowl.
Budget Meal Prep Recipes Ideas: Egg Based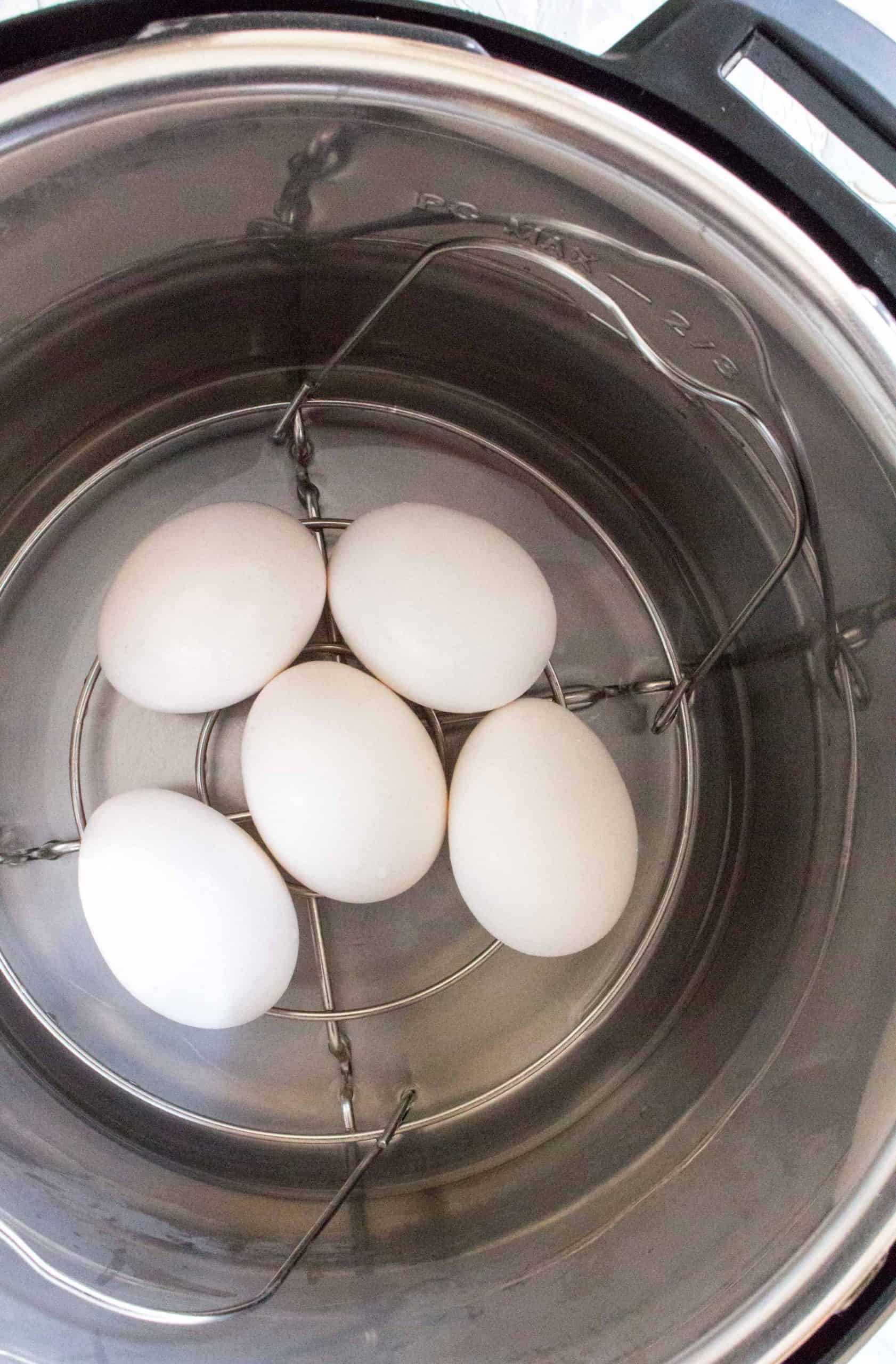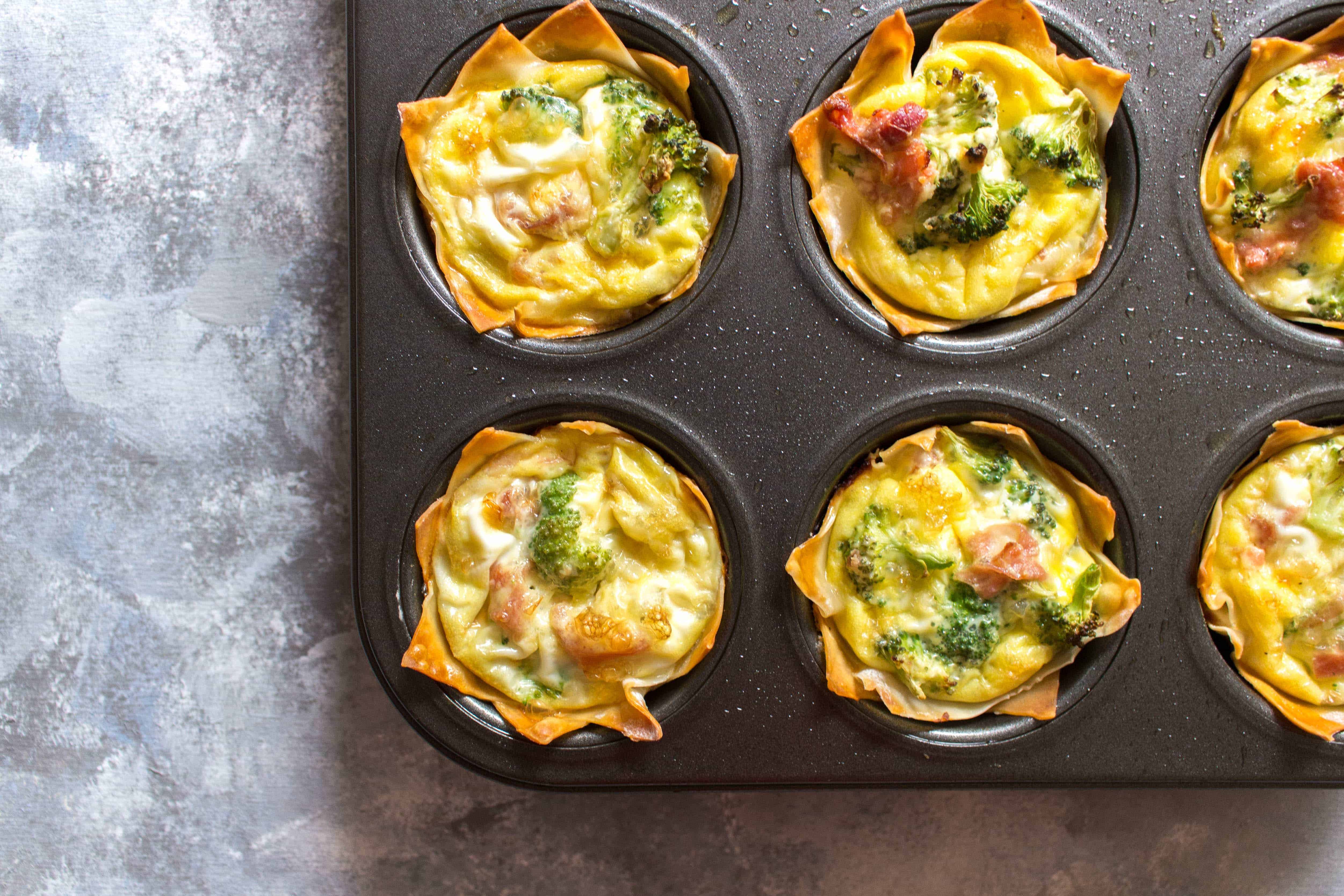 Need a breakfast meal prep idea? Why not try this delicious and fun breakfast wonton egg cups?
Ready in less than 30 mins that are gluten-free and keto? Try these pantry staple 6-Ingredient Veggie Egg Cups from Recipes From a Pantry.
Here's an easy breakfast muffin recipe with eggs, bacon, cheese, and simple Tex-Mex ingredients from the Rising Spoon.
These Quinoa Frittata Muffins are a healthy, quick, and easy breakfast meal prep option! Packed with vegetables and healthy quinoa and completely satisfying. Recipe from My Kitchen Love.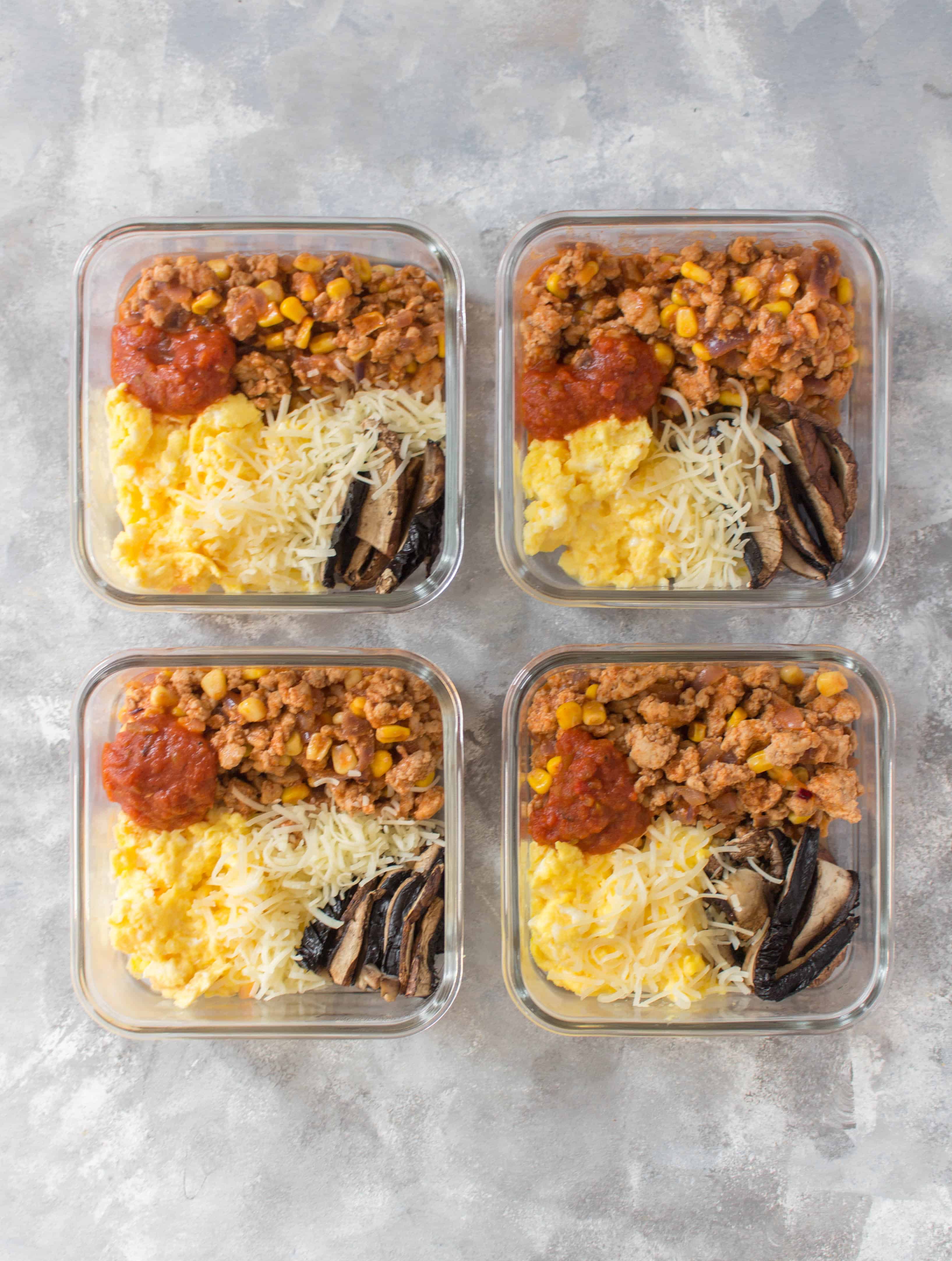 Go to bed excited for the morning with this delicious make ahead breakfast taco egg bowl! Great for lunches as well.
Ready in just 20 minutes, enjoy this tasty sweet potato frittata for breakfast, brunch, lunch or dinner! It's full of nourishing ingredients with a hit of cheese. Recipe from Veggie Desserts.
This tasty mixture of buttery potatoes, spicy chorizo, and eggs makes a great meal that everyone will love. Recipe from Muy Bueno Cookbook.
This Double Cheese, Bacon, Mushroom, and Egg Hash is not only perfect breakfast but for any meal of the day! It's super easy to make and ready in 40 minutes in addition to being budget friendly!
Skip the drive thru in the morning and make your own freezer friendly breakfast egg sandwiches. Make a batch, freeze it, and have a bacon egg and cheese sandwich for breakfast everyday!
Budget Meal Prep Recipe Ideas: Overnight Oats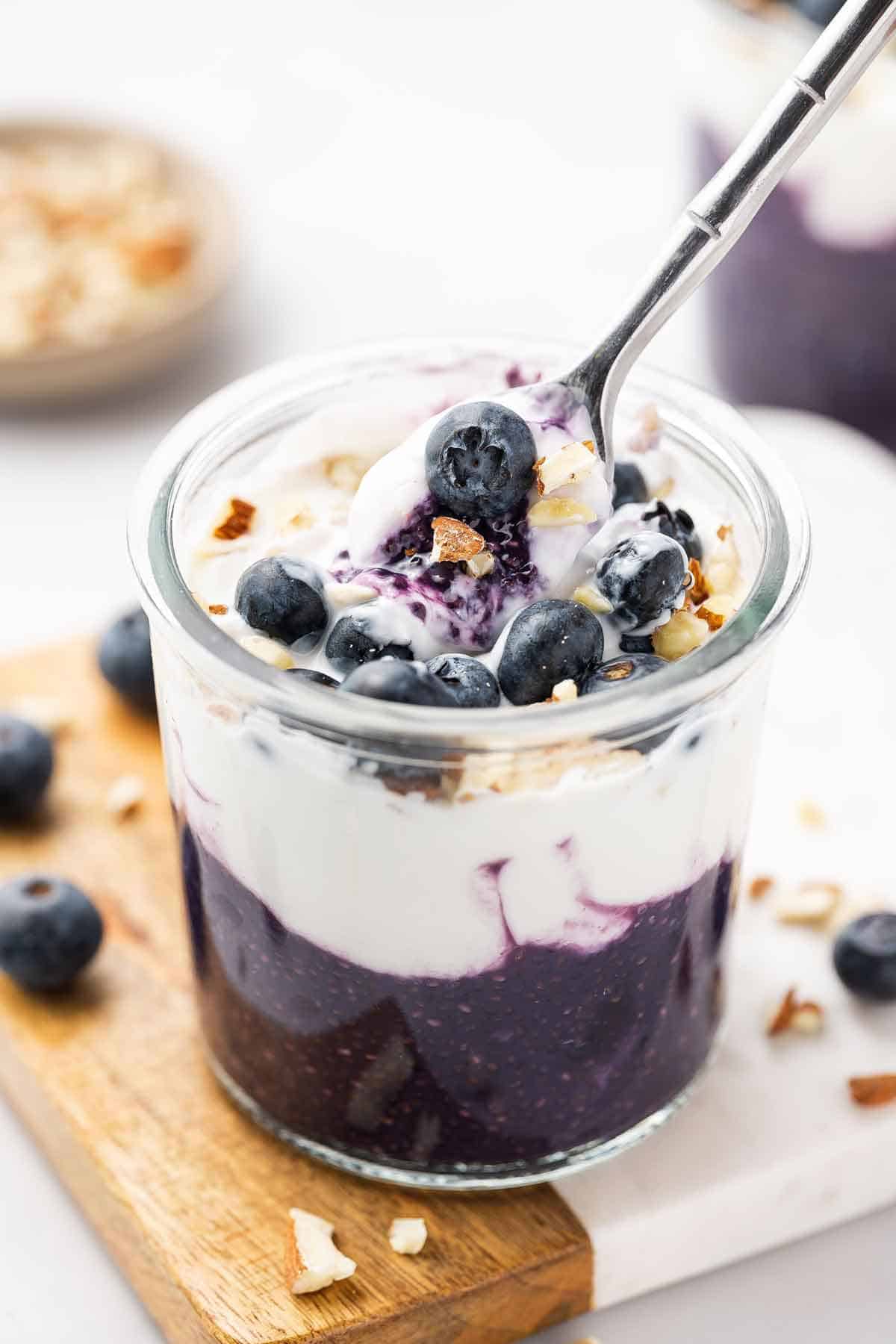 Made with just five simple ingredients, this Blueberry Chia Pudding recipe is the perfect way to start your day! Creamy, sweet, and bursting with blueberry flavor, this chia pudding is a delicious and nutritious breakfast or snack, as it's also full of good-for-you ingredients.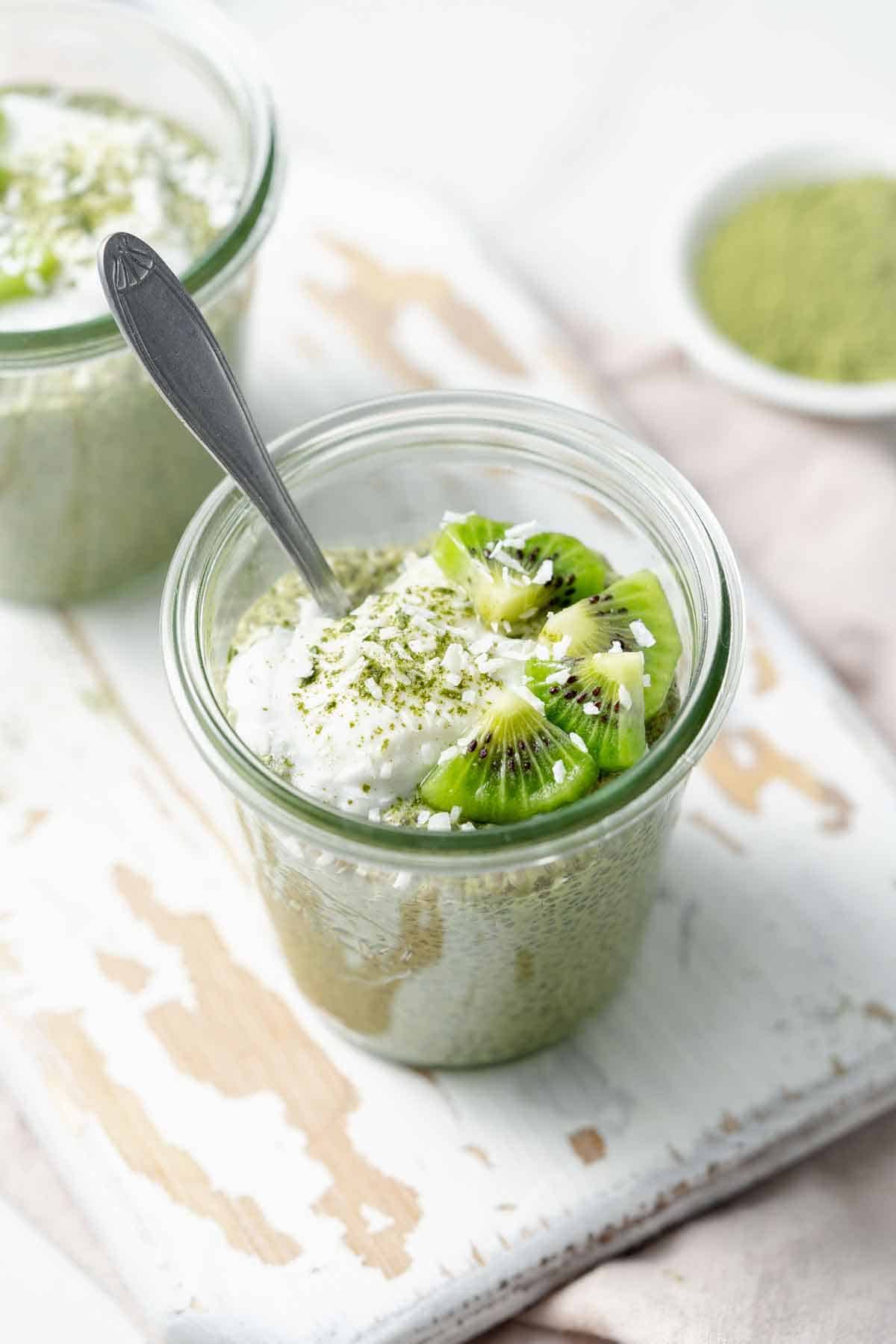 Made with five simple ingredients, this creamy matcha chia pudding recipe is perfect for busy mornings. Full of fiber and healthy fats, this green tea chia pudding is a delicious and nutritious breakfast or snack.
Are you ready for breakfast with a twist? Prepared in under 10 minutes the night before, this Chocolate Chia Steel Cut Overnight Oats is so delicious and creamy, that it's like eating ice cream for breakfast!
No need to panic if you've run out of milk! Creamy, flavorful, and the perfect meal prep for breakfast, this overnight oats with water recipe comes together in just a couple of minutes. While overnight oats are typically made with milk, you can easily make them with water!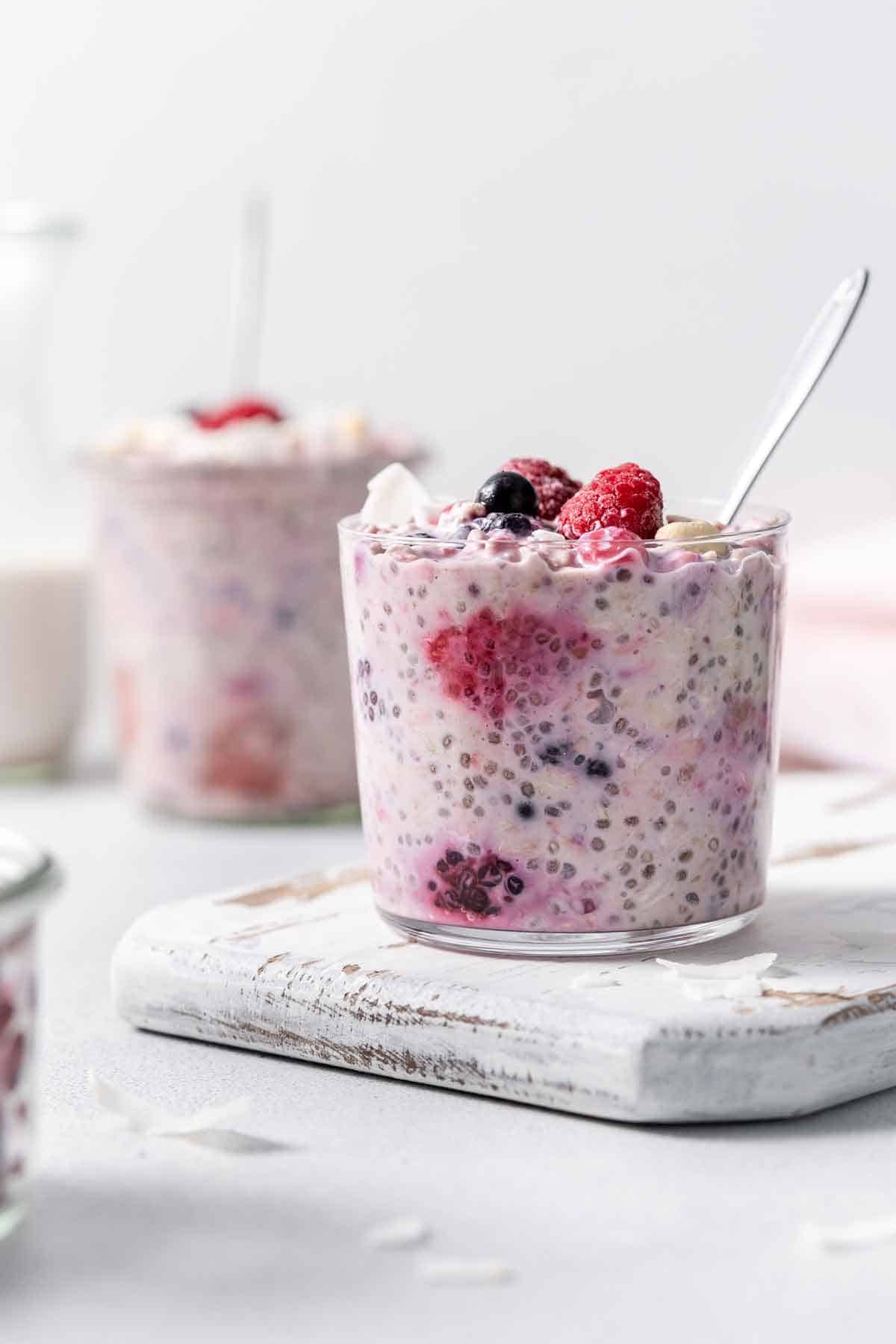 Easy, healthy, and delicious, this overnight oats with frozen fruit recipe is a quick and simple way to make a flavorful breakfast or snack. It's thick, creamy, and perfect for when your favorite fruit is out of season! Make them the night before for a healthy grab-and-go breakfast for the next morning.
Budget Meal Prep Recipe Ideas: Soups/Stews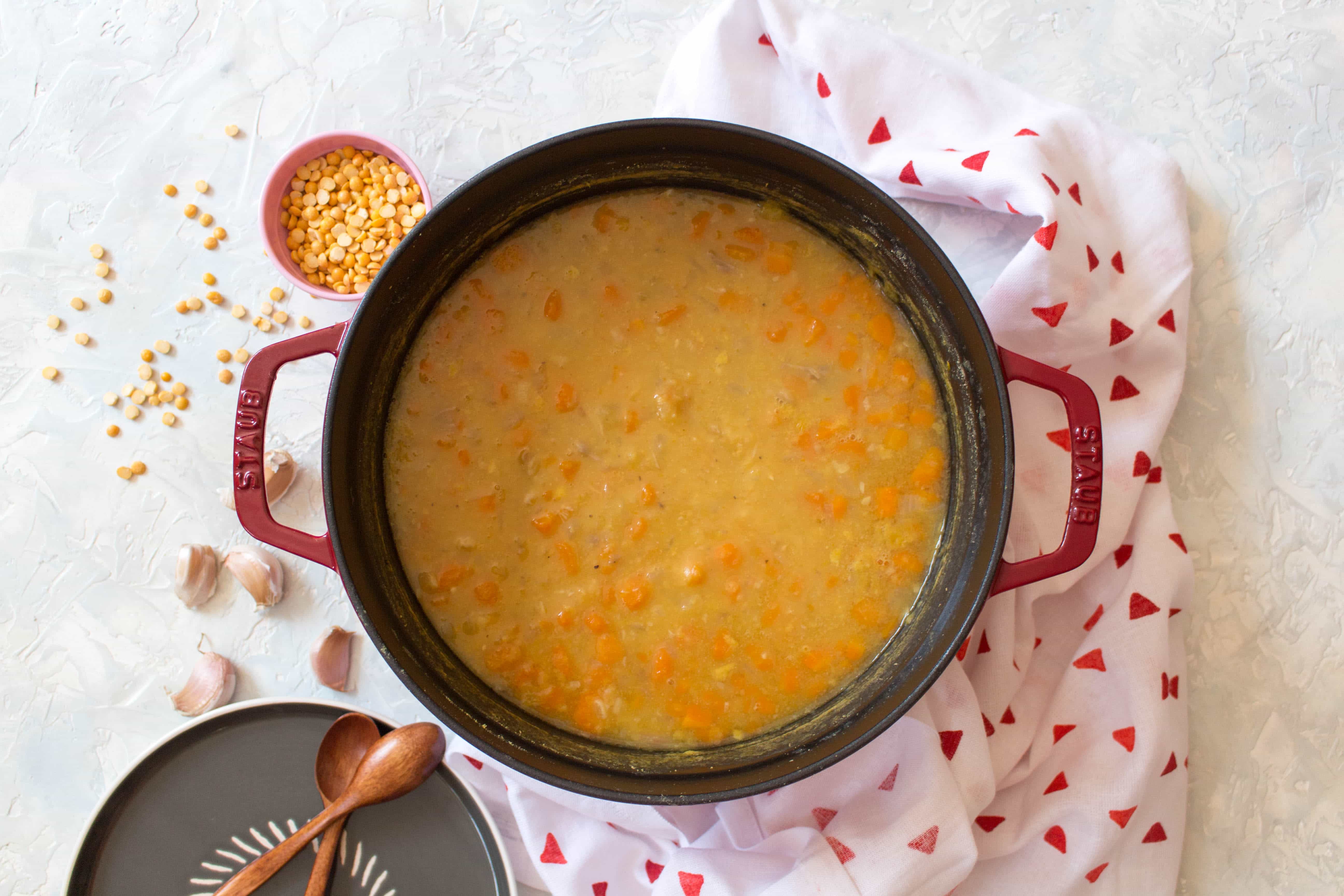 Hearty and affordable, this traditional Québécois pea soup will keep your stomach full and warm.
This Instant Pot Borscht is healthy and delicious. It's a perfect and affordable way to stay warm during winter while eating cozy and comforting vegan and gluten-free soup. Recipe from Imagelicious.
This super Easy Instant Pot Beef Stew will have you grabbing a second bowl! A thick and rich sauce filled with hearty potatoes, carrots, onions, and melt in your mouth beef that will only take under an hour with an Instant Pot!
Curried Lentil soup is vegan, protein packed and naturally gluten free. Perfect for a simple meatless meal and made with budget friendly ingredients. Recipe from Nutritious Eats.
Easy and delicious Vegan Roasted Carrot Soup with lentils and Moroccan spices. This velvety, rich and healthy carrot soup has a unique and perfectly balanced flavour. Recipe from Happy Kitchen Rocks.
This Southwestern Kale and White Bean Soup gives you a nourishing bowl full of veggies, quinoa, and warming spices like cumin and chili powder. Recipe from Killing Thyme.
Enjoy this really super simple Green Bean & Potato Curry that is budget friendly, only has 8 ingredients & needs no fancy-schmancy spices. Recipe from A Virtual Vegan.
At just ~$1.66/serving, this delicious and healthy soup won't break the bank, or your health goals. Recipe from Nourish Nutrition Blog.
This easy summer gazpacho is a cool and refreshing way to start your next dinner. It's healthy and fresh, with just the right amount of spice. With just 10 ingredients (including pantry staples such as salt, pepper, olive oil, and garlic!), this soup last up to 3 days chilled in the fridge. Recipe from All The Kings Morsels
---
RESOURCES AND TIPS FOR MEAL PREPPING
MORE HEALTHY RECIPE ROUND UPS
---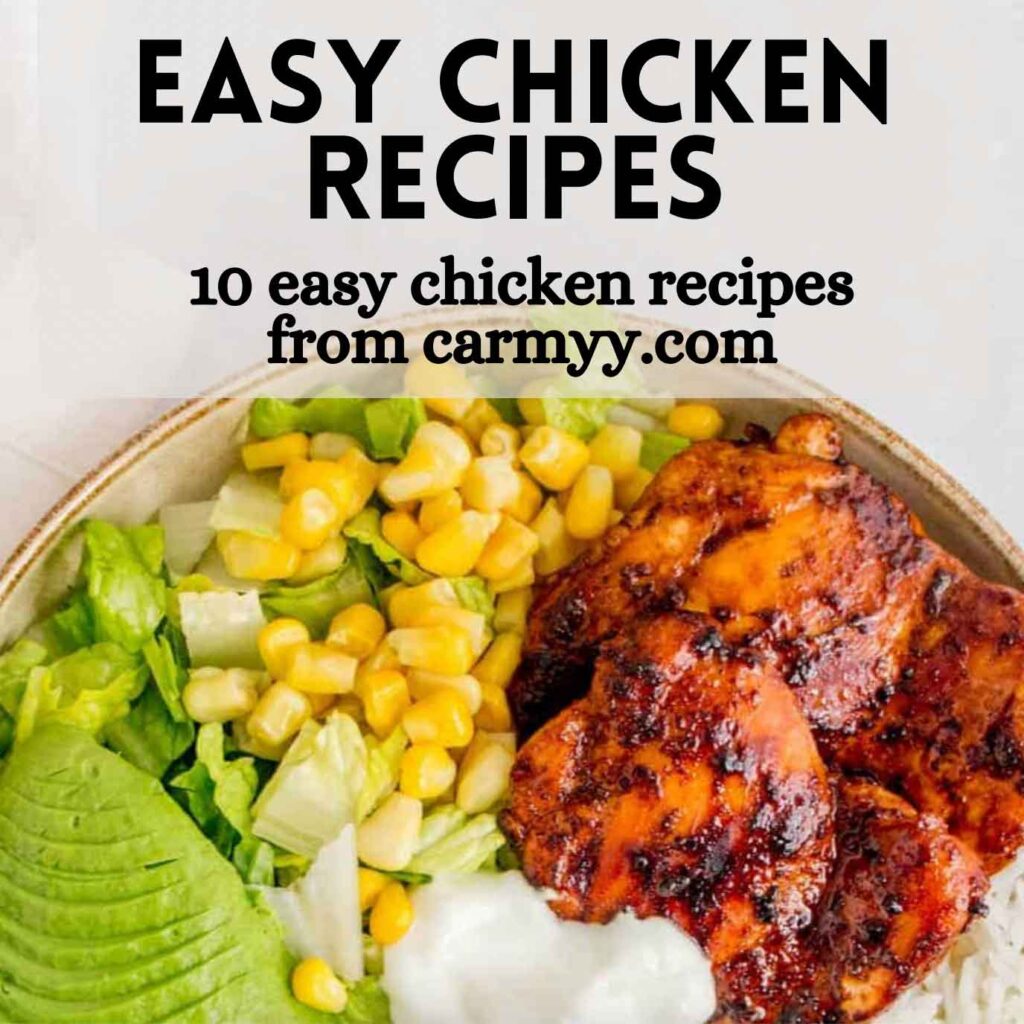 Click here to sign up to stay up to date with new recipes sent straight to your inbox PLUS a free ebook with 10 easy chicken recipes!
---
Other places to connect with me
@carmyshungry on Instagram
Facebook
Shop my Amazon faves
Email: [email protected]