These 5 easy chicken marinade recipes are freezer-friendly, effortless to prepare, and totally delicious! These are the perfect chicken marinades for meal prepping, grilling, panfrying, Instant Pot, and more!
click here to pin this chicken marinade post for later!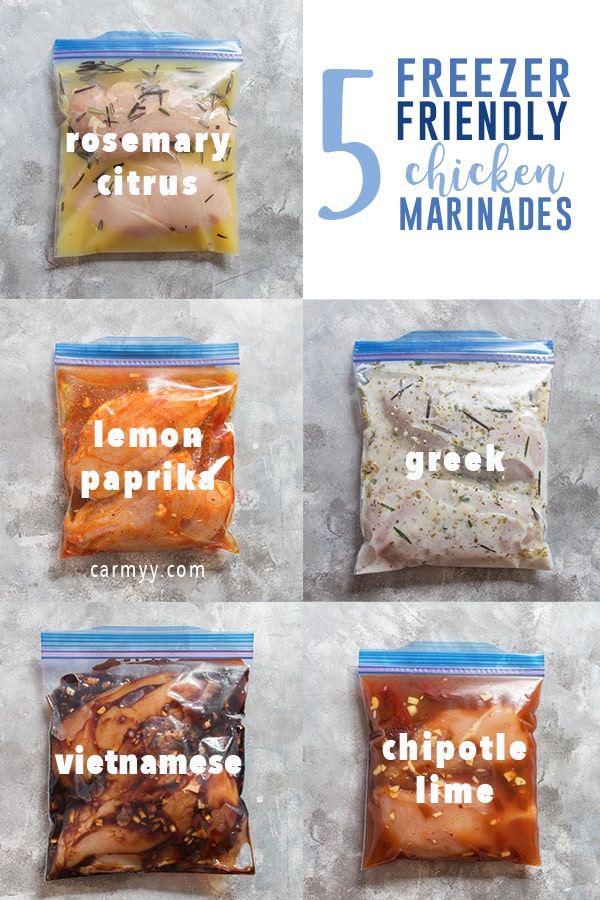 Easy Chicken Marinades
If you've been hanging around my blog for a while, you'd notice that chicken is a staple in my household. A majority of my meal preps revolve around chicken – it's affordable, accessible, and a great source of protein. However, chicken can sometimes get boring when eating it the same way daily so I'm always trying to find ways to add variety to my chicken recipes. This is why I love marinading chicken as it gives it a punch of flavour and helps keep it moist when cooking.
These 5 chicken breast marinades are a follow up to my first freezer friendly chicken marinade post where I shared 7 of my go-to easy freezer friendly chicken marinades because you can never have too many chicken marinades in your life. Gotta keep our chicken exciting!
THE MARINADE FORMULA: MEAT + MARINADE + COOK = FLAVOUR BOMB
So how does this whole chicken marinating thing work? You pick your cut of meat (chicken breast – whole or diced, thighs, wings, drumsticks, etc), you pick your marinade (I'd like to think that mine are the best chicken marinades out there), and then you cook it! These are the perfect chicken marinades for meal prepping, grilling, panfrying, Instant Pot, and more!
HOW TO COOK THESE FREEZER FRIENDLY CHICKEN MARINADES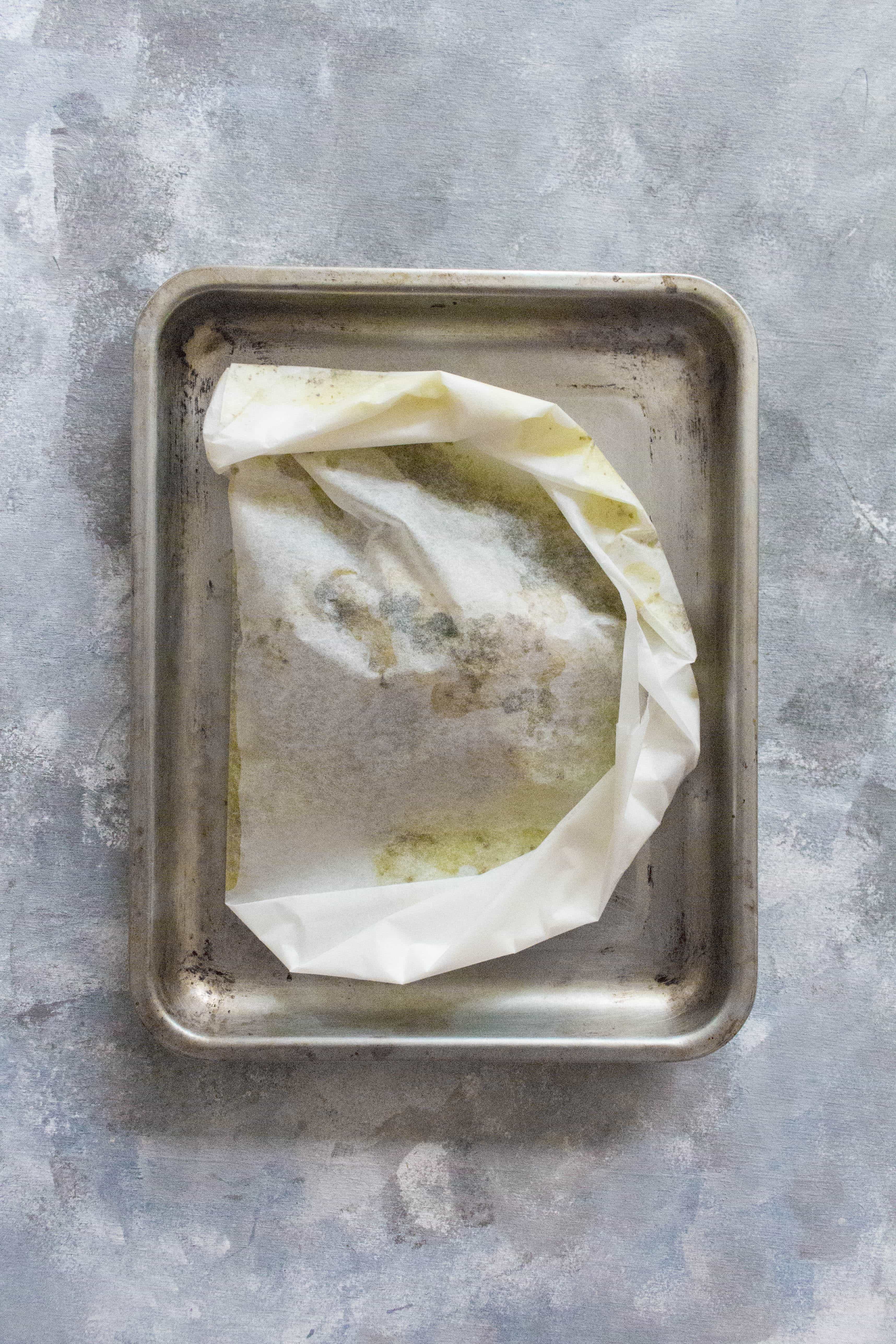 I bake mine in parchment paper to seal in the flavour and moisture. I make a little envelope by folding the parchment paper in half and then folding the edges in like I do with my freezer friendly beef empanadas (video instructions on folding empanadas can be found there)!
Tips on making the perfect chicken marinades/using the marinades
If you are cooking these chicken marinades in the Instant Pot, please remember to add extra liquid so the IP can come up to pressure
Do NOT reuse the marinade used on raw chicken unless it has been boiled first. Boiling the used marinade first should destroy any harmful bacteria if you really want to re-use the marinade. If you would like to use the marinade as a baste while cooking, I really recommend setting aside a portion of the marinade to use later before putting raw chicken into it. As someone who washes her hands religiously when cooking with chicken, it's better to err on the side of caution than be sick!
Always thaw chicken properly. It can be tempting as it may be to try and "quick-thaw" frozen chicken, food safety guidelines recommend that you always thaw steak slowly in the refrigerator. (Plus if you're using yogurt in the marinade, quick thawing will split the yogurt)
How do you avoid freezer burn on the make ahead chicken marinades? Get all the air out of your ziploc bags – I press out to make sure that all the air is pushed out.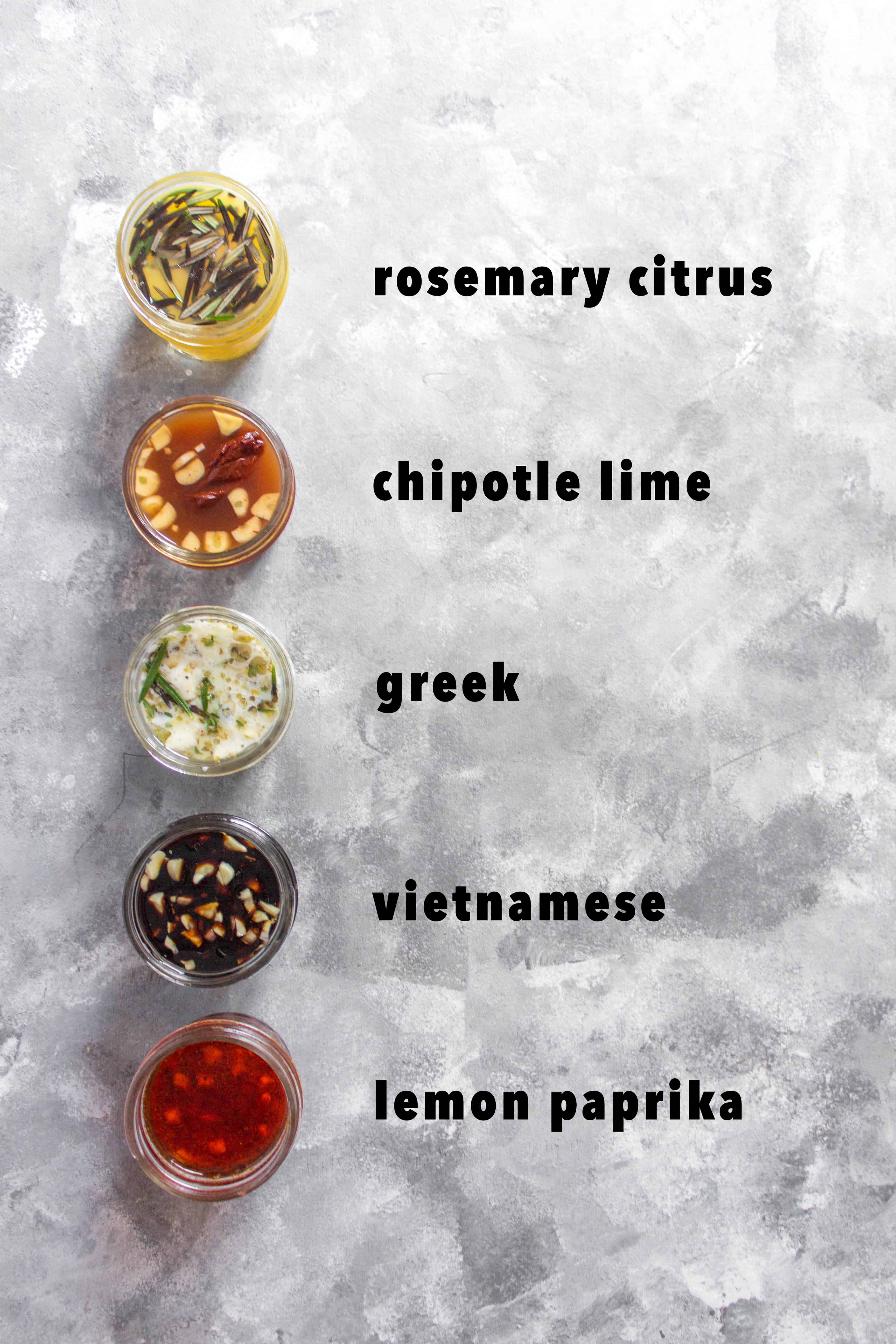 THE TOOLS TO PREP FOR FREEZER FRIENDLY CHICKEN MARINADES
Easy Chicken Marinades
1. Rosemary Citrus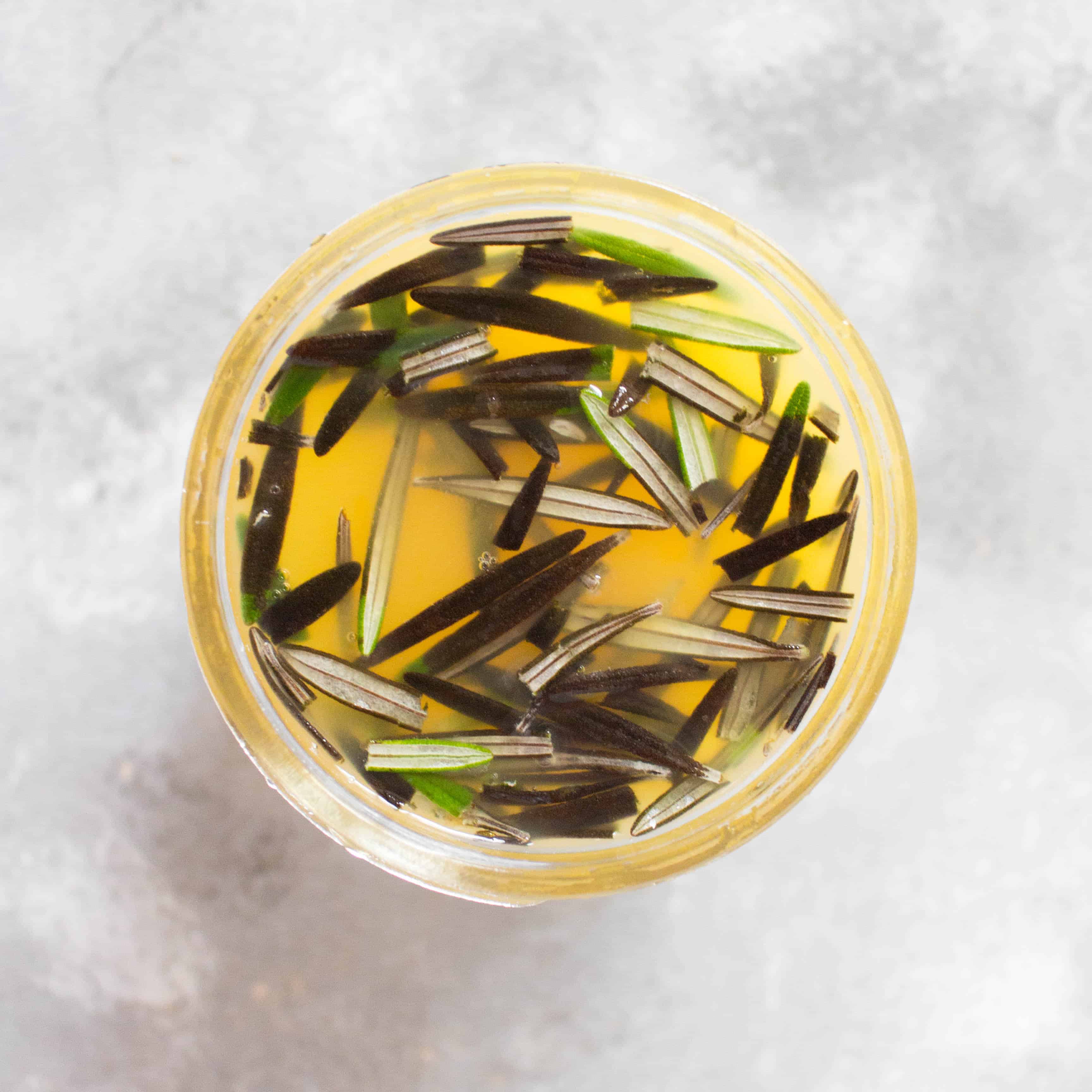 This Rosemary Citrus chicken marinade is so light and the acid gives it such a fresh flavour. Made with a combination of lemon, lime, orange juice, and rosemary, you're going to want to drink it up! This marinade is great with chicken thighs as well. I'm not on a Whole30 diet but I'm pretty sure this marinade is Whole30 approved as well! This Rosemary Citrus Chicken so simple but flavourful, I'd keep the accompaniments also simple as well to not overpower the chicken: roasted potatoes (you could cook them in the roasting pan with the chicken), salad, roasted root vegetables.
2 tablespoon lemon juice
2 tablespoon lime juice
2 tablespoon orange juice
1 tablespoon oil
3 tablespoon rosemary
pinch of salt
2. Chipotle Lime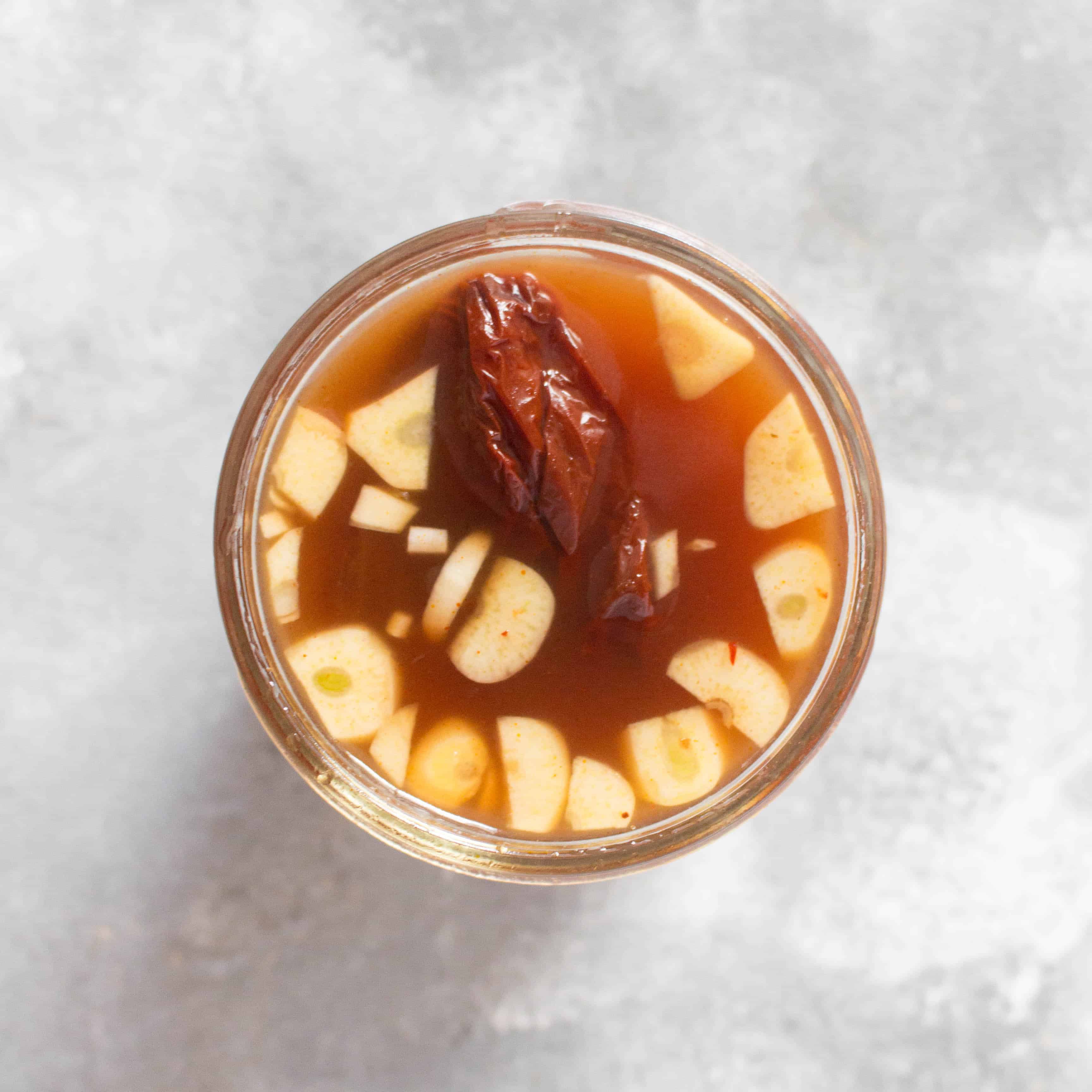 There's sweetness, there's tangy-ness, there's smokey-ness, and there's deliciousness! This Chipotle Lime Chicken has it all! I made a similar recipe on the blog (chipotle copycat) so click on over if you're looking for 4 different ways to serve up this chicken! This Chipotle Lime Chicken is also great for tacos or a burrito as well.
⅓ cup honey
⅓ cup chicken stock or water
pinch of salt
2 clove garlic minced
1 lime juiced
93 mL adobo sauce from a can of chipotle peppers (I used half of the can shown above. More if you want more adobo flava flav)
1 chipotle pepper
3. Greek
I am obsessed with this Greek Chicken Marinade. The Greek yogurt makes the chicken so tender. The acid from the lemon also helps break down the chicken breast as well and adds a tang to the chicken. Click here to see how I make this Greek Chicken a whole meal prep. Here's a similar recipe where I make Greek Chicken Meal Prep in an Instant Pot if you want to see how to make this and rice at the same time in one pot! Do NOT quick thaw this marinade to avoid the yogurt in the marinade splitting.
⅓ cup Greek yogurt
¼ cup olive oil
4 lemons, juiced
zest of one lemon
4 cloves garlic, pressed or minced
2 tablespoons dried oregano
1 tablespoon rosemary
1 tablespoon thyme
pinch of salt and pepper
4. Vietnamese

This Vietnamese Chicken is amazing on the grill. It's packed with flavour thanks to the soy sauce paste paired with the lemongrass (which tastes like mix of lemon and lemon mint). Skip the takeout and make this chicken instead! Check out this blog post to see how I grilled this Vietnamese Chicken and see how to make the quick pickled carrots that it is usually served with in restaurants.
2-3 tablespoon lemongrass, sliced
1 shallot, minced
⅓ cup soy sauce paste
1 garlic, minced
1 tablespoon oil
5. Lemon Paprika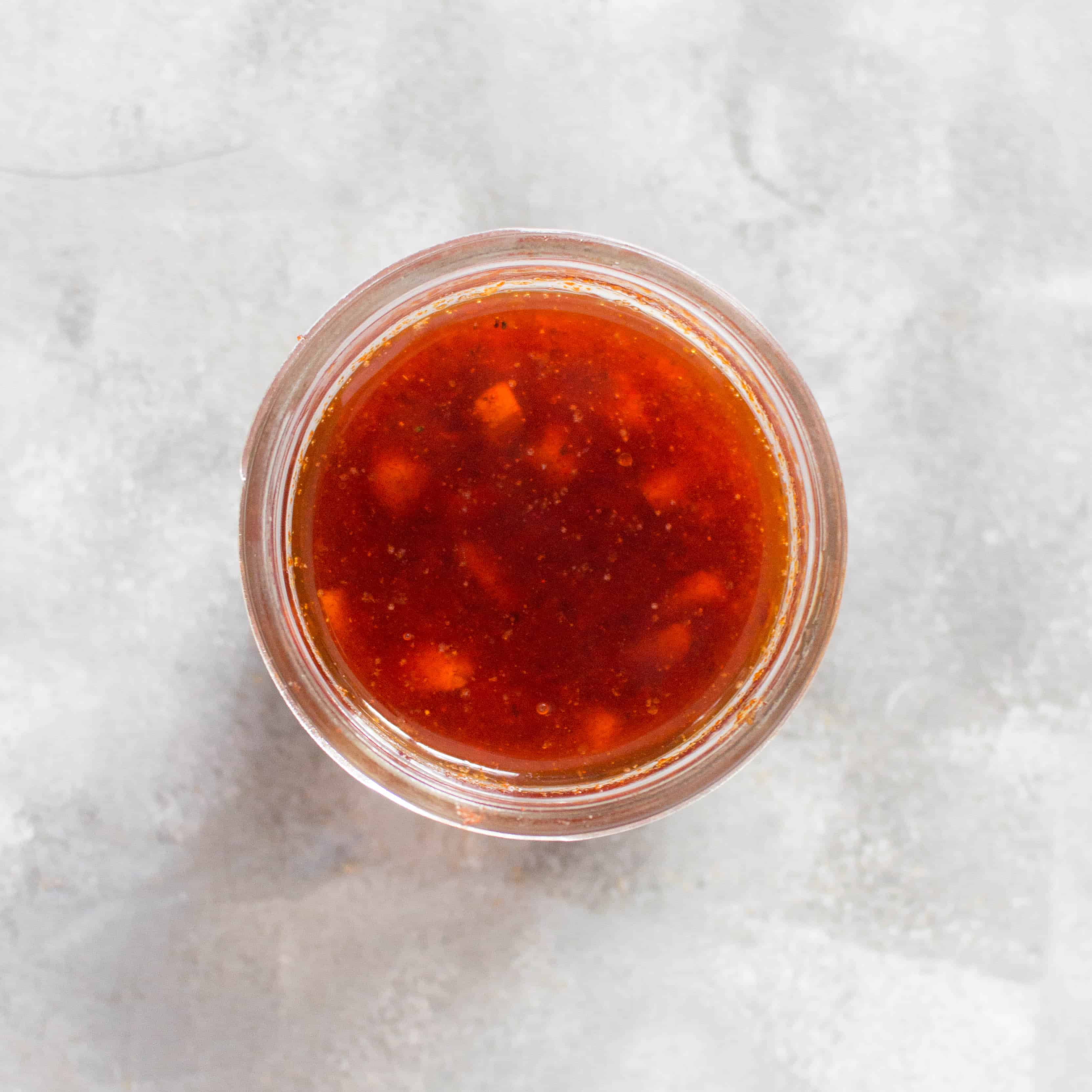 I feel like at this point you know how much I love lemon. I also loooove paprika on my chicken so I thought why not combine it? This Lemon Paprika Chicken is the easiest of the 5 marinades here to make as the ingredients are very likely already in your kitchen pantry.
1 tablespoon olive oil
2 tablespoons lemon juice
1 tablespoon paprika
1 teaspoon onion powder
2 garlic
pinch of salt and pepper
pinch of lemon zest
5 Easy Chicken Marinade
These 5 easy chicken marinade recipes are freezer-friendly, effortless to prepare, and totally delicious! These are the perfect chicken marinades for meal prepping, grilling, panfrying, Instant Pot, and more!
Print
Rate
Ingredients
Instructions
Whisk together the ingredients for (one) marinade in a small bowl until combined.

Combine the marinade with the chicken in a ziplock freezer bag, and toss until the chicken is evenly coated in the marinade. Carefully press out the extra air in the bag before sealing.
If Freezing
Immediately transfer the chicken pack(s) to the freezer, and freeze laying flat for up to 3 months. Then when you're ready to cook the chicken, transfer the chicken pack back to the refrigerator for 24 hours, or until it has thawed completely.
If Using Immediately
Refrigerate the chicken for anywhere from 30 minutes to up to 1 day to marinate.
Baking
Heat oven to 425°F. Add chicken and marinade to a small baking dish. Bake chicken for 25-30 minutes.
Instant Pot
Place the chicken into the Instant Pot and add 1 cup of water (or broth) and pressure cook for 8-9 minutes (depending on the size of your chicken breast, 6 minutes per pound of chicken) and then Quick Release when done.

Optional: After removing the chicken from the Instant Pot, press sauté, add a tbsp of cornstarch or heavy cream to thicken the liquid leftover in the pot to make it into a sauce! This does not work with the greek chicken though.

Note: be sure to shake off the marinade for the greek chicken (the yogurt) before placing it in the IP with the 1 cup liquid.
Grilling
Heat grill to medium-high. Grill for 18 minutes, flipping the chicken halfway through, until it is cooked through (165°F)
Tried this recipe?
Did you make this recipe? I'm always so happy to hear about it! I'd love to see how it turned out. Tag me at @CarmysHungry on Instagram so I can see it! If you enjoyed the recipe, I'd really appreciate a comment with a 5 star rating! ♥
Nutrition Disclaimer
RESOURCES AND TIPS FOR MEAL PREPPING
---
Want more simple meal prep recipes? Check these out!
---
Other places to connect with me
Instagram: @carmyshungry
Facebook: https://www.facebook.com/carmyycom
Email: [email protected]
Vlogs/Recipe Videos: Youtube