New year new you right? Here are some easy changes you can make for a healthier new year! From food to fitness, these tips will help you get on the right track.
Easy Changes For A Healthier New Year
Okay, I know with the new year comes new years resolutions. It can get overwhelming when you decide that in the new year, you want to be healthy but it can be hard to figure out where to start. I've been there – I've failed following through my resolutions because I tried to take on too much too fast. Over the years, I've learned about what works and what doesn't for me and I'm here to share the easy small changes I've done and hopefully they'll work for you too!
Disclaimer: This post is brought to you by Mann's Fresh Vegetables. Thank you for always supporting the brands who support me to make this blog possible.
Stairs
I've been avoiding standing on the escalator and elevator (unless I'm tired) and have been walking up and down the stairs whenever possible. Using the stairs have majorly contributed to my 10000 steps a day on non-running days. Plus you'll probably get where you need to go faster by taking the stairs instead of standing on the escalator! Win-win!
Meal Prepping
This of course goes without saving especially since I focus on meal prepping around here! I know meal prepping can be overwhelming so a small change you can make to start meal prepping is to try freezer meals. Here are 7 different freezer friendly chicken marinades that you can make ahead and thaw out that night before if you need a meal.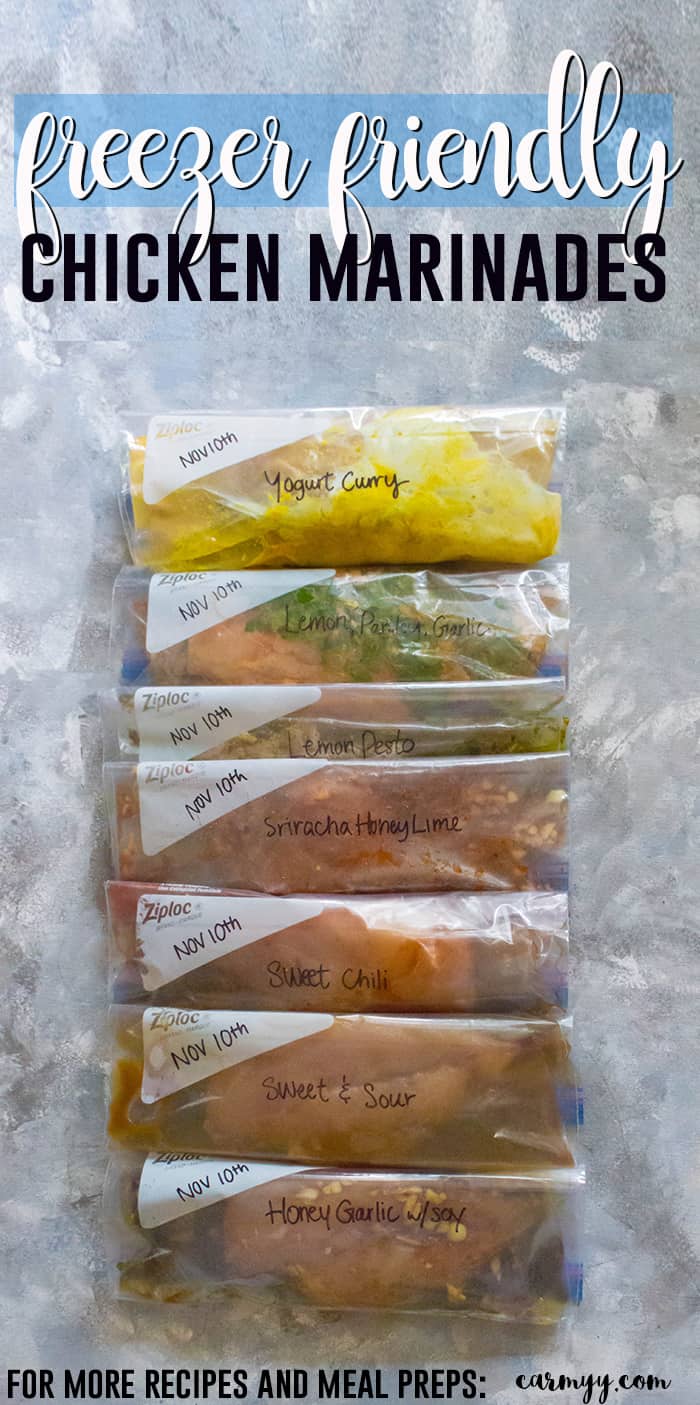 Nourish Bowls
One of my favourite blog sponsors, Mann's Fresh Vegetables has these amazing line of product called Nourish Bowls.
The Nourish Bowls are an easy way to introduce some more vegetables into your meal if you're having trouble doing so. Instead of buying your lunch at work or buying take out for dinner, you can grab one of these Nourish Bowls and then bake one of the freezer friendly chicken marinades and bam you've got yourself a delicious meal! Below I used the spicy thai bowl and paired it with my sweet chili chicken marinade. If you're new to meal prepping and it's overwhelming you, this is the perfect baby step to push you in the right direction – homemade chicken with the Nourish Bowl on the side, you've easily got your veggies and protein! All I did here was follow the less than 5 minute instructions on the Nourish Bowl and pop my chicken into the toaster oven for 25 minutes! Easy Peasy Lemon Squeezy!
These Nourish Bowls are so versatile. Another easy way to use Mann's Fresh Vegetables' Nourish Bowl is to open a bowl and toss it into a pan with some eggs and you've got yourself a delicious and healthy omelette for breakfast! Craving a burrito? Bake some chicken and then grab the Southwest Chipotle Nourish Bowl and roll it up in a tortilla. Sear a piece of steak of serve it with the Cauli-Rice Curry Nourish Bowl for a filling dinner. That's breakfast, lunch, and dinner! The ideas are endless and it is a great way to start introducing more vegetables in your daily meals.
Pick a Running Goal
It's easy to fall into the trap of "omg I'm going to run EVERY DAY!!!!!!" when making new years resolutions. Instead of making a lofty goal, shift your wording a little and change it to something like "I'm going to do the Sporting Life 10K." This way, you have a running goal to work towards and you can make the plans to get yourself there. Whether it be breaking it down to 2 runs a week and 1 day of weights or running 3-4 times a week instead until race day or following a training program. I found that having an end goal to work towards is much better than just saying you're going to run.
Invest In A Good Water Bottle
Seriously. The easiest way to be healthier is to cut out sugary drinks (I love them! But I only drink it once in a while as a little treat). I found that having a water bottle nearby has always helped me stay hydrated plus helps me avoid the temptation of just grabbed a bottle of soda. My favourite water bottle right now is my S'well bottle – drinks stay cold for 24 hours and hot for 12 hours! I shamelessly admit to owning at least 3 and I love them! This is a great way to work towards a "being healthy" goal. Trust me, your body will definitely thank you for being hydrated (here's what happened when I drank 3L of water daily for a week!).
Let's Chat! What small changes are you making in 2018 to make it a healthier year? 
[Tweet "5 Easy Changes For A Healthier New Year"]
---
Want to try your hand at meal prepping? Try these simple sheet pan chicken recipes!
---
Other places to connect with me
Instagram: @runcarmyrun @curiouslychasing @carmyshungry
Twitter: https://twitter.com/runcarmyrun
Facebook: https://www.facebook.com/carmyycom
Email: [email protected]
Vlogs/Recipe Videos: Youtube