Are you looking to mix up your lunch meal prep? Check out these 27+ healthy make ahead work lunch ideas that you can make for work this week!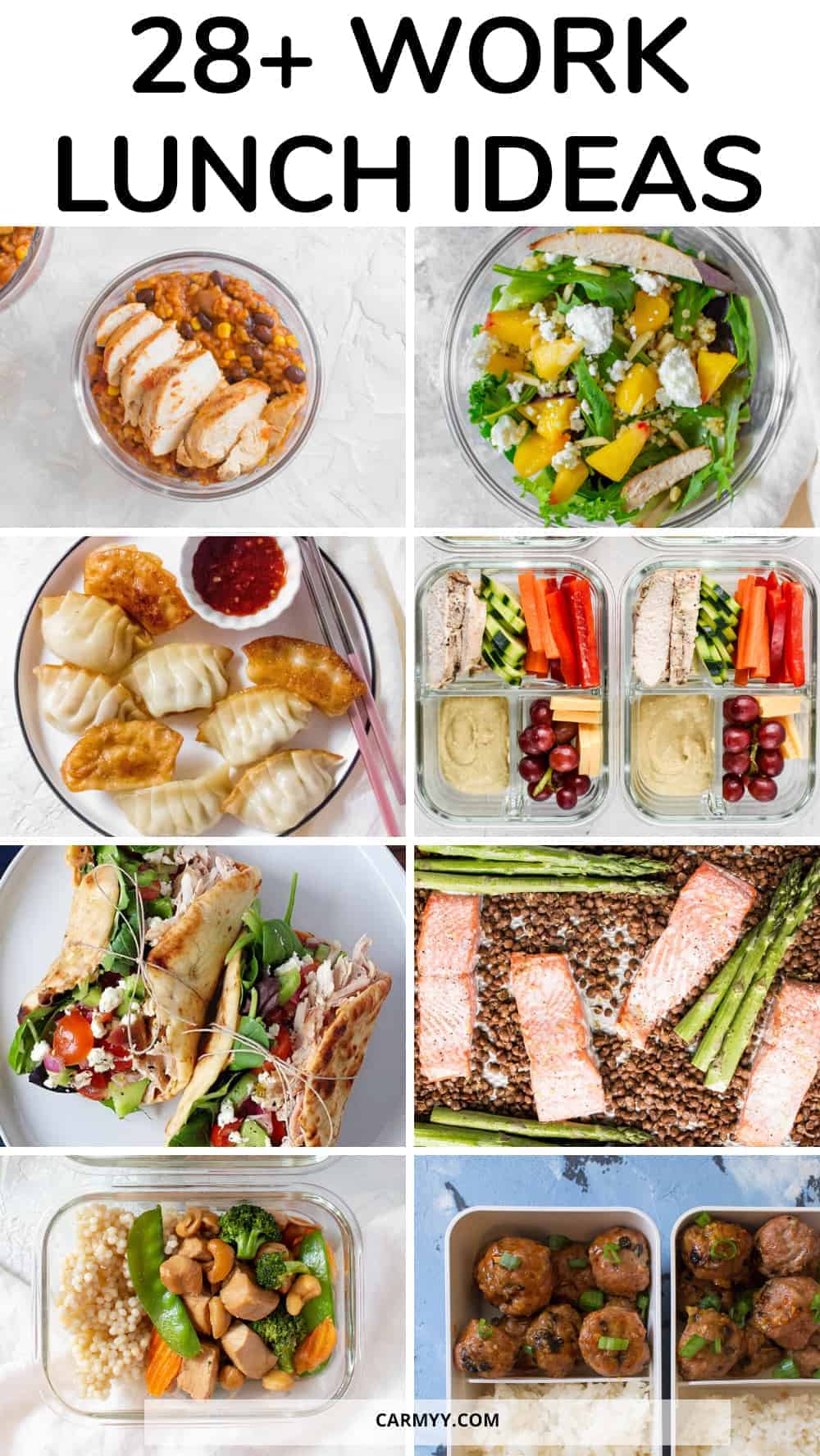 Are you looking to save some money? Or are you looking to eat healthier throughout the day? Either way, these healthy make ahead work lunch ideas are perfect to help you stay on a budget and eat healthier! When I first started working 8 hour days, I would use that as an excuse to treat myself to buy lunch at one of the make take-out places nearby since I was working all day. That $10-15 a day then started to add up and that's one of the reasons I started meal prepping my work lunches.
At first, I would just bring dinner leftovers for work lunches like my partner did. However, that didn't really work for me. So I started meal prepping healthy lunches separately instead. That's actually how this blog started to shift more towards food than fitness! I had wanted to share my meal prep ideas because I wanted share what I was making and how easy it can be!
Anyways, today I rounded up some of my favourite healthy make ahead work lunch ideas from some fellow bloggers (and some from this blog!) to share with you. All it takes is a couple of hours (or less) on your day off and you're set for some delicious healthy meals for the work week! (Bonus: the second half of this list are make ahead cold work lunches that are great for summer or if you don't have access to a microwave at work!) Be sure to share your favourite healthy make ahead lunches down below in the comments!
Note: I'll be updating this healthy lunch ideas for work post every once in a while with new fast healthy meal preps from around the web so don't forget to bookmark or pin this post for later so you can check back for more healthy lunch recipes for your weekly lunch menu! This post has gone from 17 meal preps to over 27! So keep checking back :)
You can also find meal preps over on my Youtube channel if you're more of a visual learner! 
Are you new to meal prepping? Here are some of my favourite items that I use:
Healthy Make Ahead Work Lunch Ideas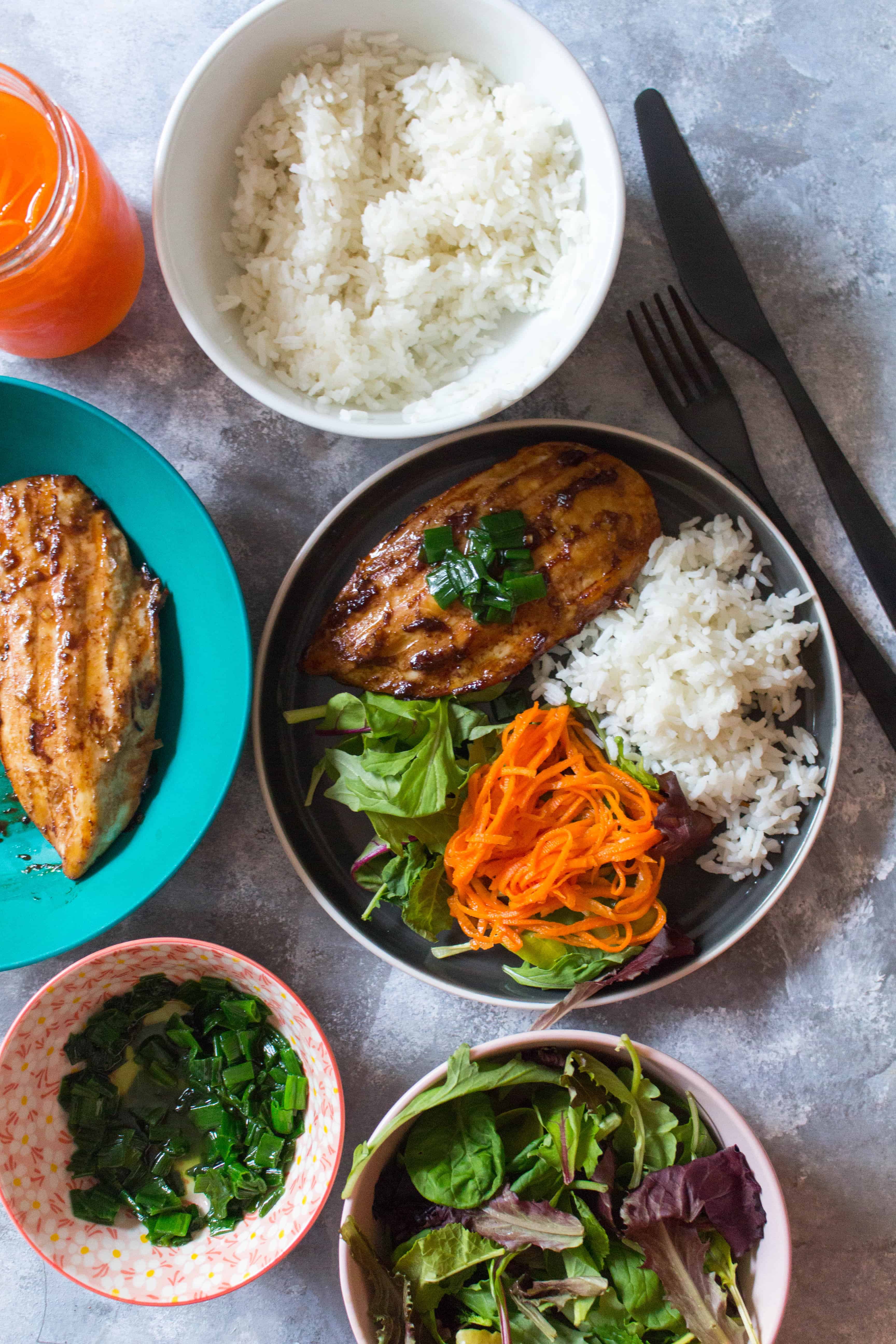 This Vietnamese Grilled Chicken Meal Prep is jammed packed with a whole lotta flavour thanks to its flavourful marinade. This Vietnamese Grilled Chicken is perfect for either a meal prep or as a weeknight dinner.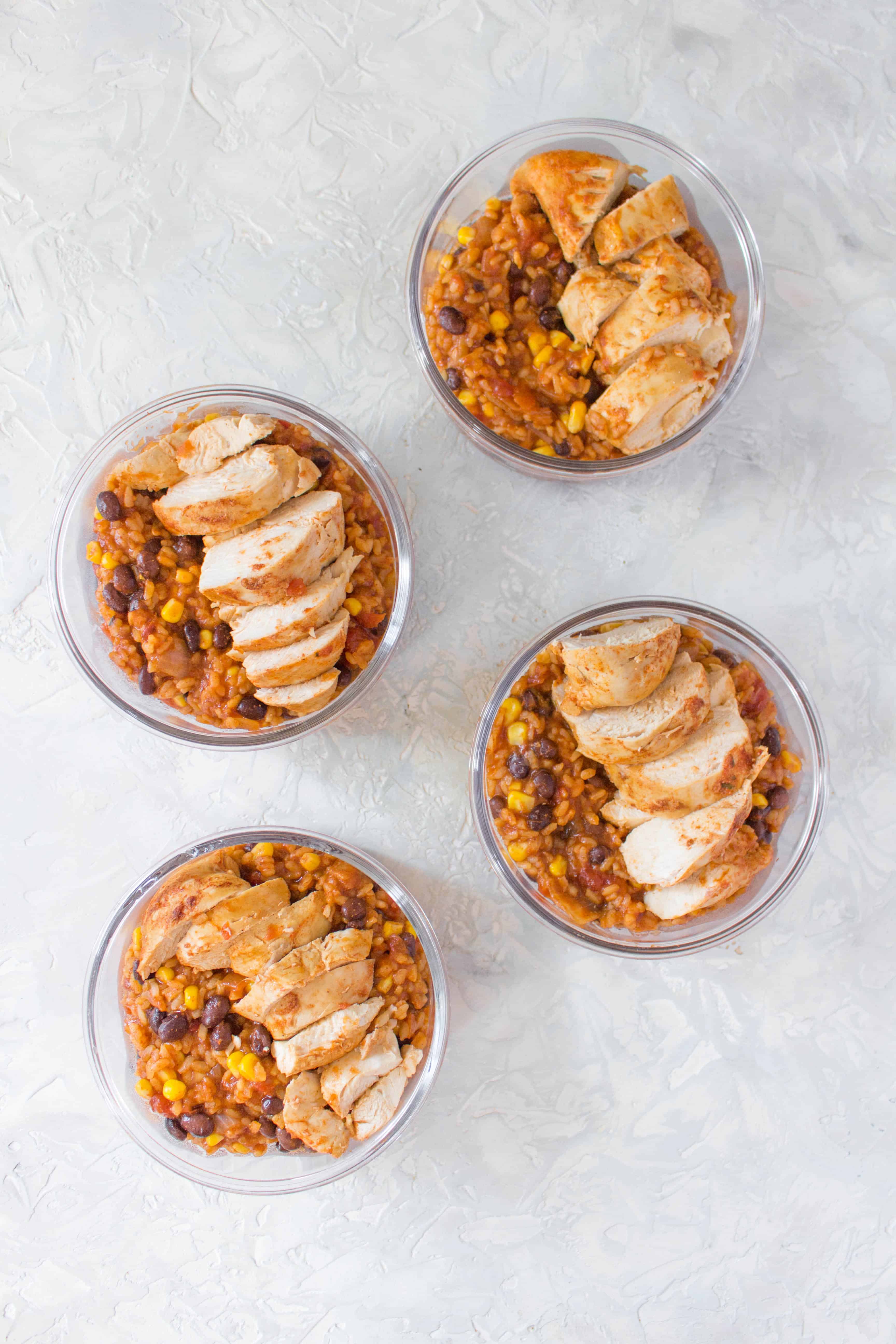 This Spicy Instant Pot Chicken and Rice Meal Prep is inspired by the chicken burrito bowls from Chipotle! It's so easy to make and takes less than 30 minutes to meal prep for four days!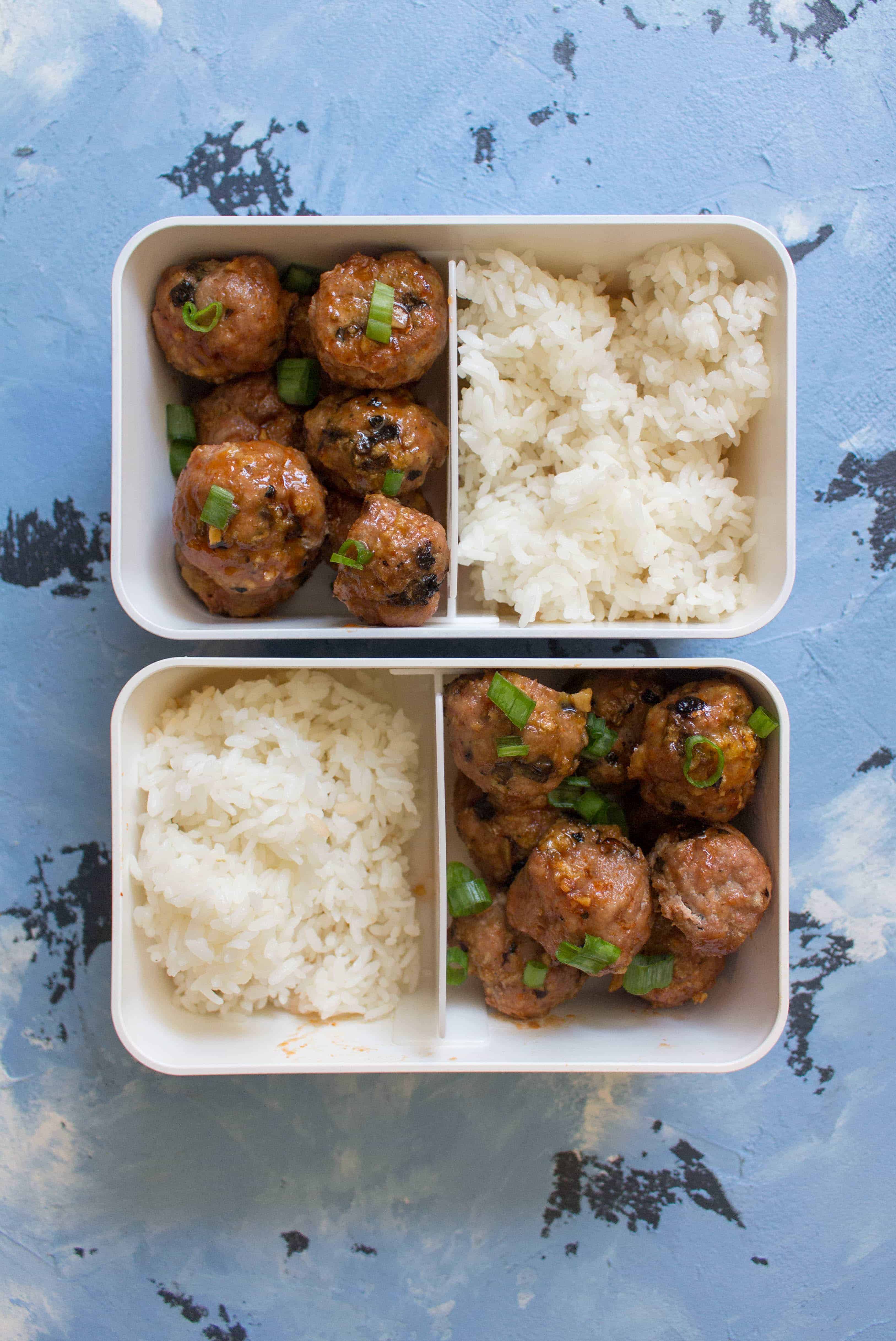 These Honey Sriracha Turkey and Mushroom Meatballs are the perfect blend of sweet and spicy that leaves you wanting more. These are perfect as an appetizer or as part of your weekly meal prep.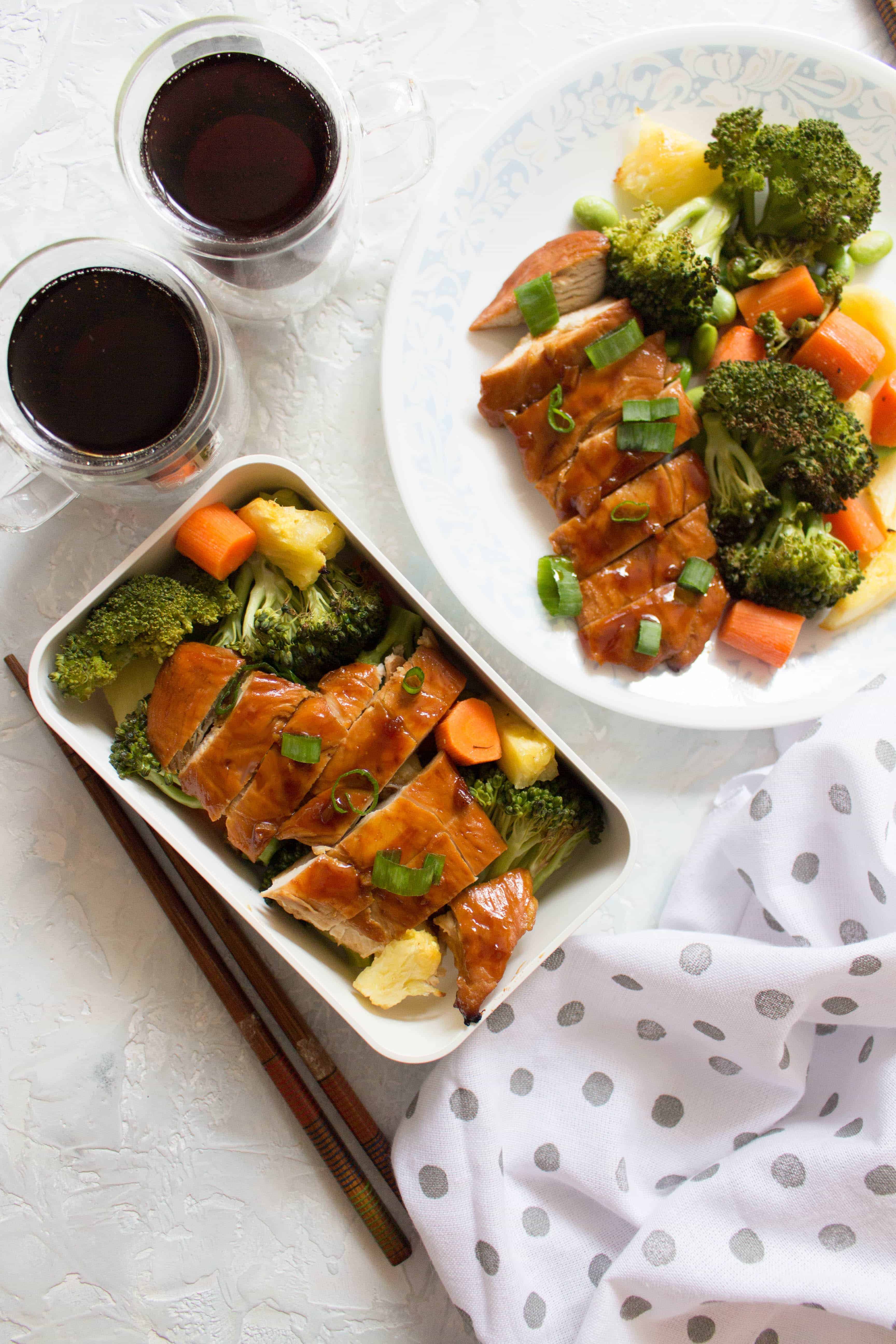 This Sheet Pan Chicken Teriyaki with Veggies and Pineapple Meal Prep (no sesame) is the healthier homemade version of the popular chicken teriyaki takeout! A pan of juicy chicken with a sweet and tangy sauce alongside roasted vegetables and pineapple! If you have an Instant Pot, you can use this Instant Pot version so you can make this fast healthy meal prep even quicker!
Looking for some meat and potatoes? Try this Maple Mustard Instant Pot Pork Tenderloin with red potatoes and baby carrots. Made in under 35 minutes and all in one pot with very little fuss. Recipe from Hungry Hobby.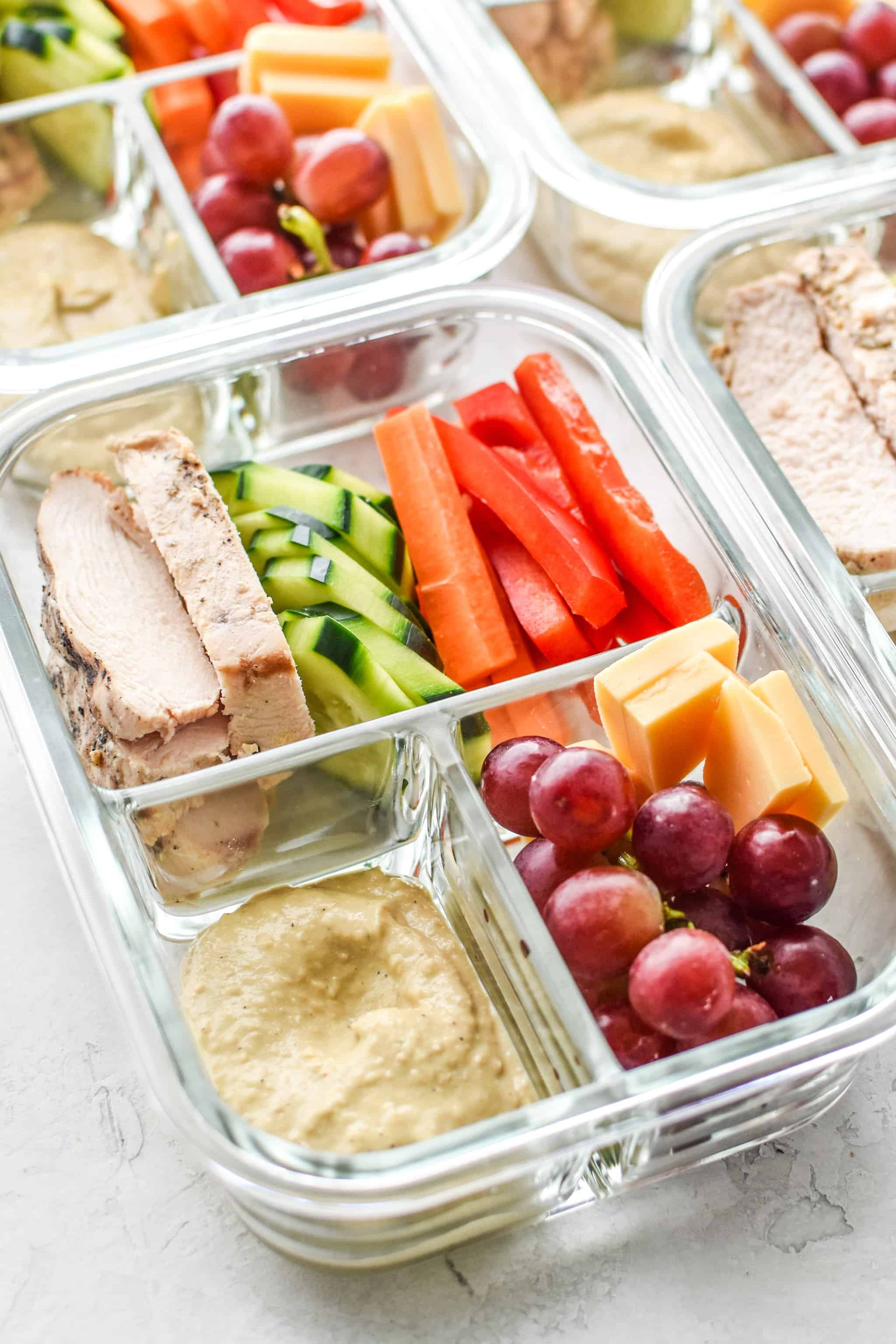 This Chicken & Hummus Plate Lunch Meal Prep is so simple yet incredibly filling and delicious! Get back to basics with fresh cut bell pepper, carrot, cucumbers, paired with a perfect portion of chicken breast, cheese slices, and grapes for a touch of sweetness. Recipe from Project Meal Plan.
This Sausage and Cajun Sweet Potato Sheet Pan Dinner recipe is on the table in 25 minutes and is easy easy easy! Make it as a quick weeknight supper, or do your lunch prep for the entire week! You can customize the cajun spice to make it mild or spicy. Recipe from Delicious on a Dime.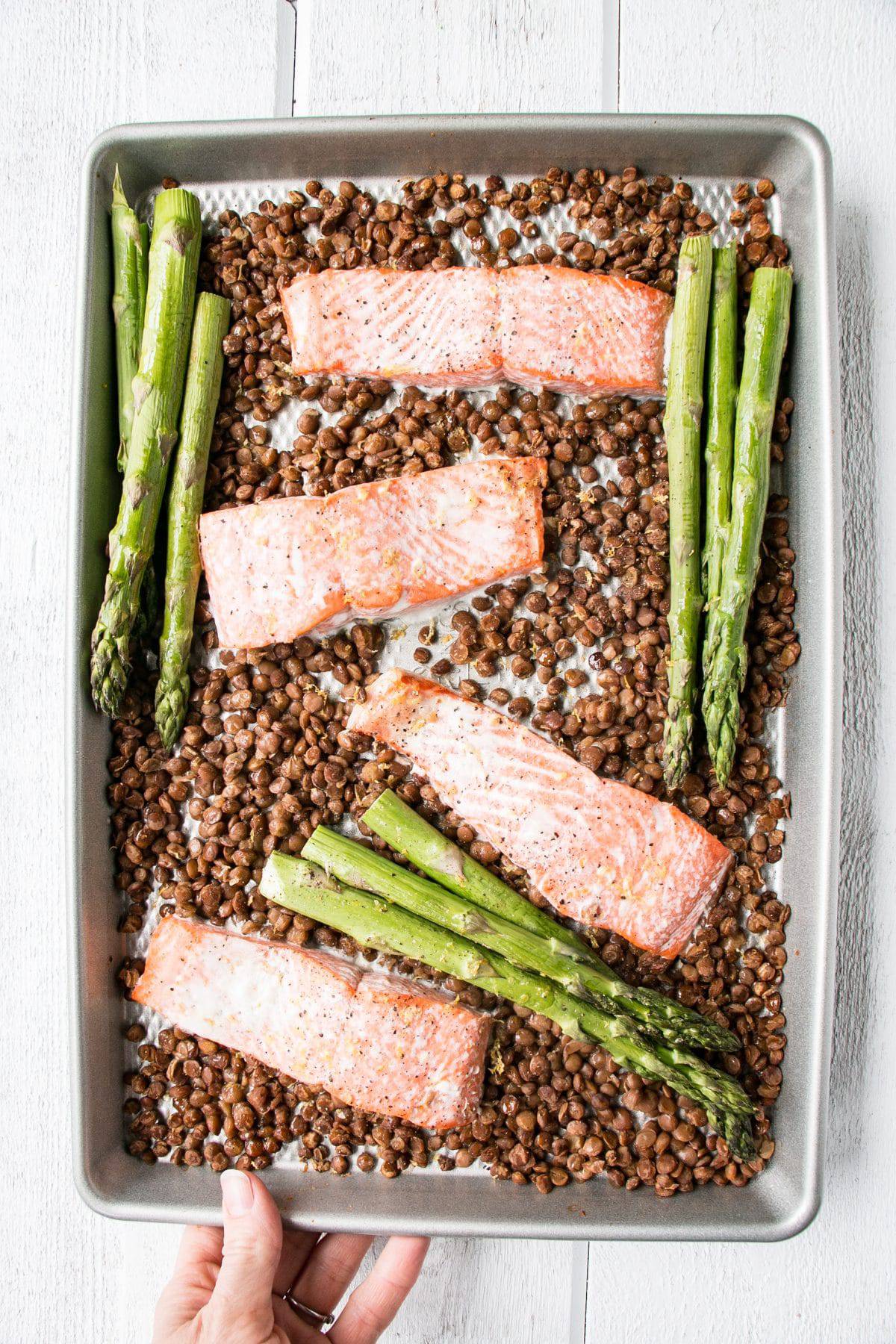 Healthy, quick, and effortless Sheet Pan Salmon, Lentils, and Asparagus. A great easy meal prep recipe or a healthy dinner option for busy families. Recipe from My Kitchen Love.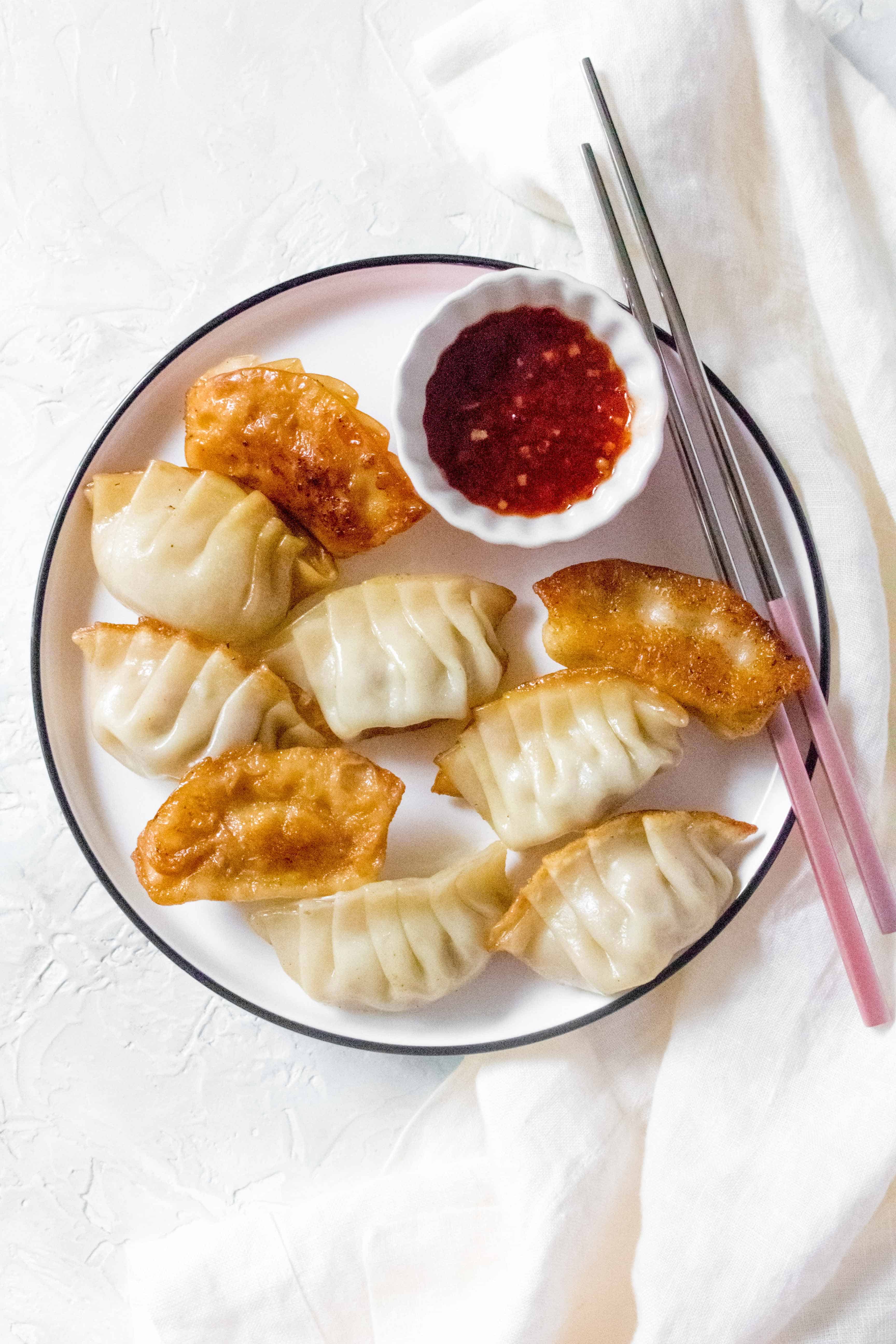 Filled with pork and garlic and with crispy golden bottoms, Pork Potstickers makes for the perfect meal prep. These potstickers are freezer friendly so you can make always have some on hand!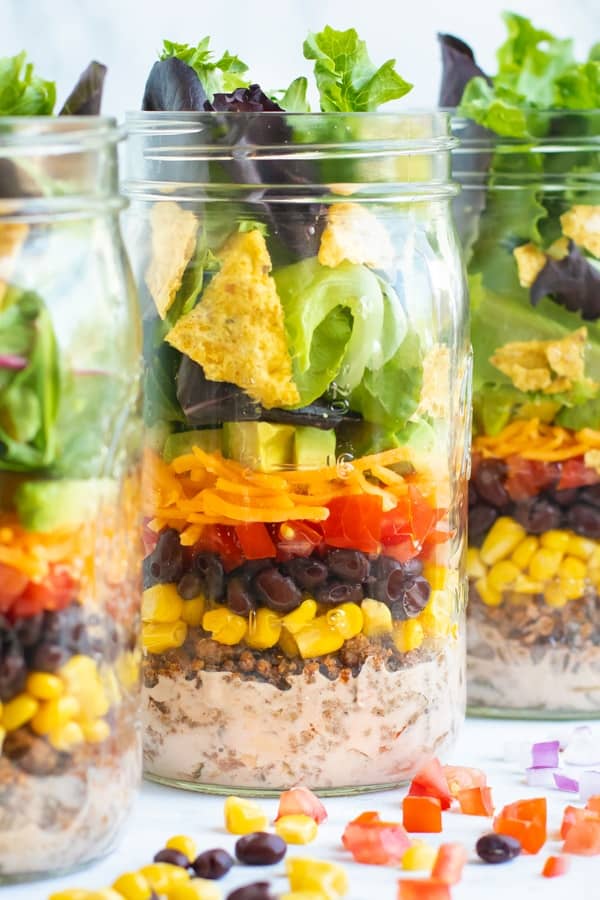 Take this Healthy Taco Salad recipe to work or school in a super convenient mason jar! Prep-ahead and have this easy mason jar salad recipe ready to grab-and-go. Recipe from Evolving Table.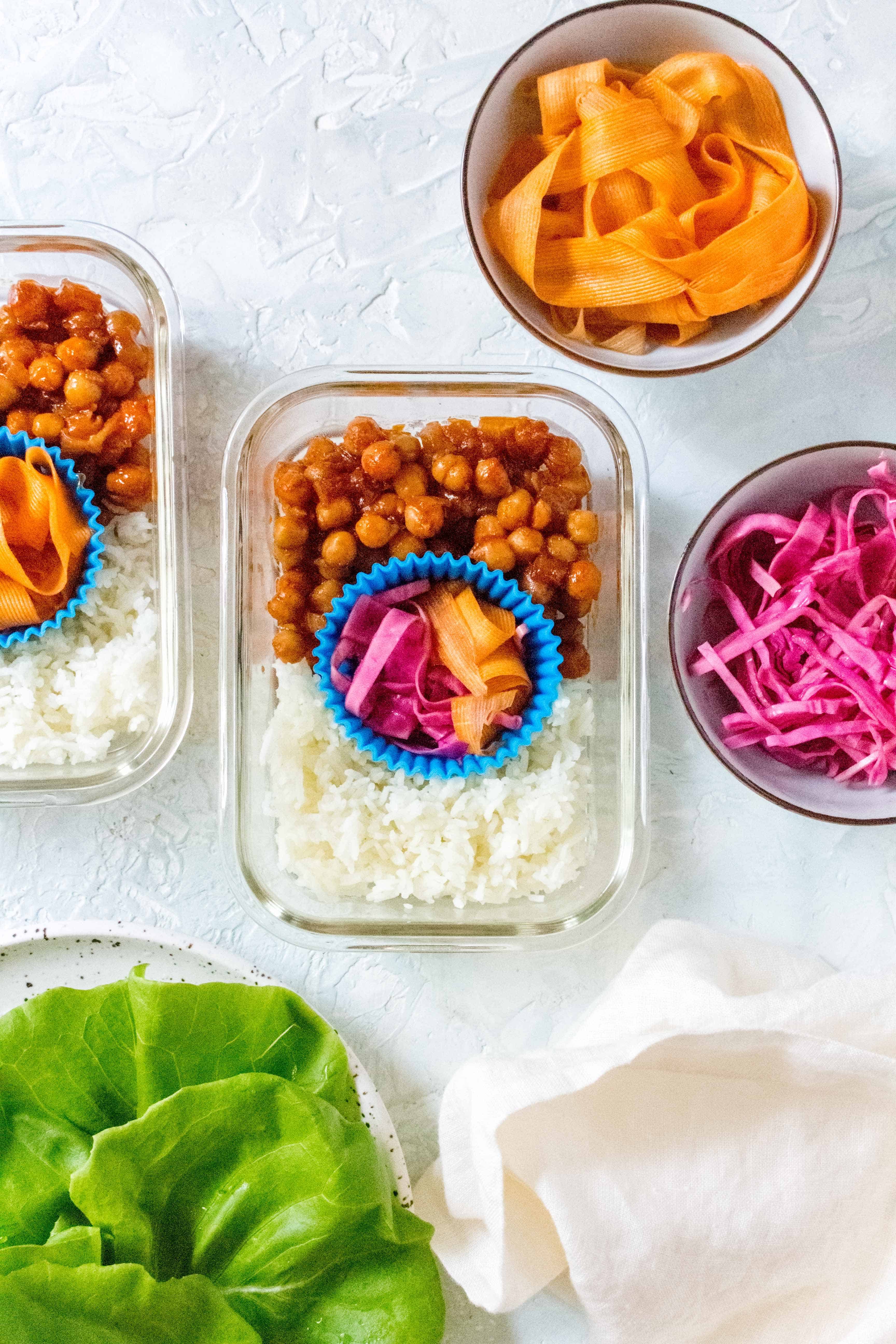 This super easy Gochujang Braised Chickpeas makes for a spicy and delicious meal! Make a batch for your next meal prep!
This hearty, satisfying cobb salad meal prep is Paleo and Whole 30 friendly. Done in 15 minutes! Recipe from My Salad Daze.
Looking for a lunch with a bit of a kick? This Spicy Korean Chicken Meal Prep is prefect for you! The chicken is oven baked so they're wonderfully juicy and tender on the inside while still being crispy on the outside!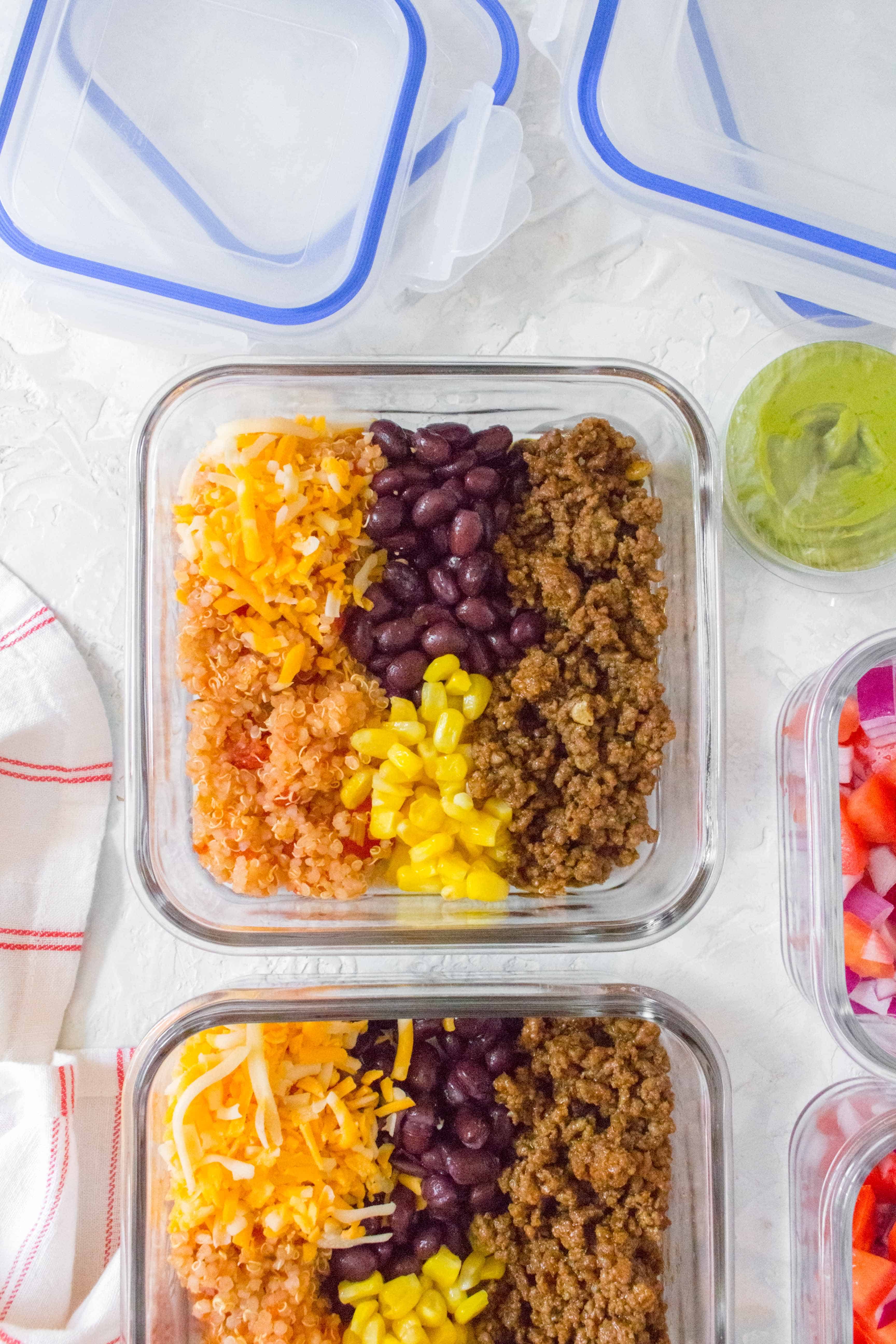 This easy and healthy Salsa Quinoa Taco Bowl Meal Prep is perfect for meal prepping! Simple, filling, and delicious!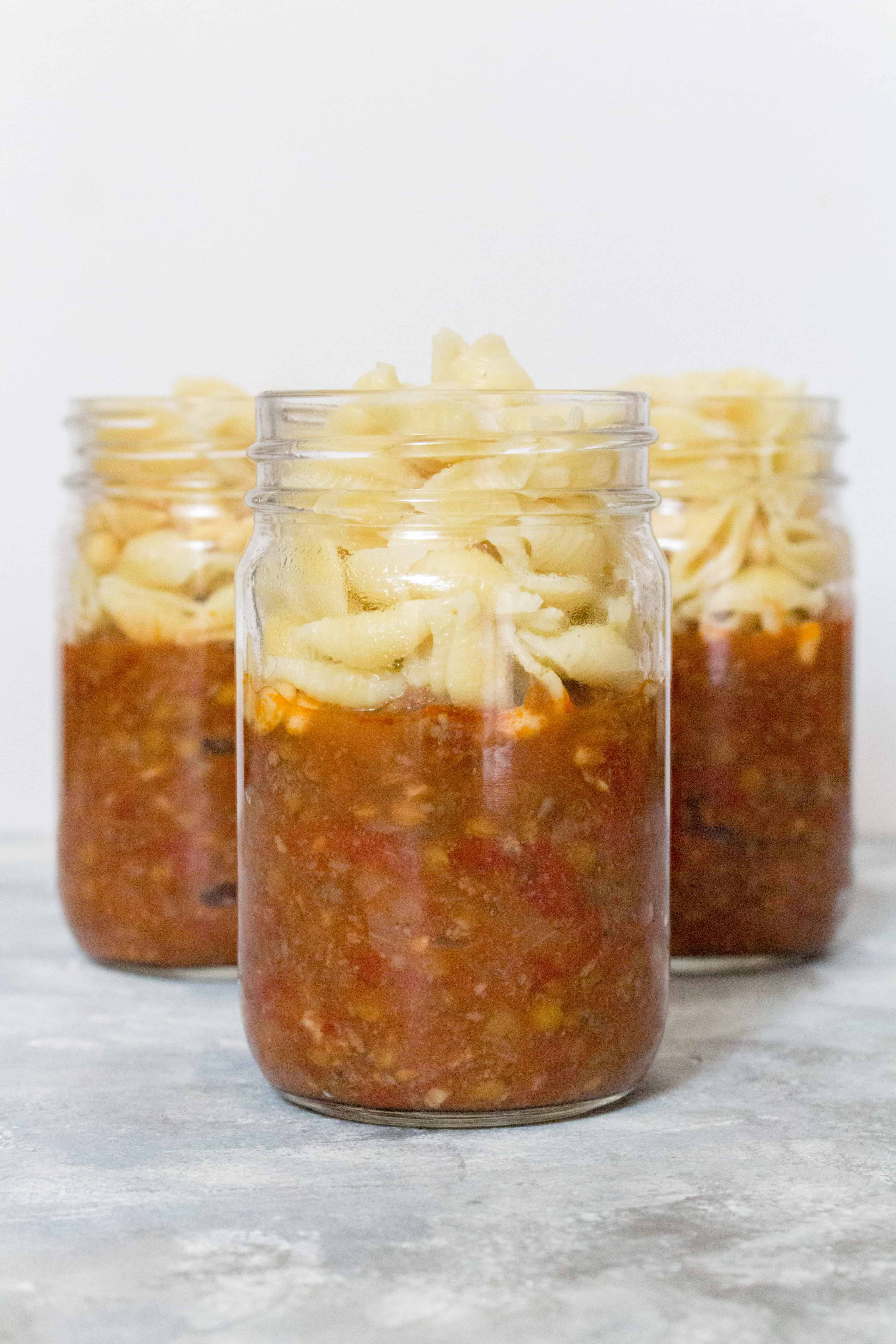 Grab a jar of this Bolognese Meal Prep on your way out the door! Packed with healthy goodness, this meal prep will hit that comfort food craving without being too heavy!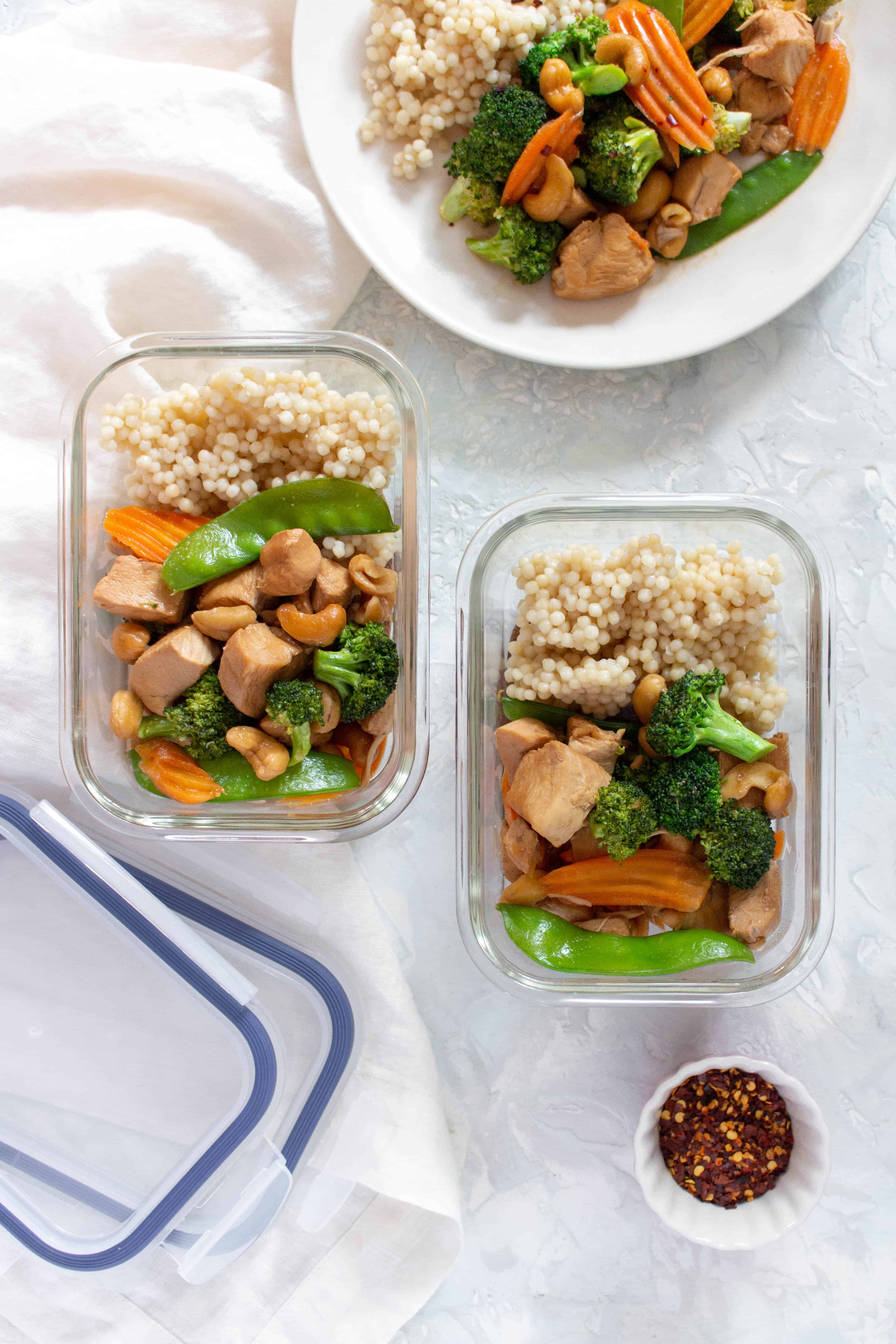 This Instant Pot Cashew Chicken is the perfect mix of sweet and savoury. Pair it with a bag of vegetables from Mann's Fresh Vegetables, and you've got dinner in a jiffy!
Make Ahead Cold Work Lunch Ideas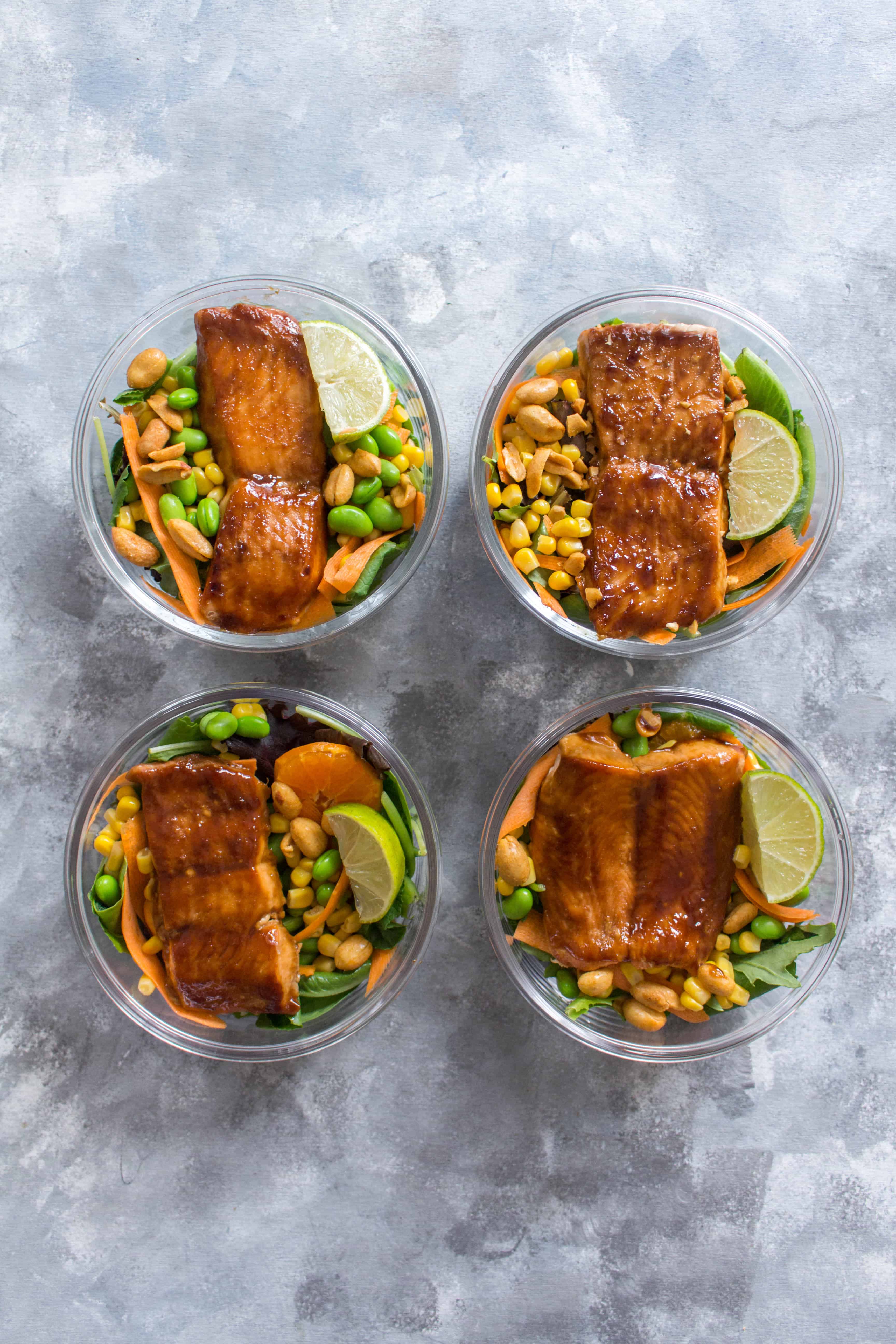 This Easy Hoisin Glazed Salmon Meal Prep is perfect for those who may not be able to heat up their lunches. Delicious whether warm or cold, this earthy but sweet hoisin glazed salmon is just what you need for your meal.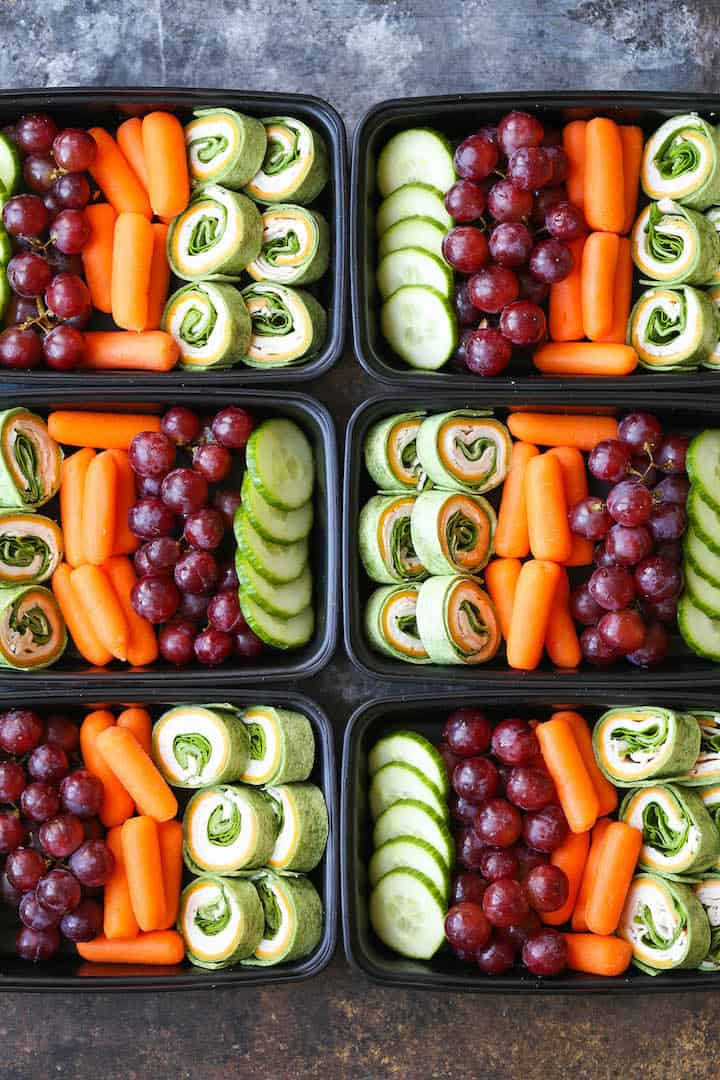 Prep your lunches for the week with these turkey spinach and cheese pinwheels! No more overpriced snacks and lunches! Recipe from Damn Delicious.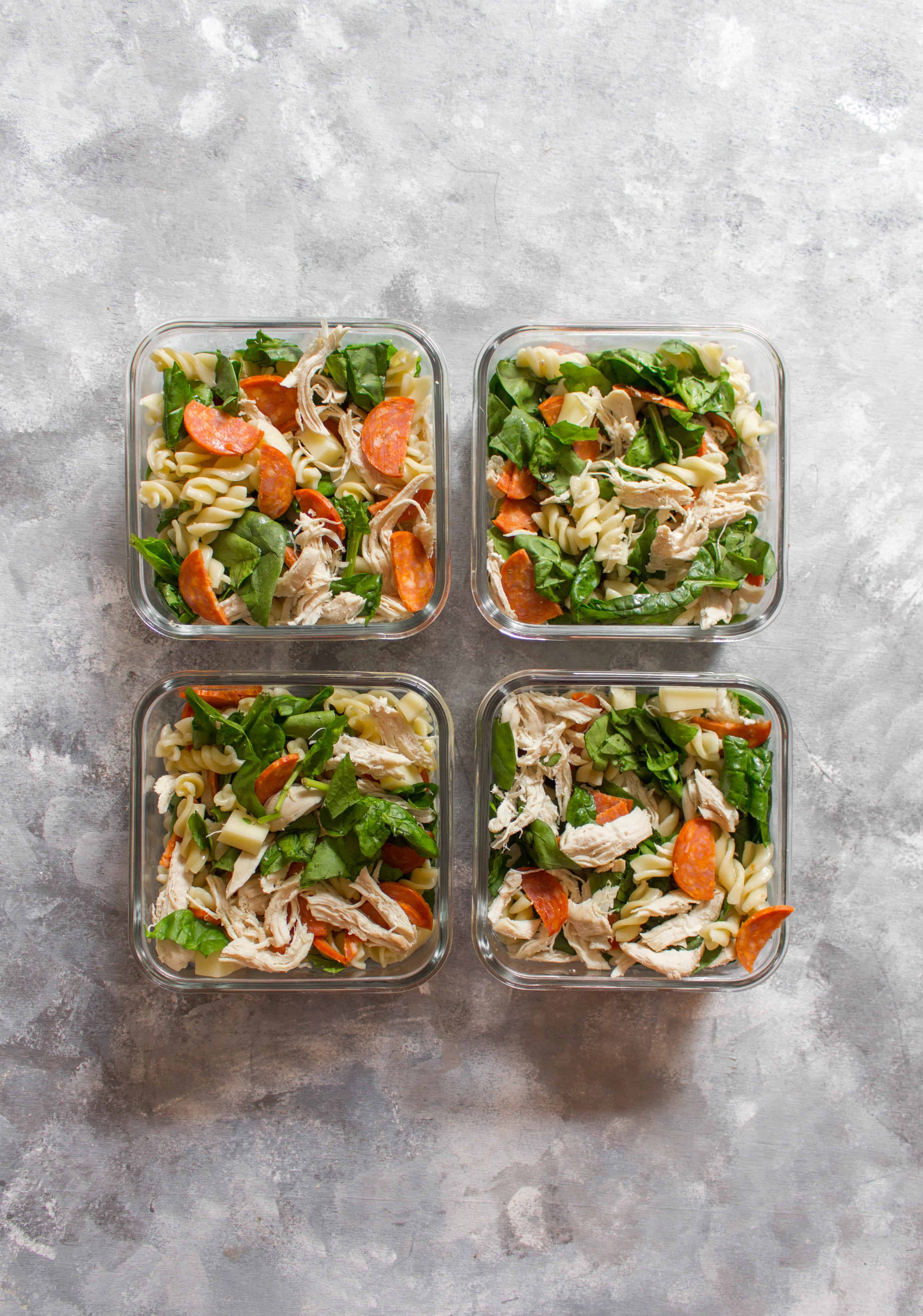 Perfect for hot summer days, this easy chicken pepperoni pasta salad is just what you need! Plus, this pasta salad is great for meal preps if you have don't have access to a microwave.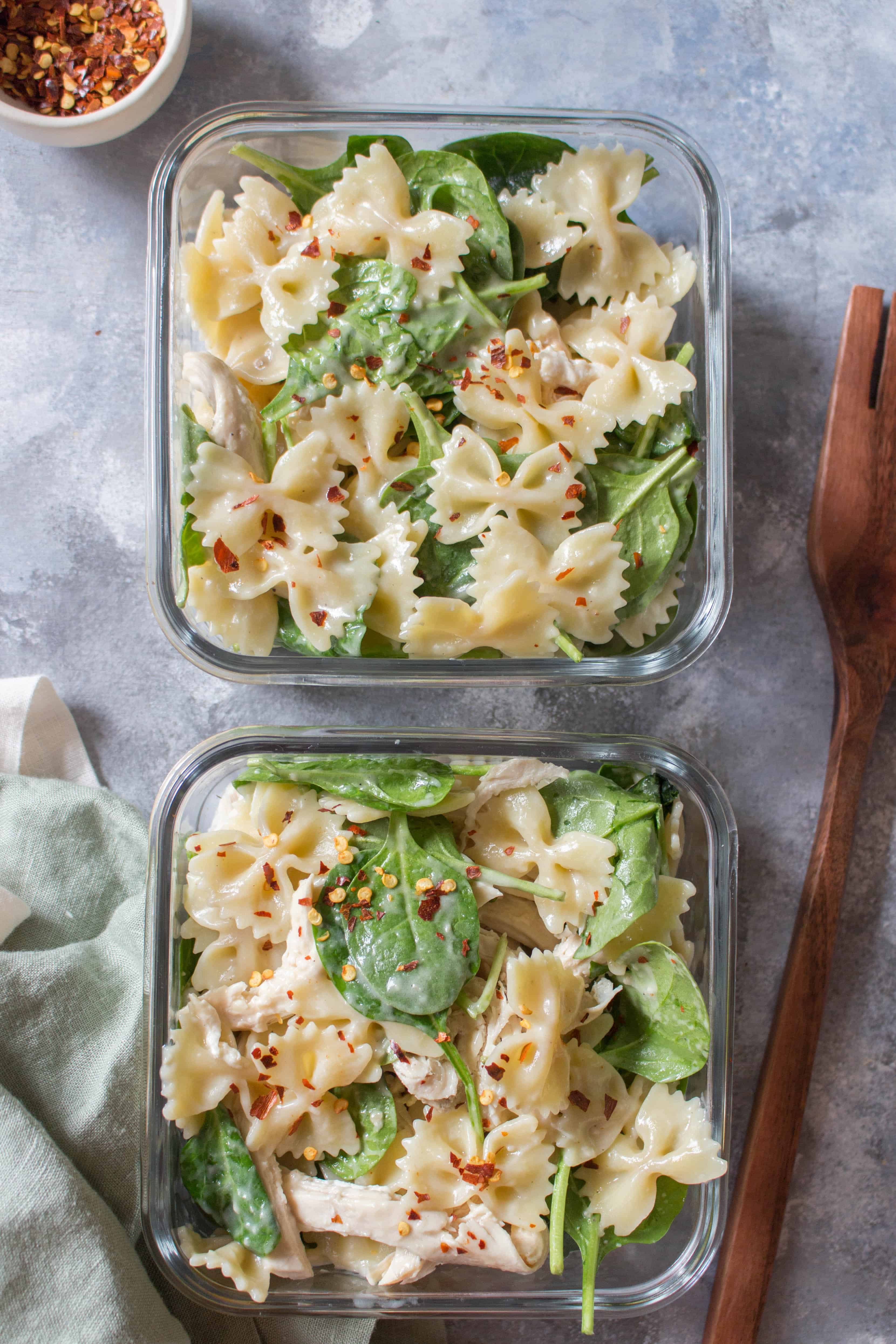 This Cold Chicken Spinach Pasta Salad is the perfect easy cold meal prep idea! This taste best after a day so it's perfect for meal prepping.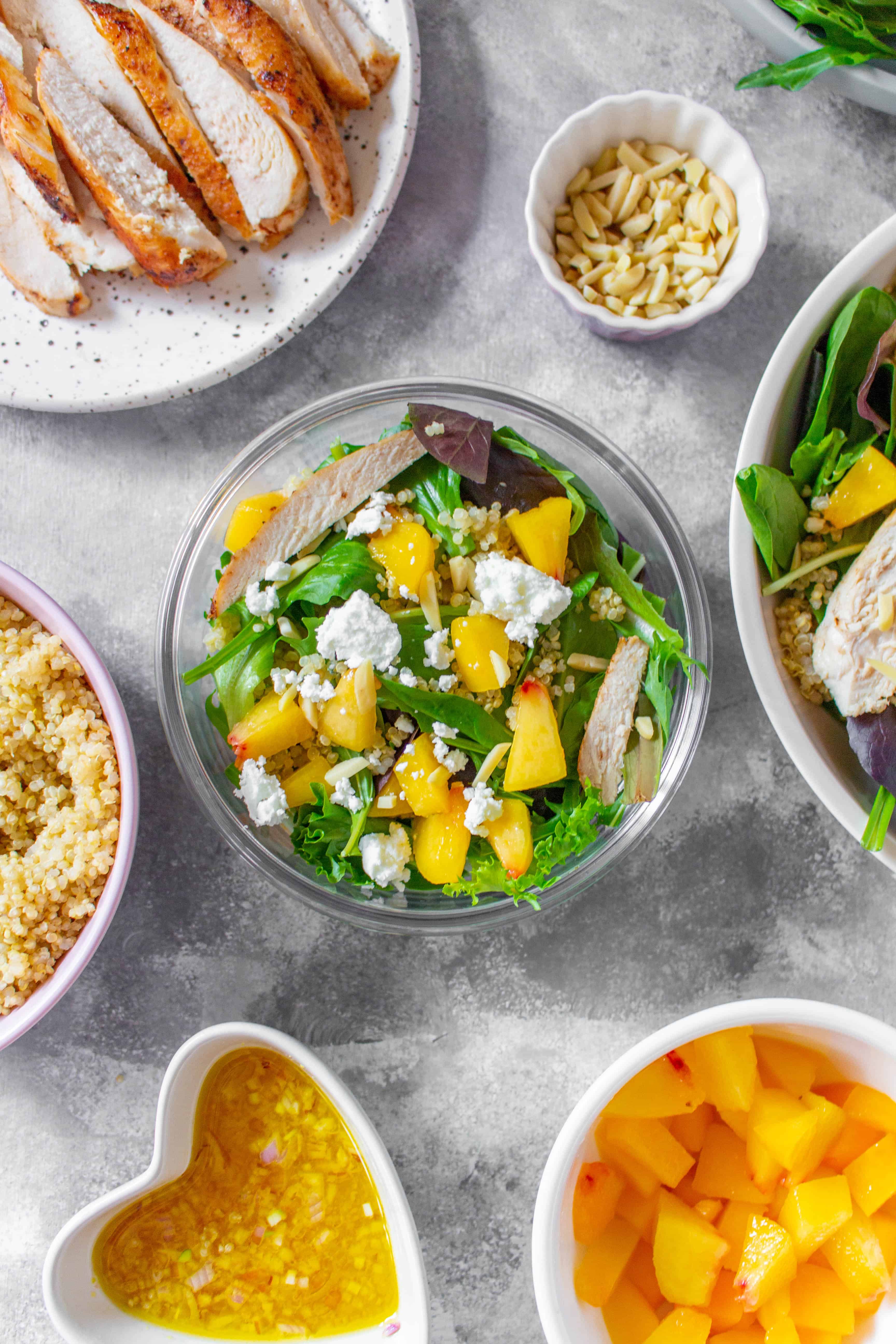 This Peach Quinoa Salad is the perfect cold lunch meal prep as well as being super easy to make for a large gathering! Look no further for a cold lunch idea than this sweet peachy salad.
This quick, easy and healthy Vegan Rainbow Vegetable Tortilla Wrap is packed full of colour veggies! Perfect for packed lunches, brunches and when you are out and about. Recipe from Recipe from a Pantry.
This Spicy Peanut Chicken Wrap is the perfect meal prep – it's simple, healthy and delicious and made under 30 minutes!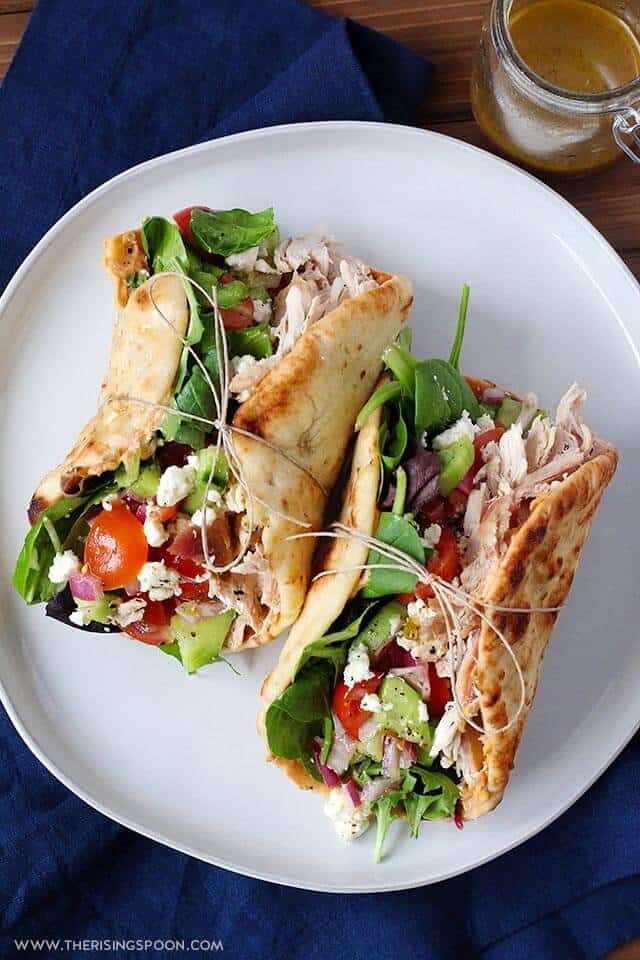 An easy chicken wrap recipe you can throw together in just 15 minutes for a quick & healthy dinner or lunch. Fix this on a busy weeknight or prep it for the week ahead for grab & go meals. Recipe from The Rising Spoon.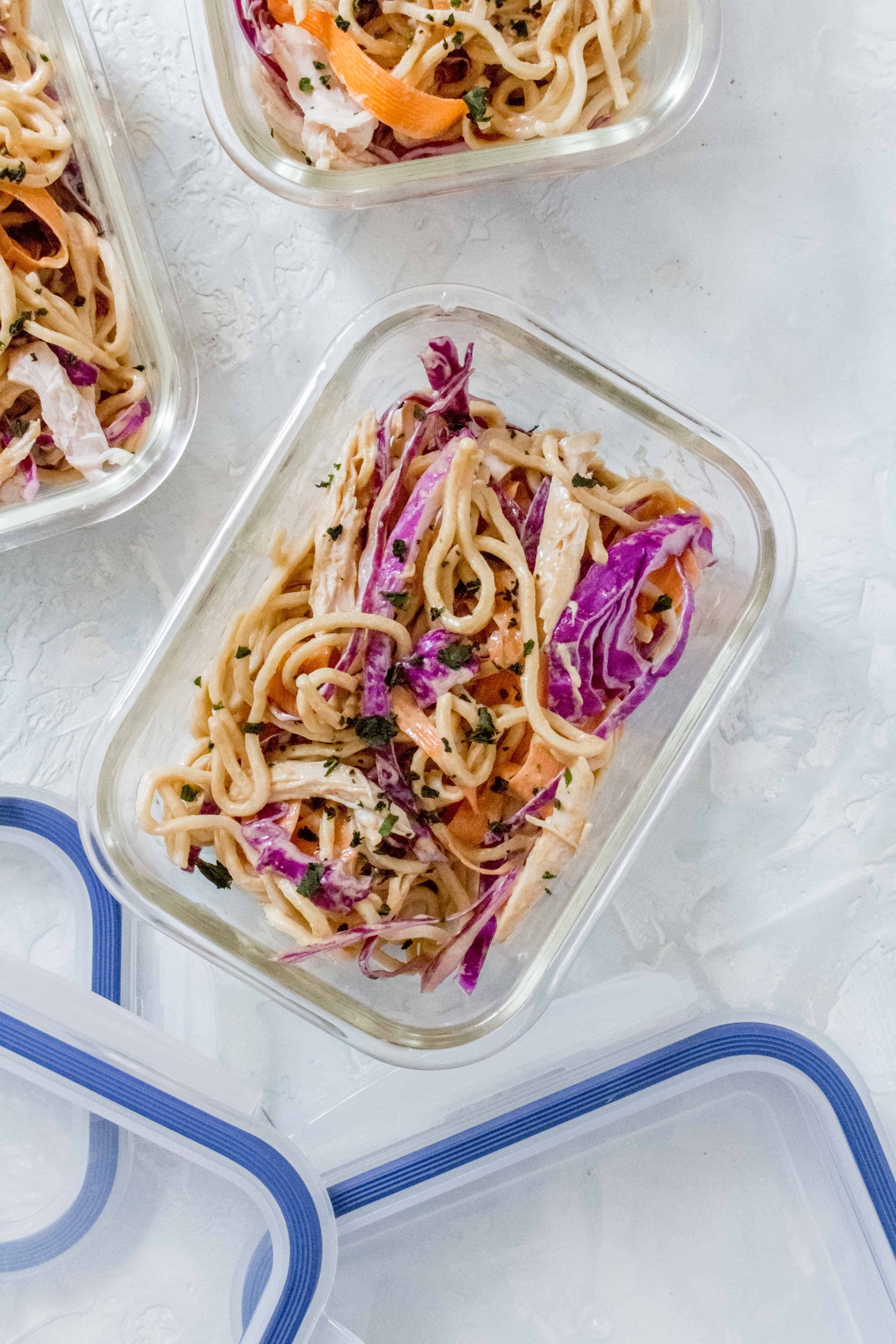 This Cold Peanut Lime Chicken Noodles is so easy to make, customizable, and is a great way to use up leftovers!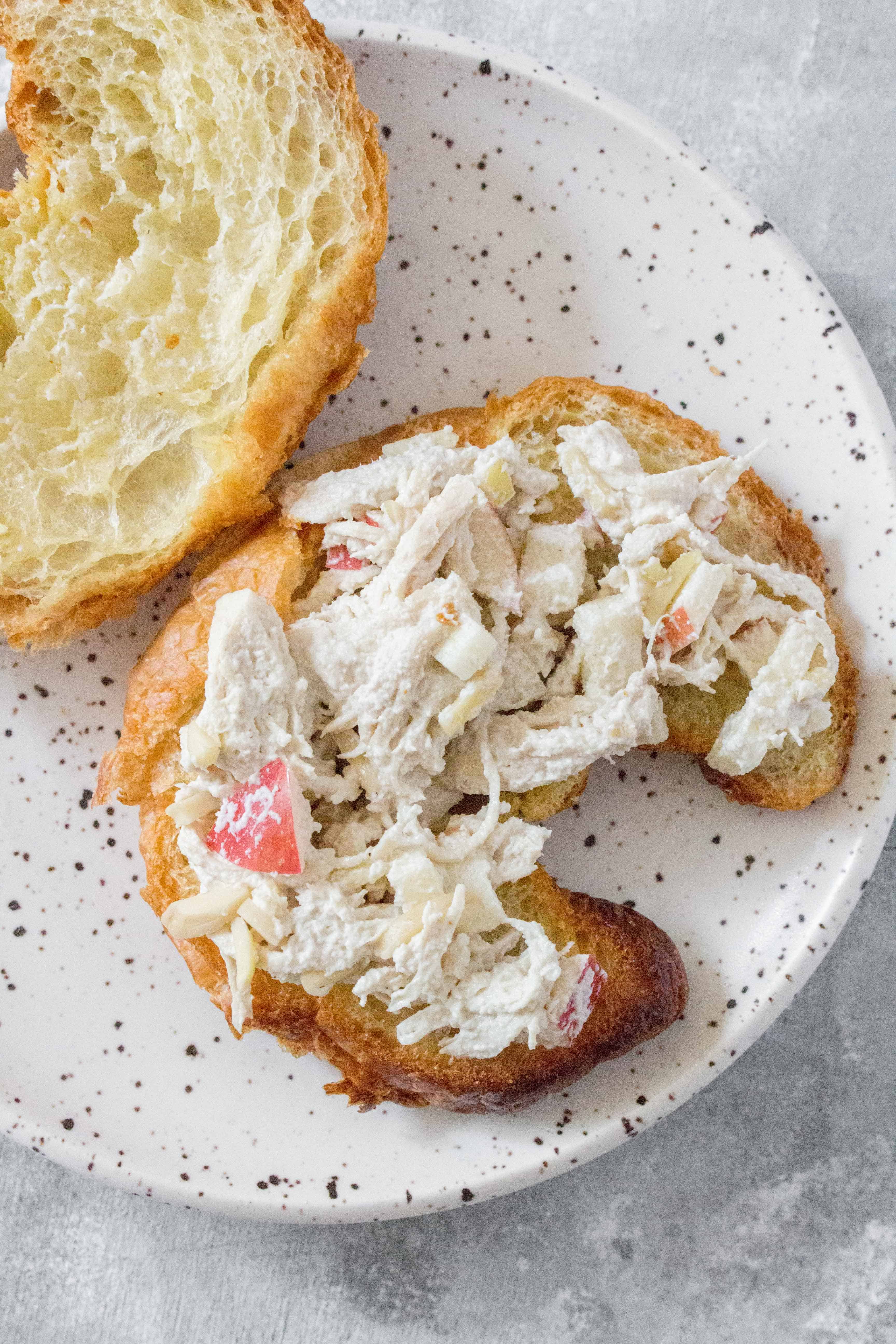 This no mayo Healthy Chicken Salad is going to be a lifesaver this summer! Healthy enough to eat regularly and easy to make, you're going to want to make this Healthy Chicken Salad all summer.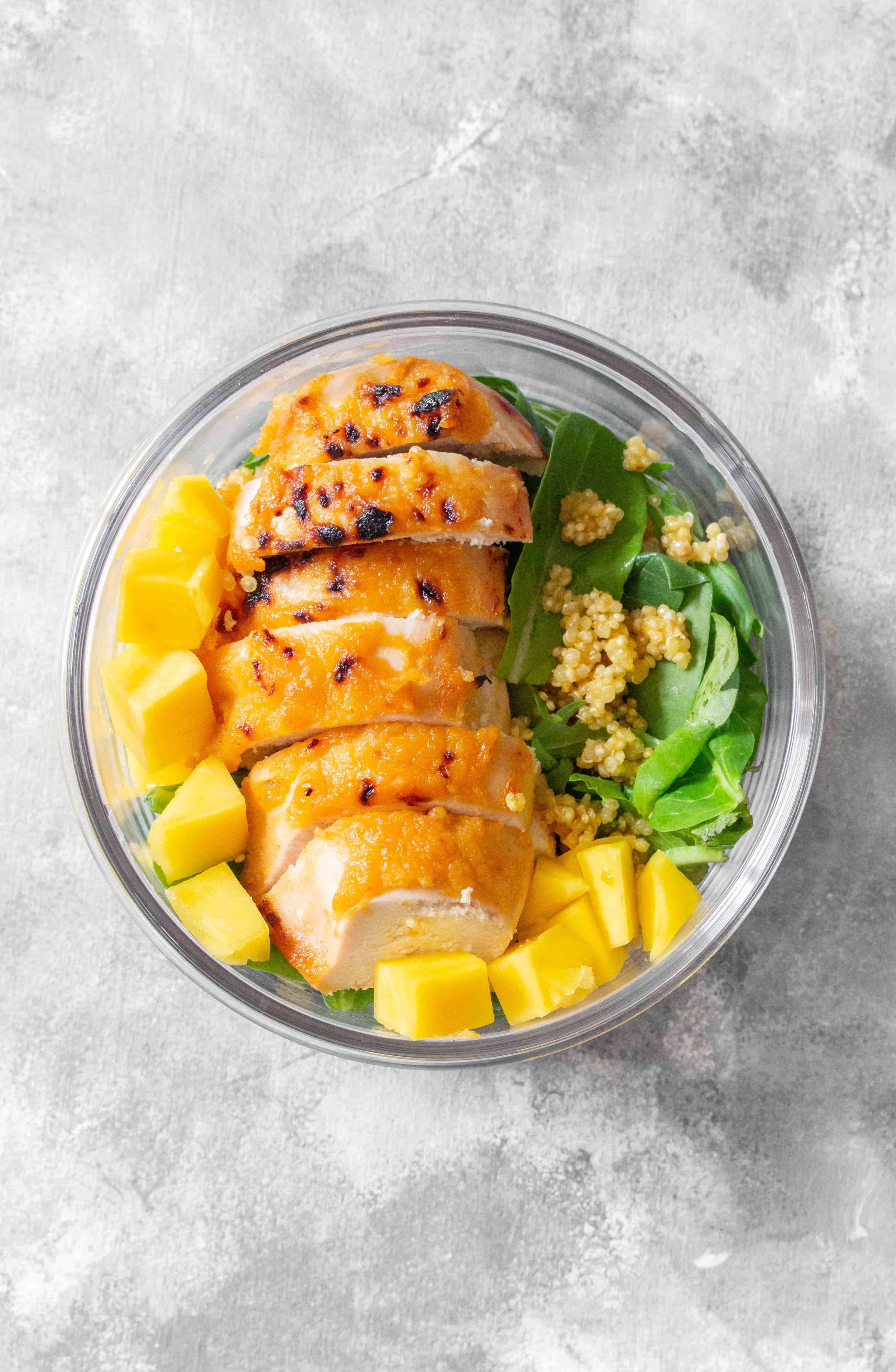 This easy Mango Chili Lime Chicken meal prep is coated with a sweet and spicy marinade. Delicious hot or cold.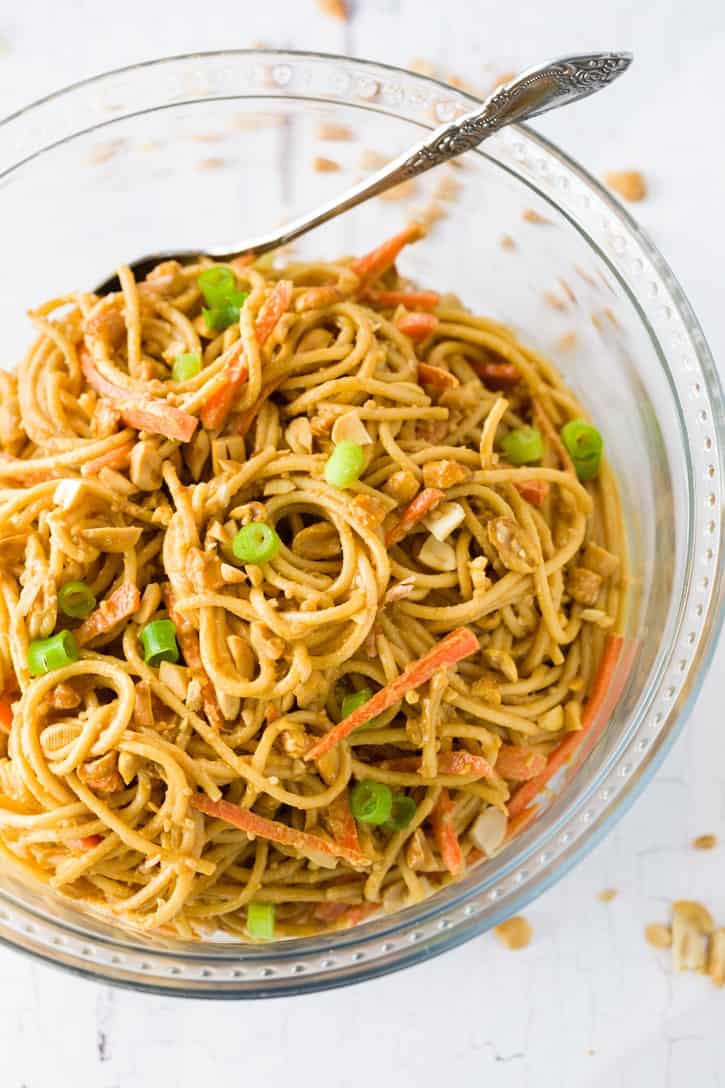 Savory chilled noodles smothered in a flavorful peanut sauce and topped with green onions and chopped peanuts. Perfect for hot days! Recipe from The Cozy Cook.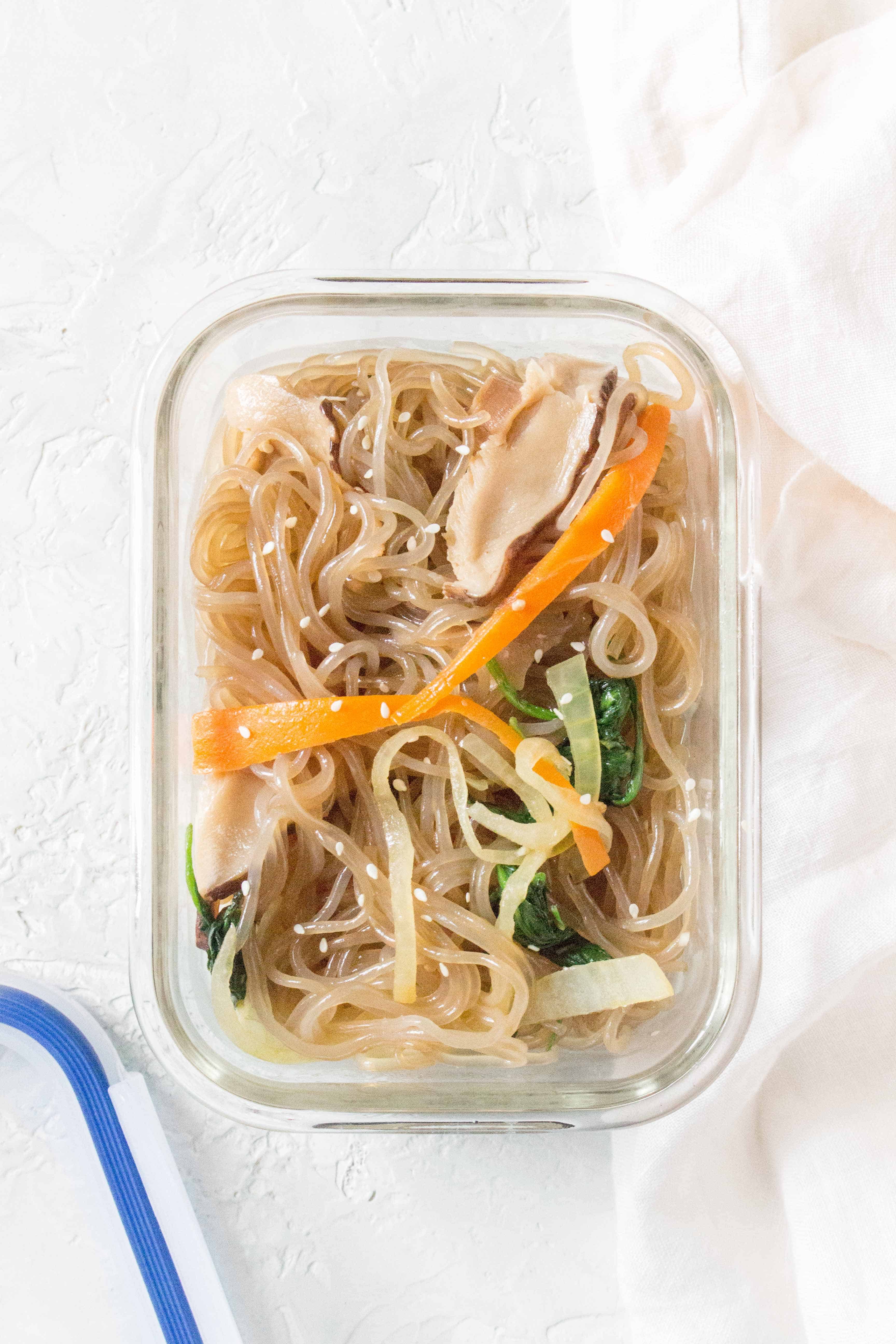 This Korean Japchae is the perfect dish a cold lunch meal prep! Delicious at room temperature or chilled.
---
Resources and Tips for Make Ahead Lunches
More Healthy Recipe Round Ups
---
WANT A WEEK'S MEAL PREP AND SHOPPING LIST FOR FREE?
If you're looking for more ideas on what to make, subscribe to my mailing list in the sidebar (or click here)! When you sign up, you get a week's lunch + snack meal prep and a weekly meal planner printable! Download it and bring it to your next trip to the grocery store!
---